The State of Our Immunity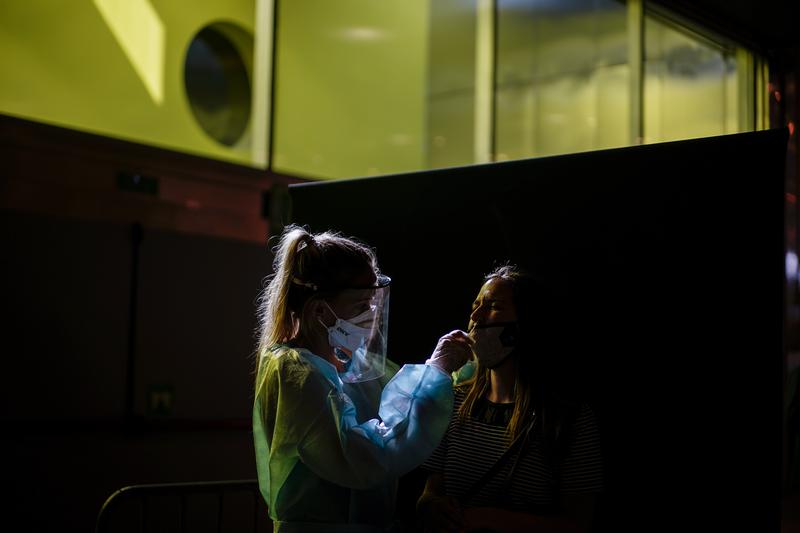 Transcript
BROOKE GLADSTONE From WNYC in New York, this is On the Media. I'm Brooke Gladstone. What's that cliche? You may be done with COVID, but COVID's not done with you. Well, here the prevailing variant is Omicron BA.12.1 with BA.4 and 5 bringing up the rear. And just as the virus mutates, our collective immunity against it continues to evolve. Here's America's Dr. Fauci on PBS NewsHour last month.
[CLIP]
DR FAUCI Although immunity following infection and recovery does not last indefinitely, it does give a degree of – variable degrees of protection against severe disease if you get reinfected. So if you add up the people who have been infected, plus the people who've been vaccinated and hopefully boosted, you have a rather substantial proportion of the United States population that has some degree of immunity that's residual.
BROOKE GLADSTONE The data suggests that the people who are best protected, though by no means invulnerable, are those with so-called hybrid immunity. Acquired through vaccination plus infection or vaccination plus boosting with a different vaccine. CDC data from last month show your risk of hospitalization is cut 86% after two shots in a booster. Even if Omicron slipped past your antibodies and got you sick. But more than half of us haven't gotten the booster. Meanwhile, the virus keeps shape shifting, and wearing masks is getting really sweaty. So what is the current state of our immunity? For Katherine Wu, who writes for The Atlantic and has a Ph.D. in microbiology. We're still collectively scaling the mountain of protection peak. While its summit may be out of sight. She says we've made good headway since we left base camp in 2020. Katherine, welcome back to the show.
KATHERINE WU Thank you so much for having me again.
BROOKE GLADSTONE With more than 5 billion people vaccinated globally, you wrote this, this week: it feels in some ways like gazing down the side of a mountain we've been trekking up for a good 30 months. A nice, stubborn buffer of elevation now lies between us and the bottom. The sea level status of no protection at all, even as the fast mutating virus pushes down from above. Our footing has, for more than a year now, felt solid. And the ground beneath us, unlikely to give. But in the past couple of months, new cases are trending upward. Is the power of vaccines and some 5 billion bodies to protect and strengthen our collective immunity starting to wane?
KATHERINE WU First and foremost, we definitely have to define what sort of immunity we're talking about at every single juncture here. Immunity is not binary. It is also not permanent protection against severe disease and death. Those defenses are staying relatively strong and they have since the vaccines rolled out.
BROOKE GLADSTONE This week you reflected on the early days of the COVID vaccination and sticking to your wonderful mountain metaphor, you said back when the vaccines were new and a near-perfect match for the circulating strain. Many people felt hopeful that we'd quickly clamor up to some symptom free vista, maybe even dart up to the no infection point. But even last summer, you pointed out how unlikely that was. And you wrote. When a virus has so thoroughly infiltrated the human population, post-vaccination infections become an arithmetic inevitability. Since we're not as elevated above the threat as we might have liked, where are we?
KATHERINE WU You have many, many, many different layers of defenses. Antibodies are going to be some of the frontline defenders that can, at their most powerful block, any infection at all. But antibodies do fade rather quickly in the months after infection, and this happens after pretty much any infection that we're aware of. But this makes sense. Imagine if we kept antibody levels high after every single infection we ever had. We would explode based on all the antibodies we kept in our system. It's a resource management thing. Just because I walk past a restaurant at 1 a.m. and I don't see the kitchen bustling, it doesn't mean they've lost the capacity to make food. If I come back the next day, they're going to whip up recipes because they've memorized them. They're experienced making them. And it's going to be really quick for me to get my order. The immune system works in much the same way, and the body retains the memory of the pathogens and faux pathogens we see in vaccines. Those memories are stored long term, which means that should the virus come back, we'll be able to react much more quickly than we would have the first time. And that is why protections against severe disease hold so sturdy.
BROOKE GLADSTONE We're very familiar with antibodies, but maybe less so with what else our immune systems can offer, like B cells and T cells that respond differently.
KATHERINE WU B cells are actually the source of antibodies. Your body makes a ton of B cells in response to the vaccines and viruses and other pathogens that it sees. And, you know, it's sort of mapping onto all sorts of surfaces on the pathogen. You know, it's like having this whole arsenal with a whole repertoire of options holstered in those B cells. And the amazing thing is that, you know, B cells can sort of refine their potency over time, sort of enhance their ability to produce really just primo antibodies to latch onto surfaces better and even recognize more parts of the virus. We talk about how the virus is evolving over time, but the immune system is evolving, too. And then we have these assassins called T cells that really complement what B cells and antibodies are doing. T cells hang out just waiting for an infected cell to move on by, and some of them can kill those infected cells directly. Other types of T cells can actually help B cells make more antibodies. There's a lot of partnership, redundancy and resiliency built into the immune system. And the amazing thing about T cells is they can recognize parts of the viruses that B cells and antibodies sometimes can't. My T cells are going to be super different from your T cells, which means even if a virus evolves and it manages to get around some of my T cells, it may not necessarily get around yours. So it's just going to be really hard for any version of the virus to be totally dumping T cells on a population wide scale.
BROOKE GLADSTONE You point out that our current vaccines are still based on the original virus. It's no longer circulating. Variants like Delta and a micron were able to slip past. And now it seems that even if you get boosted immunity from, say, an early Omicron infection like I did, that's not going to protect you necessarily from the newest updates. So how does the continuing march of mutation factor into our current level of immunity?
KATHERINE WU The most successful versions of the virus are going to be the ones that are able to hopscotch over some of our immune defenses. The virus is copying itself. It's making some mistakes. The most successful versions of it can get around some of our antibodies. The body is going to keep reacting. The immune system is going to keep trying to sort of tailor its responses to keep up. Once the virus wises up to those defenses, it's going to try and circumvent those. We're in this kind of arms race. I think it would be extraordinarily unlikely for us to ever have a reset back to spring of 2020. But that doesn't mean, you know, we can't have some erosion of that protection. You know, if we are hiking up this mountain, the terrain around us is shifting and we need to use a better trail map. We need to update our gear and just make sure we're keeping pace with this. We have spent so long fighting our way up this hill, we don't want to lose any ground whatsoever.
BROOKE GLADSTONE Some experts recommend another dose, which can restore the body's ability to stave off severe disease from BA.1, that was the first American variant. But we're kind of past BA.1, now, aren't we?
KATHERINE WU There is widespread consensus now that we do need at least a first booster dose to protect against Omicron and all of its offshoots. It is different enough from the version that was in our vaccines that we do need to compensate for that difference by adding on a vaccine dose to sort of broaden and enhance our immune response.
BROOKE GLADSTONE But it's the same vaccine.
KATHERINE WU Yes. So far. Yeah. BA.1, the original version of Omicron has pretty much been outcompeted here in the United States. So being infected by BA.1 does not guarantee that you're going to be protected against some of its siblings.
BROOKE GLADSTONE Dosing again and again with the same shot?
KATHERINE WU We probably do need to update our vaccines quite soon. It probably does not make sense to use only the original version of the virus in perpetuity. It may make sense to keep it mixed in just because it's possible. The next version of the virus that troubles us could actually look more like the original version than like Omicron. For the fall, a lot of experts are thinking - well, let's try something bivalent - basically a combo shot. Use the original version of the virus and then combine it with something Omicron-y, so that we're getting the best of both worlds. Clearly, the virus is slinging variants and some variants at us at an incredibly fast pace. We get flu shots once a year, and that is the most frequent regular booster type of vaccine that we get. The pace at which we have been giving out COVID vaccines has been a couple times a year, at least depending on who you are. That's not a pace we can sustain. But if we know that they're not doing an extraordinary job at preventing infection, that they're not perfect. That's not an indictment of them, but it's an invitation to think, what else can we do?
BROOKE GLADSTONE What are we looking ahead to for the fall? You talked about a dose that could include may be two spike variations for those who follow the lingo. Maybe more in the same shot. You call them multivalent or bivalent. Are they in the works?
KATHERINE WU Both Moderna and Pfizer have a couple of versions of these bivalent shots in trials. Probably the most promising candidates might include an original mixed with Omicron. That is likely going to come by the fall, but it depends on what the FDA decides is going to be the most prudent formulation, and they're going to be meeting at the end of June to make that decision. But it's incredibly tricky. We're months away from fall, and the virus could pull any number of tricks before then.
BROOKE GLADSTONE There was a growing concern over dangerous variants potentially developing in areas with lower vaccination rates. What is the state of global vaccine access now?
KATHERINE WU Unfortunately, still disastrous, which is a problem for all of us. There is no way to silo a single nation off from a pandemic. A pandemic, by definition, is global. The more people who go without immunity, the more this virus is going to have an opportunity to spread copy itself to make more mistakes when it's copying itself and find new ways to get around the immune defenses that we do have.
BROOKE GLADSTONE So to conclude and use any metaphor you like, Katherine, where do we stand on the current state of our immunity.
KATHERINE WU For individual people who are up to date on their vaccines, they should not be worried about getting seriously sick, but that doesn't mean that all other measures can go away. The world remains under-vaccinated. The US remains under-vaccinated. There are still people who don't have access to vaccines or aren't eligible or have chosen not to get them or have chosen not to stay up to date. And that does leave holes in our immunity. Eventually, hopefully, the next shot that everyone is able to get together is something that is more up to date.
BROOKE GLADSTONE Katherine, thank you very much.
KATHERINE WU Thank you so much for having me.
BROOKE GLADSTONE Katherine Wu is a staff writer for The Atlantic and holds a Ph.D. in microbiology. You can find her most recent piece in The Atlantic under the headline. "Vaccines Are Still Mostly Blocking Severe Disease."