The State of Ethics in Documentary Filmmaking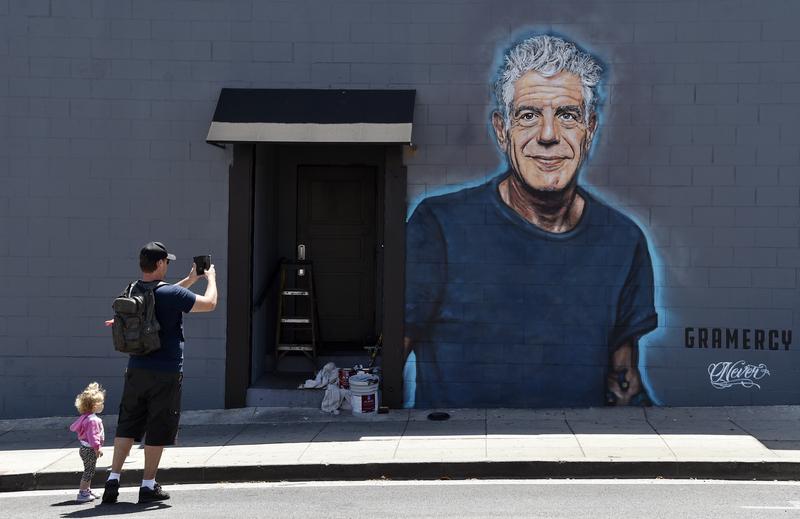 Transcript
SACHA PFEIFFER This is On the Media, I'm Sacha Pfeiffer sitting in for Brooke Gladstone. Have you seen that new HBO Max documentary series about the charismatic leader of a Christian weight loss program? What about the new Netflix doc about Bob Ross and his happy little trees, or Amazon's Val, about – yup – Val Kilmer. If it feels like you're inundated with alerts about new documentaries, it's because there have never been more of them than there are right now. The number of annual documentary theatrical releases has more than tripled in the last 20 years, and last year documentaries were the fastest growing genre on streaming platforms. But as the market has been flooded with new titles, some of the filmmaking practices that were the hallmark of documentary production have been swept aside
PATRICIA AUIFDERHEIDE As it's become more lucrative, it's also acquired different names like unscripted, nonfiction and factual.
SACHA PFEIFFER Patricia Auifderheide is university professor of Communication Studies at American University in Washington, DC. Amid the rise of reality television Auifderheide says, documentary filmmakers just starting out have often learned production practices on reality shows like interviewees being told what to say on camera. Productions, neglecting fact checking. Editors told to cut to suit the brand rather than, you know, the truth. And yet viewers place a staggering degree of trust in documentaries. A Pew study found more than half of Americans express confidence in the accuracy of scientific information and documentary films and nonfiction TV programs. That percentage drops to 28 percent when the source of information is a news outlet. In September, with her coauthor Marissa Woods, Auifderheide published a report called The State of Journalism on the documentary filmmaking scene, I asked her why viewers are so much less critical of the documentary format than they are of newspapers.
PATRICIA AUIFDERHEIDE The field of documentary until 20 years ago was not that lucrative. It was, for a long time, the preserve of the educational, the rather earnest. People with a cause. And I think there was an association with rather dull and staid but reliable kinds of documentary for a long time and in 20 years. As you pointed out, the commercial prospects for documentary have grown every single year.
SACHA PFEIFFER You write in your study that ethical standards for documentaries have lagged far behind that growth.
PATRICIA AUIFDERHEIDE There are good standards and practices in news divisions of media companies, but if you're producing through an entertainment division, the entire culture of those places is designed to maximize the viewership for entertainment. They don't have those standards. There is an exception, it's it's public broadcasting, which applies very rigorous standards throughout all of its programing.
SACHA PFEIFFER One device that is used often in documentary filmmaking is reenactment. For cases in which cameras weren't able to capture an original moment, but reenactment has really been taken to new levels in this current boom of documentaries.
PATRICIA AUIFDERHEIDE Reenactment is sometimes used in films in ways that it's not clear to people that it is reenactment, and if it's not clear to people which part was reenactment and which part is documentary that's widely regarded as an ethical violation or a really recent example of that is the film that Morgan Neville made about Anthony Bourdain.
SACHA PFEIFFER I wanted to ask you about this one. This is the one called Roadrunner, and it was controversial because the director used artificial intelligence to recreate Bourdain's voice reading emails, he wrote. And this is what that sounded like.
[CLIP]
AI: ANTHONY BOURDAIN You were successful and I am successful. And I'm wondering, are you happy? [END CLIP]
SACHA PFEIFFER Morgan Neville, the director, told The New Yorker quote, If you watch the film other than that line, you probably don't know what the other lines are that were spoken by the A.I., artificial intelligence, and you're not going to know. That seems awfully nonchalant about something that seems a legitimate ethical question.
PATRICIA AUIFDERHEIDE Yes, exactly. And when he said that a lot of consumers and viewers and other filmmakers went crazy, which is kind of a sea change, and what they said is I feel taken advantage of. I feel surprised, I, I might even feel betrayed. Whether he's in good faith or not. In itself, it's a betrayal of his relationship with the viewer. He's a really good filmmaker, but could you also have bad actors create really convincing material with AI right now? Yes, you can.
SACHA PFEIFFER We've been talking about the role of filmmakers and directors in being honest and transparent and ethical in making documentaries. But the funding of films has often gone unscrutinized. Would you give us some examples of how the funders could potentially be problematic?
PATRICIA AUIFDERHEIDE Oh, there's so many ways a funder could be problematic. What you'd like to know is that the people who are taking you on this journey into their interpretation of reality, what you want to be comfortable believing is that their interpretation has not been bought by somebody without your knowing that
SACHA PFEIFFER In your study, you mentioned cases where the Bill and Melinda Gates Foundation or Verizon fund documentaries, and again, questions about the motivation, what were the requirements, what were there, were there strings attached to the money?
PATRICIA AUIFDERHEIDE The Verizon case is interesting. Rory Kennedy, another really great filmmaker, made a film about the digital divide.
[CLIP]
CHILD Not having internet has been difficult because most everything is internet based, so there's a lot more stress on the students to find a way to actually do their homework. [END CLIP]
PATRICIA AUIFDERHEIDE And it was fully funded by Verizon, and that was not hidden at all. Verizon's name is at the beginning, at the end. This is a film that was shown in film festivals, and of course, it is a poignant and terrible story about the very poor distribution of broadband in this country, but the reality is that there's funding given out by the FCC for patching those holes in the net of coverage, and telecommunications companies of all kinds vie for that money. And there's a reason why Verizon wants to portray the problem in a particular way, a way that would position Verizon to help solve it. It was clear to me watching that film that there are various interpretations of why we have a digital divide, and this film really helps Verizon's case.
SACHA PFEIFFER Then there are the documentaries about that scam music event, the Fyre Festival by Hulu and Netflix.
PATRICIA AUIFDERHEIDE The two films were different. The Hulu documentary Fyre Fraud. They paid the central character, Billy McFarland, who was the scam artist who conducted this bogus festival and spent all that money. [CLIP]
BILLY McFARLAND I think it's really easy to play Monday morning quarterback for myself right now. Looking back saying, I should have done this, I should have done that, and I certainly made a lot of mistakes, and, and there's no question about that. But before we had the worst luck, I think we had the best luck. And it sounds crazy, but so many things had to go right to make it this big of a failure. [END CLIP]
SACHA PFEIFFER So he's the bad guy. Yet he made money from the filmmakers.
PATRICIA AUIFDERHEIDE He was in prison and we're not sure what they were paying for, but they did pay him. So that's the ethical problem with that film. With the other film, the Netflix film, one of the executive producers was the PR firm that was part of the debacle itself. And the portrayal of how they behaved, of course, was pretty light. It was an uncritical view of how they did.
SACHA PFEIFFER The streaming companies-- the big ones, as you mentioned, Netflix, Amazon, Hulu, everybody who, who wants more and more and more content, They could enforce clearer ethical standards on filmmakers, or they could better define what documentary means and let their audiences know that. But that seems unlikely because in your study, you cite this quote by Netflix co-CEO and co-founder Reed Hastings.
[CLIP]
REED HASTINGS Well, we're not in the news business. We're not trying to do truth to power. We're trying to entertain. [END CLIP]
SACHA PFEIFFER If there's little chance that the streaming companies that are behind this proliferation of documentaries or documentary-like films will change, then what hope is there for the industry?
PATRICIA AUIFDERHEIDE Oh, I think there's a lot of hope for the industry. I also think Netflix. They really don't have a reason to care right now because they're not paying a price. And the reason they're not paying a price is that there are no articulated standards to violate. And they're making a lot of money doing this. This is a situation in which journalism has previously addressed. This problem wasn't solved so much by media lawyers or journalism companies, as by journalists themselves, who in their own professional associations, established standards. The field of documentary film is actually more decentralized than journalism is. But I think there are national organizations and there are rising labor organizations within this field that are positioned to be able to better articulate standards that they regard as best practices. So it's very exciting to me that this week PBS has launched a website that articulates their standards and also gives filmmakers a chance to try out case studies and see how they would react to potential ethical problems.
SACHA PFEIFFER In your studies section about PBS. There's a line that says that PBS standards are, quote, widely regarded by filmmakers as unduly onerous and restrictive.
PATRICIA AUIFDERHEIDE Until these standards were public, people didn't have any way to know Why are you asking me to do this? Now, PBS has finally said, Look, there's a whole context here. Public broadcasting is not creating arbitrary, old fashioned reasons to make your life as a filmmaker more difficult, but is actually creating a scaffold. On which you can do honorable work.
SACHA PFEIFFER One of your proposed strategies for promoting more ethical documentary filmmaking is better journalism, so more media criticism of documentaries. But more than just tell me what the documentary was about, but really scrutinize it's making, its funding, its messaging, its devices, its technological manipulation, all of that.
PATRICIA AUIFDERHEIDE There is still today a real tendency in both criticism and other journalism to simply focus on what the movie's about and fail to say. How is this constructed? This is an interpretation. What is the nature of that interpretation and what are the implications of that,
SACHA PFEIFFER Even if there were more media scrutiny and public scrutiny of the ethics of documentaries, I'm not sure that critical uproar would make that much of a difference. I'm thinking, for example, about the Bourdain documentary. A lot of controversy over the artificial intelligence, but it was still pretty much a big commercial success.
PATRICIA AUIFDERHEIDE I think in the past, what's happened is a story emerges briefly, and it actually doesn't circulate through the whole ecology of information. It's a blip, and it doesn't make any difference to the producers in the documentary world because it's not going to affect their business because there are no standards there. As we get that conversation growing, I also think that there's more space in journalism for different kinds of outlets to find it interesting and to echo those stories and carry them forward and do more work. Because that's what really keeps the story alive and makes it visible to people.
SACHA PFEIFFER Thank you very much for talking with us.
PATRICIA AUIFDERHEIDE Thank you.
SACHA PFEIFFER Patricia Auifderheide is university professor of Communication Studies at American University in Washington, DC. You can find PBS documentary ethics standards, which she told us about at PBS.org/standards. That's it for this week's show. On the Media is produced by Leah Feder, Micah Loewinger, Eloise Blondiau, Rebecca Clark-Callender and Molly Schwartz. Xandra Ellen writes our newsletter. Our technical director is Jennifer Munson. Our engineer this week was Adriene Lilly. Katya Rogers is our executive producer. On the Media is a production of WNYC Studios. It's been a total delight guest hosting this past month. Brooke Gladstone will be back next week. I'm Sacha Pfeiffer.