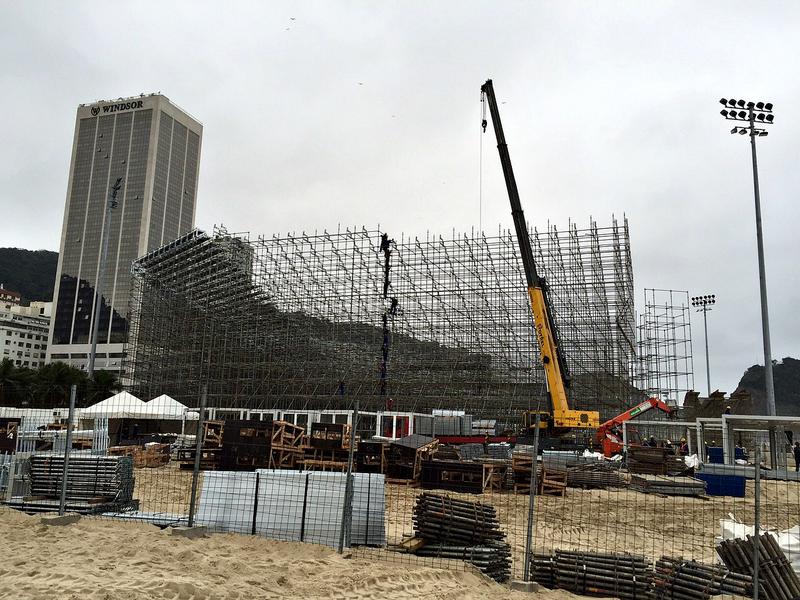 Transcript
[RIO MUSICIANS TALKING, PLAYING MUSIC]
BOB GARFIELD: From WNYC in New York, this is On the Media. I'm Bob Garfield. And those are street musicians on Rio de Janeiro's Copacabana Beach. We were there a couple of weeks ago to prepare this special hour on Brazil, a nation of 200 million that's supposed to be enjoying its finest hour, but so isn't.
To understand why, you have to go back to the same beach seven years ago. The envelope, please.
[CLIP]:
IOC PRESIDENT JACQUES ROGGE: I have the honor to announce that the games of the 31st Olympiad are awarded to the city of Rio de Janeiro.
BRAZILIAN MAN: Rio de Janeiro!
[APPLAUSE/CHEERS][END CLIP]
BOB GARFIELD: That was the sound here in 2009 of Brazilian pandemonium. For a country long synonymous with unfulfilled potential, it was also the sound of redemption. The world had declared, you have arrived. Only 24 years removed from military rule, as none other than Barack Obama observed, Brazil had advanced –
[CLIP]:
PRESIDENT OBAMA: …from a dictatorship to democracy, embarking on an extraordinary growth path, lifting millions of people out of poverty and becoming not only a leading voice in the region but also a leading voice in the world.
[END CLIP]
BOB GARFIELD: Even amid global recession –
FEMALE CORRESPONDENT: Brazil is looking better and better.
FEMALE CORRESPONDENT: This is one of the so-called "BRIC" nations.
MALE CORRESPONDENT: The entire world is not actually suffering economically.
MALE CORRESPONDENT: You're going to hear about BRIC a lot. Here's what it stands for –
MALE CORRESPONDENT: Brazil, Russia, India and China. Tonight, it's Brazil.
[END CLIP]
BOB GARFIELD: Seven years ago, the World Cup was on its way. Optimism and money overflowed, a broad lower middle class was coalescing and spending. Brazil even had a new crop of billionaires, such as the oil-fueled folk hero, Eike Batista, here with Charlie Rose, predicting his eventual net worth.
[CLIP]:
EIKE BATISTA: Mm, 100 billion.
CHARLIE ROSE: You think so?
EIKE BATISTA: Yes.
CHARLIE ROSE: So that makes you the richest man in the world.
EIKE BATISTA: What is important, Charlie, is that Brazil was the highway for that.
[END CLIP]
BOB GARFIELD: The cover of The Economist featured Rio's iconic mountaintop statue, Christ the Redeemer, as if it were a rocket ascending, along with the headline, "Brazil Takes Off."
[MUSIC]
BOB GARFIELD: But, as the old joke says, Brazil is the country of the future, and always will be. Brazil's aspirations have come crashing to earth. First, came raucous street protests in 2013 about a bus fare increase in advance of the World Cup, then the 2014 soccer championship itself, which saw the host team lose to Germany, 7 to 1 – seven to one!
[CLIP/CROWD NOISE]:
ANNOUNCER: Brazil are being humiliated, tumbled and taken apart by Germany.
MAN: Unbelievable, so unprofessional.
MAN: The worst thing I have ever seen, like the national team, it, it's a shame for us.
[END CLIP]
BOB GARFIELD: In soccer-crazed Brazil, the World Cup humiliation was a resounding blow. But no, it was not the worst thing. It was a mere foreshadowing.
[CLIP]:
MALE CORRESPONDENT: Latin America's biggest economy has fallen on hard times. The Brazilian economy is struggling with the falling price of oil, one of its main exports. A political crisis is also seen to be undermining confidence.
[END CLIP]
BOB GARFIELD: In the midst of the country's deepest recession since 1929, President Dilma Rousseff, universally called Dilma, has been deposed, at least for now, awaiting impeachment over illegal bank transfers. Whether this was constitutional justice or partisan politics, or both, is unclear because, at the same time, a sprawling corruption investigation threatens to implicate virtually the entire politico-industrial complex, including at least two presidents. It's called Car Wash or Lava Jato because it started with money wiring in a small car wash in Brazil's capital, Brasília. Now the investigation has focused mainly on the state oil giant Petrobras, on other private companies and on some 200 politicians. Car Wash has forced accountability for a graft culture so endemic here that the language of corruption is common slang.
Alex Cuadros is author of Brazillionaires.
ALEX CUADROS: There are so many different words for describing corruption, falcatrua, maracutaia. Rabo preso literally means tied tail. Imagine two rats with their tails tied together. Politicians don't rat each other out. If I rat you out, you're gonna rat me out.
BOB GARFIELD: One evening during our visit in São Paulo, some bar patrons offered the rest of the lexicon.
WOMAN: Jeitinho it's a way we go in between the lines to get things done.
MAN: Robo mais faiz, he steals but he gets things done.
WOMAN: Caixa Dois is a second cash register.
MAN: Malufar is to steal. It's a verb made out of someone's name, Paulo Maluf, a very well-known politician here in São Paulo.
WOMAN: Para inglês ver, for Englishmen to see. It's basically a fake front just so the gringos will come in and think everything is in order.
MAN: We say things end in pizza, when no one has been incriminated or anything, but the crimes are all there and very clear.
BOB GARFIELD: But Car Wash is not "ending in pizza." Just last month, three ministers of the government that replaced Dilma's resigned under a cloud, including the tourism minister. And on that subject, with only weeks to go before the Olympics begin, big construction projects, including the Metro to the Olympic Park, remain unfinished. The provincial government of Rio de Janeiro, unable to pay its bills, has declared a state of calamity. As Marcelo Rafael, chief reporter of public broadcaster EBC, put it to us –
MARCELO RAFAEL: We are very, very worried and afraid to be ashamed in front of the world.
BOB GARFIELD: Three weeks ago, at Copacabana Beach, workers dangled from an aluminum superstructure that looks more like an erector set than a beach volleyball stadium. Further north, almost every day there are loud demonstrations, many peopled by seething government workers, stiffed on their wages while the nation spends $6 billion on the Olympics. One afternoon, there were three such protests on Avenida Presidente Antônio Carlos, where we met the world's angriest geography teacher.
BOB GARFIELD: There's a state of calamity. What is the calamity?
[WOMAN SPEAKING IN PORTUGUESE]
INTERPRETER: The calamity is corruption, high salaries for public officials and low salaries for teachers, tax breaks for big companies. Brazil is not in a financial condition to pay for the Olympics. It has problems that need that money, like health, education and security.
BOB GARFIELD: And these protesters have little sympathy for the interim government of Michel Temer, who has used the chaos to erase decades of popular reforms.
[MAN SPEAKING AT PROTEST]
Meanwhile, crime rages. Robberies in Rio state are up 27 percent this year. Countrywide, there were 59,000 murders last year, and in 2016 they're trending upward. On June 30th, body parts washed up on Copacabana Beach, in the shadow of the skeletal volleyball venue. Also, the Narco-notorious gangster "Fat Family" was on the loose. While we were there, his friends busted him out of a public hospital where, under police custody, he was being treated after an earlier shootout. One patient was killed, a nurse and a bystander wounded, as 20-some goons fired in one direction and the police in the other. In Rio, the cops are at least as trigger happy as the criminals, but they aren't happy- happy. Frustrated police officers, owed months of back pay and facing Olympics overtime, greeted arriving passengers at the Rio International Airport a few days later, bearing banners that read "Welcome to Hell." Furthermore, along Rio's famous beaches, the water is contaminated with drug-resistant bacteria. Furthermore, Zika.
[CLIPS]:
MALE CORRESPONDENT: The virus, which is transmitted through mosquito bites, is linked to a spike in microcephaly, the condition that causes babies to be born with abnormally small heads.
FEMALE CORRESPONDENT: British long jump champion, Greg Rutherford, will have some of his sperm frozen before heading to the Games in Rio.
MALE CORRESPONDENT: Kenya could withdraw from this year's Rio Olympics due to concerns over the Zika virus.
[END CLIP]
BOB GARFIELD: Meanwhile, amid the disease, corruption and recession, the fortune of oil explorer and great entrepreneurial hope Eike evaporated. In less than two years, Eike went from being a 30-billionaire, the world's eighth richest man, to being a next-to-nothing-aire.
ALEX CUADROS: If you could imagine the embodiment of the Brazilian Playboy billionaire, he was it.
BOB GARFIELD: Author, Alex Cuadros.
ALEX CUADROS: He famously spent something like $30,000 just on a very high-tech wig. He loved to flaunt his wealth. When it finally became clear that the wells he had offshore of Brazil didn't actually produce that much oil, it all came tumbling down incredibly fast. You can only keep a house of cards like that standing for so long before it collapses under the weight of reality.
BOB GARFIELD: Did that man say "house of cards"? We heard that a lot, not as a metaphor, but in reference to the Netflix melodrama about political villainy. EBC's Marcelo Rafael.
MARCELO RAFAEL: People are telling to each other to watch House of Cards, but for me I didn't watch it then and now I don't want to. That is fiction. The situation in Brazil is here and we are living that every day.
BOB GARFIELD: And 30,000 foreign journalists are now packing their bags to take it all in. They will arrive in the so-called "country of the future" and they will encounter the reality of the present.
INTERPRETER FOR ELIANE BRUM: So our soccer is bad, our beaches are polluted, the Amazon Rain Forest, which was always celebrated as the lung of the world, is being destroyed.
BOB GARFIELD: Journalist Eliane Brum, writes for El Pais Brazil.
INTERPRETER FOR ELIANE BRUM: All of the clichés about how Brazil is constructed have been undermined today. This isn't necessarily bad. We look in the mirror and we aren't satisfied with what we see. You look in the mirror and that image that has been constructed of this beautiful, happy, nature-loving place is not what we're seeing anymore. We're looking in the mirror and we're seeing our racist selves, a society that continues to be violent and violates the indigenous population, natural resources and can't even play soccer.
BOB GARFIELD: Brazil's travails are not the world's worst. Daily life functions normally. The world's greatest athletes aren't being dispatched to some sort of post-apocalyptic hellhole. On the other hand, Brazil's converging plagues can seem almost biblical. One just waits for the locusts to appear, or, I don't know, the ritual sacrifice of the national animal. And so, Producer Alana Casanova-Burgess and I, like so many foreign journalists before us, showed up for one measly week [LAUGHS] to unearth the greater truth beneath the grim spectacle. We arrived - just in time.
MALE CORRESPONDENT: The Amazon's military command said in a statement the jaguar was shot and killed following the Olympic Torch Lighting Ceremony after it escaped its handlers and charged at an officer.
BOB GARFIELD: Yes, a jaguar. Yes, in celebration of the coming Olympic Games, they shot the national animal. And we hadn't even turned on our tape recorder.
ALANA CASANOVA-BURGESS: We actually hadn't arrived yet, Bob.
BOB GARFIELD: Okay, true. This is Alana.
ALANA CASANOVA-BURGESS: And you haven't mentioned the main reason we headed there, the other crisis?
BOB GARFIELD: Right, the one in the Brazilian media.
ALANA CASANOVA-BURGESS: Conflicted, in the best of times and, now deeply distrusted by its audience, in the worst of times.
[MUSIC UP & UNDER]
BOB GARFIELD: Yes, the other crisis – up next.
[BOB AND ALANA, IN UNISON]
This is On the Media.