'Something Is Emerging From This Community'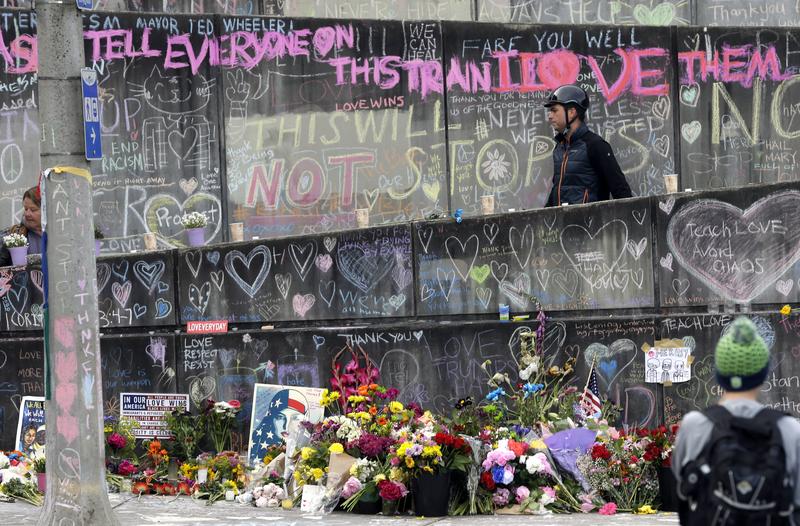 Transcript
BROOKE GLADSTONE: From WNYC in New York, this is On the Media. I'm Brooke Gladstone.
BOB GARFIELD: And I'm Bob Garfield.
The murder of two good Samaritans in Portland, Oregon a week ago, unlike many other such episodes, seemed to be a zeitgeist moment, as Portland's mayor, Ted Wheeler, put it earlier this week.
[CLIP]:
MAYOR TED WHEELER: Our current political climate allows far too much room for those who spread bigotry. Violent words can lead to violent acts.
[END CLIP]
BOB GARFIELD: The victims had rushed to the defense of two young women being racially taunted and were stabbed to death while intervening. One of the women was Muslim in a hijab. The killer, an avowed racist, was widely described as a white supremacist.
[CLIPS]:
FEMALE CORRESPONDENT: Alleged white supremacist, accused of stabbing two good Samaritans to death on a commuter train in Portland.
MALE CORRESPONDENT: Police say a suspected white supremacist, 35-year-old Jeremy Christian, went on an anti-Muslim tirade…
MALE CORRESPONDENT: Christian was a known white supremacist who had previously shown up to extreme right-wing marches and performed Nazi salutes.
[END CLIP]
BOB GARFIELD: Because reports of hate crimes appear to have risen in tandem with the prominence of the alt-right and because the alt-right is a vocal advocate of Donald Trump, some were quick to connect the dots, tracing a straight line between Trumpism and the hate crimes.
[CLIP]:
MALE CORRESPONDENT: Vice-President Joe Biden partially putting this at the doorstep of the White House, in saying that President Trump's rhetoric is partially to blame for divisions in the country and the rise in racially-charged attacks, like the one in Portland.
[END CLIP]
BOB GARFIELD: As the week rolled on, a debate over free speech flared. A white power march is scheduled for this weekend and Mayor Wheeler, citing public safety but in apparent indifference to the First Amendment, sought to revoke the organizers' permit, unsuccessfully.
Corey Pein, a reporter for Willamette Week in Portland, has been covering these stories. Corey, welcome.
COREY PEIN: Thanks, Bob, nice to be here.
BOB GARFIELD: Portland has been caricatured as a kind of multi-culti-vegan, tree-hugging paradise filled with yoga studios and artisan bong boutiques. Portlandia doesn't conjure up violent racism.
COREY PEIN: Well, there's a lot more to the history of Portland. I mean, everything you said is true. All of that stuff is here. But when it was the Oregon Territory it was whites only. In the '20s, the Klan was very active here. In the '80s and '90s, it was the center of the racist skinhead movement. And a lot of that history has been forgotten.
BOB GARFIELD: So a week after the killings, what is the mood and, and what's the discussion locally?
COREY PEIN: I would say that the mood locally is one of, obviously, sadness over the loss of life, fear over the rally which you rightly described as a white power rally that's coming to town, and anger over the circumstances that led to this, the sense of powerlessness that something is descending on this place or, even worse, emerging from it, that terrorism has emerged from his community.
BOB GARFIELD: In the introduction, I referred to the zeitgeist and to the reflex to connect dots, but I gather, from what you're saying, the same dots are being connected in Portland as they are, you know, 3,000 miles away.
COREY PEIN: I would say that locally one of the first reactions I heard, in terms of the coverage I contributed to Willamette Week, and I saw this comment directed at other papers, was, why aren't you calling this "terrorism?" That's a valid criticism. I think it calls into question some of the racial biases that are used when we discuss attacks like this, how come it's always Islamic terrorism? But the first presumption about this character is that he is a mentally ill loner There was also, undeniably, some rather defensive local reaction about this being a racially motivated hate crime. It's an overwhelmingly majority white city, Portland – that's to be expected, but nowhere near the level of distortion about the motives for this crime that has occurred in the national discussion.
BOB GARFIELD: All right, let's talk about the national discussion, particularly the reaction in the right-wing media who have accused the left, in general, of misrepresenting the episode.
[CLIP]:
MALE CORRESPONDENT: The accused killer was not a Trump voter. He actually backed Jill Stein and Bernie Sanders in the 2016 race and, indeed, called for violent attacks on Trump supporters during the election. A video from the day before the stabbing shows him denouncing not just Muslims but also Jews and Christians.
[END CLIP]
BOB GARFIELD: Well, he didn't just hate Muslims, he hated everybody! So, enough of this white supremacy nonsense.
COREY PEIN: Those are, to put it charitably, cherry-picked details from a long record of hateful white supremacism. This guy, Jeremy Christian, he did express support on his Facebook page a handful of times for Bernie Sanders, Jill Stein, in the context of wanting to murder Hillary Clinton, sandwiched by dozens, hundreds more posts espousing anti-Semitism, saying Zionists belong in ovens; square that with his alleged support for Bernie Sanders. He did say that not just all Christians but only Christians who failed to follow his vision of true Christianity also belonged in the ovens. What makes those more relevant than his acts? For at least two days, he had been seen in this neighborhood harassing black women, making Islamaphobic comments. On the train, before he stabbed three men, killing two, he was hassling this young Muslim woman. He was making comments like, get out of the country, Muslims don't belong here. Why is that less relevant than a handful of Facebook posts?
There's another thing to consider. As far as I know, I'm the only journalist who actually interviewed this man before he committed the killings, about a month before. He was at one of these free speech rallies by the same group that's organizing one on June 4th here in Portland. I didn't get much useful information out of him but I noticed his Runic tattoos, which fit with another thing that he posted about often, which was his Vineland ideology.
BOB GARFIELD: Vinelander? Are we talking about Nordic supremacy or something?
COREY PEIN: Yeah, essentially. It's a callback to some esoteric Nazi ideology that dates to the early 20th century. He is steeped in this stuff. So are we to consider those facts as irrelevant when we call him some kind of Bernie bro? I mean, people are saying that. It's outrageous! Are we to ignore his remarks shouted as soon as he entered the courtroom?
[CLIP]:
JEREMY CHRISTIAN (SHOUTING): Free speech or die, Portland, you've got no safe place. This is America. Get out if you don't like free speech... Death to the enemies of America. Leave this country if you hate our freedom. Death to antifa.
[END CLIP]
COREY PEIN: Death to antifa, meaning anti-fascist protestors. I mean, it's absurd to try to paint this man as some kind of leftist or as some kind of –
BOB GARFIELD: Agnostic outsider.
COREY PEIN: Yeah, he was friends with skinheads. It appears that he was radicalized in prison. I mean, it's frustrating to see known liars like Mike Cernovich be able to influence the mainstream media discourse in a way that is completely misleading.
Can I quote something else that he said on his Facebook page? This is after his fleeting support for Bernie Sanders and after Trump's inauguration in January. He said, "If Trump is the next Hitler than I am joining his SS. Nihilist criminals like me facilitate and run the show, if we are talking about recreating the Third Reich. You need unhindered and unhinged thugs for dirty work." Does that sound like any Bernie Sanders supporter you've ever heard?
BOB GARFIELD: No, it sounds explicitly white supremacist and it also sounds like the output of an extremely disordered mind. So I guess both of those ideas can be true simultaneously.
Now, on the subject of disorder, there are these rallies scheduled and the mayor has come out against them on public safety grounds. Now, I would say that the First Amendment is hospitable to the ugliest speech and to the ugliest demonstrations, as long as they're nonviolent. How do you square the mayor's position with the constitutionally-guaranteed right to peaceably assemble?
COREY PEIN: As uncomfortable as it is, I, I understand the mayor's position. Some of the groups organizing this rally, they have a record of violence, they court violence everywhere they go. The headliner of this rally on June 4th is a guy named Kyle Chapman, "Based-Stickman," as he's known online to his alt-right followers. He is famous only for beating people up, first in the April 15th riots in Berkeley, where he broke a stick over a leftist protester's head. So let's consider that.
The local group that's invited him, I've witnessed one of its members, a really big guy, about six-four, calls himself "Tiny," flatten a kid half his size. He said it was defensive but there's a video online; you can look and decide for yourself. These groups talk about free speech when they're talking to mainstream reporters, when they're talking to city officials, when they're talking to police, but when they talk to themselves they talk about collecting bounties for knocking out antifa teeth. They talk about the looming civil war. They talk about their twisted race politics and their false history, and I'm talking about the way that they portray the confederacy and slavery, and all kinds of issues.
There should be no mystery about who these people are and what they represent. And I would invite any journalists, before they describe them as merely a free-speech rally, to just go on their Facebook pages, listen to their YouTube videos. See what they're saying to their own crew.
BOB GARFIELD: Point taken but, as they say, sunlight is the best disinfectant. And assuming they don't incite violence, why shouldn't they be permitted to read from Mein Kampf, if the police are there to keep any violent behavior at bay?
COREY PEIN: They absolutely have a First Amendment right to read from Mein Kampf in public. The other residents of this city also have a right to counter-protest. This whole free-speech debate, when you consider it in the bigger context of these groups traveling around the country, not to their own rallies, but also to anti-Trump rallies, to anti-police brutality rallies, to all sorts of liberal and left-wing causes, bringing weapons, bringing body armor, talking in advance about their violent intentions, I mean, they don't care about free speech. If these people get their way, there won't be free speech for any of us.
This is a fascist movement. It's co-opted the language of, you know, liberal concern for free speech. They are twisting it for their own ends. It is not a sincere concern about free speech.
BOB GARFIELD: But even if they are co-opting our most sacred [LAUGHS] constitutional rights in order to advance their fascist agenda, the right itself, within the framework of peaceful demonstration, is immutable, so it's a bit of a conundrum, no? Or isn't it?
COREY PEIN: You can go online and actually see people making the, the argument that because three men stood up for two young women who were being verbally assaulted and maybe shoved this guy first, that his free-speech rights were violated. And if that is where the academic discussion of free speech is going, then I want no part of it. I mean, if these men didn't stand up and put themselves in between this armed lunatic and these vulnerable young women, there would be a lot more people dead.
BOB GARFIELD: Corey, thank you.
COREY PEIN: Thanks a lot, Bob.
BOB GARFIELD: Corey Pein is a reporter for Willamette Week in Portland, Oregon.
BROOKE GLADSTONE: Coming up, is Trump's Russia problem sucking up too much ink and air time?
BOB GARFIELD: This is On the Media.