Should the Country See What an Assault Rifle Does to the Body of a Child?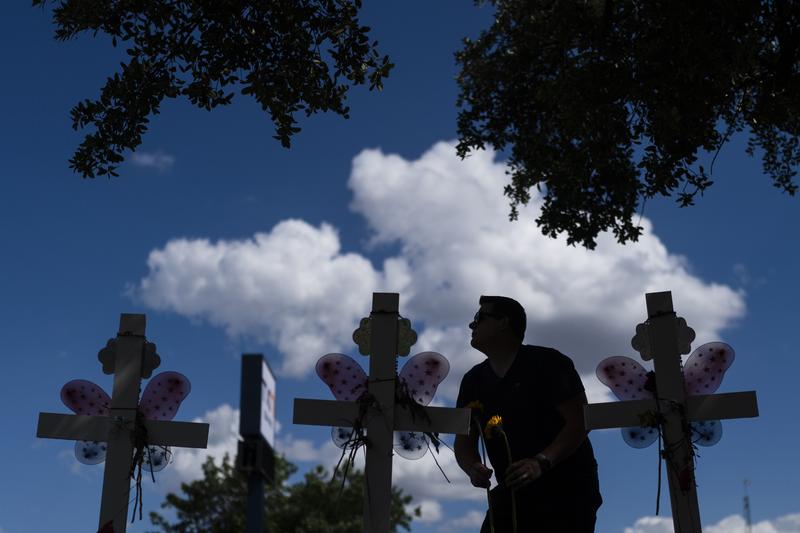 Transcript
BROOKE GLADSTONE From WNYC in New York, this is On the Media. I'm Brooke Gladstone. This week, politicians sat and listened to the parents of Uvalde, Texas. To say the testimony was heartbreaking, doesn't really cover it.
[CLIP]
KIMBERLY RUBIO On the morning of May 24th, 2022, I dropped Lexi and Julian off at school. [CONTINUES UNDER]
BROOKE GLADSTONE Kimberly Rubio.
KIMBERLY RUBIO Lexi received the Good Citizen Award and was also recognized for receiving all A's. To celebrate, we promised to get her ice cream that evening. I told her we loved her and we would pick her up after school. I left my daughter at that school and that decision will haunt me for the rest of my life. [END CLIP]
BROOKE GLADSTONE Rubio paints a vivid picture of a family destroyed, but precisely how her daughter was ripped away. The details of that violence are obscured from us. As with nearly all mass shootings, we are mostly shielded from the graphic reality. The photographs from that day were all taken from a distance and outside the school. The truth is that the bullets of the shooter's assault rifle tore through the flesh of his victims, disfiguring them beyond recognition.
[CLIP]
NEWS REPORT Today, a ten year old child, Jose Manuel Flores Jr, had to be buried in a closed casket. Eight days after families had to provide DNA to even identify some of their loved ones. [END CLIP].
[CLIP]
JOSE FLORES SR One of the rangers told me it came to me like as a father. Our let you go back to the stadium. [CONTINUES UNDER]
BROOKE GLADSTONE Jose Flores Senior.
JOSE FLORES SR Because he was not recognizable. So I didn't get to hold him no more. I didn't go to see him no more. [END CLIP]
BROOKE GLADSTONE Actor Matthew McConaughey, who is from Uvalde, noted at a White House press briefing this week that 10 year old Maite Rodriguez could be identified only by her shoes.
[CLIP]
MATTHEW McCONAUGHEY Maite wore green, high top converse with a heart she had hand-drawn on the right toe because they represented her love of nature. The same green converse on her feet that turned out to be the only clear evidence that could identify her after the shooting. How about that? [END CLIP]
BROOKE GLADSTONE Those green shoes implore the rest of us to look. Really look. In an op-ed for The New York Times. And why you, journalism professor Susie Linfield, asked whether, quote, the nation should see exactly how an assault rifle pulverizes the body of a ten year old. A violent society ought at the very least to regard its handiwork.
SUSIE LINFIELD You can say stoning, you can say torture, you can say concentration camps, you can say gun violence. But these words are somewhat anodyne, at least at a certain point. And one of the things that I think that photographs can do is actually make real clear to us what the actual experience of violence, of degradation of suffering is.
BROOKE GLADSTONE You suggest that the whole world had that experience when they saw pictures of the Holocaust or of the liberation of those camps?
SUSIE LINFIELD Well, yes and no. That's actually an interesting example. And one of the points that I tried to make in the piece is that you should never assume that everyone has the same reaction to an image, to a photograph. Photographs are very, very slippery things. Most of the photographs of the Holocaust, certainly most of the iconic ones we know, but by far the majority were taken by Nazis. They were celebrating their atrocities. But at the end of the war, German civilians were forced to see photographs of the camps, and they were also forced to actually view the corpses, the piles of corpses that were still in the camps. Their reaction was not what the Allies had hoped. The reaction more often was a kind of resentment. Why were they being forced? They didn't have anything to do with this. The Allies were hoping that this would inspire a kind of moral reckoning among German civilians. But we know that that reckoning really didn't happen until the sixties. It was the next generation, the children of the perpetrators who began that reckoning. So I think it's very dangerous to think that showing an image will necessarily have one particular outcome.
BROOKE GLADSTONE That is fascinating, especially the generational difference in the impact of the pictures of the Holocaust, this kind of reckoning, which in the piece you describe as an Emmett Till moment. He was a teenaged victim of lynching in the 50s. His mother insisted that photos of his body be shared and the image was used in a lot of protests. It didn't launch the protest, but the picture enabled his story to be told, which educated many ignorant people about the horror of lynchings in the U.S.. But you also note there's a big danger in overstating the political power of any photograph.
SUSIE LINFIELD Yeah, and I think lynching is another very interesting example.
BROOKE GLADSTONE Right. They took pictures on the day and sold souvenirs.
SUSIE LINFIELD Exactly. They were actually postcards that white people in the South would apparently send to relatives, friends, whomever. So that's actually a very good example. Sort of like the Holocaust photographs. That what might fill one person with absolute horror is not interpreted by other people in the same way. Yes, the Emmett Till photograph did have, I think, a real impact on the public at that time. It did not create the civil rights movement, as some people have claimed. There was already a civil rights movement.
BROOKE GLADSTONE Not everybody is like Emmett Till's mother. You've even said that the parents of the children who died in the Uvalde killing would be traumatized if those photos were shared. Do journalists, do you think, have a responsibility to be sensitive to that kind of impact?
SUSIE LINFIELD Yeah. So this is, I think, a very thorny question, and it's one that I really grapple with. There is no doubt that the parents would be traumatized. I think that what this raises is the question not only who do the photographs belong to, but who does that event belong to. The event, obviously, first off, happened to the children who were killed and those who survived, but will no doubt be traumatized for the rest of their lives. It happened to their families. It happened to the town that they live in. But it also happened to the country. That assault was an assault on the country. It didn't just happen to the immediate victims and their families. This is sort of connected to the point that Hanna Arendt makes about genocide. That the genocide of the Jews, of course, happened to the Jewish people. But genocide threatens all of humanity. And I think that that's generally an accepted view now. That's why we have crimes against humanity. So, yeah, I do think it would traumatize the parents. At the same time, it has traumatized in a less immediate way, many other people in this society. The question is, can we have a collective response to the event?
BROOKE GLADSTONE One danger of sharing these images is that they might inspire copycat killers or that they're just torture porn.
SUSIE LINFIELD Yes. So that's the world that we live in now. It's not the world of Emmett Till. It's not the world of the Vietnam War. There is no doubt in my mind that were the Uvalde images released, that they would end up well in what we can only call torture porn websites that traffic in the most repellent and sadistic forms of torture and carnage. However, having said that, because that is the world that we live in, I don't think that we can let that dictate to us what we can and can't see. That would essentially allow those terrible, terrible sites to have a sort of veto power over images. I think that that's not a valid position for us to be in.
BROOKE GLADSTONE At one point you were asked to speak at a conference in Sweden. It was about Susan Sontag and you had a couple of really interesting encounters during that event. Would you share those stories?
SUSIE LINFIELD Yes, I did show some photographs there, which, aside from Nazi concentration photographs are the worst images I've ever seen in my life. These are what's called the Caesar images. So Caesar is the code name of a police photographer from Syria. The Assad regime in Syria has a kind of gulag of torture centers where thousands of people are tortured to death. Police photographers who before the war were taking sort of mundane pictures of car accidents, etc. Were delegated to take pictures in these torture centers. People with eyes gouged out, people starved to death, people mutilated in the most revolting ways. They are very, very hard to look at. Caesar started smuggling them out on discs. At this conference. I did show some of these, although I showed them very quickly because they are very hard to look at. And in the intermission, a young gal came up to me who I think was only about 20 years old, and I was not sure if she was born in Sweden or not. But in any case, her parents were political refugees from Eritrea. And she said to me that she didn't think that I should show those photographs, that it was insulting to the victims to show them in such a debased way.
BROOKE GLADSTONE Mm hmm.
SUSIE LINFIELD And she asked if someone in the audience was a relative of someone in one of those photographs. Would I still have shown that? And I said that would be very difficult. But yes, I would. After the intermission, I brought up this question because I think it's an important question. And a man rose from the audience, and he identified himself as a Syrian refugee. And he said that Syrians themselves were circulating these photographs among themselves. Partially to see if their loved ones were in these photographs, but also to show what was happening. And he said that he felt it was very, very important for the world to see what was happening. He essentially said, don't talk about protecting us by not looking at the photographs. You're just protecting yourself. So this was very interesting to me. Two totally, totally different views of what the morality of showing these photographs was.
BROOKE GLADSTONE I wonder if you're saying that graphic images can bring people closer to the impact of these events. Why did they fail utterly to alter what the U.S. thought about the Syrian conflict?
SUSIE LINFIELD It was front page news in the New York Times. They were reported all over. The photographs were shown at the UN. Caesar testified before the US Congress, although Obama refused to meet with him. They were shown to John Kerry, who was then secretary of State and other world leaders, and they had absolutely no effect. The reason the Ceasar photographs failed is just bluntly that in the U.S., virtually no one in America, from the far left to the far right to everybody in between, had any interest in what was going on in Syria. There was no photograph that can budge a public that does not want to be budged. We live in a very polarized country. I think that one of the very few things that the left and the right in this country agree on is that they really could not care less about what happens in Syria.
BROOKE GLADSTONE Which brings us back to Uvalde. Those are massacres on our own soil. And yet the sensibility of Americans and the sensitivity of photo editors make showing those pictures, I would imagine a very hard climb.
SUSIE LINFIELD Yes, it is. But we've forgotten how extraordinary what's going on in America is. How is it that we are living in a country where gunmen go into a school and shoot students in the face? The extraordinariness of that, I fear, is being lost. So in the perfect world, I guess what I would like is for those photographs to be shown to Congress. But at the same time, yes, I think that they would also be misused. I think that they would circulate on horrible websites in horrible ways. So on Tuesday, The New York Times read an op ed piece by Kim Phuc Phan Ti, who is commonly known as the, quote, napalm girl, the little girl in the photograph taken during the Vietnam War, running naked down the road, fleeing from a napalm attack. She talks in the piece about how the napalm attack disfigured her, mutilated her. She now lives in Canada and the title is It's Been 50 Years. I Am Not Napalm Girl Anymore. And she talks about how the photo was a source of great shame for her for many, many years. Here she is, naked, disfigured in front of the world, but that now she's glad that this photograph was taken because it shows the horrible reality of war. And she addresses Uvalde and what happened there. Here is what she says. I cannot speak for the families in Uvalde Texas, but I think that showing the world what the aftermath of a gun rampage truly looks like can deliver the awful reality. We must face this violence head on. And the first step is to look at it.
BROOKE GLADSTONE Susie, thank you very much.
SUSIE LINFIELD Thank you so much.
BROOKE GLADSTONE Susie Lindfield is a professor of journalism at New York University and the author of The Cruel Radiance: Photography and Political Violence. Here's Kim Phuc Phan Ti speaking at the Vietnam Memorial 24 years after that photograph was taken.
[CLIP]
KIM PHUC PHAN TI I do not want to talk about the war because I cannot change history. I only want you to remember in order to stop fighting and killing around the world. [END CLIP]
BROOKE GLADSTONE As Susie Linfield told us, quoting Susan Sontag. A photograph cannot change political will where there is none. But that isn't to say it can't make any change.
[CLIP]
NEWS REPORT That photograph so transfixed the world that it helped lead to an end to the Vietnam War. [END CLIP]
BROOKE GLADSTONE Hardly. It raged on for nearly three more years. And we should note that U.S. forces were not responsible for that particular napalm attack. But that photo did add fuel to the fire of the anti-war movement by opening minds to the horror that war was inflicting on civilians. Few of us know, even now, the actual toll of civilian deaths in that war, though various accounts emerged in 1975 and again in 95. Estimates vary, but if one counts the work of all the armies at play, it seems to be as many as 2 million. 2 million. But at least Americans of a certain age have seared in their mind the image of that 9 year old girl screaming, fleeing, holding her arms away from her melting skin. We still remember Kim.
Coming up, the wrenching decision one family made to try to bring about change. This is On the Media.