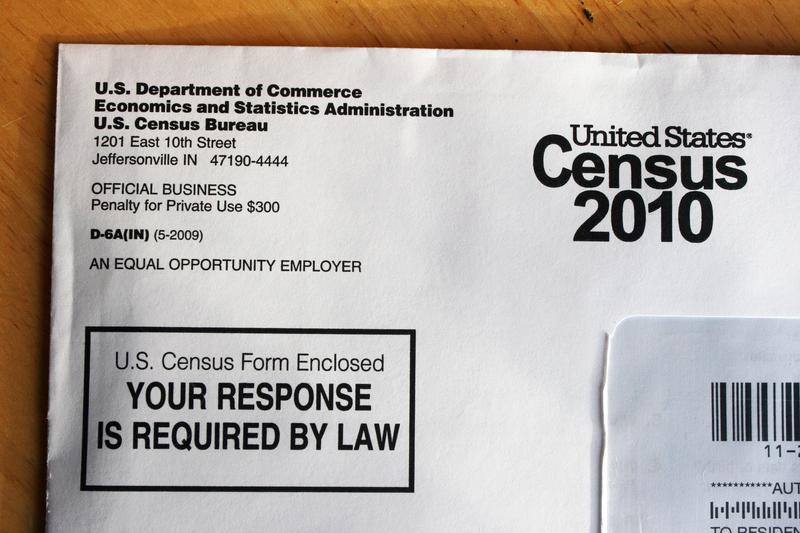 Transcript
BOB GARFIELD: This is On the Media. I'm Bob Garfield.
BROOKE GLADSTONE: And I'm Brooke Gladstone. As the Supreme Court mulls the fate of gerrymandering, another public institution continues its role in shaping elections to come. On April 1st, 2020 the Census Bureau will embark on its decennial mission to count every person in America and shifts in the population, so that the number of Electoral College votes and congressional seats can be adjusted accordingly. But, as the Bureau reminds us every decade, census data are not just about politics.
[CLIP]:
SPOKESMAN: We have made the census much more than a gathering of statistics. Wherever we are, whatever we want to become, it can help us all, in Lincoln's words, "to better judge what to do and how to do it."
[END CLIP]
BROOKE GLADSTONE: Free and open census data fuel journalism and academic research. They help businesses decide where to build grocery stores, where local governments put new schools and roads. Of course, collecting this massive data trove is a huge and costly endeavor, undertaken, in large part, by hundreds of thousands of census takers going door to door, a sometimes knotty enterprise spoofed by Saturday Night Live in 2000.
[CLIP]:
TIM MEADOWS AS CENSUS-TAKER: How many people live in this residence?
CHRISTOPHER WALKEN AS MR. LEONARD: Oh, boy, that's a good question.
[AUDIENCE LAUGHTER]
I'm bad with numbers, maybe 80.
CENSUS-TAKER: Eighty people live in this apartment?
MR. LEONARD: Seems high, doesn't it? Not 80. How about 4?
[AUDIENCE LAUGHTER/END CLIP]
BROOKE GLADSTONE: But an overcount is not what should concern us. An undercount is far more likely, especially amid a series of recent shakeups at the Bureau.
[CLIPS]:
MALE CORRESPONDENT: The director of the US Census Bureau is resigning. John Thompson will leave on June 30th. This comes as the agency is in a funding crisis.
FEMALE CORRESPONDENT: In the 2017 fiscal year, Congress approved almost $1-1/2 billion dollars for the Bureau and that's about 10% below what was requested. In the proposed budget for 2018, another 1-1/2 billion was earmarked but experts say that that falls far below what is needed.
[END CLIP]
BROOKE GLADSTONE: And Kenneth Prewitt, who served as Census director from 1998 to 2001, says that the repercussions from an underfunded, leaderless and crippled Census will cascade far and wide. Welcome to the show.
KENNETH PREWITT: Thank you.
BROOKE GLADSTONE: Politico called the U.S. Census "the largest civic action undertaken by the entire country…enshrined in the Constitution that aims to count every person living in the United States, regardless of race, gender or citizenship status." "At least," it writes, "that has been its intent since James Madison helped design the first census in 1790."
So why is it so crucial?
KENNETH PREWITT: We would not have a representative democracy. How would you know how many seats each state would get? Every 10 years, we reapportion the Congress proportionate to population size, as the Constitution declared. Secondly, once you have these numbers maybe you can learn something about the society, which would allow you to govern it better.
BROOKE GLADSTONE: But also plays a pretty big financial role. I mean, it determines how billions of dollars are funneled to states for schools or roads or anything, right?
KENNETH PREWITT: Exactly. About $4 billion currently are in direct funding. However, many, many, many, many more dollars are funded indirectly because of the census counts, from Bureau of Labor Statistics, Health and Human Services, the Department of Transport. All of these use census data for their own program activities.
BROOKE GLADSTONE: Staying with history for a moment, nowadays we're all familiar with the idea that big data can be weaponized, but there's an early example towards the end of the Civil War. That's when General William Sherman used the 1860 census data to plan part of his infamous March to the Sea.
KENNETH PREWITT: He needed to find out where the crops were. He had to feed this vast moving army.
BROOKE GLADSTONE: Far away from union supply lines, no food.
[BOTH SPEAK/OVERLAP]
KENNETH PREWITT: And no – and absolutely, no food. They really were frightened of going down there and not finding food. And what happened, fascinating. They actually got together some maps and superimposed the census data from 1860 on the maps, and he knew exactly where he was going, what he would run into, roughly how many people ought to be in that area.
BROOKE GLADSTONE: So it's worth noting that the census, which is supposed to be scientific and nonpartisan, is often swept up into political anxiety.
KENNETH PREWITT: The 1920 census showed that we were more urban than rural. And if you go back in your mind to the 1920s, this was the one with the red scare.
BROOKE GLADSTONE: The first red scare.
KENNETH PREWITT: The first red scare, exactly. And so, the conservative Congress, still very rural in its origins, simply said, we're not going to reapportion, we're not going to give all of those seats to these radical city-dwelling immigrants.
BROOKE GLADSTONE: Congress refused to use it?
KENNETH PREWITT: Yep, they just stonewalled for a decade and we didn't reapportion until 1930.
BROOKE GLADSTONE: Didn't they say that the information must be flawed?
KENNETH PREWITT: Well, yes, that was their excuse. There was actually no rationale for that. They were fairly certain we were still a majority rural nation. It has echoes today because today there are many people saying we are losing our country because the whites are going to be a minority.
BROOKE GLADSTONE: Last month, the Census Bureau's Director John Thompson announced that he would resign. He'll be gone by the end of the month. As the Bureau ramps up to 2020, it doesn't have a manager and it seems to have insufficient funding. How will that affect things?
KENNETH PREWITT: Hugely. This is the moment of ramp-up time. Most critically, we do an end-to-end test of the census. That is, you actually run the census as if it's actually happened about three years before you actually do a census. It was going to be in four parts of the country, so you'd have a good overview – in an Indian reservation, in a rural area, urban area, and so forth. It is now planned for only one area, Rhode Island. They have to start getting their ads ready, testing them, in half a dozen different languages. And it is not going to do an end-to-end test of the partnership strategy. These are the trusted voices that talk people into cooperating with a census they may not otherwise want to do.
BROOKE GLADSTONE: You mean like Tom Hanks?
KENNETH PREWITT: Tom Hanks, exactly, or the Catholic Church, for example, very, very active in the Southwest with respect to migrant workers, and especially if they're undocumented. This is the year they have to get ready to do all of that, and they're flat funded.
BROOKE GLADSTONE: There was a draft executive order leaked in January that proposed the director of the Census Bureau include questions to determine US citizenship and immigration status, thus scaring many people away from the census. The executive order hasn't been signed but the idea has many groups up in arms. There were some ads in recent counts that have sought to reassure people in immigrant communities that filling out census forms wouldn't endanger them. They had posters in bodegas and unemployment offices. So as far as ads go, when we've spent so much money and time trying to convince people that they won't be endangered if they fill out the survey, do you think having that executive order signed could undo a lot of work?
KENNETH PREWITT: Oh, absolutely but I think some part of that would happen without the executive order. I think that will aggravate it. There's a huge mistrust out here right now toward the government. I am very fearful that we will have a bad census, even if there's no attempt to make it a bad census, though I can make an argument for why that maybe makes sense for some interest groups.
BROOKE GLADSTONE: Make an argument.
KENNETH PREWITT: The Republican Party has done a very, very good job of converting roughly 50% of its voter strength to roughly 60, 65% of its legislative strength and gubernatorial strength. It's done that through gerrymandering. I would point out that if you only start 50-50, they can't keep growing it. You may get 60-40 or even 65-35. You're not going to get 80-20. The numbers simply won't work out. So they're right now at the peak of what they can extract from the census. They've done it very intelligently and cleverly, by voter suppression and by gerrymandering.
BROOKE GLADSTONE: So you're saying if they could freeze this last census in amber they'd be happy.
KENNETH PREWITT: You are absolutely right. They cannot improve and they can lose. So a bad census could lead you to make the argument, we shouldn't reapportion like we didn't reapportion in 1920 because we had a flawed census. And if enough state legislators and governors make that case, they'll be able to do it.
BROOKE GLADSTONE: So what's really at stake if you undercount a population during the census?
KENNETH PREWITT: All major surveys that are done with any kind of scientific rigor whatsoever are standardized to the census data. Therefore, if the census data are flawed, if they have a big undercount, everything else replicates that undercount - our unemployment numbers, our health numbers, our transportation numbers, our housing numbers. Every other major piece of work using sample surveys is necessarily flawed to the degree to which the census is flawed. So that's a huge cost to the society, if you want to make public policy based on numbers.
BROOKE GLADSTONE: In addition to the knock-on effects of bad data, what else is at stake?
KENNETH PREWITT: Let us say that the sense of the country is this was a bad, poorly done census, sooner or later we feed the numbers back to cities and counties and the mayors pour over these data and say, wait a minute, there are more kids in our school system than you counted, this doesn't look like our transportation system that you've counted. This isn't a good count. That then can go viral.
Here's one of the consequences of that for me that frightens me, I must say. If it's a failed census, why don't we privatize it, give it to Google, Apple or Microsoft, whatever, and turn it into a commercial operation where people will do it well because they're getting paid to do it well?
BROOKE GLADSTONE: What bugs you about privatization of the census? I mean, it's worked so well in the military and education and in our prison system.
KENNETH PREWITT: Some of that's a matter of judgment. [LAUGHS]
[BROOKE LAUGHS]
No, let us say, of course, it can work. I think some things are a public good and I think widely-shared, high-quality statistics are a public good. And I - happy to contract out. We wrote a huge contract to Lockheed in 2000 and we benefitted enormously from their talent.
BROOKE GLADSTONE: What were they doing?
KENNETH PREWITT: They were doing the data capture –
BROOKE GLADSTONE: Mm-hmm.
KENNETH PREWITT: - intelligent character recognition and so forth, very advanced work.
BROOKE GLADSTONE: It sounds fancy.
KENNETH PREWITT: No, it was very well done. But as soon as you privatize something, you necessarily have to build in a profit. If you're trying to make money off of this, you think differently than if you're a public good institution. And it's in the Constitution right from the beginning. We would not have a representative democracy without the census. I would like it to be a public good.
BROOKE GLADSTONE: Is it too late to save the 2020 census?
KENNETH PREWITT: It is not too late but I'm not optimistic because 1) leadership really matters, and I don't seek rapid movement on finding a new director, and budget matters, and I don't see any rapid movement. I see the opposite. But can it be fixed? Absolutely. Three years is long enough, if you have enough money and you have the right leadership.
BROOKE GLADSTONE: What about the pressure of mayors on congressional representatives?
KENNETH PREWITT: That will begin to build. They want the data. They need the data to govern. There's a reason we opened up 435 census offices, by the way, because every member of Congress likes to know about his own district or her own district. But we're on a new landscape. It's a mystery to me how we will govern ourselves or think about ourselves. We simply don't have a good handle on the degree to which you can lose confidence in the numbers of an advanced democracy. We've never governed it as if we did not believe the numbers.
BROOKE GLADSTONE: [SIGHS] Thank you very much.
KENNETH PREWITT: My pleasure.
BROOKE GLADSTONE: Dr. Kenneth Prewitt is the author of What is Your Race: The Census and Our Flawed Efforts to Classify Americans. And he served as the director of the Census Bureau from 1998 to 2001.