Trump's Sabotage of Public Data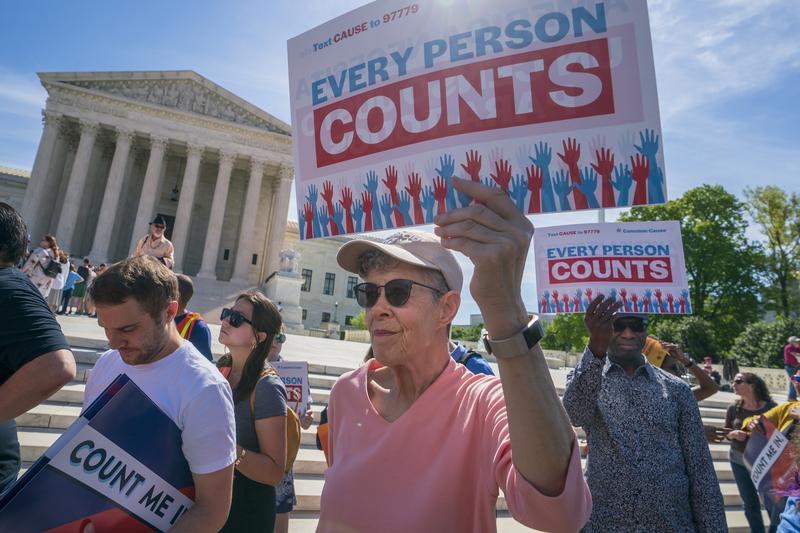 Transcript
BOB GARFIELD This is On the Media, I'm Bob Garfield.
BROOKE GLADSTONE And I'm Brooke Gladstone. During his presidency, Trump has shown disdain for data collection.
[CLIP]
TRUMP When you do testing to that extent, you're going to find more people. You're going to find more cases. So I said to my people, slow the testing down, please. [END CLIP]
BROOKE GLADSTONE You see, data spoils the world Trump wants us to live in. The one in which the virus isn't a big deal. Early on in the pandemic, Trump said he preferred for sick passengers on the Grand Princess cruise ship to stay aboard so they wouldn't hike up the U.S. COVID statistics.
[CLIP]
TRUMP I like the numbers being where they are. I don't need to have the numbers double because of one ship that wasn't our fault. [END CLIP]
BROOKE GLADSTONE Later, he stripped the CDC of its control of coronavirus data. Those numbers were from a different reality. He wants his truth that COVID, COVID, COVID just ain't that bad to be our truth. And he freely admits it and so does his doctor.
[CLIP]
WHITE HOUSE DOCTOR I was trying to reflect the upbeat attitude that the team the president had, of course, of illness has had. Didn't want to give any information that might steer the course of illness in another direction. And in doing so, you know, came off that we were trying to hide something that wasn't necessarily true. [END CLIP]
BOB GARFIELD But according to Samanth Subramanian, the Trump administration's offensive on data collection goes far beyond the pandemic. Subramanian wrote the introductory essay for Data Disappeared, a project by the Huffington Post that tracked the current president's assault on public data. Welcome to the show.
SAMANTH SUBRAMANIAN Thank you so much. I'm so glad to be here.
BROOKE GLADSTONE We're so glad to have you now. First, for context, return us to an earlier era in the 70s when white semitrailers with National Health and Nutrition Examination survey stenciled on their sides roamed the American countryside to examine its citizens health.
SAMANTH SUBRAMANIAN So this is a survey that's been going on for almost half a century. There's four trucks that pull into a county and their trailers are sort of hooked up to make this large mobile hospital. And over the course of a few weeks, clinicians and physicians will ask regular Americans about their diet, their sleep. They do blood tests. They check your eyes and your teeth. In 1976, they first began to test blood for levels of lead, and the results were stunning. The government had known that there was lead in paint, and that children could perhaps be exposed to that by licking metal objects on which there was metal paint. But they didn't know that blood levels were high, even in areas where the paint wouldn't have been a problem. And that was the first concrete indication that leaded gasoline was responsible for introducing lead into so many people's blood.
BROOKE GLADSTONE How much did we know at that point about the damage lead could do not just to children, but also to adults?
SAMANTH SUBRAMANIAN For a long time, it was argued largely by these industries that every single human being in the post-industrial age had a best measure of lead in their blood. It wasn't so much a case of not knowing what led to your kidneys or your brain. The argument was being made that the lead in the air wasn't excessive to the point that it was leeching into people's blood.
BROOKE GLADSTONE So the reason why I ask you to start with these semitrailers doing what amounts to a census of America's health was that it had an impact. They were able to persuade the Environmental Protection Agency to demand that gas companies cut their lead content by 90 percent. Without good data it just couldn't have happened.
SAMANTH SUBRAMANIAN Without good data. You wouldn't have known that these regulations were necessary. You wouldn't have been able to argue for these regulations. You wouldn't have been able to calibrate these regulations to know what amount of lead could be considered safe and what amount couldn't. And you wouldn't finally be able to pass these regulations. The ban on lead based paint and then the stripping away of lead from gasoline, all of that happened because this one federal agency went out and collected data on lead.
BROOKE GLADSTONE Now, the Trump administration has undermined data collection across most departments. You wrote that the damage has perhaps been most prolific on environmental matters, though. Tell me about chlorpyrifos.
SAMANTH SUBRAMANIAN Chlorpyrifos is a chemical that's been found in pesticides and it has been shown that it can distort brain development in the womb. And if children are exposed to it, they can go into seizures, they can lapse into coma. For a couple of decades, The Columbia Center for Children's Environmental Health has been tracking hundreds of children in New York to make sure that they know what the effects of chlorpyrifos are. That one center is part of a network of 13 research centers that examine how adverse health and adults might result from childhood exposure to chemicals. All of these 13 centers now stand defunded, and what's happening with chlorpyrifos is exactly the opposite of what happened with lead in gasoline. Back in the day, you had this survey that found out that lead could stunt children's development and as a result, there were regulations put in place. Here we have another chemical that might stunt children's development. And instead of having regulations passed against the chemical itself, the Trump administration has defunded the very agencies that produce that data, which makes it really difficult to argue for regulations to be passed.
BROOKE GLADSTONE Now, the collection and sharing of public data isn't just hindered deliberately, it's hindered by inefficiency. Contact tracing is almost impossible in health departments that rely on fax machines and a lot do. A lot of public data systems aren't digitized.
SAMANTH SUBRAMANIAN The COVID-19 pandemic has exposed inefficiencies in every nation's collection of data and management of data. What has been particularly singular is it's not as if data and data management and data collection has been cut down wholesale across the government, its particular kinds of data that are being weeded out.
BROOKE GLADSTONE Can you give me some examples?
SAMANTH SUBRAMANIAN The economic research service that comes under the US Department of Agriculture, it collects a whole bunch of data on crops and agriculture every year. The agency finds, for example, that trade deals benefit US farmers, which is not something the Trump administration believes at all. The ERS finds that federal spending on food stamps has been going down steadily since 2013. Again, the administration says that welfare spending on food stamps has been going up. Both of these are uncomfortable truths. And so what happened last year in June was that Sonny Perdue, the secretary of agriculture, told the ERS that its officers would be leaving Washington, D.C. and they would be relocated to Kansas City, Missouri. This seems to be an act executed in the knowledge that most people who work for the ERS wouldn't be willing to uproot their lives and move halfway across the country. You know, budgets was scheduled to be cut this year. In any case and, you know, by October last year, two out of every three ERS positions had become vacant. That's one of the things that just befuddle me so much about this entire project. That a strong, robust body of knowledge about the state of the country and the state of its economy and its agriculture and its health and its citizens, you know, that is sort of a bedrock of government of any kind.
BROOKE GLADSTONE You suggest that when the Trump administration attacks data, it's essentially attacking democracy. You liken the collection of data to the assembly of people. Without public data, you argue, the government can't know the people it is meant to serve, and that's deliberate. As in the government's attack on the census.
SAMANTH SUBRAMANIAN The census is sort of once in a decade exercise that helps us reimagine afresh what America is like. It's an act of invention, just as the nation itself is an act of invention on a daily basis. And so to tamper with the census or to tamper with the kind of data that helps us imagine and invent our nation on a regular basis is to tamper with the basis of the nationhood itself. It also fundamentally weakens the government's ability to help the people who need it the most.
BROOKE GLADSTONE You say that every set of public data is valued twice over first by virtue of the information it holds, and second, by virtue of being accessible to everyone. If the government won't do it, then private companies will. But if it's privately owned, Americans won't necessarily benefit from its insights.
SAMANTH SUBRAMANIAN The one example that sort of stuck in my mind the most comes out of Michael Lewis's book, The Fifth Risk. Michael Lewis describes in the spring of 2015 how there was a tornado that was making its way through Oklahoma, and in its path was a town called Moore. And the National Weather Service missed spotting the tornadoes pass through that. And so never issued an alert. Accu-weather, a private company that also relies on government data, mind you. It doesn't collect its own data, it relies on government data and then refines its own forecasts. Accu-weather knew that Moore was in danger. The only people who received that warning were the people who paid for it, and the people who didn't pay for it, well, they were just abandoned to the tornado's fate. That's an indication of the kind of thing that will happen if data is monopolized by private companies. Because the questions of what kind of data gets collected, who can access it and who can't. I mean, all of these questions suddenly become fraught with private interests that will eventually have really detrimental effects on how we live as a society.
BROOKE GLADSTONE How much can these systematic damage to public data over the past four years be repaired?
SAMANTH SUBRAMANIAN These data collection processes can slowly be repaired. What will not be as easy to reconstruct is for the public consensus on what data means. Over the last four or five years, we've already witnessed a divergence of consensus on, for example, how much the news can be trusted on how much government officials and their statements can be trusted, on what the nature of truth is. And so when a data set is presented to the public as justification for a policy, that may not necessarily be any assurance that every single party has been trust what the numbers say, 100 years after this, federal data collection processes began. Suddenly we witnessed this huge rupture in what these data collection processes even mean. What are the fundamental truths that you can agree on before you even start discussing the kind of policies that should be made? If you can't agree on that, policy making is essentially dead.
BROOKE GLADSTONE You've said that a nation is an act of invention. An abstract, uncanny idea made real every day by a million concrete things that citizens decide they want for themselves. Edible food, safe streets, clean air. The measure of these things determines how a nation shapes itself. So what happens when the act of invention falters?
SAMANTH SUBRAMANIAN Well, the lead stays in the gasoline. Society sort of starts to corrode and rot from the inside because there's really nothing holding it together. And as we've seen over the last four years, the quality of governance just deteriorates. It's quite fatal to the entire national project.
BROOKE GLADSTONE Samanth, thank you so much.
SAMANTH SUBRAMANIAN Thank you for having me. It's been a pleasure.
BROOKE GLADSTONE Journalist Samanth Subramanian most recent book is A Dominant Character, The Radical Science and Restless Politics of JBS Haldane. He also authored the introductory essay for Dated Disappeared, a project by the Huffington Post and ProPublica that tracks the current president's assault on public data. We'll link to it at OntheMedia.org.
BOB GARFIELD That's it for this week's show. On the Media is produced by Alana Cassanova-Burgess, Micah Loewinger, Leah Feder, Jon Hanrahan and to Eloise Blondiau with help from Ava Sasani. Xandra Ellin writes our newsletter, and our show was edited... by Brooke. Our technical director is Jennifer Munsen. Our engineers this week were Josh Hahn and Adrienne Lily.
BROOKE GLADSTONE Katya Rogers is our executive producer. On the Media is a production of WNYC Studios, I'm Brooke Gladstone.
BOB GARFIELD And I'm Bob Garfield.