Ron DeSantis Vs. The Happiest Place On Earth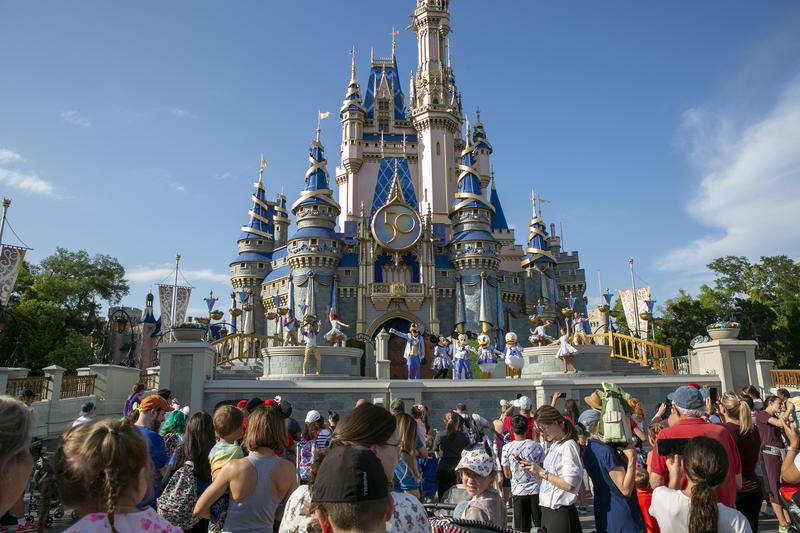 Transcript
ILYA MARRITZ This is On the Media, I'm Ilya Marritz, in for Brooke Gladstone. The list of individuals and companies who have been tagged in the ongoing culture wars is long and confounding. As we've established Hunter Biden's laptop is a character. So are Elon Musk and Twitter. And so too is Disney. This particular conflict began just before Florida's enactment last March of the Parental Rights in Education Act, also known as the Don't Say Gay Bill. Disney's CEO at the time, Bob Chapek, had initially tried to keep his company out of it. They're a huge employer in the state. But his hesitation did not go over well with employees.
[CLIP OF DISNEY PROTESTORS SHOUTING "SAY GAY!"]
NEWS CLIP Today, dozens of Disney employees walked off the job, an act of protest over Florida's so-called Don't Say Gay Bill. If signed into law, it would ban classroom instruction on sexual orientation or gender identity in Florida in kindergarten through third grade.
ILYA MARRITZ Chapek, who had only been on the job for two years, was already drawing a lot of unfavorable comparisons to his more charming, some people thought, predecessor Bob Iger and for revenue dips during the pandemic. Then at the end of February, Iger tweeted this, "If passed, this bill will put vulnerable young LGBTQ people in jeopardy." And almost like magic, something changed.
NEWS REPORT CLIP Disney CEO Bob Chapek weighing in on that Florida bill that restricts LGBTQ topics in schools.
ILYA MARRITZ Disney employees were placated, and it was someone else's turn to be upset: Florida Governor Ron DeSantis.
CLIP OF GOV. RON DeSANTIS This state is governed by the interests of the people of the state of Florida. It is not based on the demands of California corporate executives.
ILYA MARRITZ DeSantis promised to end a 55-year agreement that allows Disney World to operate as something like a magic, self-governing kingdom. He signed a bill into law that will dissolve Disney's special status in June of next year if no other agreement is reached. And then just before Thanksgiving:
NEWS CLIP A stunning development in the business world overnight. Bob Iger is back at the top of Disney, just two years after retiring from a legendary run.
ILYA MARRITZ Chapek was replaced by Iger, his predecessor, and the man who handpicked him for the job. And now it'll be Iger's job to make things good again with the Sunshine State, all of which resuscitates old questions about how corporations should speak out about social values, if at all. Christopher Grimes is a correspondent for the Financial Times, where he spent the last few weeks writing deep dives into the ongoing changes at Disney. Chris, welcome to On the Media.
CHRISTOPHER GRIMES Hey, thanks for having me.
ILYA MARRITZ Let's backtrack a little bit to the history here, because there's this very interesting arrangement that Disney has where it operates inside its own kind of autonomous zone in the state of Florida. It has a quaint and totally misleading name, the Reedy Creek Improvement District. What is the backstory here? What is the Reedy Creek Improvement District? How did it come about?
CHRISTOPHER GRIMES So in the mid-1960s, Walt and Roy Disney were looking to build their second big park. They obviously had built their first park in California. They bristled at the interference that they felt they got from the Anaheim, California, authorities who wanted a say on things like building codes. So when they got to Florida and they saw 25,000 acres of swamp land and pasture land that really had very little infrastructure, they thought, 'wow, we could do this ourselves. And what we really want to do is to do it completely ourselves.' So they negotiated with the state of Florida and said, 'we'll be able to bring lots of tourists and new business to this not very happening central part of Florida. And in exchange, we want autonomy.'
ILYA MARRITZ I mean, really, they are responsible for a lot of the functions of government in their area. Fire department, medical services. It's like Disney Town.
CHRISTOPHER GRIMES Right. The legislature in 1967 gave them all of this power. So they do water services, they do recycling, they run their own solar energy. They do their own building inspections and approvals. Yeah, they control the area.
ILYA MARRITZ I'm sure when they proposed this way back when, nobody could have anticipated a Ron DeSantis or a Don't Say Gay Bill. But what they did anticipate was government interference or government involvement and not wanting any of that. And yet somehow they didn't manage to fully insulate themselves from the possibility of the government interfering.
CHRISTOPHER GRIMES Well, they've had a really good run. I mean, it's been 55 years since they got this authority, and they've got 38 paid lobbyists in the state and they're the state's largest employer. So they have a lot of power, and they've never faced resistance like this.
ILYA MARRITZ So then 2022 comes along and CEO Bob Chapek, under pressure from campaigners, criticizes the Don't Say Gay Bill. Governor Ron DeSantis, in a move that screams retaliation, takes steps to end their special district and, sort of, self-government, signs a law to eventually dissolve Disney's special status in June 2023 if no other arrangement is reached. What actually will happen if the company loses its Reedy Creek district?
CHRISTOPHER GRIMES The burden of all of these services, not to mention the paying for those services, will fall on the local counties nearby. And so many believe that this will be a massive tax increase. Furthermore, Disney has nearly $1,000,000,000 in municipal bond debt, and many people believe that that bond debt would then also fall onto the state. Letting that thing dissolve would be — as one prominent adviser in Florida said to me — would be a train wreck. So it's too important for the economy. It can't happen.
ILYA MARRITZ So from reading your reporting and the reporting of others, it seems like the likely outcome here is that there will be some kind of compromise acceptable to both sides. Maybe the terms of the special district will be changed in some way, but there will still be a special district. In one of your stories, you quote a DeSantis spokesperson saying, "Governor DeSantis does not make U-turns." We don't know what the eventual compromise is going to look like. But let's say it looks something like what you've described. Is that a U-turn? And are Floridians going to see it that way?
CHRISTOPHER GRIMES It would be a U-turn from the absolute dissolution of the Reedy Creek Improvement District. Now, what I think they are aiming to do or will likely do is make some, you know, some superficial changes to it. A couple of the things that Florida granted Roy and Walt Disney in 1967 was the ability to build a nuclear power plant on the property.
ILYA MARRITZ Really?
CHRISTOPHER GRIMES Yeah. And to build an airport on the property. And so I think the governor could easily say, 'yeah, well, we strip them of these powers to do whatever they want.' You know, he may get a couple of seats on the Reedy Creek board and, you know, see, he'd be able to get something out of it and say that this is different without altering how Disney runs and crucially pays for this huge area. Disney taxes itself to pay for all of this. They tax themselves at a higher rate than would be legal for other counties to tax companies. So it's hard for people in the state to think that anybody, particularly the state of Florida, could run this any better than Disney does.
ILYA MARRITZ What are the risks for Disney right now? What are the stakes for the company?
CHRISTOPHER GRIMES There is a risk you'd have to consider of damage to this brand, to this very valuable brand where people who maybe don't read the financial press or don't keep up with this stuff closely, but they know that something's been weird, right? Yeah, "I heard they've been doing some weird stuff," and that's how brands can get tarnished. They haven't seen an impact so far. The theme parks are still packed, but a couple of years of this of, you know, something being unresolved and being used as a political foil — that could start to erode the brand. And the brand is clearly one of the best brands in the world.
ILYA MARRITZ Ron DeSantis, in his recent comments, does not sound like he wants to turn down the temperature, and he has the wind at his sails. He just won reelection by 19 points and is considered a frontrunner for president in 2024. So he might see a lot of advantage in continuing to lay into Disney.
CHRISTOPHER GRIMES Yeah, I think it's played very well for him, and Bob Iger in his town hall, his first day back at Disney — Bob Iger had said:
CLIP OF BOB IGER I was sorry to see us dragged into that battle
CHRISTOPHER GRIMES And DeSantis said:.
CLIP OF GOV. RON DeSANTIS We didn't drag them in. They went in on their own…
CHRISTOPHER GRIMES So, yeah, the pressure may continue despite this kind of a legendary CEO returning to the company.
ILYA MARRITZ Part of what I think is so interesting about this whole Disney-DeSantis conflict is it seems to scramble a lot of our precepts. You know, often it's liberals who are the ones who are concerned about the power of big business. They want to undo favorable arrangements for corporations. And it's the chamber of commerce Republicans, at least in the past, who could be expected to not pick fights with major employers. This turned the whole thing on its head, didn't it?
CHRISTOPHER GRIMES It did. When Disney got criticism before, it was often from progressives for having too much power.
ILYA MARRITZ I mean, you have written that Disney's situation in Florida may be an example of the struggles companies, big name brand companies, are going to face in the coming years, where they want to balance being socially conscious and also politically neutral in a political environment where certain actors are determined that there be no neutral ground. What does the Disney experience teach us?
CHRISTOPHER GRIMES I think what Disney has shown other companies is that there are real risks to taking a political position. And in the last five years or so, we've had the emergence of big investment funds who want to see companies follow environmental, social, and good governance measures and things like that. Particularly after the murder of George Floyd, we had employees who were urging their employers to take more of a stand. And now what we're seeing is that there can be a political price to be paid for that. Disney had all of these things. Bob Chapek was caught between employees who were urging him to take more of a stand. And then when he did, he got whacked by the governor of Florida, who then spent months calling the company, "woke Disney."
ILYA MARRITZ And that evidently played pretty well with Floridians.
CHRISTOPHER GRIMES Well, and nationally. This is a really interesting time to be a CEO, right? It used to just be 'deliver value for your shareholders,' and that was the only job.
ILYA MARRITZ Do you think Bob Iger would have handled this any differently? Bob Iger, the former CEO who is now the CEO again, and who's had this, you know, incredible reputation as kind of a savant of the entertainment business. If he had been CEO at the time that all of this went down, would he have handled it differently?
CHRISTOPHER GRIMES I think so. The irony is that I think Bob Iger is more of a progressive guy than Bob Chapek. But someone gave me an example of Bob Iger's deft political touch. A few years ago, the state of Georgia was considering a heartbeat abortion law. And Georgia, of course, is a place where a lot of film production happens these days. And someone asked Iger what he thought about this, and Iger said, "I think a lot of our employers may be reluctant to work there." So the signal there was this could have an impact on Georgia's film industry. But that wasn't Iger taking a stand. He made his point, but he made it in a way where it didn't make Disney a target necessarily, or himself, or — he was just pointing out the fact that this could have repercussions.
ILYA MARRITZ Christopher Grimes is a correspondent for the Financial Times. Thank you, Chris.
CHRISTOPHER GRIMES Hey, thanks for having me.
Copyright © 2022 New York Public Radio. All rights reserved. Visit our website terms of use at www.wnyc.org for further information.
New York Public Radio transcripts are created on a rush deadline, often by contractors. This text may not be in its final form and may be updated or revised in the future. Accuracy and availability may vary. The authoritative record of New York Public Radio's programming is the audio record.