For the Rohingya, Blurred Lines Between Trauma and Truth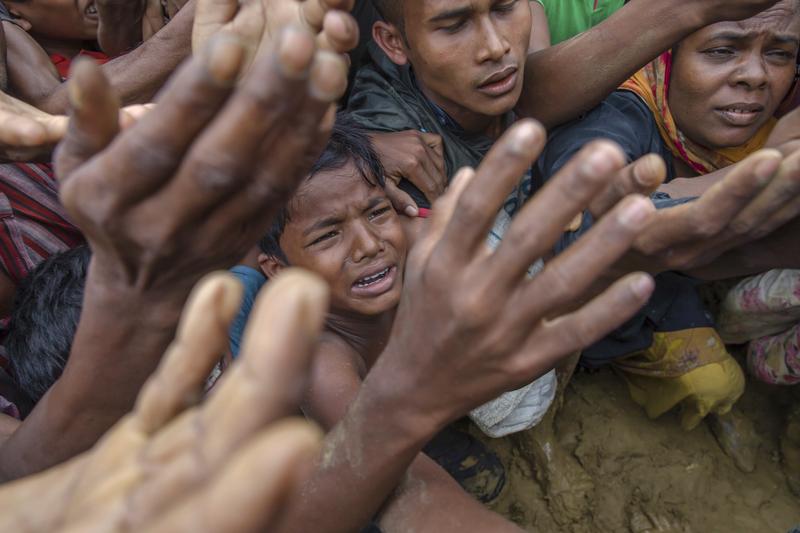 Transcript
D: What follows includes disturbing details about what's happening to the Rohingya, a primarily Muslim ethnic minority group from Western Myanmar. If you're with small children, you may wish to spare them this conversation.
In the past five months, unspeakable violence has forced nearly 700,000 Rohingya to seek shelter across the border in Bangladesh. Reports of rape, murder and arson at the hands of the Burmese military has led the United Nations to warn that genocide may be taking place. You've likely been acquainted with the human toll.
FEMALE CORRESPONDENT: A new report on the Rohingya refugee crisis in Myanmar says there's mounting evidence of genocide in that country.
FEMALE CORRESPONDENT: Amnesty International is accusing the Burmese military of murdering and raping and torturing Rohingya civilians in an ongoing campaign a human rights group says may amount to crimes against humanity.
[CLIP/WOMAN SPEAKING IN BURMESE]:
FEMALE INTERPRETER: Older women were stomped on and then the military grabbed them by the hair and slaughtered them.
BOB GARFIELD: Hannah Beech, Southeast Asia bureau chief for the New York Times, has been reporting on the Rohingya, also pronounced Rohingya, and the scope of their trauma. Take, for instance, the story of a 15-year-old who was gang raped by Burmese soldiers and who bears a scar where one of her attackers bit her cheek. She is alone now in a refugee camp in Bangladesh.
Or the story of four young girls under the age of 13 who are living with their uncle in a refugee camp. Their father had been taken into custody and was feared dead and their mother had been killed when their home was burned by Burmese soldiers. Both horrible stories, but only one is true. Truth, it turns out, even from the victims of oppression, is yet another casualty of the ongoing catastrophe. Hannah, welcome to the show.
HANNAH BEECH: Thanks for having me on.
BOB GARFIELD: Tell us, please, about the story of the four young girls who told you that their parents were dead back in Myanmar.
HANNAH BEECH: I was in Bangladesh in December and I was working on a story about vulnerable populations in the Rohingya refugee camps. And for one of the stories, I wanted to document the fact that there are thousands of Rohingya kids who had arrived in Bangladesh unaccompanied. You know, often their parents had been killed back in Myanmar or they'd lost their family somehow in the chaos of trying to escape their villages, which were often burned. I met these four little girls and they'd said that their father was presumed dead, that their mother had died when their house was set on fire. Their uncle already lived in the camps and he took them in, even though he had a whole bevy of kids of his own. And they were tiny and brave and their story was incredibly compelling. But as I began to speak to these kids, it's -- I don't know how to explain it exactly, maybe it's just sort of a gut feeling, something just didn't feel right, and the kids had each very different stories of how they ended up in Bangladesh. They seemed kind of strangely unconcerned about their father's death.
It took three days but suddenly this much less palatable truth emerged, which is that the supposed uncle was actually the girl's father. He had three wives and the mother of these four girls, who was back in Myanmar, had only been 12 years old when he married her. So suddenly we're dealing with child marriage.
So if I'd stopped at the initial story that had been told, it would have been this incredibly heart-tugging tale, but it, it wasn't true.
BOB GARFIELD: What happened to those young girls is traumatic. Their village was burned, their mother was left behind in a refugee camp across the border. The story is bad enough. Why embellish?
HANNAH BEECH: I think refugee camps, you know, not just the Rohingya refugee camps but any refugee camp is a place where false narratives flourish. People figure out that if you have a more dramatic tale, you might end up with more aid. And I know that if it were my own family and I needed a rice ration, I'd probably do the same thing. I would cry, I would hold up my baby. I would highlight the worst of what happened to me or I would take sort of my community's general experience as my own.
Everyone who ended up in the Rohingya camps had something that was clearly terrible that compelled them to escape Myanmar for this overcrowded camp in a foreign country. They're all victims. But that doesn't mean that everything that we're told is, is, is true.
BOB GARFIELD: So it's a question of survival and the most help goes to those with the most harrowing experiences, and you do what it takes to keep your family alive. But in this case, there are larger consequences because the Burmese military then claims that the genocide talk is all a lie, all an exaggeration. Truth is their enemy except, in this case, when it becomes their friend.
HANNAH BEECH: Yeah, the Myanmar government has barred independent journalists and even UN investigators from visiting the epicenter of violence. They've jailed two Reuters journalists who have produced an incredibly strong piece of journalism. So most of what we have, really all that we have is testimony from survivors in camps in Bangladesh. And so, we need to ensure that the information that comes out of the refugee camp is correct because any false story gives ammunition to those who say this is just some big conspiracy to make Myanmar look bad.
BOB GARFIELD: All right, at this point, I should mention that the politics behind this tragedy are like 70 years in the making and are extremely complex. What the outside world sees as ethnic cleansing, and I would say by international consensus, the military, and I guess to a lesser degree the government of Myanmar, see defense against a Muslim insurgency, a longstanding one, and they say that terrorism and separatism are just around the corner, if they don't act. They feel righteous, do they not?
HANNAH BEECH: I think they do. I mean, I think there is a sense from the Myanmar side that there is not only this imminent terrorist threat and the fact that the Rohingya Muslim plays into this kind of local narrative but that there is this plot by the West to discredit the government. At the same time, there is this incredibly deep-seated racism against the Rohingya in Myanmar, and you will get people who fought for years for democracy, you know, people who I really used to admire as, as principled freedom fighters against the military junta, which ruled for 49 years, who will say the most awful things about the Rohingya. And it is, it's incredibly depressing and it's a very, very different parallel reality to what the international community believes.
BOB GARFIELD: And in that reality, with actual terror being inflicted on hundreds of thousands of people, there are those who would say, well, a few refugee horror stories may be fabricated, to one degree or another, but it comports with the larger Truth, with a capital T. Do you have sympathy for that argument?
HANNAH BEECH: I do. I, I've actually gotten a lot of blowback from Rohingya activists, particularly those in exile who have been very upset by the story, and they say that it's sort of beside the point to point out cases in which Rohingya have embellished stories or even made up stories because they're already so discriminated against by the Myanmar government. My argument toward that is that truth is complicated and we cannot ignore the complexity of the truth.
BOB GARFIELD: How bad was the blowback?
HANNAH BEECH: It hasn't been great. I've gotten death threats and rape threats and people want to do terrible things to my children. The Rohingya are a long-discriminated against, long- persecuted minority to which horrible things have happened, so it is understandable that people would be upset.
At the same time, I would say that the New York Times has been covering this Rohingya crisis from the very beginning. You know, we've had award-winning photographers dedicated to the story week in, week out. We've had a staff of reporters rotating in and out of both Myanmar and Bangladesh. This one story is a small piece of the puzzle and maybe it doesn't fit our preconceived notion of what tragedy and horror is but it's still part of the larger mosaic of the Rohingya experience.
BOB GARFIELD: I want to ask you about the fact checking process, itself. It is hard for me to imagine the experience for a refugee woman telling you, for example, about a gang rape and having to face some sort of interrogation from you to make sure the details all check out.
HANNAH BEECH: The greatest thing that I have at the Times is, is the luxury of time. In other words, I can spend days with somebody, trying to get the story right, hours sipping cups of tea, you know, talking about their kids, talking about where they're from. And also, having a good interpreter is really important, and I've been lucky to work with local journalists in Bangladesh who have just a knack of being able to make people feel comfortable. And so, you're a team and you take time and you try to make the people feel as comfortable as possible.
But it is still a terrible feeling when the person realizes that you're asking questions not because you want to know more but because maybe you might possibly be doubting their story.
BOB GARFIELD: I referred earlier to the casualties of truth. In the story you unraveled about those four girls, there were direct and ugly consequences for the very people you spoke to, no?
HANNAH BEECH: Yes, absolutely. I confronted the real father of the four girls and he was very angry when I did so. And we were talking to him, actually, over the phone at this point. My colleague was speaking to him on speakerphone and, and he was translating as we went on, and I could hear my colleague's voice kind of get higher and higher and he sounded very anxious, and he turned to me and he said, the, the father said that he just beat his wife and then he said, please don't beat your wife, please don't beat your wife. And then there was a, a moment of words exchanged that seemed even more anxious and then my colleague turned to me and said, he says that he's going to be beating his wife tomorrow. In addition to that, one of the other family members who is a woman, who had told us another sort of part of the truth of this whole situation ended up being beaten by her husband. And so, suddenly my reporting had catalyzed domestic violence in, in two households, which was a pretty awful feeling.
BOB GARFIELD: Oh, man. You did your due diligence. Others haven't, necessarily, and they've reported some of these exaggerated or invented horror stories uncritically. How much false narrative is floating out there?
HANNAH BEECH: I think that they are very few cases in which journalists knowingly take a narrative that is false. I think, though, that we descend into refugee camps with hundreds of thousands of people. It's crowded and, you know, people are just struggling to survive, and we come in and ask these incredibly invasive questions, and sometimes it's easier not to ask the follow-up question or you just -- you know, you take the story that you've been told and you believe it. So I'm not necessarily blaming other journalists for printing stories that I, I actually know are untrue. I, I think that just maybe they didn't ask the 10th or 12th or, you know, 400th question to get there. And, and that's often hard when you don't have time and you've got a deadline and you're got to churn the story out.
BOB GARFIELD: Well, this gets back to the toll of false narratives and the propaganda value when they're exposed. Do you worry that your piece will have the unintended consequence of sowing doubt about a very real genocide?
HANNAH BEECH: The Myanmar state-run press are clearly trying to use this as a rationale for denying ethnic cleansing and, and what many people consider to be genocide. When I wrote the story, I knew that there would be the possibility that this would happen. I would say though that an article in the Myanmar state press is not to be the factor that is gonna change people's hearts and minds in Myanmar. That conversation about the morality of what's happened is something that, that occurred months ago, and I think it is more important to ensure that as we gather facts about what happened that we ensure that they are gathered in the most accurate way possible.
[MUSIC UP & UNDER]
BOB GARFIELD: Hannah, I want to thank you very much.
HANNAH BEECH: Thank you.
BOB GARFIELD: Hannah Beech is Southeast Asia bureau chief for the New York Times.
[MUSIC/MUSIC UP & UNDER]
That's it for this week's show. On the Media is produced by Alana Casanova—Burgess, Jesse Brenneman, Micah Loewinger and Leah Feder. We had more help from Jon Hanrahan, Isaac Naple and Philip Yiannopoulos. Our technical director is Jennifer Munson. Our engineers this week were Sam Bair and Terence Bernardo.
Katya Rogers is our executive producer. On the Media is a production of WNYC Studios. Brooke Gladstone will be back next week. I'm Bob Garfield.