Reporting From the Quagmire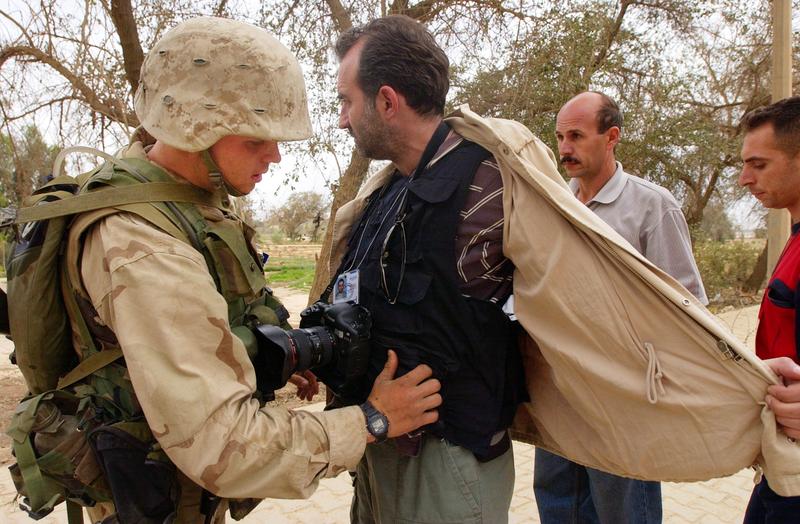 Transcript
BROOKE GLADSTONE: This is On the Media. I'm Brooke Gladstone. In the weeks before the US-led coalition forces invaded Iraq in March 2003, John Burnett, now a Southwest correspondent for NPR, was chosen to take part in the military's embedded journalists program. The Pentagon promised John both safety and access to soldiers on the front. When we checked in with John during his first week with the Marines, he had real confidence that the program would foster clarifying coverage.
[CLIPS]:
JOHN BURNETT: So far, I'm really encouraged that the military is, is following through with what they said they were going to do. I mean, I've only actually been out here in the desert with the troops for three days now but in those three days…
BROOKE GLADSTONE: It didn't last. By week three, John was saying that the Pentagon had become more and more insistent about their version of events.
JOHN BURNETT: We are clearly being used by the Pentagon, and let me give you an example. We talked with the head of the intelligence section a week or so ago and he was telling us all about the fearsome fire power that the Marines were going to bring to bear in this battle and, you know, they were going to overwhelm their opponents with air power and, and ground forces. And I commented, it sounds to me like you're using the journalist as your mouthpiece for this, and he said, you know, well, yes we are.
BROOKE GLADSTONE: Week five, John left his embedded post -- knowing he would not be allowed to return -- to visit villages left in the wake of the invading forces. NPR international correspondent Deb Amos, who arrived shortly after the invasion to cover the occupation, also worked outside of the Pentagon's strictures. With a crew and a translator, she connected with Iraqis living in a post-Saddam nation.
DEB AMOS: There are still plenty of officials who walk the streets here and, if they were gone and if Saddam was gone, that power, that sense of fear might be lifted. Whether it would stop the resistance, I don't think anybody can say.
BROOKE GLADSTONE: We asked them in for recollections and to look back on what they learned and what we haven't.
JOHN BURNETT: It was really kind of straitjacketing to be am embedded reporter, since, as I said, you were under the dragon's wing. The safest place to be was with the military but you only got a blinkered view of the battlefield. You only saw what they saw. And I didn't have a translator. I couldn't go and talk to citizens in Arabic. I couldn't find out what was going on in these villages that the Marines were going through.
BROOKE GLADSTONE: You saw where the bombs took off, you didn't see where they landed.
JOHN BURNETT: Exactly. So I decided that as soon as I got into Baghdad to get a driver and a translator and go back through some of these villages, retracing our route. And we, in this Al-Taniya village, we found out that the US Air Force had accidentally or on purpose bombed a village and there were numerous civilian deaths. There were still people wailing, really wanted to show us what was going on.
[CLIPS:]
Early in the morning, he began. I was asleep when the kitchen exploded. He explained that his daughter and her two young children had come from Baghdad to Taniya to escape the relentless bombing in the capital. He said they were among the nine members of his family who were dead.
[SOUND OF MAN CRYING]
One of the Air Force PAOs said, yes, that was collateral damage. You know, we're really sorry that happened. It, it was satisfying to start getting a sense of the other half of the story. And you couldn't see that as an embedded reporter.
BROOKE GLADSTONE: Deb, you witnessed one of the major turning points of the occupation, the 2004 Iraqi rebellion against American troops.
DEB AMOS: In the beginning, we stayed in hotels and the BBC Arabic was at breakfast that morning and they said, you know, you ought to head to Ramadi 'cause, boy, there's a rebellion brewing up there. And so, we took our translators and we drove two hours and we went to the most prominent family in Ramadi. Recently, 24 members of the family had been killed when the military dropped a JDAM bomb. These are these huge bunker-buster things. And they were angry.
BROOKE GLADSTONE: In part, because they had been big supporters of the invasion.
DEB AMOS: They had been CIA assets, which I found out later. The head of that family had offered to take out Saddam. The family could have done it. Now, much later, the reason the military gave for that bombing attack was they said that they had intelligence that Saddam was in that compound. That has never been substantiated. But much more interesting was no apology. No one ever came to the house and said, we're sorry. In other conflicts, that had been something that the US military did. And so, this was a family that was seething.
FEMALE CORRESPONDENT: Other deaths were to follow in al-Anbar and the armed resistance began out of a deep sense of outrage, says Amatzia Baram.
[CLIP]:
AMATZIA BARAM: As a result of mistakes, American soldiers killed Iraqi people in the tribal areas. Immediately, that triggered off the tribal value of sharaf. Sharaf means honor. If you killed a cousin of mine, I'm honor-bound to kill one of you.
[END CLIP]
DEB AMOS: There were a number of incidents in Fallujah, same province. An Iraqi crowd demonstrated against US troops who were in their only school and they wanted their kids to go back to school. It had been three weeks and it was enough and they said, come on. The problem for the US military is they didn't have one single translator. They had no idea what those people were chanting. And it happened on the same day [LAUGHS] as Saddam's birthday.
So here are these military guys, probably as frightened as the civilians were, thinking that this was a pro-Saddam demonstration because they had nobody to tell them any differently. And there were deaths that day. The military shot at those demonstrators. There were a number of incidences that, had they gone another way, the war could have progressed with a very different outcome.
JOHN BURNETT: The most revealing thing that I witnessed when I realized that things are going to go badly for us in Baghdad was a couple days after the invasion was complete there was a report of, it was either a rocket or a mortar that had come from the area of Baghdad where they have all the car repair shops. There were these streets and they had one garage after the next. They had these metal doors that came down and you opened them up and they would bring cars in and they would work on or replace engines, whatever you needed to do.
BROOKE GLADSTONE: Mm-hmm.
JOHN BURNETT: And the Marines wanted to find out who had lobbed this munition at them, and so they started breaking these places open, one after the other after the other after the other. And as soon as they broke it open, it would be looted. It was tremendous damage to these businesses and these families, and this was early on in the occupation. The neighborhood just started to get enraged. And that's when I realized things are going to go badly for us.
DEB AMOS: I saw similar things happen in Fallujah. American soldiers would bust down the door at midnight. They'd have their foot on a, a father's head. They saw the women of the family without their veils on. And in that first year, in 2003, those people would talk to you. They were outraged. They were humiliated. They were furious. By 2004, it was really hard to get an interview. You felt this ominous threat if you tried.
They had this wonderfully romantic notion that if you gave your story to the American media that something would change. And nothing changed, and so the Iraqis gave up on us.
BROOKE GLADSTONE: We'll be speaking later in this hour to Sinan Antoon, who is an Iraqi scholar, who said that one enduring narrative about the war is that the invasion agitated the already bitter Shia-Sunni relations in Iraq. He said that the religious infighting was more a product of American propaganda and wartime instability than it was of historical tension.
DEB AMOS: In 2010, I actually did a research project on the media in Iraq. Iraqi state media, which was a propaganda outlet for Saddam Hussein, collapsed. And so, it was up to the US military to rebuild. And the military set up what was essentially a state broadcasting, public broadcasting, but it was so pro-government, there was nothing neutral about it. They stripped away any references to religion at all. And because it was so pro-government, there were other outlets that opened. And Iraq now has the most sectarian media landscape of any place in the Gulf. You have Sunni TV, you have Kurd TV, you have Shia TV, you have more extreme Shia TV, you have more extreme Kurd TV. There's something like 200 channels. And their news is tailored that way and the stories they do are tailored that way. And it was because there was this original error in the way that state television was set up. What it did was it exaggerated this sectarian schism. In fact, it was the media that did propel some of it, I will not say all of it but certainly some of it.
BROOKE GLADSTONE: Today, America's wars are so much more diffuse. The Trump administration has continued the covert drone program, which was expanded under Obama and started under Bush, killing civilians, members of ISIS, Al Qaeda, the Taliban in Pakistan, Afghanistan, Yemen, Somalia. Without the face of American troops, these attacks are out of sight and out of mind. How can the press effectively cover these shadow wars?
DEB AMOS: It is much harder. You can sit on the border in Turkey and you can try to call in or find people who may have lived there at the time, but it's a different kind of reporting.
BROOKE GLADSTONE: But we can't ignore them.
DEB AMOS: And we don't. What is really changed is I can be on a front line from my phone. Every 15 minutes, there is a report out of Ghoota, which is the most awful of the bombings this week, you know, outside of Damascus in Syria. Aleppo was the same. When that town was being cleared by the Syrian regime, I could watch it. I could talk to people in English. I could hear them perfectly. There was no way to check most of their stories but you are intimately now involved in the frontline because of smart phones. It's light years different than 2003.
BROOKE GLADSTONE: John, you went back to Iraq in 2007. What was it like?
JOHN BURNETT: It had just all gone to hell, improvised explosive devices going off everywhere. You couldn't leave the broadcast compound without heavy protection. You couldn't go in and do interviews for more than 20 minutes in places. The hostilities between Sunnis and Shias was just seething. In our own staffs, we were having played out in miniature the hatred between these two groups. It was just this sense of we are absolutely in this quagmire and how in God's name do we get out of it?
BROOKE GLADSTONE: You guys who were there, if you could correct one thing about our understanding of the war, what would it be?
JOHN BURNETT: You know, we still have this indelible image of the United States as liberators, and that hasn't happened for a while. We're such a, a controversial world power, wherever we make our influence felt, um, [LAUGHS] it's, it's very hard to go through the streets and have roses thrown at you in the complexity of the world now.
DEB AMOS: You know, in 2003 there are soldiers who have mental breakdowns because the Iraqis aren't grateful enough. And I, I think what happened with the American public is they didn't understand why Iraqis weren't grateful enough. They didn't understand how many people died because there were huge PR battles over civilian casualty numbers. I don't think they ever understood why people were so angry in Fallujah and Ramadi and what that led to. Even today, I don't think it's clear to Americans what happened and why people were so angry at the United States [LAUGHS] for what they did in that country.
JOHN BURNETT: And that sometimes, when you have a strong man, an authoritarian who is holding the lid on and we come in as liberators and we pop the cap and them that bad person is gone, whether it's Iraq or, or the Philippines --
BROOKE GLADSTONE: Or Libya.
JOHN BURNETT: [LAUGHS] -- lots of places, that forces are unleashed that we are so unable to contain. I think especially in this administration, so much of the world thinks about us differently and for us to exert military power around the world, are we still seen as the good guys on the globe, like we used to be?
BROOKE GLADSTONE: Perhaps, we tell ourselves, look, we made a mess there but Saddam was worse. But do we know for sure that the country's better off now?
DEB AMOS: In some ways, it's too narrow of a question. Many regional specialists will say that what happened in Baghdad in 2003 leads to an unraveling throughout the region. And so, to say, is Iraq better off without Saddam moves it out of its historical context.
Look at where we are today. We don't have Saddam but we have a revived Iran, the strong power in the region. We have four Arab capitals that are a wreck. The Syrian economy is done. The country will take decades to recover. Iraq isn't close to being a normal country. We don't even know if it can stay together. You know, Lebanon teeters into the abyss. And so, 2003 is the beginning of a chain of events. To simply limit it to, are Iraqis better with or without Saddam, that's not the right question.
BROOKE GLADSTONE: So what's the right question?
DEB AMOS: What else happened in the region that you can trace the beginnings to 2003? And was that price too high?
[MUSIC UP & UNDER]
BROOKE GLADSTONE: It was great talking to you guys, thank you so much.
DEB AMOS: Thank you.
JOHN BURNETT: Good to be back in touch, Brooke.
BROOKE GLADSTONE: Deb Amos is an international correspondent for NPR. John Burnett is a Southwest correspondent for NPR.