The Race to Rewrite History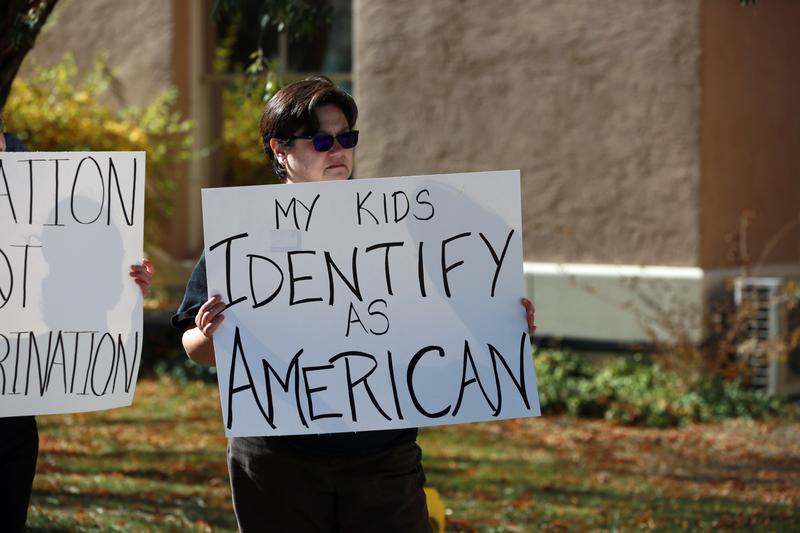 Transcript
BROOKE GLADSTONE This is On the Media, I'm Brooke Gladstone. After this month's off-year elections, reporters and pundits quickly landed on a theme.
[CLIP MONTAGE]
NEWS REPORT They got their butts whooped. They lost everywhere, a critical race theory and what's going on in our schools. They lost the governorship of Virginia, almost lost the governorship of New Jersey.
NEWS REPORT Republicans have been very eager to run on culture war issues, and we saw them be fairly successful at running on things like schools and critical race theory. [END CLIP]
BROOKE GLADSTONE Critical race theory was fervently embraced by conservatives looking to stir up voters, especially white voters with kids, to make the phrase a mover, a hobgoblin, a specter haunting the homeland. Virginia's now governor elect Glenn Youngkin, was one of many to pepper the closing months of his run with warnings of the harm posed by CRT.
[CLIP]
GLENN YOUNGKIN We've watched critical race theory come into our schools and try to divide our children based on seeing everything through a lens as opposed to the content of their character. [END CLIP]
BROOKE GLADSTONE And even before Election Day, state legislatures across the country passed laws to limit what kids could be taught in school.
[CLIP]
NEWS REPORT The critical race theory movement in the headlines as Florida becomes the latest state to ban schools from teaching about systemic racism.
NEWS REPORT The Texas Senate passed a controversial piece of legislation that would actually prevent teachers from discussing polarizing social issues in class, like critical race theory. [END CLIP]
BROOKE GLADSTONE Ironically, the use of the legal system to dictate how kids learn about our racial history, is something that true critical race theory as opposed to the boogeyman would neatly explain. But the academic idea at the root of this debate is hardly ever taught below the college level, meaning that the thing actually getting banned or campaigned against isn't the theory, but the history it was created to explain.
ADAM HARRIS We're not talking about potential elimination of a academic theory, right? We're talking about a chill on free speech more broadly that discusses race in America.
BROOKE GLADSTONE Adam Harris is a staff writer at The Atlantic. Earlier this year, he walked us through the emergence of the term critical race theory as a tactic to freeze rather than frame discussions of America's past and present race problem. Now, we wanted to find out how much impact that strategy had, not just on the bigger campaigns but on the fundamental level of curricula and school boards.
ADAM HARRIS Ballotpedia, which tracks elections, covered an average of something like 23 recall efforts against 52 school board members each year. But this election, they were tracking 84 efforts against 215 school board officials. That was incredibly unusual, and after election night, a lot of the votes were tallied. What they found was the sort of anti CRT candidates, only won about 25 percent of the time. And in several of these cases, they were single districts where some of the candidates won multiple seats. So if you were to look at Virginia and try to just pull things out of just Virginia, then you're going to get a very different story than if you're looking at the sort of national picture. For example, if you look at a place like Wisconsin and Mequon-Theinsville's school district in Wisconsin. 4 of the 7 school board members there stood to be recalled this year. They had thrown about $50,000 into the campaign to eliminate these 4 school board members. And when the dust had settled on, all the votes were tallied, each of the school board members that stood to be recalled won their seats back with almost about 60 percent of the vote
BROOKE GLADSTONE And what are typically low turnout events became high turnout events.
ADAM HARRIS One of the members that stood to be recalled in Wisconsin when she was first elected in 2014, she received about 2300 votes in total. This year, she received about 6800 votes, which is almost the exact same amount as the total votes in the entire race, back in 2014, when she was first elected. People actually voted in large numbers in support of keeping schools about schools.
BROOKE GLADSTONE Back in September, we talked to Rick Hasen. He's a political science professor at the University of California, Irvine, and one of the things he said always gets less coverage is when experienced election officials leave driven out by the wrath of angry constituents. And I couldn't help but notice that in your piece, you also mentioned school board members who didn't lose elections, but they just left out of sheer frustration or even fear.
ADAM HARRIS Yes, in Minnesota, there's something like 70 members who had retired or resigned since August 2020–
BROOKE GLADSTONE and that's an unusual number?
ADAM HARRIS That's an incredibly unusual number. Typically, you see about, you know, fewer than 20 of those departures. In Wisconsin, you saw 3 school board members who left, citing animosities that they've been feeling. Feeling like they weren't able to to conduct the work of their board. Down in Arizona, there was a case of a school board member who had been elected just last year, who said that if she had not just been elected to the school board, she would not have run again. In Beaver Dam, Wisconsin, a school board member who had voted to require masks for students resigned because he had received threats and there was a vehicle that he observed sitting outside of his house. So people who are generally interested in serving their communities may not be willing to do that under such duress if this sort of heightened tension around schools continues.
BROOKE GLADSTONE I wonder, and I don't know if he did the math on this, but did those departures offset the wins by candidates who say they are talking about the impact of race in history or literature?
ADAM HARRIS It's hard to tell because some of the departures came in a period where school boards were able to appoint new members. In Robbinsdale, Minnesota, for example, one of the school board members who had been on the school board for something like six years, she resigned. But the timing of her resignation meant that they were able to appoint another member of the school board to serve out the rest of her term. And so what you will have is those appointed school board members coming up for reelection or fresh elections. And so, you know, a lot of people are worried that leading into 2022 and future elections, those seats that will come open may be occupied by those candidates.
BROOKE GLADSTONE You spoke to William G. Howell, who's the editor of Besieged: School Boards and the Future of Education Politics, and he told you these are often the places where the political rubber meets the road.
ADAM HARRIS Historically, schools and school boards and these sort of meetings are places where people can go to make their voices heard. And it's been where America has really sorted out issues of race, of class, of immigration and citizenship.
BROOKE GLADSTONE And why?
ADAM HARRIS Because they're sort of the base level. If you're thinking about things like segregation that gets sorted out in Brown v. Board of Education and their students, their children who ultimately end up moving into these previously segregated spaces.
BROOKE GLADSTONE But there's also the accessibility of a school board meeting, right? I mean, you can actually be heard by someone. I mean, there's even a remote possibility that you could have an impact.
ADAM HARRIS Yes, when you are trying to talk to a public official, it is going to be a lot easier to talk to your school board member when you can go to a meeting at your local middle school or your local high school, or if there's a county office where they hold their meetings, you can go to that school board meeting. There's an open public comment session and you can have your voice heard. In a way that you can't with your local Congress member in the way that you can't with your governor. And so people feel that schools are a place where they can go and have that conversation with a public official in a way that will affect change.
BROOKE GLADSTONE OK, you've been sitting in on a lot of school board meetings recently.
ADAM HARRIS Yes.
BROOKE GLADSTONE Can you give me an example where you saw this kind of thing play out?
ADAM HARRIS Yeah, so I went to a school board meeting recently in Michigan, where for about an hour and a half, you heard just kind of the general stuff that you would typically hear at a school board meeting. They honored some National Merit semifinalists, they showed a video of kids in the classroom who were wearing their masks. They do all of this, they go over the budget audit for the district, it shows that the district is on a pretty financially sound footing. They move to the part of the meeting where there is the public comment. That's when it just sort of goes off the rails. And you have people who are standing up and talking about Dr. Fauci and following the money and the corruption that is happening on the board. You have people talking about a manipulated image that had been shown in a classroom of a white board that the board had already discussed and said was not an accurate depiction of what the teacher had been showing, but effectively that period of the meeting lasted for about 30 minutes. If that part of the meeting becomes the primary part of the meeting. Then you have to worry about what that function of this really bedrock of democracy ends up being.
BROOKE GLADSTONE So historically, does the public servant prevail or do the angry voices?
ADAM HARRIS Historically, what you've seen is there's a sort of leveling out. But I was speaking with Joseph Viteritti, a political science at Hunter College, who, you know, really studies education, politics. And, you know, oftentimes if we're living through a moment that feels new, there is always the tendency to think that it is different than it has been historically. But he's been studying this for a long time, and what he told me was this a moment actually does feel new. This moment does feel like we're in uncharted territory, in part because people are operating in, pretty legitimately, different realities. And so when you think about school boards as a sort of ground zero for the larger debates when you were having those debates on two different playing fields, you know, you're not even playing the same sport when you're having those debates. That environment, the sort of partisan environment, mixed with the fears that people have for their children just creates a really sort of toxic cocktail that is really kind of a new thing in an unprecedented moment.
BROOKE GLADSTONE So we see politics trickle down to school boards because school boards are accessible, but not every debate seems to make it. For instance, inflation is a big, confusing topic right now, but I haven't seen people yelling about how it's being taught to students. What makes the coopted critical race theory idea such a powder keg
ADAM HARRIS At a very fundamental level, the sort of current battle over the way that history and literature are taught in school is about culture. It's about the stories that we tell ourselves about who and what America is and what America can be – right? Is it this sort of rosy image of unfettered progress that starts with the Constitution and moves on to the 13th, 14th and 15th Amendment moves forward again to, you know, the Civil Rights Act and broad equality and the end of segregation. And then you have a black president which proves that you're in a post-racial America.
BROOKE GLADSTONE Done and done.
ADAM HARRIS Done and done. Yeah, you kind of, you know, wipe your hands and call it a day. Or is it in the sort of messy details and understanding the ways that slavery and segregation has imbued the laws and continues to affect the America that we live in today? And so at a very fundamental level like that is about teaching like what children learn about going forward. It is about controlling the narrative of our culture.
BROOKE GLADSTONE Not just children, but your children who could be turned against you.
ADAM HARRIS Yes. And when you play up that fear, even if it's not a realistic fear, right? Like the first grade, second graders are not learning this like really intense version of history, right? Even if it is not grounded in fact, people fear for their children. It is a natural thing to do. Historically, right, there has been a large push to control the narrative of American history and our placement. The Lost Cause was a push to control the narrative of history and the South's place in it. After integration, there was a push to control the narrative of what was taught about segregation. This is not unrelated or unlike those previous pushes. But as I mention, kind of what is different is at a very base level, there's an argument happening on different playing fields.
BROOKE GLADSTONE Where do you see all this headed? And how do we cover it?
ADAM HARRIS It's difficult to say right where it is headed specifically, but one of the key things to do is at the very beginning in coverage defining what we are talking about. So when you're talking about CRT, as it's kind of currently understood, not in the sort of traditional academic language, then we should lay bare the fact that it is not the legal study, but rather the catchall for the range of concerns about how schools teach history and literature, and that it is part of this broader kind of cultural conversation. To say that, oh, we're not teaching CRT in schools is not sufficient to establish at the beginning in stories as you're covering it what it is you're actually talking about. When you're saying CRT, what do you actually mean? And then to press on that question is incredibly important. But beyond that, I think that to draw sort of broad narratives from one instance by which I would mean Virginia. Folks should really work to examine what is happening more broadly across the country.
BROOKE GLADSTONE And how important is the school in this whole trajectory?
ADAM HARRIS It's incredibly important when you think about what schools are and what they provide public schools in particular for the future. It is the education of the next generation of Americans. And so, you know, you see why people want to control the narrative in those spaces because it is creating the next class of politicians. Creating the next class of teachers, its creating a class of lawyers and doctors. And so, you know, they are incredibly critical and it's important that folks of all stripes kind of recognize that and keep the business of schools about school.
BROOKE GLADSTONE Thank you very much, Adam.
ADAM HARRIS Thank you for having me.
BROOKE GLADSTONE Adam Harris is a staff writer at The Atlantic and the author of the book. The State Must Provide: Why America's Colleges Have Always Been Unequal and How to Set Them Right.
Coming up, a man who spent decades assessing modes of persuasion on what actually does work and could work even now. This is On the Media.