Puerto Rico "Se Levanta," Maybe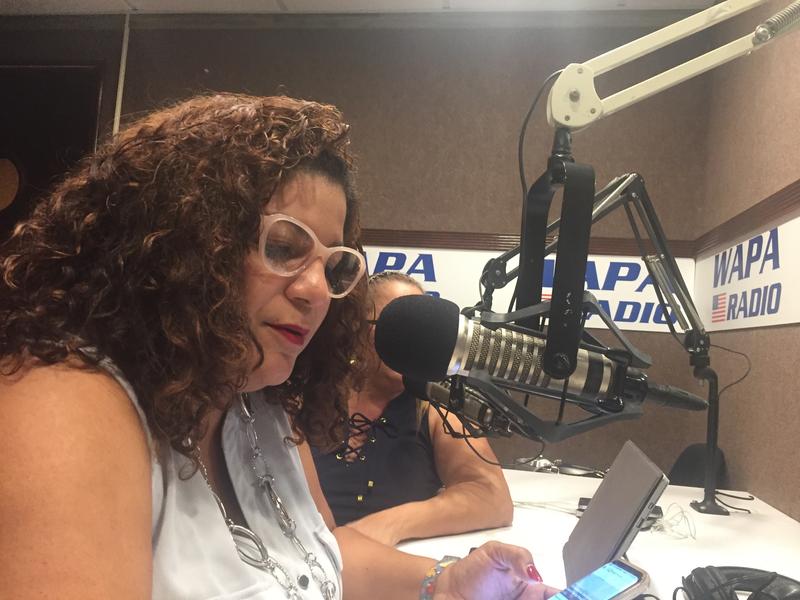 Transcript
[PROMO/MUSIC UP & UNDER]
BROOKE GLADSTONE: For Puerto Rico, the destruction caused by Hurricane Maria was just the beginning.
[CLIPS]:
SAN JUAN MAYOR CARMEN YULÍN CRUZ: Dammit, this is "not a good news story." This is a "people are dying" story. This is a life or death story.
SANDRA RODRIGUEZ COTTO: I think the American public, for the first time ever, is seeing Puerto Rico for what it is.
BENJAMIN TORRES GOTAY: It had a lot of trees, a lot of palms. As you can see now, it's almost naked.
LUCIENNE HERNANDEZ: We can make jokes about it because you're not suffering the way we are suffering, man.
ALFREDO CORRASQUILLO: I'm not that sure if what we are seeing in many people in Puerto Rico is resilience or resignation. A resilience has political potential. Resignation has no political potential.
YARIMAR BONILLA: I want to retain hope that this is going to impact those young people and that they are going to live differently and create something different for us here.
[END CLIP]
BROOKE GLADSTONE: It's all comin' up, after this.
[MUSIC/MUSIC UP & UNDER]
BOB GARFIELD: From WNYC in New York, this is On the Media. I'm Bob Garfield.
BROOKE GLADSTONE: And I'm Brooke Gladstone.
ALANA CASANOVA-BURGESS: And I'm Alana Casanova-Burgess.
BROOKE GLADSTONE: Alana is a producer here and she just got back from a month-long reporting trip to Puerto Rico for WNYC. That story, you may not quite realize, given the mainland's scandal-clogged news cycles, is ongoing and onerous. It's a story, some say, of resilience, others of resignation, but all can point to frustration because the people who really could help relieve what is a humanitarian disaster are across a stretch of water, mostly focused on their Twitter feeds and vote counts. But you know all that, which is why this hour, we'll focus on Puerto Rico, where tragedy and privatization is relieved not by clean tap water but jokes and music.
Alana recorded this song in Las Marías, a small town in the west.
[SINGING/UP AND UNDER]
ALANA CASANOVA-BURGESS: "Puerto Rico Se Levanta" means "Puerto Rico rises up" or gets up. It's all over the islands since Hurricane Maria made landfall on September 20th. The phrase is a kind of cheerleading that's been made into a recovery branding, emblazoned on t-shirts and billboards and ads for everything, even bread.
[SINGING]
But Puerto Rico isn't back up on its feet, not even close.
BOB GARFIELD: Take, for instance, the detail about the recovery that's been covered the most. Since the Category 4 hurricane knocked out the entire electric grid, we've been hearing for months about the number of people without power and the progress, or lack of it, in restoring service.
[CLIPS]:
FEMALE CORRESPONDENT: It's been exactly five weeks since Hurricane Maria hit Puerto Rico and, as of this morning, a reported 75% of households, roughly 3 million people, remain without power.
MALE CORRESPONDENT: And right now, a third of Puerto Rico remains without power.
FEMALE CORRESPONDENT: Two months after Hurricane Maria, half of Puerto Rico is still without power.
[END CLIP]
BOB GARFIELD: Wrong! Nearly three months later, nobody knows how many people still don't have electricity. The government of Puerto Rico was publicizing the amount of electricity generated, now just over 60 percent of pre-storm output, but if power lines remain down that number is meaningless, and it fluctuates. Blackouts bring everything to a standstill. Thousands of businesses haven't been able to reopen and others are relying on pouring gasoline into generators.
SANDRA RODRIGUEZ COTTO: The government keep insisting that everything is back to normal, that the emergency has already passed, and I couldn't disagree more.
BOB GARFIELD: Sandra Rodriguez Cotto holds a nightly call-in show on WAPA Radio, the only station to stay on before, during and after the hurricane. Cotto, like many others, had been listening to the radio the day after the storm and heard all the strained voices on the air, exhausted after long hours of nonstop reporting. She drove over to offer to help write newscasts and ended up with the evening on-air time slot, which she still has.
SANDRA RODRIGUEZ COTTO: It's so hard to describe. When people call crying, I have dealt at least four times with four different people that have called saying that they wanted to kill themselves because of the economy and whatever is happening and they have lost their houses and their relatives are sick. And it's really overwhelming.
BOB GARFIELD: There are some 3.4 million people in Puerto Rico, or at least there were before Hurricane Maria. Hundreds of thousands have since left, including many doctors and other highly-paid professionals. That's further crippled the health care system and depleted the tax base. So never mind the electricity or the water, which still isn't safe to drink from the tap, by the way, Cotto says there's a more existential threat to this US territory who was already suffering through a decade-long recession.
SANDRA RODRIGUEZ COTTO: You have families being broken, families losing their income, losing their well-being, losing their houses, the value of their properties also, the ones that had properties. So, I mean, Puerto Rico is under a -- an economic spiral, and I don't see any stop in the near future, unless there is an economic influx that comes….
BOB GARFIELD: Maybe FEMA recovery funding could be that influx, a federal stimulus package in the form of rebuilding.
SANDRA RODRIGUEZ COTTO: But I'm afraid it might not necessarily happen or it might not happen as fast as we're expecting. Some economists are saying that it, it will take about 20 years to go back to where we were.
BOB GARFIELD: In the meantime, Governor Ricardo Rossello has been slammed for promising to, optimistically, as it turns out, to restore electricity to 95 percent of customers by -- now. Many, including the US Congress, have dug into how his government is awarding contracts for rebuilding.
[CLIPS]:
FEMALE CORRESPONDENT: Whitefish Energy, a small firm with just two full-time employees, received a no-bid $300 million contract to get the electricity back on.
MALE CORRESPONDENT: Nestled down this long driveway in Whitefish, Montana is a one-story wooden house, which is the home of Whitefish Energy.
MALE CORRESPONDENT: We're kind of in the middle of nowhere. It's beautiful out here but it certainly doesn't look like a headquarters for an energy company.
FEMALE CORRESPONDENT: …Puerto Rico's electric power agency, known as Prepa, has resigned. Ricardo Ramos had faced widespread outrage for signing a $300 million contract with the tiny Montana-based company, Whitefish.
[END CLIP]
BOB GARFIELD: And yet, says Cotto, it can be hard to tell who's really in charge of Puerto Rico right now, and always.
SANDRA RODRIGUEZ COTTO: If you ask me, it's not the governor. The governor is a puppet. The real power lies in Washington.
BOB GARFIELD: That might be why the governor of an island where the dominant language is Spanish often starts his press conferences in English. But more on that later. Let's get back to that radio station. Alana?
ALANA CASANOVA-BURGESS: I visited WAPA Radio on what I'm told was a typical Monday. Boxes of diapers and tampons and other supplies were stacked in the lobby, awaiting pickup by a group of nuns. As Cotto was showing me around, an elderly woman came in to ask for help. She wanted to see Dr. Alfonso Madrid, an on-air psychiatrist and Cotto's co-host. He hadn't arrived. She said she'd wait. It was important.
[VOICES IN BACKGROUND/HUBBUB]
I love you, she told Cotto. I passed the hurricane alone with you. Now I'm going through something really sad. In the days after the hurricane, hundreds of people waited in line down the block with handwritten notes for WAPA hosts to read on the air. They were looking for family, desperate to get any word out when communications were down and roads were impassable. And now, months later, they keep coming.
SANDRA RODRIGUEZ COTTO: They come. I think that now is even worse than in the few days after the hurricane because the first few days we were dealing with the situation. Now, people are beginning to realize what they have lost. They're beginning to realize how their lives have changed, and now they're in a state of shock.
ALANA CASANOVA-BURGESS: I asked her about the slogan, "Puerto Rico Se Levanta," "Puerto Rico rises up."
SANDRA RODRIGUEZ COTTO: I hate that phrase, and I think now is the worst part. In the next couple of weeks and I think, in general, it's going to be even worse. You know why? Because a lot of banks, they gave out monetary periods for people to stop paying their mortgages and their cars, and now they're going to have to start paying them on January and they're going to find out that they don't have any jobs. You're going to see a lot of bankruptcy and people even going away, leaving everything.
ALANA CASANOVA-BURGESS: Plus, there's Christmas. You can't overstate how cherished and long the holiday season is in Puerto Rico. It starts at Thanksgiving and stretches to late January. But this year, the cheer isn't for everyone. Cotto said a friend of hers is struggling without electricity or water.
SANDRA RODRIGUEZ COTTO: And the mayor of her town just passed by with some "trullas", singing Christmas songs in trucks with lights. You know what people did? They started throwing rocks at them because they're so upset.
ALANA CASANOVA-BURGESS: Cotto spoke privately to the listener who was waiting. We won't use her name because she's a victim of domestic violence and fears for her safety. FEMA had told her her home wasn't habitable but the shelter she went to was at capacity and they turned her away, a common problem. First, she spoke with Dr. Madrid, then Cotto put a call out on the air.
[COTTO BROADCASTING IN SPANISH]
Please contact the radio station, she asked the governor's staff and the staff of the mayor of San Juan. This is the moment for you to move. Tell us where we can refer her to get help because she has nowhere to go.
Then the woman inched up to the mic, too.
[WOMAN SPEAKING IN SPANISH]
The elderly in the area of San Juan have been abandoned. We don't know where to go, who to ask for help, where to get medication, nothing, nothing at all.
SANDRA RODRIGUEZ COTTO: Sometimes at the beginning I would cry, and I, I couldn't keep talking on the air. I had to leave.
ALANA CASANOVA-BURGESS: Cotto only recently got power back, and this is all hitting very close to home.
SANDRA RODRIGUEZ COTTO: But specifically, when there were issues with the elderly and with kids with disabilities, 'cause my mom and my daughter have disabilities, so I know how tough it is, 'cause I handle that every single day of my life. My daughter has cerebral palsy and she's epileptic and partially blind and partially deaf, so I know how it is. If you have a kid like that and you don't have a house and you don't have food and you're sick, I mean, it's really, really bad. So I get upset when they don't get their aid, and I will demand that on the air.
ALANA CASANOVA-BURGESS: Her house was broken into a few weeks ago. Papers were destroyed but since nothing was stolen she thinks it was an effort to intimidate her. It's not unusual these days for radio stations to engage in this kind of direct appeal to government officials.
[WOMAN SPEAKING IN SPANISH ON THE RADIO]
Driving around Puerto Rico, you hear call after call on the radio from the elderly, a demographic left behind by the mass exodus, dialing in from all over to say where they live and that they don't have electricity. They register their denuncias, complaints. Then the host says they know workers from the power authority often listen to their show and that they should attend to that area.
[MAN SPEAKING IN SPANISH]
BOB GARFIELD: On the air, Cotto's main appeal was to the staff of the mayor of San Juan, Carmen Yulin. Yulin's criticism of the federal response to Hurricane Maria has earned her a reputation as an adversary to President Trump, who continues to insist that the recovery has gone well.
MAYOR CARMEN YULIN: Dammit, this is "not a good news story." This is a "people are dying" story. This is a life or death story.
BOB GARFIELD: She had been mentioned as a possible Time Person of the Year. And just a few days earlier, Yulin had been in New York doing interviews, including with Stephen Colbert.
[CLIP]:
MAYOR CARMEN YULIN: And I hope you never forget us because we have a long road ahead of us. Oh, can you say "dammit" on TV?
STEPHEN COLBERT: Sure!
[AUDIENCE LAUGHTER]
MAYOR YULIN: So dammit, we're gonna make it.
[AUDIENCE APPLAUSE][END CLIP]
BOB GARFIELD: To be sure, Yulin has enthusiastic fans on the island but she also has fierce detractors. Piles of debris from Maria still line many San Juan streets and some residents hold her personally responsible and want her to stop helping other towns and doing interviews, until attending to every corner of the capital. Cotto, who is also a media analyst, says the sparring between Yulin and Trump has been the focus for the mainland press.
SANDRA RODRIGUEZ COTTO: I think they're using her as an example of Trump's resistance, and I think that's detrimental to the people of Puerto Rico because that's not the real issue here. It's about the fact that the United States is not giving the aid and the assistance that they should be doing and not even paying the attention to the Puerto Rican people, as they should do it because we're US citizens. They should pay more attention to us.
PRESIDENT DONALD TRUMP: They had these beautiful soft towels, very good towels. And I came in and there was a crowd of a lot of people, and they were screaming and they were loving everything. And we were -- I was having fun and they were having fun. They said, throw 'em to me, throw 'em to me, Mr. Pre -- and so I'm doing…
[END CLIP]
BOB GARFIELD: Trump's paper towel throwing display in a wealthy San Juan suburb in early October did, in fact, change the calculus for the US media. The MIT Media Lab found that pre- and post-storm, Hurricane Maria received a third as many mentions as Hurricanes Harvey and Irma in Texas and Florida. The website Media Matters found that on the Sunday after Maria hit, the five network talk shows collectively spent less than one minute covering Puerto Rico. The New York Times didn't put the story on the front page at all that day. But, the MIT study found, coverage spiked with the president's visit and since then it has waned. What remains is mostly political coverage. The most frequently-used words to discuss Maria are "Congress." "Senate," "Democrats," "Republicans," "debt" and "tax." By contrast, coverage of flooding in Houston after Harvey concentrated on words like "victim" and "family."
One big story getting attention on the mainland is the controversy over the hurricane's death count. In early October, Trump congratulated the governor for having only 16 dead from hurricane-related causes. As of this writing, the governor's number is 64, 64! But, as The New York Times reported this week, according to data from the Demographic Registry of Puerto Rico, 1052 more people than usual died on the island in the 42 days after the hurricane. This adds to the work of the Center for Investigative Journalism, which has been on this story since September. Omaya Sosa Pascual is a co-founder and reporter. Omaya, welcome to On the Media.
OMAYA SOSA PASCUAL: Thank you so much for having me again, Bob.
BOB GARFIELD: We spoke in early October about your work going to morgues and funeral homes, trying to figure out an accurate death count. The government insists, still, that the figure is in the double digits, and President Trump, of course, used that accounting to suggest that things are under control, believe him. CNN has tried to do the math. BuzzFeed has counted 900 cremations in the immediate aftermath of Maria, whether hurricane-related deaths or not. What does your reporting say?
OMAYA SOSA PASCUAL: For the last 10 days of September only, the official death count in Puerto Rico, general, not Maria-related deaths, is already 500 more than in 2016. So it's a significant spike, 42 percent increase in deaths in Puerto Rico just for those first 10 days of the emergency. And, as you know, most of Puerto Ricans are still without electricity. There's a lot of people still having health problems, elderly people that are suffering and dying from situations that are because of the emergency. So that doesn't count any numbers in October and, obviously, nothing in November. They can't explain that difference.
BOB GARFIELD: Why, when the number closer to a thousand is pretty much conventional wisdom in Puerto Rico, does the Puerto Rican government undercut its own efforts to secure more funding in Washington by undercounting the dead?
OMAYA SOSA PASCUAL: In the beginning, I believe it was just a way of trying to look good and also a lack of experience of the governor's team that have never dealt with situations like this before. I think that when they've started seeing that this was not the reality, it was maybe a little bit too late to try and cover up what they had been doing for a couple of weeks already.
BOB GARFIELD: Who is in charge of Puerto Rico, at this moment? It's the US government that oversees the Financial Oversight and Management Board for Puerto Rico to deal with the island's $70 billion debt. Who are reporters holding accountable for the recovery?
OMAYA SOSA PASCUAL: I can tell you who we believe should be accountable. We have the Puerto Rican government who is supposed to be in charge but who is broke right now. The Fiscal Control Board says they're not in charge but they really are in charge. It's a creature of the Congress, and Congress is supposed to supervise Puerto Rico in some kind of way. And then you have the federal government and the president, which is also in control, in many ways, especially in terms of more than half of Puerto Rico's budget and funding. It's very difficult. When you go asking somebody a question they say, no, for example in health issues, no, that's the CDC. You ask the Federal Department of Health, and they say, no, that's the local government.
BOB GARFIELD: I mentioned CNN and BuzzFeed and we've spoken to David Begnaud of CBS who has been a steady and, and crucial presence since the storm. What does all the reporting from outside mean for you as a citizen of Puerto Rico and as a journalist? Does it help? Are the mainland press, by and large, getting it right?
OMAYA SOSA PASCUAL: Some of it, they don't get totally right, and I am amazed, in some occasions, especially the first weeks, the difficult questions, I didn't see them confronting the government. But I think that has been changing. Even David had not spoken a lot about the death count started talking about that a couple of weeks ago, I believe.
BOB GARFIELD: Has the press there been up to the challenge?
OMAYA SOSA PASCUAL: The days after, there was only one radio station standing and no TV stations. The newspapers were not circulating. One of the newspapers had to move to the emergency center. For more than a month, they were producing the whole paper at a Rubbermaid table at the emergency center. So certainly, it's been very difficult for journalists to do their job under these circumstances, with no electricity, no internet, no power at their homes or their offices. Still, I think they've done a pretty good job in terms of some of the themes, especially the electricity. But in others, maybe we could have been tougher, you know. And the death count is one of the areas that we have worked very hard on but the local media, most of them, I think, were a little scared of that theme. Now that CNN brought it up, now they're out talking about it.
BOB GARFIELD: To the fatigued news consumers of the mainland, what would you tell them to help them better understand what is going on there?
OMAYA SOSA PASCUAL: Most of the population here that are American citizens are still in a daily state of emergency. They don't have electricity, many don't have water, very precarious health services. And, in the end, it's a humanitarian situation that should be of interest and indignation of everybody in the United States. And second, if the problem is not fixed here, in a couple of months there's going to be a million Puerto Ricans in other states.
BOB GARFIELD: Omaya, thank you so much.
OMAYA SOSA PASCUAL: Thank you.
BOB GARFIELD: Omaya Sosa Pascual is co-founder of the Center for Investigative Reporting in Puerto Rico.
ALANA CASANOVA-BURGESS: Back in the studio at WAPA Radio, Cotto was using the newsbreak to reach more official help through Twitter.
SANDRA RODRIGUEZ COTTO: Because otherwise I won't get any help.
ALANA CASANOVA-BURGESS: Who did you tweet?
SANDRA RODRIGUEZ COTTO: The, the governor and Carmen Yulin, the mayor of San Juan, I had to do it. And I tweeted, and right away Fortaleza answered. It's incredible. So let's see if they call me.
ALANA CASANOVA-BURGESS: And that works, usually?
SANDRA RODRIGUEZ COTTO: Sometimes. I don't like to do that, but sometimes I have to do it.
ALANA CASANOVA-BURGESS: Fortaleza is the governor's headquarters. Cotto had five minutes before she had to step outside to take the call, so she put me on the air to speak with her co-hosts.
[COTTO BROADCASTING IN SPANISH]
That chair squeaking is the sound of me, caught off-guard, getting up from the floor where I had been sitting. Cotto stepped out of the studio and when she returned a few minutes later, she had an update from the mayor's office. Yulin's staff had reached out to help that woman. Other listeners had also called to say they had room for her in their homes. She was crying, saying she was grateful and that she wished she had come earlier but had been too ashamed.
[CONVERSATION IN SPANISH][MUSIC UP & UNDER]
BROOKE GLADSTONE: As we'll hear this hour, there is still hope for better things in Puerto Rico because the storm exposed deep- rooted problems long ignored.
OMAYA SOSA PASCUAL: I don't want to sound corny, and I'm usually not one of those reporters that talks about positive things, but I really have to say that I believe a new and a better Puerto Rico is going to come out of this. This unveiled a lot of situations that were going on in Puerto Rico and that were maybe not so evident. After this, there's no covering up anymore.
[MUSIC UP & UNDER]
BROOKE GLADSTONE: Coming up, what the hurricane revealed to those who live on the island and on the mainland.
BOB GARFIELD: This is On the Media.
[PROMOS][SINGING/UP & UNDER]