The Psychological Toll of Working as a Climate Scientist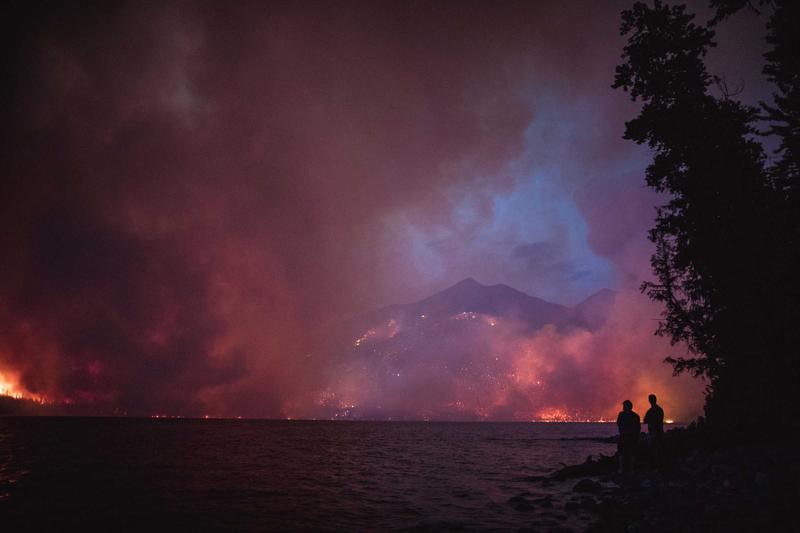 Transcript
BROOKE GLADSTONE This is On The Media, I'm Brooke Gladstone. This week Mother Jones ran a cover story titled It's the End of the World as They Know it. In it, Washington bureau chief David Corn dives into the anguished hearts of climate scientists who are now reconsidering that clinically stiff upper lip that has long been the mark of the brotherhood and the expanding sisterhood of scientists. David welcome back to the show.
DAVID CORN Great to be with you.
BROOKE GLADSTONE Talk me through the range of emotions described by these scientists and why don't you start with gloom or maybe fear.
DAVID CORN Or doom anxiety or depression. These are all scientists who studies some aspect of climate change but they all seem to have some commonality. They believe that the world at large is not giving it the notice it deserves. Now there is outright denialism that we see coming from the political right. It's government inaction and it's also the fact that just people around them, even loved ones and friends, do not seem to embrace the urgency the way they do in relationship to the data they observe.
BROOKE GLADSTONE You suggest they're a little bit like Sarah Connor from the Terminator franchise who knows of a looming catastrophe but has to struggle in a world that doesn't comprehend what's coming and largely ignores the warnings of those who do.
[CLIP OF THE TERMINATOR].
LINDA HAMILTON AS SARAH CONNOR What did he just say?
MAN He said there's a storm coming in.
LINDA HAMILTON AS SARAH CONNOR I know. [END CLIP]
DAVID CORN In the Terminator movies, Sarah Connor's knowledge is indeed secret. No one else knows about it. In this situation, tens of millions of us know about it to some extent but in general they're looking at the rest of the world and saying you just don't get it. One scientist talked to me about how he envisions what's going on by saying, 'the human race often does not do what it ought to do to survive. And isn't that weird, isn't that funny, isn't that unusual?' So he's intellectualizing it rather than feeling pain about it. Others who feel, I think, more of that climate research grief are talking about it but they're doing so within a community where talking about emotions and feelings has never been placed at a high premium.
BROOKE GLADSTONE Right. I just wonder are they all just simply being frank or are some of them being strategic? And I ask this question because the journal Issues in Science and Technology did a study that found that much of the coverage of climate science in the last couple of years tends to begin and end with the worst case scenario in a rather unscientific way.
DAVID CORN There's a kind of debate within science communicators about whether to oversell the possible worst case scenarios or whether that turns people off. They just seems such an overwhelming problem that there's nothing that can be done about it. But the scientists that I spoke to for this article in Mother Jones, basically thought that by speaking of their own feelings, they could better connect with the lay audience. That they wouldn't just be automatons but saying, 'no, this is kind of real.'
BROOKE GLADSTONE You spoke to paleontologist Jacquelyn Gill and she told you she swings more towards anger than depression. She told us, recently she's noticed a shift in the dialogue and she's worried that so much focus on anxiety promotes feelings of helplessness. She does these Ask Me Anything things on Reddit and recently for the first time, the majority were asking, 'will the world really end by 2030?' 'Are we doomed?' We went from no one's listening to total apocalypse and she wasn't crazy about the title of them Mother Jones piece either, you know. It's not necessarily the end of the world she said, we can minimize harm. That whatever the intention of much of this public discussion is, and I don't think she was directing it solely at scientists but at commentators and journalists too, that this is an overcorrection.
DAVID CORN Brooke you've been covering the media for a little while now?
BROOKE GLADSTONE Mmm, more years than I can say.
DAVID CORN And you know that the one thing it's very good at is going from zero to 10 and back again. Or zero to 60. It's very hard, I think, to have more nuanced conversations, especially if you talk about getting people's attention. There's so much going on right now and elbowing your way into a national conversation about something important. You know, if you're in the media, you try to think about, 'oh how can I grab people by the collar.' It is true with a lot of climate science that there are worst case scenarios that are really damn scary. But if you then say, 'well, the less worst case scenarios might be more livable that we might manage and muddle our way through,' then will you get the same attention?
BROOKE GLADSTONE Which brings us to strategy again. Do we want to motivate or do we want to stop short of that and inform. Now, I have no problem with advocacy science or advocacy journalism as long as it's fair and complete.
DAVID CORN So it's hard for me to fault people for saying, 'we gotta let people know just what could happen if we don't get on this quickly enough.' I think this is a really difficult question. If you tell people that there is no hope and everything is lost, they won't do anything. If you tell people, 'you know, what I think we can get through this,' they probably won't do anything it. So where's the sweet spot because I do see climate scientists saying, 'we do believe that there's time.' That's kind of the message that I hear across the board from people whether they're suffering depression and anxiety or those who don't feel such burdens.
BROOKE GLADSTONE The thrust of this hour is about the numbing effect and you talked to some scientists who said that anxiety had rendered them kind of numb.
DAVID CORN Indeed. This is the case when knowing too much brought some almost to the point of complete inaction. Dr. Kim Cobb talked about studying basically the death of a major coral reef on election night 2016. She went into a deep depression because she realized there would be no climate change action. And she spent months barely able to get out of bed and it took a couple of months for to figure out what she needed to do as a scientist. She was continue to do her scientific work but by becoming more of an advocate at the same time, attending scientific conferences and urging other scientists to speak out in favor of policy action instead of just presenting data. That got her out of her funk. That gave her a new view of what she should do with her role as basically an 'informationalist.' That's what scientists are. They gather information they present it to the world. She now knew that she had to go a step further and say, 'based on the information I'm presenting you, I think we need these actions right away.'
BROOKE GLADSTONE What about those scientists who see themselves as personally implicated in the climate change story just because they fly or they haven't gone solar on their house or for whatever reason, that they have carbon footprints. What are the ways they find to go about their lives with what you described as a kind of cloud of guilt always hanging over them?
DAVID CORN It's hard to escape and I think the scientists, some of whom I spoke to, this anxiety that they feel based on the research and based on the fact that they don't see a commensurate response in society at large is somewhat compounded by their own involvement, whether it's driving cars, whether it's cooking with charcoal, whether it's flying because it's a tremendous amount of emissions from jet planes. And so most of them told me that one way they've tried to cope is by becoming greener, flying less, buying Priuses, telecommuting. They all know that that's not the big solutions that are truly needed but I think it is a psychological mechanism. If everyone did we certainly would be in a better spot and they see it that way.
BROOKE GLADSTONE What about Sara Myher. She's a former senior research associate at the University of Washington School of Oceanography and she experienced what she called, 'a profound level of grief on a daily basis because of the scale of the crisis that is coming. I don't have clinical depression. I have anxiety exacerbated by the constant background of doom and gloom in science.' I think many listeners would respond to that and not just to the science part. She said it wasn't stopping her from doing her work but it was an impediment.
DAVID CORN And it's something that she and others who I've spoken to, you know, live with on a daily basis. She has come up with a coping mechanism that sounds pretty simple. She talks about it. She became a science communicator. She would speak to public groups about what needed to be done. She says that has given her even more purpose in life.
BROOKE GLADSTONE We've been talking about a lot of women, is this just a girl thing.
DAVID CORN Well you know I noticed that to a degree, I mean there is a fellow named Peter Kalmus who had tremendous climate grief and talked about basically sobbing on the phone when he was talking to a congressional office. It also could be an old young type of thing too. Where a younger generation of scientists are more willing to challenge some of the norms of their community and talk about their own relationship to the data. The psychological and emotional relationship to the data. There could be different things at work here but I do think as I talk to people in the field that there's more of this type of discussion going on to deal with the numbness. People--'you feel numb, I feel numb too.' You know, 'she feels numb as well. How is she dealing with it?' And so I believe this is the beginning of a process and I'm not sure where it's going to end.
BROOKE GLADSTONE Do you feel numb ever?
DAVID CORN Always. I think the media environment, you know, in the last couple of years–particular in Washington where I am–feels like you're in a blender every day. Everybody's searching for stories that cut through the clutter. They have impact. They also get traffic. But as soon as you do one of those stories, the next day you feel like sisyphus starting all over again because we are processing through information and news and stories so quickly.. We're on this hamster wheel and I think that's basically causing a general societal freakout. I think that's a technical term.
BROOKE GLADSTONE David, thank you so much.
DAVID CORN My pleasure.
BROOKE GLADSTONE David Corn is the Washington bureau chief for Mother Jones. For the past 10 years Priya Shukla a PhD candidate at the University of California Davis has studied and cared for various shellfish on the West Coast. When she began, she already saw changes in the water that threatened her mollusks but now present devastation preys on her thoughts and feelings.
PRIYA SHUKLA Recently in Bodega Bay where I do my research, there was this huge heat wave and it coincided with some of the best low tide of the summer for these mussels which are related to the oysters that I study. It was actually pretty devastating. The mussels were essentially cooked because this low tide event coincided with this extreme heat wave and killed off so many mussels. And other folks have observed the same phenomenon up and down the California coast.
BROOKE GLADSTONE So you're seeing this stuff happening, what's your non-scientific personal reaction been?
PRIYA SHUKLA Talking about it out loud is very challenging and so I have to treat myself like an objective person with the perspective that is removed from what is happening. But when I am by myself and I am looking at the data or am reading the papers, I get overwhelmed and I get tired very quickly and sometimes I won't even realize it but my eyes are actually welling up with tears.
BROOKE GLADSTONE But you know that the worst case scenario is just that–it's a scenario.
PRIYA SHUKLA I totally appreciate that. Maybe the worst case scenario is not what we will contend with. But in the marine ecology literature we measure averages a lot–what is the average response to an increase in temperature. What we know is that it only takes one extreme event to cause some kind of devastating event like those mussels.
BROOKE GLADSTONE Do you use the kind of intensity of emotion that you feel to inform the presentation of your work?
PRIYA SHUKLA If the audience is technical then likely not. But when I speak to the public, finding a way to emotionally connect with people about how dire that situation is, is the most useful tool I have and I think it is incredibly effective. I try not to veer into being a babbling alarmist but I'm sure some would accuse me from time to time.
BROOKE GLADSTONE What is it that you're feeling though?
PRIYA SHUKLA I veer on the side of grief right now as I'm talking to you. I can feel this compression in my chest because thinking about all the papers that I've read that constantly document these effects is really hard. Recently, I have veered into thinking about oyster diseases. These really small oysters that are millimeters in size, they had these summer mortality events and you can lose up to 90 to 100 percent of your oysters. When I think what this is for the shellfish industry, but if it were any species that people feel more emotionally, it could be like whales or lions or even us. Thinking about what it means to have 90 to 100 percent loss every summer is really hard to wrap my mind around.
BROOKE GLADSTONE How do you make yourself feel better?
PRIYA SHUKLA So there are two ways that I myself feel better one is I am a contributor for Forbes Science Online and I have that column and I have the privilege of being able to take technical literature and try to translate it for lay audience. I also have to remember that I am doing the best that I can. It just flew into D.C. last night and so the entire flight over I was thinking about my carbon footprint and what I have been doing this past year to alleviate it and then how the fact that I am a climate scientist at least, must in some moral calculus, help offset that flight that I took.
BROOKE GLADSTONE Do you think the emotion gets in your way or fuels you?
PRIYA SHUKLA Probably a little bit of both. I think anger is a very empowering tool but it's also incredibly exhausting. But I'm angry because I care and because I care. I continue to do this work and I think this work is really important. And when I say work, that's anywhere from making sure that my mussels aren't covered in their own poop all the way to thinking about what am I going to write about for my next article to what am I going to talk to my mom about.
BROOKE GLADSTONE Your work must have arisen out of a spark of curiosity, a bit of wonder, how do you protect that? How do you steer yourself away from numbness?
PRIYA SHUKLA A long time ago, when I knew I wanted to become some kind of natural scientist. It was a wonder about the natural world that really drove me. And now that spark and that curiosity is not just about the beauty of nature but in fact about what our planet and what our society needs. There is a lot of monotony in science but for me that monotony is a lot of meditation. And that meditation brings me some pain when I think about the impacts of climate change and the consequences but it also means that I can envision optimism.
BROOKE GLADSTONE Do you think that the emotion that you feel is productive?
PRIYA SHUKLA Yes. That fire that I have. That fire which sometimes is in fact anger or pain or sadness or anxiety, I can easily put that fire out and replace it with a fire to work towards a solution. When I feel those inklings of--of a negative emotion, I immediately take a detour toward something productive to think about how can quell that emotion by preventing it from ever coming up in the first place. And to do that, I have to do some really hard but important work.
[MUSIC UP & UNDER]
BROOKE GLADSTONE Priya, thank you very much.
PRIYA SHUKLA Yes, thank you Brooke.
BROOKE GLADSTONE Priya Shukla is a PhD student at the University of California Davis.
[MUSIC UP & UNDER]
BROOKE GLADSTONE So increased engagement is one cure. Coming up another, doing nothing. This is On The Media.