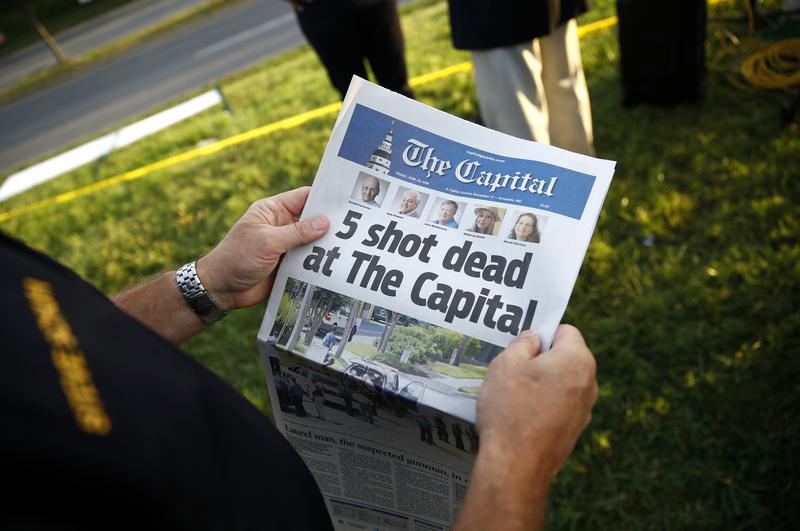 Transcript
BROOKE GLADSTONE This is On the Media, I'm Brooke Gladstone. It was one thing to get the paper out the day after the shooting. Getting back to a sense of business as usual was quite another. Eventually, they moved into a new office with reinforced bulletproof walls, but for a while, the Capital Gazette staff was housed in a cramped, temporary newsroom. There wasn't any privacy, but at least there was some accommodation to make the staff feel safe. Reporter Selene San Felice.
SELENE SAN FELICE Meeting lawn and being like, this is the security guard, he's going to be here with you. And I was like, OK, we have a security guard that makes me feel better. This guy's massive and I think he has a gun. So. So I was like, all right, that that seems safe.
CHRIS BENDEREV She did this thing that a lot of the other people who'd been in the room for the shooting did. She made sure to pick a desk where she could have her back up against a wall. But the clear view of the front door.
SELENE SAN FELICE Because when people would come in, it would make this noise and you didn't know who was coming in. And then if somebody didn't have the code, there was like a doorbell and that was like, so scary. So, I was like, I just want to see who's coming in the room.
CHRIS BENDEREV So those first couple of weeks, Selene couldn't actually do much work. But about a month after the shooting, she did go out on a story. Selene did an article where she checked in with people who'd survived a big tornado one year earlier. But she says even though she was there to talk about their tragedy, they'd often end up talking about hers.
SELENE SAN FELICE People would tell you about where they were when they heard that the shooting was happening. "I was in Wal-Mart," "I was camping," and then you get on with your job and your story.
CHRIS BENDEREV Selene knows they didn't mean to, but these people's stories would often end up making her relive the shooting, too, which was upsetting. Every stage of putting together a newspaper story was different now for Selene. Like after she finally wrote up a draft of her tornado story, it was time for an edit, but that was another reminder of the shooting. Because her editor used to be Rob Hiaasen. She'd loved Rob. Everybody loved Rob because he wasn't just a good editor, he was a teacher. Someone who taught reporters how to fit more humanity into the writing. Selene had a new editor, a nice guy who'd come to Annapolis to help fill in during the summer.
SELENE SAN FELICE I remember I had my first meeting with him. It was really great, but it felt so bad to get that from somebody that wasn't Rob, and then I just went out in the hallway and cried.
CHRIS BENDEREV Selene did get used to churning out more stories. Especially when she took over the entertainment section of the paper, but that meant filling big shoes, because entertainment used to be Wendi Winters' job before she was killed in the shooting. And Wendi had been prolific. She did write ups for what seemed like every concert and play and restaurant and charity fundraiser in the Annapolis area. Plus, she did weekly profiles that readers loved, like Home of the Week. Wendi actually prewrote so many stories that her byline kept appearing in the paper for weeks after the shooting. And at first Selene had been game to pick up Wendi's beat, but by early December, she was struggling to publish even half the number of stories that Wendi had. And lately, people in Annapolis have been asking if she, as Wendi's replacement, would be covering their holiday event this year, you know, like Wendi always did. Oh, they'd add and why hasn't there been a Home of the Week every week anymore? One day after work, Selene recorded a voice memo for me about all this. And in it it was like she was longing for the days when people had brought up the shooting too much.
SELENE SAN FELICE People don't even say sorry. Like people have stopped saying, like, hey, I'm sorry, Wendi used to do this, but who will do it? Now, it's just Wendi used to do it? Who's going to do it? And it just feels like everyone else is back to normal. Feels like a lot of people have forgotten what that day was like. I'm still really sad and I just really want is for Rob to read my stories again. And for Wendi to do, the sh*t she used to do because everybody loved it and I can't do it the way that she did it. [SIGH].
DANIELLE OHL When it first happened, like I wasn't even, I wasn't there, I wasn't in the state.
CHRIS BENDEREV This is Danielle Ohl, the city government reporter. She was on vacation when the shooting happened, so her experience of jumping back into work was very different from Selene's.
DANIELLE OHL When I got back to work, I think I was almost like, yes, like, OK, like I'm here. And, you know, that was fine for a while.
CHRIS BENDEREV But then one night that fall, Danielle was sitting in the back of the Annapolis City Council chambers to cover the biweekly meeting like she always did. And this local businessman walked up to her. He was angry. He didn't like how Danielle had quoted him in a recent story about a controversial bike lane. The two of them went back and forth about this for a minute, and then...
DANIELLE OHL He said something along the lines of, I understand freedom of the press, but you see what happened to you guys. And I don't think I said anything. Then he said, oh, I'm not threatening you.
CHRIS BENDEREV Danielle began to shake. His comment wasn't just upsetting because it referenced the shooting, it was upsetting because the gunman who killed five of her colleagues had also been mad about how her newspaper had written about him. We should say that we talked to the businessman and he denied using the exact words Danielle remembered, but he did say that he referenced the shooting. Danielle eventually had to leave the room.
DANIELLE OHL I was really hot. I was hyperventilating. I couldn't get it together. And I opened my laptop again and I tried to start taking notes. And then I just couldn't.
CHRIS BENDEREV As she was sitting there shaking and realizing she couldn't do her job and cover the meeting, she wrote to someone, her boss, Rick.
DANIELLE OHL He came, and he sat at the back of the city council chambers with me, which is really weird. Like he's never there. He's the editor-in-chief, like, there's no reason for him to be there. I told him, I was like 'Rick. I think I have to leave." and he was just like, "Done. Go."
RICK HUTZELL And she went home and I, for the first time in decades, covered a city council meeting.
CHRIS BENDEREV This is Rick Hutzell. Before Danielle left for the night, she says that she told Rick that he didn't have to say anything to the businessman, no need to create a scene. Rick disagreed. He told her, quote, "People can't talk to my reporters like that."
RICK HUTZELL I did go talk to the guy. And I did point out that I felt that he had harassed my reporter.
CHRIS BENDEREV The man later apologized. Danielle. She says he told her that he felt really bad about what had happened. Rick had spent decades of his career climbing the ranks of the Capital Gazette, but by the time they were attacked, he'd only been its top editor for three years. One time he told me that he hated the fact that he'd always be remembered as the editor of the era of the shooting. But he also told me that his wife was always trying to reassure him. He'd also be remembered as the editor who pulled them through it, and as part of that, he also made some hard decisions about the paper. Remember how Selene was struggling to replicate Wendi Winters's output? Rick realized it was impossible for Selene, maybe for anyone. So, he pulled back on the number of Wendi style stories that they do. And he discontinued one of the paper's longest running and most beloved features: Home of the Week.
RICK HUTZELL I got a letter from one reader and she was really angry with the fact that we weren't doing Home of the Week anymore because that was her favorite part of the paper. It's hard to judge someone's character from just one letter. Her letter seemed to indicate a complete obliviousness to what was going on. That was the reason she bought the paper. And if you take that away from them, yeah, you may get an angry letter from someone who may not recognize the fact that you're just trying to figure out how to show up for work every day.
CHRIS BENDEREV There's just one more story I want to tell you about what it was like to be back at work at the Capital Gazette. It starts right after the attack, when there was this vigil that city leaders in Annapolis had organized. On a lawn outside a historic building downtown. At one point, some of the Capital Gazette staff got on stage to say a few words.
PHIL DAVIS For those who don't know who we are, this is Selene San Felice, Rachael Pacella, Danielle Ohl, and I'm Phil Davis. We all work at the Capital currently. Yeah.
CHRIS BENDEREV Josh McKerrow, the photographer who'd worked on the day of the shooting out of the pickup truck, he was down in the crowd. He wanted to be up on stage with his friends that he'd known for years, but most of the people up there had been in the room during the shooting. They were the real survivors, Josh felt.
JOSHUA MCKERROW I didn't go up with the staff. I already felt like – I don't know if I should go out there. My instinct was to stay back.
CHRIS BENDEREV For Josh an invisible divide had formed between the out of the room people like himself, and the in the room people. And it was all wrapped up with Josh, his own guilt about not having gone into the office on the day of the shooting. Ever since, he hadn't been able to shake this one thought.
JOSHUA MCKERROW I should have been there. It was my newsroom. By all rights, I should have been there. The feeling is that if you have been there, maybe you could have done something. Maybe you would have been going to the bathroom and he would have seen something in the hallway and you could have done something.
CHRIS BENDEREV Josh didn't know what to do with those feelings. And then one day he noticed his colleague, Rachael Pacella, had shown up. She is the one who tripped and fell while trying to escape. Josh thought about how she'd been through so much more than he had. And in that moment, he decided he did know how to bridge this invisible divide. He'd go check in with her. Put his own emotions aside and focus on trying to see if there was anything she needed.
JOSHUA MCKERROW I was like, How are you doing, Rachael? And she she said something like, I'm OK. I'm just really glad to be here and I'm really glad to be alive. And it just hit me. And I just started crying and then she's, like, comforting me. Are you upset because you weren't there? Because she's clever. I was like, yes, of course, I'm upset that I wasn't there. She was like it's OK. It's OK that you weren't there. I'm glad you weren't there. And you just like, look, let me write you a note. And she got a notepad out. She wrote me a note, and I think I have it on my wall. Let me read it. I probably do. Here it is. It says: The office of Rachael Pacella. Joshua McKerrow has permission and validation for whatever he feels for forever. Additionally, Josh should not feel guilty for not being there. Josh has a kind heart for which I prescribed at least one hug a day, the occasional cry, but mostly as many laughs as possible, signed Rachael Pacella, BD. And then in parentheses, Bullsh*t Doctor.
RACHAEL PACELLA You know, I guess I just wanted Josh if he was ever feeling guilty, to have something that he could always, like, take out of his pocket, you know, and look at.
JOSHUA MCKERROW It was one of the kindest things anyone's ever done for me. Because Rachael was there, and so having her say it's OK. I desperately needed somebody to say that.
RICK HUTZELL I don't think it'd be a surprise to anybody that I feel pretty guilty about what happened.
CHRIS BENDEREV Rick, as the boss didn't just feel bad about not having been there the day of the shooting. He also kept thinking about how in the years leading up to the attack, he'd convinced two of the journalists who'd been killed not to leave the paper. Rick says, just like Josh, there were moments where his colleagues told him to go easy on himself.
RICK HUTZELL A lot of it was about looking each other in the eye and saying, it's OK, that we're [CLEARS THROAT] It's OK that we're alive.
CHRIS BENDEREV Fast forward to September 2019. It's been well over a year since the shooting. Trial of the shooter was supposed to be over by this point, but it still hasn't happened. It'd been delayed twice and now it's coming up in less than two months.
RICK HUTZELL All right. So, this is a meeting to discuss trial – can we shut the door. So first off, I just want to...
CHRIS BENDEREV Rick's called a meeting in his office to talk about trial coverage. There are a few Capital Gazette staffers around a long wooden table.
RICK HUTZELL OK, so just a reminder, as we get closer to this, so we have one, two, three, four people in the newsroom who will be witnesses in the trial.
CHRIS BENDEREV If you'd peered out from Rick's office, you could have seen all four of those people, Paul, Janel, Selene, Rachael, working at their desks.
RICK HUTZELL So the general rule is, don't talk about this story in the newsroom. My office is available for conferences. That's partially because, you know, issues of trauma and also because these people are witnesses. It's an unusual thing to do...
CHRIS BENDEREV One of the people listening to Rick is the person that he'd hired to be the lead reporter on the trial story, Alex Mann. Before this, Alex had been at his first job out of college at a tiny paper. So this was a great step up for him, plus a return to a paper that he'd loved. He'd been an intern here before the shooting, but covering the shooting case, it also threw this young reporter into lots of unusual situations. Like this one day early on in his new job, when Alex was doing his daily check of the court website for any updates in the case,
ALEX MANN I called Rick. I was like, Rick, listen, they've moved to subpoena four people and you are one of them. And he said, "Okay."
CHRIS BENDEREV The subpoena was asking Rick to provide any old emails, notes, any records that he had related to the shooter from before the attack when the shooter had been suing the Capital for defamation. When Alex got back from the courthouse, Rick only had a few words to say to him about the subpoena story.
ALEX MANN He told me he's like, I'm not editing this. And not only am I not editing this, I can't really talk to you about it, which is a very weird thing for a reporter and editor. That's who I would be going to to ask questions, you know, so that day I couldn't.
CHRIS BENDEREV It's easy to forget that many mass shootings don't end in a trial. The gunman often takes his own life or is killed by authorities. But now, after a year and a half of waiting and preparing, the Capital Gazette survivors were finally going to get a chance to testify against their attacker. And then one week before the trial was set to begin, the case changed in a way that no one had been expecting.
[CLIP]
ANCHOR 1 We start with breaking news out of Annapolis. The Capital Gazette shooter pleads guilty to all charges.
ANCHOR 2 Let's go to Annapolis right now... [END CLIP]
CHRIS BENDEREV After nearly a year and a half of claiming he was not guilty, the shooter did a surprise 180. He switched his plea to guilty.
[CLIP]
NEWS REPORT Well, there were definitely some tears inside that courtroom this afternoon and also a sense of relief among many of the victims' family members and survivors. [END CLIP]
CHRIS BENDEREV After the guilty plea, Alex and some other reporters have been allowed 20 minutes to look over boxes and boxes of evidence against the shooter. It was hundreds of documents and photos that were normally under seal. And later, when Alex and Rick met up, Rick wanted to know, had Alex seen anything in there that might shed light on one of the biggest questions of this case: Why had the shooter waited years and years until Thursday, June 28th, 2018 to attack?
RICK HUTZELL So the question that's...
ALEX MANN Why June 28th?
RICK HUTZELL Why June 28th? Was there any indication in there of why June 28th?
ALEX MANN Nothing.
CHRIS BENDEREV What about the lead prosecutor?
RICK HUTZELL Was there anything that she said that happened close to June 28? What was the last thing? She said there was something that happened.
CHRIS BENDEREV Rick kept going. Did Alexander anything more about exactly where the shooter had bought his gun from? "No." Alex said. These were the questions of an editor who wants all the facts and someone trying to make sense of the day that changed his life.
RICK HUTZELL You need to take time off.
CHRIS BENDEREV Now, there is something else I have to explain. This guilty plea was not actually the end of the shooter's legal saga because he also entered a plea of not criminally responsible by reason of insanity. Maryland's version of an insanity plea, which meant there would be a full trial, after all, to determine whether or not he had been mentally stable enough to understand the criminality of his actions. And so the paper would keep reporting this story and Rick knew who he wanted covering it.
RICK HUTZELL I mean, Alex has demonstrated that he understands the issues involved in this trial. He has been covering it more than anyone and has written more on it than anyone. And it is his story to tell.
CHRIS BENDEREV But around this time, something else started happening. Rick began having a lot more meetings with his bosses at the Baltimore Sun. I noticed this because I was kept out of those meetings. They weren't OK with me recording. So Rick had to keep me on the other side of the door.
RICK HUTZELL It's going to have to be no, I'm sorry.
CHRIS BENDEREV OK.
RICK HUTZELL I'm sorry.
CHRIS BENDEREV That's fine. I'll talk to you.
CHRIS BENDEREV Before the Sun purchased the Capital, these two papers actually used to be bitter rivals for decades. But as the newspaper industry shrunk, bigger papers began buying up smaller ones. And in 2014, the Sun bought the Capital. Rick told me they'd been good owners, very supportive after the shooting, too. But then in early 2020, I learned about something involving The Sun that had been upsetting Rick. He asked me not to record, it wasn't public yet, and then he told me that the Baltimore Sun wanted to hire Alex away. It scheduled an interview with Alex for next week. To be clear, Rick totally wanted Alex to advance in his career. He was used to reporters leaving for bigger papers. But the insanity plea trial was just around the corner, and Alex knew this complex legal case better than any reporter anywhere. So Rick, losing Alex would mean losing what he'd spent a year and a half building. His paper, becoming the authority on one of the biggest stories that's ever happened in or near Annapolis. I asked Rick if that was what he was upset about. No, he said, and he gave me a much more personal reason that he'd held on to this story. I mean, this guy f*cking tried to kill us. Rick told me. He was looking for me. Prosecutors had revealed that the shooter had kept a list of, quote, high value targets, and Rick was on that list. What's important, Rick told me, is that it be a reporter at this paper doing the best coverage. That would show that the Capital Gazette had truly survived, not just in that first famous edition, the morning after the shooting, but every day since. One night in his office in January 2020, Rick said something that and all the time I've been talking to him, I never heard him say before.
RICK HUTZELL It's just a lot, you know, I need it to be over.
CHRIS BENDEREV This trial coverage and all this stuff?
ANDERSON COOPER I need the whole thing to be over. I need to be doing something else. Would it be easier to do something else? I don't know. I haven't done anything else in 32 years.
CHRIS BENDEREV I'd never seen this version of Rick. The editor who loves his job so much that his staff calls him the news tornado, who will spin and skip out of his office into the newsroom to celebrate when they get a good tip or scoop. But today, he looked and sounded exhausted. He hadn't taken a real vacation since the shooting. And it was like the idea of losing Alex and losing his edge on this one story made him remember all the other losses.
RICK HUTZELL My whole purpose in this has been to make the paper survive. To make this as an entity to survive, you know, and it's not the paper it was two years ago. It's – it never will be, you know, and it's, sometimes the realization is tougher than others. You know, is it because of the pressures on us that are different now because we're part of a bigger company? Is it because of what happened? Is it because I'm tired? Yeah, all of it. But, at this moment, you know, ask me again in six months, and I'm sure I'll be like, dancing to the newsroom, but I am not very happy in my job – right now.
CHRIS BENDEREV When you say you're not happy with it. What is that?
RICK HUTZELL Five people I know died here. I have won a Pulitzer. What else am I hanging around for? You know, do I really have to rub my nose in it every day?
CHRIS BENDEREV It being?
RICK HUTZELL The death of my friends. You know, wherever I go, it's going to follow me. Think about it every day, think about them every day, but it's right here, it's right freakin where is it? It's in the paper, you know.
CHRIS BENDEREV Rick was talking about that spot along the bottom of every day's opinion page with the names and photos of his five former colleagues, even though he told his staff many months earlier that he might get rid of the photos and just leave the names. He still hadn't. Wasn't ready yet.
RICK HUTZELL You know, it's a lot of ghosts. A lot of ghosts.
CHRIS BENDEREV From what happened?
[PHONE TRILLS]
RICK HUTZELL Yeah. [LONG SIGH, PICKS UP RECEIVER] Rick Hutzell. Hi, Catherine, thanks for calling, what's up?
BROOKE GLADSTONE Coming up, can the Capital Gazette survive the existential threat facing the newspaper business? This is On the Media.
Copyright © 2021 New York Public Radio. All rights reserved. Visit our website terms of use at www.wnyc.org for further information.
New York Public Radio transcripts are created on a rush deadline, often by contractors. This text may not be in its final form and may be updated or revised in the future. Accuracy and availability may vary. The authoritative record of New York Public Radio's programming is the audio record.