A Paranoid Reflection Of Our Digital Age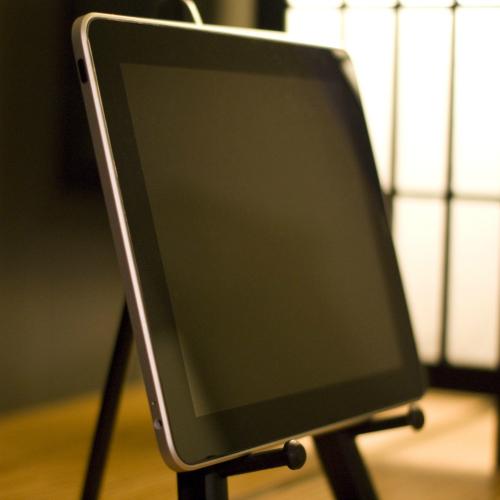 Transcript
BROOKE GLADSTONE: The British TV series, Black Mirror, debuted on Channel 4 in the UK in December of 2011, but when it was released on Netflix six weeks ago, Americans took heed. Described as the Twilight Zone updated for the digital age, the show has enraptured the Internet literati. Charlie Brooker is Black Mirror's creator, and the writer of nearly every episode. He wrote in the Guardian, that, quote, "The 'Black Mirror' of the title is the one you'll find on every wall, on every desk, in the palm of every hand: the cold, shiny screen of a TV, a monitor, a smartphone." Indeed, technology serves as the backdrop for each episode, all very dark, but in manifestly different ways.
CHARLIE BROOKER: The initial idea behind it was to come up with our version of a kind of eerie anthology show, in the vein of The Twilight Zone. Although they may sometimes look slightly campy from our perspective now, you know, 60 years on--what they were talking about at the time was extremely contemporary concerns about The Cold War, McCarthyism, psychology, and all these things people were interested in. And so, I was thinking, what's in the ether now? And I guess probably while thinking this I was probably being reflected in the screen of an ipad or something like that, and thought, well, there you go. Really, really what sort of interests me is the "what if" stories. That was always something that I enjoyed. You know, what if? In the world of the Twilight Zone, those kind of what if stories were always presented as a sort of supernatural occurrence. Somebody finds a camera that takes a photograph of the future, and it's a sort of magical realist little parable. We are now living in an age where miraculous things actually seem to happen. And so, it felt like very fertile territory for quite a paranoid and worried show.
GLADSTONE: (Laughs)
BROOKER: And it's designed to unsettle you.
GLADSTONE: Yes! And there is an unsettling plausibility to most of these plots. And I'd like to start with the first episode of the first season - The National Anthem. There's a beloved princess. She's been abducted. Later it appears she's been maimed. Her kidnapper says she'll only be released if the Prime Minister has sex with a pig, live on camera. The PM's office has requested that the media hold the story. And the director in this particular network newsroom wants to hold the story. And there's an argument.
(clip)
BROOKER: It was an idea I'd had kicking around for awhile. And I think, I've got a funny feeling that it may have been something mentioned in a Fabulous Furry Freak Brothers comic.
GLADSTONE: (Laughs.)
BROOKER: Literally something like along those lines. And I thought what if you took that and then you played it out for real, actually make you really sympathize with the Prime Minister and his wife. There was a bizarre situation that had happened in Britain in 2010, in the run up to an election where the Prime Minister at the time had gone on a walkabout meeting members of the public, and then he'd gone in a car and his microphone was still on.
(clip)
BROOKER: He said "Who is that bigoted woman?" And it was an immediate disaster and he didn't know this had happened, but he's taken to his next place where he's doing an interview on the radio, play it back for him. They go, you said this. And then what he doesn't realize is he's on a webcam and he starts putting his head in his hands. And so he's utterly humiliated and then he has to go back to apologize to this woman, and it's live on the rolling news. And you're watching this going, "Who is in charge here?" This is the Prime Minister! And he's like, hapless.
GLADSTONE: It's a great leap from wandering around hapless to having sex with a pig live on TV.
BROOKER: That episode is interesting because it certainly seems to divide Americans more than British viewers. You know, people kind of really either love or hate that particular episode.
GLADSTONE: One of the most fascinating things about that episode to me is how the spectators change from a kind of, you know, prurient glee, to horror at the ordeal. And I have to agree with Emily Nussbaum, who wrote in the New Yorker, that like all of Black Mirror, it works because it's not cynical about emotion.
BROOKER: Hm. So if it's commenting on something there I guess it's the way we can very easily build people up as cartoon figures on the internet. It's very easy to do that, that people don't seem real. And if there's a note we keep hitting it's about real people. And we can enjoy people's humiliation, or downfall, within our fictionalized versions. They're finding it funny, they're all sort of cheering and raising their glasses--when it actually happens it's not funny anymore.
(clip)
GLADSTONE: And then, here comes the cynical part, it's so easily overcome by his rising in the polls.
BROOKER: His public face is fairly undented. There's a reality show we have in the UK-- there was a politician called George Galloway who went on Celebrity Big Brother. And as part of that he was tasked with impersonating a cat for some reason. And he was down on his knees pretending to be a cat and licking milk from a saucer. It was on the front pages of the newspapers - this guy has destroyed his career, this is embarrassing, everyone was cringing. And he was evicted from the Big Brother house to a cascade of boos. It sounded like an explosion in a boo factory when he came out. Fast forward a few years he's been re-elected, he's more popular than he's ever been. I heard him doing a radio show immediately, a few months after he'd done that, where he's playing the top cat theme as his jingle. You know, so we've got a thirst for humiliation, but we can forgive.
GLADSTONE: On the subject of humiliation, the second episode - 15 Million Merits--where in the future, people bicycle to create energy for a living, and they live in these tiny cells that are covered in screens everywhere. And they're forced to watch TV all the time and they earn a kind of currency called Merits. The dominant theme of the programming they're forced to watch is basically humiliating, a show making fun of obese people, raunchy pornography.
BROOKER: It's cruel, isn't it? I mean everything they're looking at is cruel within that world.
GLADSTONE: The main character, a man named Bing, works his way on to this reality show to tell the truth.
(clip)
BROOKER: Once he's gone on that show, and delivered this sort of passionate speech, that shocks everyone, they immediately commodify-- it becomes another form of entertainment.
GLADSTONE: You've said that the series was inspired at least in part by the Twilight Zone. And you've observed that the Twilight Zone was sometimes shockingly cruel.
BROOKER: Yeah.
GLADSTONE: And you even cite one of their dark, O'Henry type episodes where a luckless bookworm wanders through the rubble following a nuclear holocaust. He thinks he's the last man on earth. Decides to kill himself. And then he sees a library nearby just as he lifts the gun to his temple. He suddenly realizes he can now read all the books he wants, uninterrupted. But when he reaches for the first book, his glasses fall off and smash on the floor, and he ends the episode weeping and alone. And that reminded me of the third episode of the Black Mirror, "The Entire History of You."
BROOKER: Yeah, and that's a world in which everyone has the ability to rewind everything they've seen. It's kind of like they've got kind of Google Glass contact lenses in. And you can rewind and replay anything. And we follow a guy who is sort of possessive, and quite a weak, jealous man. And he becomes obsessed with the notion that his wife may have cheated on him. And he starts rewinding and replaying little moments, for--hunting for evidence.
GLADSTONE: In this clip they've just come from a dinner party where they ran into a former lover of the wife. This lover they're calling Mr. Marrakesh.
(clip)
GLADSTONE: In the end, Liam, like Rod Serling's bookworm, ends up weeping and alone. But, his marriage was already heading for the rocks, right?
BROOKER: Yeah. That would've probably happened anyway. He's picking at a scab that he should leave well alone. The floor is not technology there. It's his character. And the technology maybe enables him to sort of hasten his own destruction. It's an interesting concept I guess because we're moving into a world where nothing will be forgotten. Lord knows, kids now who are tweeting their every thought could be storing up all kinds of problems for themselves in ten years time.
GLADSTONE: On the subject of what is already available, back in June of last year, we did a segment on services for the digital afterlife in which they were actually beginning to download enough of the communication and the information about a person, to create a kind of program that would simulate the person who has died. And in the episode "Be Right Back," which is the first episode in the second series, you did just that. Did you know that these services already existed?
BROOKER: No. I mean it was quite chilling when we found out they did. I mean luckily, in a way, luckily we found out immediately after the episode went out. And within that episode, really, Martha who's played by Haley Atwell, is quite fortunate in that her, her late boyfriend, who's played by Donald Gleason, comes back and he's kind of pleasant. The problem is that he's sort of shallow and glib, basically when he comes back. Because he used to tweet things that were, you know, just all on the surface.
(clip)
BROOKER: It seemed like this is a logical thing that will happen. Once, once that ability exists to emulate someone's personality, it would be too tempting to not try to communicate with that. And we put her, within the story we put her in -- she's resistant to it and then she discovers she's pregnant, and she just wants to be able to tell him in some way. And from there on the hooks are in. And she's sort of stuck.
GLADSTONE: Can I give you my grand unified theory of the Black Mirror?
BROOKER: Go ahead, yeah.
GLADSTONE: Okay. You have this media everywhere, this ether, that translates and exaggerates, and basically everything filtered through this great black mirror. We sense it's not real. Every story hinges on a desperate longing for authenticity, to connect to something real in the face of all of this artifice.
BROOKER: Definitely that is a recurring theme; constantly people are being thwarted because they, they're finding that authenticity seems to be slipping through their fingers, and they can't grasp it. So, I'd say that's an astute observation. That's not necessarily what I had in mind while writing the episodes, probably.
GLADSTONE: (Laughs)
BROOKER: You know I'm a dweeby person - I love gadgets. My background, I used to be a video game reviewer. I used to be heavy smoker. I used to reach blindly for a pack of the cigarettes, now I reach for a smart phone. And so it seems like it's an addiction, and it seems like a constant sort of layer that's, that's slightly super-imposed upon things. And what the show is doing isn't necessarily saying that's wrong or right. Technology's not the villain in it, it just…
GLADSTONE: Oh, I don't know about that.
BROOKER: I don't think technology is the villain in it.
GLADSTONE: Come on!
BROOKER: Hey, phones don't kill people.
GLADSTONE: Oh, oh, alright.
BROOKER: People kill people. No, what's interesting I think from a "what if" perspective is that you follow more of an everyman, effectively, or an everywoman. And you see them led into kind of a trap of their own making, often. And it's not because of the technology, it's because of a failing, or a weakness, or just human nature, that they end up where they end up.
GLADSTONE: Well, then, let me throw this at you. It strikes me that one area in which your show differs from Rod Serling's is that you're actually less cynical about human nature, fundamentally, than he was. For instance, in the episode in which the woman manages to download a facsimile of her husband, she realizes that it can never be her husband. And she packs him away, more or less. In a similar Twilight Zone, that woman would find the robot eminently more satisfying than her husband.
BROOKER: Right - do you think? Well, then….hey, she'd probably be right. Whereas we showed that she was in absolute agony, and what it had actually done was it had prevented her from moving on. So she is left dangling. She packs him away but she can't destroy him. She can't get rid of him. She can't bring herself to do that. Because there's not enough of him there, but there's too much of him to throw away. I don't think The Twilight Zone was cynical about human nature, although having said that...there's an episode like the "Monsters are Due on Maple Street," that you could argue is…
GLADSTONE: I'd rather have a drink with you than Rod Serling. (laugh)
BROOKER: Well, that's good, because he's been dead for a long time. And, frankly he wouldn't pick up the tab.
GLADSTONE: Thank you so much for talking with us.
BROOKER: Thank you. It's an absolute pleasure. Absolute pleasure.
GLADSTONE: Charlie Brooker is the creator of Black Mirror.
(music)
Brooke Gladstone: That's it for this week's show. On The Media is produced by Sarah Abdurrahman, Chris Neary, Laura Mayer, Kimmie Regler, Meara Sharma and Kasia Mihaylovic. We had more help from Jesse Brenneman. And our show this week was edited by me. Our technical director is Jennifer Munson. Our engineer this week was Merritt Jacob.
Katya Rogers is our executive producer. Jim Schachter is WNYC's Vice President for news. Bassist/composer Ben Allison wrote our theme. On the Media is produced by WNYC and distributed by NPR. Bob Garfield will be back next week. I'm Brooke Gladstone.