When Republicans Wanted Abortion Rights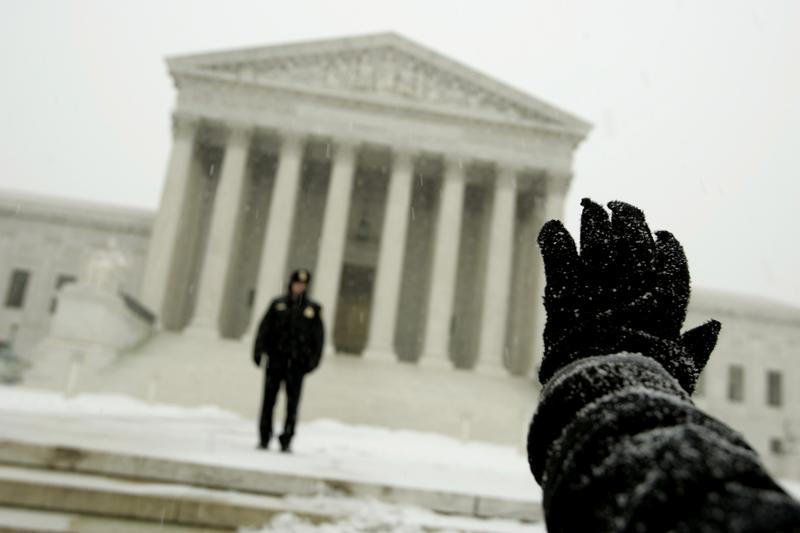 Transcript
BROOKE GLADSTONE: From WNYC in New York, this is On the Media. Bob Garfield is away this week. I'm Brooke Gladstone.
In a health care-obsessed summer, we decided to take up a hearty health care perennial, an issue so tough, so weedy, so ever-green, it sprouts in all kinds of weather and in every American terrain.
TERRY BRANSTAD: They began tonight at the statehouse. Lawmakers in the Iowa House have just voted on a bill that would make it a crime for a woman to have an abortion after 20 weeks of pregnancy.
BROOKE GLADSTONE: Former Iowa Governor, now Trump's Ambassador to China, Terry Branstad turned down federal funding, leading to the closing of four Planned Parenthood clinics, Meanwhile, the legislature's 20-week abortion ban is currently blocked by the courts.
GOVERNOR MATT BEVIN: We are a pro-life state. It is a state where the vast majority of Kentuckians value the sanctity of human life and want protect it to the absolute degree possible.
BROOKE GLADSTONE: Kentucky has one abortion clinic left. Earlier this year, it was informed by the state's Cabinet for Health and Family Services that it would lose its license in 10 days. The clinic got an extension, then sued. The case is still in court. If it loses, Kentucky would be the first state with no abortion clinic.
[CLIPS]:
GOVERNOR ERIC GREITENS: I saw the power that comes when people of faith stand up and together we affirm that every life has value!
[CROWD CHEERS/WHISTLES]
BROOKE GLADSTONE: Missouri Governor Eric Greitens led an anti-abortion rally at his own statehouse. This summer, he called a special legislative session specifically to pass anti-abortion measures. Meanwhile, the Oklahoma Statehouse advanced a bill that would only allow abortions with the father's consent. The bill passed easily out of committee but its sponsor, Rep. Justin Humphrey, did take a little flack for referring to pregnant women as -- hosts.
REP. JUSTIN HUMPHREY: When I used the term "host," it's not meant to degrade women. I actually went and googled that and I went to Webster, and I couldn't find a better term.
[END CLIP]
BROOKE GLADSTONE: The everlasting thrust and parry over abortion and for all the combatants the stakes literally are life and death. Why this battle is never resolved is the subject for this hour, because abortion has come to mean much more than a medical procedure. It's a symbol of liberty or licentiousness, a display of decency or degradation, an emblem of all that is fair or foul in America.
New Yorker staff writer and Harvard history professor Jill Lepore says it wasn't always that way.
JILL LEPORE: Abortion before what's known as quickening, which is when a mother can feel the movement of a fetus, which is around four months, is not a crime in the colonies, in most places. Criminal codes begin in the 1820s, with the rise of the medical profession taking over from midwives.
BROOKE GLADSTONE: And I guess we could hop to Margaret Sanger at the beginning of the 20th century.
JILL LEPORE: Yeah, so Margaret Sanger, who's the founder of the birth control movement, the founder of Planned Parenthood, with her sister Ethel Byrne -- in 1916 they opened the first birth control clinic -- is not herself a proponent of the legalization of abortion. What Sanger and her sister and the founders of Planned Parenthood were trying to do in the 19-teens is decriminalize contraception, and a kind of moral crusade of Anthony Comstock who, in 1873, argues that even talking about contraception is an obscene activity and needs to be criminalized. And Sanger and her sister who are both nurses and who are both mothers come from a very large family, a family of 11 children; their mother died of tuberculosis at a very young age. There's plenty of birth control available to wealthy people, who use it. The number of children of wealthy families decreases very quickly over the course of the 19th century. It's the poor who are having abortions and dying from them. So Sanger and her sister are campaigning to decriminalize birth control, partly as a remedy for abortion.
[CLIP]:
MARGARET SANGER: Suggestions as to what to be done for a girl who was "in trouble" or a married woman who was "caught" passed from mouth to mouth -- turpentine, steaming, rolling downstairs, knitting needles, shoe-hooks. When they had word of a new remedy, they hurried to the drugstore, and if the clerk were inclined to be friendly, he might say, oh, that won't help you but here's something that will.
[END CLIP]
JILL LEPORE: Sanger had actually been pushed out of Planned Parenthood, then run by men who were doctors, obstetricians, because she was too feminist and because Planned Parenthood was essentially a very Republican organization. Eisenhower was on a family planning committee in the 1960s, Barry Goldwater was on a Planned Parenthood committee. So was his wife.
BROOKE GLADSTONE: Take me back to his wife back to '65, the Griswold decision. The Supreme Court rules 7 to 2 that Connecticut's ban on contraception was unconstitutional on the grounds of a married couple's right to privacy. I find this is so interesting because privacy seems to be constantly weaving in and out of the legal debate over abortion rights.
JILL LEPORE: Yeah, and I think it's actually a tragic ruling, frankly, for women's equal rights campaigns. When women involved in the reproductive rights movement in the early 1960s tried to bring a case using the 14th Amendment, to say that it was a violation of the Equal Protection of the law for women to not be able to hear from their doctors about contraception, and the court refused that argument. And they selected a case where they thought that they could defend a decision to strike down the bans on contraception using a privacy argument, which turns out to be, in my view, kind of a dead end.
If you think about the divergence between, say, the reproductive rights movement and gay rights and same-sex marriage rights, the gay rights movement made a right to privacy argument, as well, but without success. And, in fact, when you think about it the sort of 1980s, 1990s come-out-of-the-closet sort of AIDS/ACT UP moment was very much about refusing to hide one's sexuality. They wanted the equal protection of the law and [LAUGHS] they fought for it. And yet, women have kind of inherited this right-to-privacy argument because that's what the Supreme Court was more comfortable with when talking about women. And it's actually a very Victorian notion.
BROOKE GLADSTONE: But isn't it privacy that leads to Roe v. Wade?
JILL LEPORE: Yeah. Roe v. Wade cites that same right to privacy.
BROOKE GLADSTONE: And they talk about the shadow cast by the notion of privacy, which is never stated in the Constitution, which many legal scholars say make it an extraordinarily weak decision, right?
JILL LEPORE: Right. That's what William O. Douglas and the Court did in Griswold, was say, well, okay, the right to privacy is not in the Constitution but you can find it, [LAUGHS] if you look between the letters and the words in the First Amendment; you can infer it. And he's resting on an argument that was made in 1890 by Louis Brandeis and his law partner, Samuel Warren, that is entirely bound up with Victorian notions of femininity. Brandeis and Warren said the right to privacy can be understood to be in the Constitution because it protects us against the incursions of modern technology that might pry into private life. And they were particularly concerned about their wives and their daughters and said they were really concerned about cameras --
[BROOKE LAUGHS]
-- women being caught on camera.
BROOKE GLADSTONE: It sucks their souls, you know?
JILL LEPORE: Yeah, [LAUGHS] yeah, but Douglas kind of pulls it and puts it into the context of -- basically it's about the vagina. [LAUGHS]
BROOKE GLADSTONE: Right.
JILL LEPORE: I mean, like that's private. It is not the same as making a case using the Equal Protection Clause of the 14th Amendment. [LAUGHS] It's not as sturdy as that and it has come under very, very strong attacks.
BROOKE GLADSTONE: Something else not mentioned explicitly in the Constitution, women. And if you're not going to talk about women, then you've noted that people have to find rights for themselves in the margins, in the Bill of Rights.
JILL LEPORE: The Bill of Rights and the Constitution contains soaring language but these documents were written at a time when a large number of people who are now US citizens were not considered eligible for full citizenship. And so, when there are arguments to be made in a court of law about the rights of those of us, they take a certain amount of contortion. Thirty years of legal argument in the 19th century was about whether the Declaration of Independence and the Constitution included black people, and that was an argument that was won. It's been a very, a very long struggle, after winning that legal argument, to win it in the streets and in statehouses but it was a legal argument that had to be made to resolve the ambiguity in those documents.
BROOKE GLADSTONE: You note that in the vanguard of these family planning efforts in the '60s were Republicans. When Title X was passed, which provided family planning services, it passed with bipartisan support. Nixon signed it. Then a year later, part of Title X, which had an allowance for military doctors to perform abortions, was revoked by Nixon. Something happened.
JILL LEPORE: Yeah, and what's happening is Nixon, who had been pro-family-planning, is greatly influenced by his speechwriter Pat Buchanan. And Nixon is just completely obsessed with
re-election and Buchanan says, you know what, you're gonna have to switch your position on abortion, because the Pope had decried it and it was a deep and powerful moral issue for the Church. If you change your position, then the Catholics will have to move to the Republican Party. And this is at a time when Nixon is undertaking his Southern strategy to recruit white Democrats with his law and order rhetoric, and much less attended is this, you know, what I think of as the female stra -[LAUGHS], female strategy, which is to say, you know, we can bring Catholics into this new Republican coalition over the abortion issue.
Buchanan and other conservative Republican strategists take a lot of credit for this move but really it's Phyllis Schlafly, [LAUGHS] a very hardworking Republican Party activist from Illinois who brings that pro-family conservativism into the Republican Party.
[CLIP]:
PHYLLIS SCHLAFLY: The Republican Party continues to uphold the principle that every human being, born and unborn, young and old, healthy and disabled has a fundamental individual right to life.
[END CLIP]
JILL LEPORE: She allies two completely different political constituencies, people who are opposed to the ERA, which looks like it's about to be ratified, and people who are opposed to abortion, and she brings into the Republican Party evangelical Christians. Schlafly and her supporters argue that 1960s liberalism celebrates the individual and promotes the rights of the individual at the expense of the family and at the expense of a kind of moral order, that abortion becomes a linchpin for it. The party leadership switches earlier, following Schlafly. The Republican Party had first endorsed the Equal Rights Amendment in 1940. It had been on its plank every four years since 1940. And Schlafly convinces [LAUGHS] the GOP to get it off the plank.
[BOTH SPEAK/OVERLAP]
BROOKE GLADSTONE: She, she famously said, "Feminism is doomed to failure because it is based on an attempt to repeal and restructure human nature." And she said, "Sex education classes are like in-home sales parties for abortions."
JILL LEPORE: She's incredibly effective turning the position of the Republican Party 180 degrees away from what it had been for a very long time.
BROOKE GLADSTONE: So Nixon was re-elected in November of 1972, and that was eight days after the Supreme Court issued its ruling on Roe v. Wade.
[CLIP]:
MALE CORRESPONDENT: Good evening. In a landmark ruling, the Supreme Court today legalized abortions. The majority, in cases from Texas and Georgia, said that the decision to end a pregnancy during the first three months belongs to the woman and her doctor, not the government. Thus, the antiabortion laws of 46 states were rendered unconstitutional.
[END CLIP]
JILL LEPORE: In 1975, when Betty Ford is in the White House, Morley Shafer from CBS comes to interview her for 60 minutes, and they have this incredible conversation. [LAUGHS] He says, I'm going to ask you about some taboo subjects: What are your views on abortion? And she says --
[CLIP]:
BETTY FORD: I feel very strongly that it was the best thing in the world when the Supreme Court voted to legalize abortion and, in my words, bring it out of the backwoods and put it in the hospitals where it belonged. I thought it was a great, great decision.
[END CLIP]
JILL LEPORE: Betty Ford was perfectly willing to say what a lot of Republican women felt, and a lot of those women then left the party and it completely transformed the party system.
BROOKE GLADSTONE: Mm. After Roe, Planned Parenthood was forced to pick a side: Are you in favor of abortion rights or not? How could they not be in favor of abortion rights?
JILL LEPORE: One of the things that happened after Roe, and especially after 1977, was that the women's movement came to understand itself as the pro-choice movement, which really narrowed the movement and also left outside and abandoned all the other issues that women had been fighting for. So that's not Planned Parenthood's fault. Planned Parenthood is a health service provider, but it also has an advocacy arm and it made a decision to defend abortion rights.
BROOKE GLADSTONE: And Planned Parenthood has been stuck in this same defensive crouch for about 40 years. But abortion just doesn't seem to move.
JILL LEPORE: Yeah, but abortion is a really complicated issue. It is the analog to the gun ownership issue before the 1970s. And they're not partisan issues and then they become hyper- partisan issues; they're super polarizing and they both, to people, feel like they're about life and death. Either guns are murder or they're freedom. Either abortion is murder or it's freedom. And it's not [LAUGHS] -- it's that - there's like a grid. Like, you have -- on one axis, you have abortion and guns and on the other axis, you have murder or freedom.
[MUSIC UP & UNDER]
But the illusion is that this grid is somehow natural, like this is just how these issues are in the world. They're how these issues have been shaped by people with nakedly self-serving partisan interests. The political intensity of it, that an artifice.
BROOKE GLADSTONE: Jill Lepore is a professor of American History at Harvard University and a staff writer for the New Yorker magazine. Thank you so much.
JILL LEPORE: Hey, thanks a lot.
BROOKE GLADSTONE: Coming up, Miss Sherri's abortion expedition takes her from Romper Room to Sweden, to the cover of Life magazine. This is On the Media.