The State Legislator Will See You Now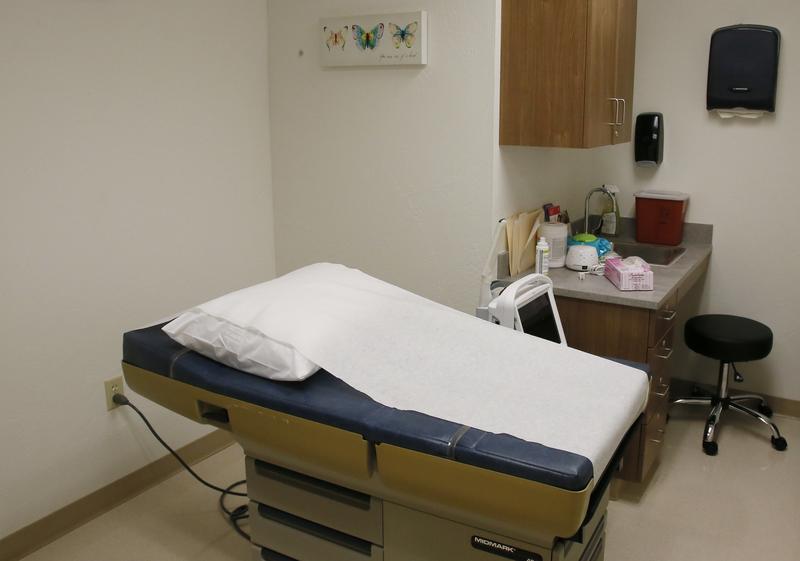 Transcript
BROOKE GLADSTONE: Activists on both sides are in constant argument, while statehouses rush in to ensure that the information gap is filled in ways they deem appropriate.
But the views of the states may conflict with those of the medical profession, resulting in less clarity and more confusion, as WNYC's Mary Harris reports.
MARY HARRIS: If Leah Torres was your obstetrician and you walked into her office and said, I want an abortion, the first thing she would do is dig into her desk for one particular folder. It's literally a script typed out to make sure she doesn't break any laws.
DR. LEAH TORRES: So, if you can imagine, it doesn't instill a lot of confidence.
MARY HARRIS: This document is long, two single-spaced pages noting every possible side effect of the procedure.
DR. LEAH TORRES: Mostly it's accurate and mostly it contains the information I would have given the patient anyway.
MARY HARRIS: But she also reads things that she would never tell a patient.
DR. LEAH TORRES: It says one abortion risk is "post-abortal syndrome." That's a name that's been coined for abortion regret.
MARY HARRIS: That syndrome does not exist. That is not a thing.
DR. LEAH TORRES: And after reading that script, Torres has to ask her patient to sign a consent form that says she can request pain medication for the fetus.
DR. LEAH TORRES: And there's no medical evidence to support the claim that a fetus can feel pain.
MARY HARRIS: At least in the earlier weeks of pregnancy, which is why Torres has this technique. As she's reading the script and going over documents, periodically she'll just interrupt herself and say, that last thing I said, by the way, that isn't true.
DR. LEAH TORRES: I've had patients kind of laugh because it's a ridiculous situation. They sit there and they listen to it but they're like, I don't need any of this information because I know what I want to do. People know what they need.
MARY HARRIS: Torres practices in Utah, and the reason this conversation has become so complicated is because of gradual changes to one state law, Utah Code 767305. In the last 25 years, this law has been revised at least 10 times, each change part of a slow-motion tug-of-war over how doctors must talk about abortion. And this war of words got started here.
[CLIP/BACKGROUND NOISE]
LAURIE BAKSH: Let me dig these out of here.
MARY HARRIS: It began with these little booklets the state used to send out to abortion clinics.
LAURIE BAKSH: The first ones I found were published in the late mid-'80s.
MARY HARRIS: Now you can find them in a storage closet inside a break room at the Utah Department of Health. Laurie Baksh -- she's the manager of the Maternal and Infant Health Program here -- is digging around to find them.
LAURIE BAKSH: This is the booklet from 2004. Here's one from 2012.
MARY HARRIS: They feature pictures of fetal development. And when Utah's Department of Health started producing these booklets, the rules around informed consent and abortion were pretty simple. A doctor had to tell a patient about at least two adoption agencies, about the details of development of unborn children and any risks of the procedure. That was it. The law was 144 words long.
But in 1993, this law quadrupled in size. Suddenly, the state required doctors to tell women about their fetus's gestational age, about child support. And that little booklet from the Department of Health became state-recommended viewing for any woman seeking an abortion. And it got thicker.
LAURIE BAKSH: We are required to put in pictures and descriptions of the developing fetus and we're required to discuss current procedures and their risks.
MARY HARRIS: It takes Laurie a full two minutes to tick off all the requirements.
LAURIE BAKSH: There are a few statements that we're required to also give women, and that is that the State of Utah prefers childbirth over abortion.
MARY HARRIS: That's a -- that's a pretty long list.
LAURIE BAKSH: Yes. The booklet that is in its printed form is now about 30-plus pages long.
MARY HARRIS: Over the years, legislators got creative about how they got inside the conversation about abortion. Some things had to be said out loud, others had to be written into a consent form.
[MUSIC UP & UNDER]
In 1986, legislators asked the Department of Health to make a video.
[CLIP]:
WOMAN: Deciding what path to travel can be a difficult decision.
It's called an informed decision.
[CLIP]:
YOUNG WOMAN: I got my test back this morning.
FRIEND: And?
YOUNG WOMAN: I'm pregnant.
FRIEND: Does Mike know?
YOUNG WOMAN: No.
[END CLIP]
MARY HARRIS: Shawn Emery was pretty new to video production when he won the state contract to make this video. He says he charged about $30,000 to get the job done, which included casting about for just the right fresh-faced girl, who spends much of the video chatting with a friend on a couch or a park bench.
MARY HARRIS: You said a state legislator was also sort of involved in scripting it?
SHAWN EMERY: Yeah. I want to say his last name was Killpack.
MARY HARRIS: Robert Killpack sponsored the legislation that led to these videos. He died in 2013.
SHAWN EMERY: But I remember he was involved in making sure the script was written properly, making sure we were on point and not going too far overboard.
MARY HARRIS: Killpack told the Associated Press he wanted to show women what happens with the fetus in abortion. Killpack was a dentist. He said, "A lot of people don't understand embryology like I do. If you save one child, is it worth it? I think it is."
The Supreme Court has said states can tell women they prefer childbirth to abortion, but they have to use medically-accurate information to make the case. Earlier this year, when a professor at Rutgers asked a group of experts to independently review the documents that states give women when they show up for abortions, they found one-third of the information they evaluated was wrong. I asked her to review this video and she said the same kinds of mistakes can be found here. Often these are errors that misrepresent the embryo, like when the narrator says this this -
[CLIP]:
FEMALE NARRATOR: This is an ultrasound at four weeks. Listen to the sound of the heart beating. [HEARTBEAT SOUNDS]
MARY HARRIS: The researcher told he heartbeats usually aren't detectable until a pregnancy is seven weeks along. Then there's this.
FEMALE NARRATOR: When eight weeks have passed since conception, in the brain there may be electrical waves.
MARY HARRIS: But the researcher found no evidence of brain waves in any embryology textbook.
As legislators have added to the informed consent material, they've become more mindful of the legal line they're walking. Over the past two years, Rep. Keven Stratton has sponsored a couple of bills to further expand this material. This is a moral issue for him.
[CLIP]:
REP. KEVEN STRATTON: May be we illuminated and guided by Divine Providence. It's my prayer, that --
MARY HARRIS: So this is like a passion of yours.
REP. STRATTON: That's probably fair to say. I've been involved in two pieces of legislation, certainly.
MARY HARRIS: This year, he wanted to require doctors to say an abortion may be able to be reversed. When I asked him why, he told me about one of his constituents.
REP. STRATTON: An individual had gone and commenced the process for a medically-induced abortion.
MARY HARRIS: That means she was using the abortion pill, which is, actually, two pills. The first is called Mifepristone, the second is called Misoprostol. You have to take both for the abortion to be complete. This woman took the first pill and then she called her provider and she said -
REP. STRATTON: I've really had a change of heart, I would like to know if there's any options, at this point. And at that point, she was hold that there's nothing you can do, you have to take the second pill. Well, that's inaccurate information. Thirty to 50% of the women who take Misoprostol alone, the pregnancy will continue.
MARY HARRIS: If you don't take the second abortion pill, you might stay pregnant but lots of people, including the American Congress of Obstetrics and Gynecology, think "reversing an abortion" is a deeply misleading phrase.
So Stratton knew his legislation wasn't a slam dunk but he started meeting with people on all sides of the debate to see if he could make abortion reversal part of informed consent.
[BACKGROUND HUBBUB]
One of the people he met with was Dr. Leah Torres. She was nervous. You can hear it because she recorded their meetup at the state capitol. It's her way of taking notes.
[CLIP]:
DR. TORRES: I am an OB-GYN and I've been living in Utah for four years, shucks, going on five years!
MARY HARRIS: Torres agreed to let us share this audio, as long as we only played her side of the conversation. Right away, Stratton surprises her. He says, what if I could change this language so you don't have to lie?
DR. TORRES: I feel like I'm on the stand.
MARY HARRIS: He says, what about instead of "reversing an abortion" we talked about the options and consequences of aborting an abortion? She says, no. He keeps running more language by her. She keeps rejecting it. Again and again, Torres comes back to this point.
DR. TORRES: If somebody is uncertain about their abortion, I turn them away. I want them to make sure that they are making the right decision for themselves, and that's regarding abortion, pregnancy, hysterectomy, tubal ligation. Any medical intervention requires informed consent. So he was surprised that I would turn away somebody who wasn't certain. Well, that's what I do. It's my moral and ethical duty as a physician.
MARY HARRIS: When Arizona tried to pass a law about abortion reversal, the ACLU sued. The Court refused to let the law go into effect. Stratton's getting creative because he doesn't want that to happen to him.
REP. STRATTON: Frankly, it was a heavy lift.
MARY HARRIS: Did you ever think about giving it up?
REP. STRATTON: That's not something I do.
MARY HARRIS: By the end of their conversation, Torres is imploring Stratton not to make that conversation she has to have with her abortion patients any more complicated. She tells him, I've had nightmares about giving women an abortion they regret. But she left with a good feeling.
DR. TORRES: And I walked away thinking, that was very productive. But I didn't fool myself into thinking I had changed his mind and heart.
MARY HARRIS: She hadn't.
REP. STRATTON: Seeing all present having voted, [CHIMES] the vote is closed.
MARY HARRIS: A few days later, Stratton brought his bill to the floor of the House, with the exact same language Torres had been arguing against days earlier.
DR. TORRES: That moment was a little surreal, as in we already discussed this, I can't believe that we're here.
MARY HARRIS: And in March, the bill was signed into law.
REP. STRATTON: And I think Leah would say that I listened to her, and I'm confident that she would admit that it ended up better than it started.
MARY HARRIS: After all, his bill doesn't talk about reversing an abortion anymore. Instead, it talks about options and consequences. It says, "Research indicates that Mifepristone alone is not always effective in ending a pregnancy. If you've taken Mifepristone but have not yet taken the second drug and have questions regarding the health of your fetus or are questioning your decision to terminate your pregnancy, you should consult a physician immediately.
But for Torres, this only intensifies the confusion.
DR. TORRES: The falsehoods that the state requires me to tell patients are easily remedied, except now the patient is confused as far as who they can trust. Do they trust the state, do they trust their doctor? The doctor is contradicting the state, the state is contradicting the doctor. So, nobody wins.
[MUSIC UP & UNDER]
Other physicians have no idea what the laws are. Even my partners, who don't provide abortions, have to ask me, so, if a 16-year-old, da-da-da-da-dah. No one knows the laws because they're so confusing, they're so ever-changing.
MARY HARRIS: Doctors don't want to risk it. The law says if you don't do this informed consent right, you can lose your license.
There are two abortion clinics left in Utah. That's half as many as there were just a few years ago. Around 60 percent of women here live in a county without any abortion provider. It's been over a year since Torres performed an abortion.
DR. TORRES: So, regarding informed consent, patients aren't getting it because doctors don't know how to give it because of all of these regulations that require informed consent, ironically.
MARY HARRIS: But she keeps counseling women, because she's one of the people who know how. For On the Media, I'm Mary Harris.
BROOKE GLADSTONE: Coming up, how the words we choose blinker our thinking, our argument against the phrase "pro-choice." This is On the Media.