Kim Stanley Robinson on Our Future Cities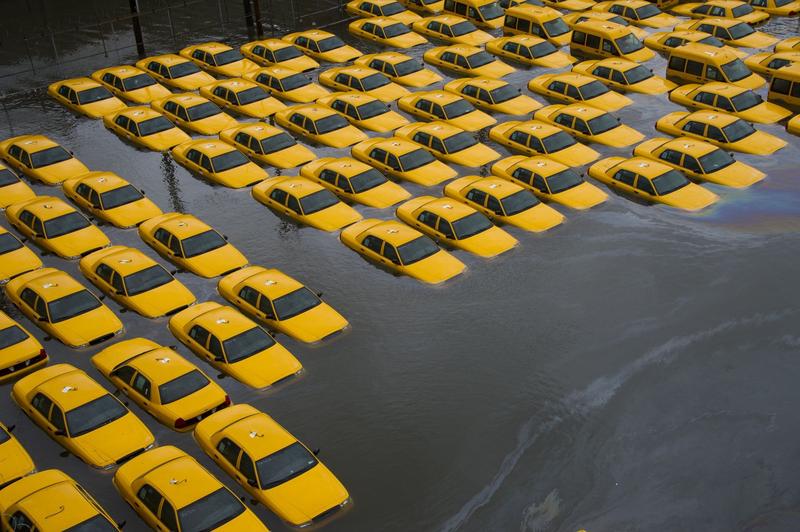 Transcript
BROOKE GLADSTONE: Now let's trade a waterless California for a waterlogged New York. Kim Stanley Robinson has been called one of the greatest living science fiction writers. He's best known for his award-winning Mars Trilogy, which depicts the settling and terraforming of the red planet and the evolution of society and politics after ecological disaster on Earth. His latest book, New York 2140, imagines the world after a steep rise in sea level. Lower Manhattan is mostly submerged and rents are cheap, but uptown the water ebbs and the prices rise.
KIM STANLEY ROBINSON: Manhattan has a spine to it running from Central Park up the Upper West Side all the way up to the Cloisters that's way taller than 50 feet above sea level. They're using graphinated composites. Uptown has some like 300- story skyscrapers and looks a little bit like Dubai or something.
[BROOKE LAUGHS]
But downtown in the area that's been turned into a kind of Venice, people are zipping around canals. You have vaporettos that take the place of buses. It will be much scrapier.
BROOKE GLADSTONE: Robinson imagines people walking to work on sky bridges, instead of sidewalks, and growing lots of food on rooftop farms. Young people are reinventing art and culture in cheap enclaves. And even though the water glimmering around the city is poisonous, it is beautiful, so much so that New York is increasingly known as "Super Venice." Kim Stanley Robinson, thank you so much for doing this.
KIM STANLEY ROBINSON: Oh, it's my pleasure. Thank you.
BROOKE GLADSTONE: So the New York City of your book is shaped by two flooding episodes. You call them pulses that ultimately result in a 50-foot rise in sea water. Is that actually close to what we can expect?
KIM STANLEY ROBINSON: If all the ice on the planet were to melt, that's 210 feet higher. The truth is that the ice that's in Eastern Antarctica, although it's two miles thick it's also quite stable. It's going to be dark down there five months of every year, no matter how much climate change we create. So a fair amount of the ice on this planet is pretty stable and then there's a significant portion that isn't, and how fast it's gonna come off is an open question.
BROOKE GLADSTONE: There's a real sense of history in the book. You have references to old British ships and a lot of references to Melville. You note that the MetLife Building, where a lot of the book takes place, is actually designed as a replica of the Campanile in Venice?
KIM STANLEY ROBINSON: The bell Tower in San Marco's plaza in Venice is a very distinctive brick building that goes up higher than everything else in Venice, and that's where Galileo demonstrated his telescope in 1609. And the architect for the old MetLife Tower on Madison Square used that as his model. So it struck me as a good joke.
BROOKE GLADSTONE: And in 2140?
KIM STANLEY ROBINSON: Well, the water would come up to about the second or third story, with a farm on the loggia floor and photovoltaic panels up and down the sides. Buildings will have become like tiny little independent city states trying to be energy- and food-independent, as much as they can, which is not enough but will be a gesture.
BROOKE GLADSTONE: There is much made if the low-cost enclaves that the creative people can live in, and ultimately their ideas for how to live and how to create culture are co-opted by the rich. But in the meantime, they're makin' 'em and they're making them in the cheap precincts of New York City.
KIM STANLEY ROBINSON: If sea level rise were to happen, it would be a devastation, a world-class disaster, one of the biggest in world history. That said, 50 years later people are going to be coping with the situation, and they aren't going to abandon New York. So the areas of New York that are built on landfill, they won't support their buildings if the streets around them and the ground is under seawater all the time or in the intertidal zone between low tide and high tide. So those areas will begin falling apart. They'll be condemned. People will be squatting in them. A whole cheap New York will come back in Manhattan in a way that is a bit brutal but, as I say, people will be coping, people be trying to make good lives. There's gonna be some fun had.
BROOKE GLADSTONE: Right and [LAUGHS], as a matter of fact, although the book refers to billions of deaths during the pulses and describes waves of refugees sweeping the Earth, New Yorkers seem to have adapted. And there's a way of reading this book almost is an urban planning manual. Do you want people to read the book and be hopeful?
KIM STANLEY ROBINSON: Yes, I do. There will, indeed, be billions of climate refugees, and that's coming if sea level rises quickly or slowly, because we are changing the climate very quickly now. That said, it's not going to be zombies in the streets. It's not apocalyptic. It's a dislocation and a challenge and people are gonna rise to the challenge, one way or another. So I wanted to write a novel that is hopeful because hope is appropriate to the situation. It's not the end of the world.
BROOKE GLADSTONE: In fact, you have a character, one who lives in the intertidal. He's quite old and he has to leave because the building has become unlivable. His name is Hexter and he says that people have trouble living in the in between.
KIM STANLEY ROBINSON: Yes, if you say a disaster's coming down, then people tend to think apocalyptically. But human history has been coping with a series of disasters, including climate disasters. There were people having perfectly wonderful lives and it turns out that where they lived is where the Black Sea is now. So humanity has evolved to adapt to climate change. And it's happening again but it's a mixed picture. It's partly an opportunity to do things better. And that's what my people in the old MetLife Tower are trying to do.
BROOKE GLADSTONE: New York is still a center of finance, and one of the characters you focus on is Franklin who works at a hedge fund and has developed the Intertidal Property Pricing Index. Franklin readily concedes that the floods were good for capitalism. It's a case where the rich get richer, the poor get poorer, and so on. There's even a bit of a joke in the language. He refers to an underwater mortgage, which is literal in the book.
KIM STANLEY ROBINSON: [LAUGHS] All that was really fun, the various ways that we have financial metaphors that have to do with liquidity, right? There are lots of illiquid assets in our lives, like our homes, our jobs, and so on, and the way that global finance manages to prey on us is that global finance likes liquidity and makes money off liquidity, whereas ordinary people desperately want what you would call illiquidity, staying above water and not having their lives treated like tradable assets, which is really the way finance treats them.
BROOKE GLADSTONE: Are there corrections in the world you created in New York 2140?
KIM STANLEY ROBINSON: There is a story near the end of the book where the people deliberately pop a real estate bubble by refusing to pay their mortgages as a kind of a strike, and that causes another federal rescue like 2008. And, in this case, the rescue of the banks includes nationalizing the banks. There's also a politician in New York 2140 that when a hurricane hits New York – and that will be worse than ever before because of the already harder sea level rise that's postulated - there's a politician that says, look, we need to requisition these empty towers that millionaires from elsewhere have in New York. They own them, they're empty. We've got a refugee population. We want to take these towers and occupy them with refugees.
This is what Jeremy Corbyn asked for in London because of the fire in that tower. And this happens all the time in science fiction writers. Just following out my scenario, I've managed to predict things that happened much more quickly than the time postulated.
BROOKE GLADSTONE: You know, there's been a series of rather dystopian books written about climate change recently. Jill Lepore has said that dystopian fiction used to be a fiction of resistance; now it's become a fiction of submission. And writer Allegra Hyde wrote that, "Facing the future means facing darkness, but it also means dreaming, giving weight and respect to the imagination. It means writing our way towards hope."
KIM STANLEY ROBINSON: Oh well, I love that. That's, more or less, my motto, my working policy. I am a utopian science fiction writer and I've never but once done a dystopia in my entire 40-year career. They're too easy and they do end up being a kind of pornography of despair, where you can always think to yourself, well, at least my life right now isn't that bad. And so, there's a complacency to dystopias and a giving-up quality, whereas you try the utopian future and then what you really realize is there's never gonna be a perfect utopia. All you really mean is a positive course for history. And writing those down gives us ideas and plans. History is going so fast, technology is changing so fast that we are living in a science fiction story that we're all writing together.
BROOKE GLADSTONE: And what is New York 2140? It's neither a utopia nor a dystopia. It's in a continuous state of disorder and decrepitude, and yet, somehow something's being built out of it. We're not offered any assurances as to what the future will be, far from it.
KIM STANLEY ROBINSON: No. Well, thank you for that. There are hopes and fears, both, but there is also a shared political project, where people want to make their lives better by getting involved in local politics, like running the building, running the local neighborhood and district and then even going down to Washington, DC and hammering away at the federal government. These are all parts of my story, and the seizing of global finance is a project that everybody on Earth needs to be involved in, to make sure that money is working for people and against the destruction of the environment, rather than the reverse, which is kind of the way things are now.
The thing that's interesting is that finance right now is not evil or villainous and good people pursuing legal means can make themselves rich while the environment suffers. So we've mispriced things. And this is a, a legal problem, more than anything else. What's sad in a way is that the, the fate of our future is almost entirely a political legal question. We've got to jump into the weird and muddy world of politics. It isn't down to individual virtue. It's down to the laws that we get passed. That's a little scary but a lot of people have jumped in and are making the effort.
BROOKE GLADSTONE: Scary but not as scary as jumping into the waters around New York City in 2140. [LAUGHS]
KIM STANLEY ROBINSON: [LAUGHING] Well, people wear dry suits. You would not want to be in the water, which would be poisonous for many years to come, but the tidal flushing and the, the work of the oysters and clams is such that if you cleaned up a few superfund-like sites, a few decades would clean the estuary out quite a bit.
BROOKE GLADSTONE: Mm-hmm. We just need special suits to jump into politics, that's all.
[ROBINSON LAUGHING]
BROOKE GLADSTONE: Stan, thank you very much.
KIM STANLEY ROBINSON: It's a pleasure, thank you.
BROOKE GLADSTONE: Kim Stanley Robinson's latest work of speculative fiction is New York 2140.
[MUSIC UP & UNDER]
MAN: Submergia. This used to be suburbia but now due to rising tides is underwater. So one might say, I live on a houseboat out in Submergia.
WOMAN: My name is Jimena Kaveyu from Portland, Oregon, and the word is "hibernapping." I imagine a world in which winters are not long enough and polar bears can't hibernate anymore.
Instead, they have to hibernap. Thank you.
BROOKE GLADSTONE: Coming up, more words to describe the indescribable. This is On the Media.