On the Origins of the Impeachment Process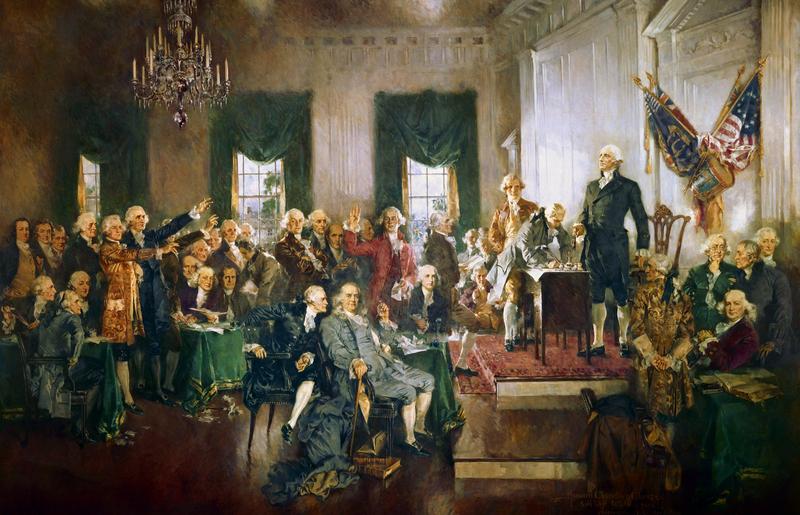 Transcript
[MUSIC UP & UNDER]
BOB GARFIELD We've had only two presidential impeachment trials in the Senate–Andrew Johnson and Bill Clinton both ending in acquittals. And Richard Nixon resigned after the House Judiciary Committee approved articles of impeachment, but before a vote in the full House. But while we have little experience with this presidential removal apparatus, there is plenty of history going back to the framers who wrote the measure into our Constitution. Jeffrey Engel is founding director of the Center for Presidential History at Southern Methodist University and co-author of Impeachment: An American History. He says that the authors of the Constitution, having just freed themselves from a tyrant, wanted to make sure in their new United States there'd be a way to counter what seemed to be an inevitable impulse toward tyranny.
JEFFREY ENGEL They just presumed that anyone who had power would of course be tempted to abuse it which is one of the reasons why they put a mechanism in the Constitution to remove a person who stops being a president who looks after the people.
BOB GARFIELD So that we wouldn't end up with our own King George.
JEFFREY ENGEL They really understood, basically as a fundamental part of human nature, that people with power would want more. That's the whole basis for how they set up the branches of the Constitution. We oftentimes talk of the branches of Constitution as a separation of powers. I actually like to think of it more as competing powers that the founders believe that if they put power in different places and because everyone would want to accumulate more power that basically would make every branch of the government a check upon the others.
BOB GARFIELD But when those checks and balances failed there was always the possibility of an executive exceeding their constitutional power. So they needed a standard for determining when that threshold had been crossed. But finding that standard was a bit of a conundrum. They wanted to have a check of last resort but they didn't necessarily want to stifle executive prerogatives.
JEFFREY ENGEL Exactly. In fact, hin June of 1787 when the founders really began discussing the question of impeachment and what would be an impeachable offense, one of the first proposals they had was to suggest that they could remove a president for mal administration–or plain talk for being a lousy president. In fact, several of the state constitutions at that time afforded the possibility for impeaching an executive before mal administration. And the founders James Madison, in particular, argued vehemently that this basically would just give Congress the ability to say we don't like your policies therefore we're going to remove you. And they thought an executive should only be removed again when he broke that Locke-ian bargaining when he decides to put himself above the people. A president who is simply lousy, well he hasn't really done anything against the people. He just stinks as job. That's something that the voters can handle in four years time. So they came up with a different phrase, 'high crimes and misdemeanors.'
BOB GARFIELD Which is a weird one. I mean it makes you wonder what a high misdemeanor might be.
JEFFREY ENGEL Haha.
BOB GARFIELD It's kind of like a capital drunk and disorderly.
JEFFREY ENGEL You know what, one of the funny things is that it's a completely normal phrase to the people at the time which is one of the reasons they didn't need to explain it further. It was a phrase that was used in English common law at the time. When we hear the phrase high crimes and misdemeanors, we shouldn't focus on the crimes and misdemeanors portion we should focus on the high. That's the say standard crimes are crimes that are committed one person against another. A high crime is something where the president does something to actively undermine law or actively undermine the health and well-being of the American people. A crime isn't necessarily an impeachable offense. You know, the example I like to use is a president who jay walks. Nobody would think a president who is convicted of jaywalking had abused the office and abused the trust the American people–or at least they shouldn't think that. Therefore he can commit crimes that are not high crimes and by the same token he can commit high crimes that are not necessarily on the books.
BOB GARFIELD Now for clarification, impeachment is undertaken in the House of Representatives. That's kind of a culmination after proceedings there. The house either does or doesn't pass articles of impeachment which I guess is like an indictment or other finding of prima facie evidence that we would be accustomed to in the courts. Then comes the Senate trial.
JEFFREY ENGEL Impeachment is basically saying we see smoke. It's the Senate's job to determine whether or not there actually is fire. And so in a sense the house doesn't have to determine that a high crime existed. They just have to think a high crime may have existed. And it really is therefore a political process from the very beginning.
BOB GARFIELD Andrew Johnson was the first president to be impeached but he wasn't the first to face the process. That honor belongs to John Tyler. What did he do to get jammed up with Congress?
JEFFREY ENGEL Well you know the fundamental thing that he did to cause himself political problem was become president. He is the first vice president to have assumed office when the president passed away. There was a real sense among the original president's Cabinet that the new incoming vice president, who really had not been elected president, that his job should be to fulfill the mandate in the agenda of the person who had been elected president. John Tyler completely disagreed. He read the Constitution to say I am the president. And he did things that the elected Congress did not like. But here's where we get into the critical question of what is an impeachable offense. No one suggested that Tyler actually was committing a high crime to harm the state. Therefore there was discussion of impeachment in his era but the impeachment never move forward because people recognized he might have been a lousy president in their eyes, but he wasn't the one who needs to be removed.
BOB GARFIELD Now Andrew Johnson who took office when President Lincoln was assassinated was truly vile and sadly familiar ways. And he was the first president to be successfully impeached. But even though he was widely detested it didn't happen quickly.
JEFFREY ENGEL The first reason that Johnson was impeached is that he was not Abraham Lincoln. He was put on the ticket by Lincoln basically as a way to try to sew up the wounds of the country as he envisioned a post civil war period. Johnson was the only Senate Democrat who did not leave the Senate when secession occurred. He remained loyal to the union and Lincoln reached across the aisle to pick Johnson to be his running mate. But when Johnson becomes president, therefore, you have a person with a southern sensibility on race who is president at the same time that there is a increasingly radically Republican Senate and Congress. Johnson had vile ideas on race. He did not believe that African-Americans could be proper citizens. He also had a second problem which is that Johnson was a jerk and if this wasn't public radio I'd use a stronger word. Therefore, when he made his enemies want to remove him from office there wasn't a great large natural constituency for him. You either didn't like Johnson forest policies or you didn't like Johnson because he was Johnson.
BOB GARFIELD Hmm. But he was acquitted. How did he get off.
JEFFREY ENGEL Congress had set up a trap for him. Congress dictated that the president could not fire a member of his cabinet that had been approved by Congress. Johnson, of course like every other chief executive, believed that he had the right to move and remove people from his cabinet. And in fact he wanted to remove the Secretary of War Edwin Stanton who had been Lincoln's Secretary of War because Stanton was moving too quickly on what we would call civil rights issues today much faster than Johnson wanted. Congress passes this law that says the president can't do it. Johnson does it. And then there is a move to impeach him for breaking that law. Now two interesting points have to be raised here. The first is that subsequently Supreme Court has ruled time and again that was an unconstitutional law. But secondly this doesn't occur until the final months of his presidency. People basically have had enough and set him up to be impeached or at least to be tried really with the election in sight. They couldn't even stomach having him be president for just a few more months.
BOB GARFIELD What Johnson and Tyler and Nixon and Clinton seem to have in common is nothing.
JEFFREY ENGEL Haha.
BOB GARFIELD Is there a modern standard or do we just make all of this up as we go along?
JEFFREY ENGEL You know we do make it up as we go along but that's not necessarily a bad thing. If you did not know if the president was a member of your own party if you did not know what party you were a member of. If you didn't know the names of anybody involved and you just saw a list of what the president was accused of. If you think a president should not do that, that's the standard that the founders really desired us to employ.
BOB GARFIELD All right now if you were to ask me, I would say that President Trump hits the trifecta–abuse of power, violation of the law and acting against the interests of the people for his own benefit. From your perspective, is this a case that would have made James Madison go, 'yep, right now.'
JEFFREY ENGEL You know, I've gone back and forth on this question time and again and there is no doubt in my mind whatsoever that the Founders would have viewed what President Trump is being accused of and what there seems to be evidence of in the Mueller report, especially, of being a person who has committed a high crime. Their standard was somebody who placed themselves above the good of the country and someone who is willing to violate the laws of the country for their own self-interest. They've definitely, in my opinion, would have pushed for impeachment. They would have said yes. There seems to be more than enough smoke here that we need to investigate further and this house of representatives we're handing it off to the Senate to do their constitutional duty and decide whether there's enough fire to remove somebody from office.
BOB GARFIELD But you also think that it's a terrible idea to take that course now.
JEFFREY ENGEL If Nancy Pelosi calls me up and says what would James Madison or George Washington have advised. I'm as clear in my mind as anything I've ever been in history that they would have advised impeachment under the present circumstances. If Nancy Pelosi calls me up and says you're a voter, is this a good idea? I would say, you know, if you do this it's opening Pandora's box. We have really so few precedents for this kind of experience in American politics. I can't tell you except for the fact that history suggests this is going to consume all of the political oxygen the country has. So if you want to turn this into your only agenda item, history doesn't give you much guidance for how that's going to turn out.
BOB GARFIELD Jeff, thank you very much.
JEFFREY ENGEL It was very good to talk to you.
BOB GARFIELD Jeffrey Engel is founding director of the Center for Presidential History at Southern Methodist University.
[MUSIC UP & UNDER]
BROOKE GLADSTONE Coming up, how anti-corruption laws are part of America's DNA.
BOB GARFIELD This is On The Media.