Checking In on the Fight to De-Paywall Science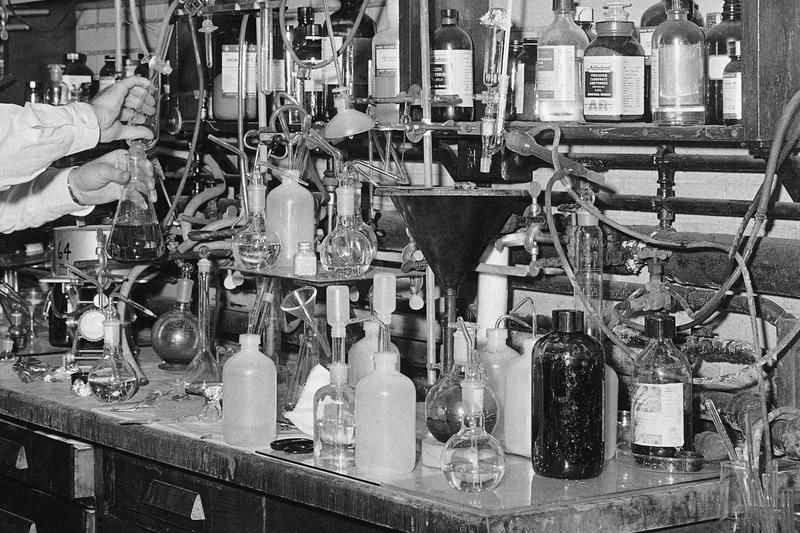 Transcript
ROXANNE KHAMSI This is On the Media, I'm Roxanne Khamsi. During the pandemic, scientists and journalists have benefited hugely from a free flow of information made possible by the proliferation of rough draft articles known as preprints. These preprints are published before undergoing peer review, and have allowed researchers to avoid the wait times typically associated with scientific publishing. It's been an acceleration into a different paradigm in which breakthroughs are shared rapidly and built upon instantaneously by other researchers around the world. A bit of scientific utopia here on Earth, and it stands in stark contrast to the science publishing paradigm that's been in place over the past few centuries. That paradigm is bogged down in time delays, limited access and most importantly – paywalls. Locking up essential, sometimes lifesaving information about diseases. And after 18 months of living in a world of free flowing scientific information, people like Bloomberg columnist Justin Fox are asking if we can really go back. I asked him to set the scene for us back in 1665 when the first journals were emerging.
JUSTIN FOX I mean, a couple of guys, one in France and then somebody in London, and there was the Journal des sçavans, in France and then the Philosophical Transactions of the Royal Society in London was the other one. And I mean, the classic thing is those are both still publishing.
ROXANNE KHAMSI What were all these articles supposed to do?
JUSTIN FOX I mean, first of all, establish who had a cool scientific idea first. Second, to have some sort of quality certification. The modern peer review is relatively recent, but some form of certification like peer review existed all along. And another is sort of recording what's the final version of the paper that everybody needs to remember? And another is getting the papers out to scientists who would be interested.
ROXANNE KHAMSI And in the present, generally speaking, how do the publishers of scientific articles make their money?
JUSTIN FOX It really is almost entirely subscription fees that are paid by university libraries. In the old days where all these things were on paper, it made sense. Of course, somebody has to subscribe to get these paper journals. Now, all these things are available digitally now, which has led to much more of a push to, well, gee, why don't we just do more publishing that anybody can read? The general business model for doing that has been to get the authors to pay, to publish. And in most cases, again, depending on the discipline, it's like the universities where the authors work or the funders like the Gates Foundation or Wellcome Trust or the National Science Foundation that actually pay the fees. But that's how open access is mostly work you have to pay to publish. In all of this scientific publishing, the authors of the articles never get paid, even if it's in a subscription journal. Sometimes the editors are, but not always. The authors are never getting paid.
ROXANNE KHAMSI Moving towards open access seems great for readers, but if the authors aren't well funded enough to pay to publish, doesn't that shut some of them out?
JUSTIN FOX It depends on the discipline in areas that get lots of funding from the Gates Foundation, from governments. It's not that big a deal to pay these publishing fees. They do get a little high in nature, which is one of the most prestigious scientific journals in the world. They had not allowed open access papers before, but they've been under pressure. And so they announced recently that they would start doing it. It costs nine thousand five hundred euros, a paper, which I think is about eleven thousand dollars – which is a lot. Then you just get into fields like the humanities where there's very little foundation funding or government funding. What generally happens there is they're just very relatively few open access journals, or if there are, they have to find some other way of financing it other than people having to pay fees to publish.
ROXANNE KHAMSI Let's imagine perhaps you're in the global south and you might not have that kind of funding at your fingertips because your institution just doesn't have the same resources. What would you be faced with in that scenario?
JUSTIN FOX You might be OK there depending which country you're from, because there's this whole list of countries below certain income levels where most journals will waive the fees. But I think there's a middle ground both in terms of countries and institutions where people are a little more stuck
ROXANNE KHAMSI These types of businesses. In some cases, literally, those businesses that began in the 17th and 18th centuries, they've persisted, as you mentioned, and they've thrived and they've consolidated to the point that some of them are multibillion dollar companies. Give us an idea of like who are the big players today and exactly how big are we talking here?
JUSTIN FOX The biggest player is Elsevier. It's basically the most valuable media company in the world that isn't like Disney or Google or Facebook. It's worth more than News Corp or Discovery Inc or Thomson Reuters. Tons more than something like The New York Times. Like 50 billion dollars right now is the market cap. Number two is Springer Nature. Springer is a big German company that's been around since the 1800s.
ROXANNE KHAMSI I suppose that this is a good place for me to confess that I've actually seen the publishing machine from the inside because I worked for more than a dozen years as a news editor at Nature Publishing Group, which, as you say, ultimately became part of Springer Nature or Schpringer nature. So I thought journal editors, I saw copy editors, web production staff, a whole bunch of smart people like working really hard. And my impression was that this kind of quality publishing takes money to keep the lights on.
JUSTIN FOX I think most people agree with that. One of the issues is, you know, the operating profit margin at Elsevier last year was I think thirty eight percent.
ROXANNE KHAMSI What's a comparison for that? What are other companies making?
JUSTIN FOX Well, I mean, Google, for example, their operating profit margin was about twenty three percent last year. It varies a lot by industry, and I'm sure there are other companies out there that make more money, but it's a very, very profitable business.
ROXANNE KHAMSI OK, so we've discussed the legal path for open access, but there's also this, like, illegal path, right? Like, could you tell me a bit about how the academic pirating platform Sci hub fits into all of this?
JUSTIN FOX Well, there's sort of this priest story to it in a very sad one, which is this guy, Aaron Swartz, who was at MIT, started downloading big chunks of JSTOR, which is a nonprofit archive of papers mostly published by scientific societies and such, not by these for profit companies. It costs money to access. JSTOR tries to create as many possible ways around it as they can, but they've never been comfortable putting it completely open because they rely on fees from libraries just to keep the lights on. So Aaron Swartz was at MIT, he downloaded like most of JSTOR with the idea of putting it open for everyone in the world to see. The local U.S. attorney decided to prosecute him for piracy and JSTOR asked that all charges be dropped. The prosecutors did not and Aaron Swartz killed himself. And that tragedy, I think, brought a lot of attention to this whole thing. So, Alexandra Elbakyan, a young woman in Kazakhstan around the same time started downloading articles from for profit journals, putting them online for anyone to download. There's a lot of people in academia, you know, especially like grad students or people with more tenuous connections to universities. So they can't get in on all the subscriptions, but also just people who are working at home and don't feel like logging into all the things who will download papers from Sci hub, and I think it's a real threat to all of the publishers. And because she's in Kazakhstan, no one has really been able to get her.
ROXANNE KHAMSI OK, so my last question. Do you think that COVID-19 research papers are going to be free to read forever?
JUSTIN FOX I'll be very disappointed if they aren't. I mean, we'll see. One of the things all along in academic publishing is the resilience of the old model has surprised a lot of people.
ROXANNE KHAMSI 1665.
JUSTIN FOX Yeah, there's 1665, but also there was this famous article in Forbes in the mid 90s that was titled Reed Elsevier, first victim of the Internet. You know, it's the last victim in publishing, and it makes so much more money than it made then. It's been very successful in navigating this new world.
ROXANNE KHAMSI Justin, thank you.
JUSTIN FOX Thank you.
ROXANNE KHAMSI Justin Fox is a columnist for Bloomberg covering business. In 2006. Josh Sommer was diagnosed with chordoma, a rare type of bone cancer that appears most often in the bones of the spine or the skull. I first heard Josh tell his story at a science conference more than a decade ago where he argued that the data was not flowing fast enough between labs to cure his disease. Today, Josh is executive director of the Chordoma Foundation, which, among other things, funds research initiatives to develop new treatments for the disease, but back when he was first diagnosed, he was just an engineering student with a library pass,
JOSH SOMMER as you might imagine, being diagnosed with a disease that you've never heard of. It raises a million questions. What's the prognosis? What research is being done? What treatments might be available? Is it likely to come back? I tried to wrap my head around everything I could gather about this disease, and so naturally that sat me down all sorts of rabbit holes online to Google reading a lot of things that were frankly pretty frightening and discouraging and some things that turned out to not be so accurate. But it also sent me to PubMed. PubMed is basically a central repository of all biomedical research publications. I was really fortunate to be at a university that had a very good library subscription and so was able to access pretty much any journal article that was of interest.
ROXANNE KHAMSI And did you ever encounter a paper that was outside your library subscription?
JOSH SOMMER Yeah, on a number of occasions, and if it was a really important article, I'd have to pull out my credit card and and pay for it, which as a college student was sometimes a challenge.
ROXANNE KHAMSI You know, you're already trying to solve cancer. Solving the publishing paywall issue around scientific articles is a challenge too far for one person to do both of those things. Is there anything that you think that could be done to disentangle the work that science and medical research is doing from the money that can be made in publishing that work?
JOSH SOMMER I think of publishing as a technology. As far as I know, the first journal article was intended to facilitate sharing of ideas between academics in England and on the continent. It was never designed as a technology to facilitate curing of disease. There's only so much that we people can glean from the information that's in journal articles. But machines and algorithms can identify connections that might not even be apparent to a human reader. You can imagine the potential of setting loose various algorithms or bots to read through full text of all the articles on chordoma, for example, and related subjects. And what connections might that reveal? And that's just not possible right now.
ROXANNE KHAMSI Bots don't have credit cards, right?
JOSH SOMMER That's exactly right, or access to libraries. So for the most part, the automated efforts to try to mine journal articles that identify connections between findings and articles, for the most part is limited to either what's available on public databases like PubMed Central or other full text sources, or just looking at abstracts. And so there's a decent chunk of the biomedical literature that is just dark, basically, and not accessible as far as I am aware, to this sort of automated information extraction.
ROXANNE KHAMSI Do you think that this pandemic could be some kind of turning point in this fight for open access, or are we going to see a return back to normal?
JOSH SOMMER I would say that I'm moderately optimistic. The pace at which progress has been made, just the explosion of knowledge is a great example of what we're capable of when we truly operate with a sense of urgency. On the other hand, if we look back to Ebola or to H1N1, there was a similar sense of urgency and a similar change towards more open sharing and rapid sharing of data because people felt like we're all in this together and there was an emergency. And then as that abated, things went back to kind of normal. But, you know, cancer, heart disease, neurodegenerative diseases for the people who are dealing with those, those are all just as urgent. They're emergencies. You know, this but every single person eventually is going to be a patient. Like none of us escapes disease. We don't know what disease it's going to be or when. And so it's in everyone's interest for us collectively to move as quickly as we possibly can towards better treatments for all diseases. So, yeah, I think it just behooves all of us and the biggest way to get the rapid flow of information in research – right.
ROXANNE KHAMSI Thank you, Josh.
JOSH SOMMER Thanks, Roxanne. It's been great.
ROXANNE KHAMSI Josh Sommer is co-founder and executive director of the Chordoma Foundation. Coming up, what words are you using to describe your pandemic moods? This is On the Media.
Copyright © 2021 New York Public Radio. All rights reserved. Visit our website terms of use at www.wnyc.org for further information.
New York Public Radio transcripts are created on a rush deadline, often by contractors. This text may not be in its final form and may be updated or revised in the future. Accuracy and availability may vary. The authoritative record of New York Public Radio's programming is the audio record.