Millionaires Funded by Billionaires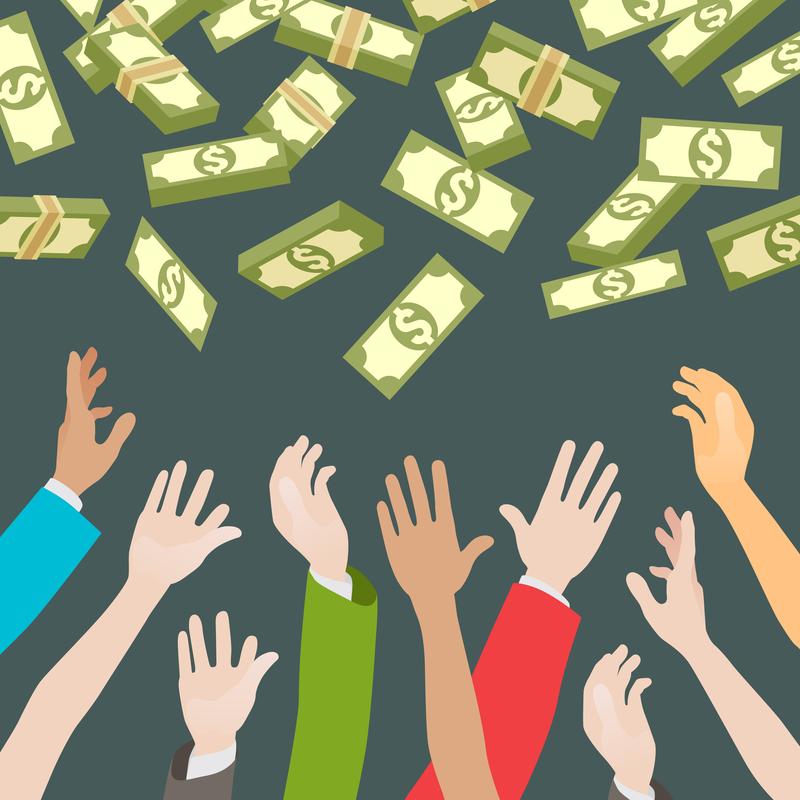 Transcript
BOB GARFIELD: This is On The Media, I'm Bob Garfield.
[MUSIC UP & UNDER]
BOB GARFIELD: The president's proposed 2020 budget has been sent to Congress. And with it, no surprises.
[CLIP]
FEMALE CORRESPONDENT: Now President Donald Trump's $4.7 trillion budget proposal calls for cuts to Medicare and Medicaid.
MALE CORRESPONDENT: Food stamps will be cut by a third. The EPA budget would be cut by nearly one third and funding for UNICEF, among other programs, would be eliminated.
[END CLIP]
BOB GARFIELD: All in all, a full on assault on the most vulnerable Americans couched in the language of moral superiority. The rhetoric is hardly an invention of the Trump World. It also guided the thinking of Ronald Reagan and Bill Clinton, whose center left triangulation politics yielded strangulation policies especially for the urban poor. But that was then and this is now. In 2019, Trump-ism is faced with a stark counter narrative. The Democratic sweep of the House of Representatives and the crowded field of presidential candidates have put some policies on the table that even a few years ago lived only in the nightmares of right-wing Cassandras. Medicare for All, green new deal and now, believe it or not, universal basic income.
[CLIP]
ANDREW YANG: The freedom dividend. Simply put, every American adult gets a $1000 a month free and clear, no questions asked. To do whatever you want. [END CLIP]
BOB GARFIELD: UBI also known as free money. The explicit expansion of the welfare state based not on Marxist theory but on data, experimentation and economic reason. And you may well recognize one of its biggest proponents because he's not only a journalist, author and economic philosopher, he's a meme.
[CLIP]
RUTGER BREGMAN: And you're all like, 'oh I'm against the globalist elite blah blah blah. It's not very convincing to be honest.
TUCKER CARLSON: I want to say to you, why don't you go [bleep] yourself, you tiny brained guy. I hope this gets picked up cause you're a moron. I tried to give you a hearing but you were too [bleep] for--
RUTGER BREGMAN: You can handle the criticism, can you? [END CLIP]
BOB GARFIELD: Yes, that's the confrontation between Fox News host Tucker Carlson and Rutger Bregman author of Utopia For Realists. Carlson invited Bregman for having had the audacity to call out world economic forum billionaires in Davos for the hypocrisy of their liberal rhetoric. But the little Tucker got a little more than he bargained for, and we all got introduced to a loud proponent of universal basic income. Rutger, welcome to the not Tucker Carlson show.
RUTGER BREGMAN: It's great to be here.
BOB GARFIELD: OK, you're not new to the Utopia space.
RUTGER BREGMAN: Mmhm.
BOB GARFIELD: Your book was published in 2014. But you were kind of under the radar here until Davos.
RUTGER BREGMAN: Mmhm.
BOB GARFIELD: What happened?
RUTGER BREGMAN: During the conference, I became more and more uncomfortable with the idea of just promoting my book and not saying something about the extraordinary hypocrisy of the whole conference. Because everyone's talking about all sorts of wonderful ideas like feminism and participation equality, but no one was talking about taxes.
BOB GARFIELD: From your perspective, they were avoiding the central problem of global society.
RUTGER BREGMAN: Exactly. And I got so much pushback when I started raising the idea of higher taxes, that we should do something about tax avoidance. These people often use philanthropy as a way to distract people from the real issues. Right? They have all these wonderful plans about, 'oh I'm doing something with girls education in Uganda.' And I'm not against that, but pay our taxes first please.
BOB GARFIELD: And you're speaking of progressive taxes with very high marginal tax rates, what conservatives and I guess your audience at Davos would call confiscatory taxes.
RUTGER BREGMAN: Yes, exactly. Just as we had in the 50s. So under the Republican President Eisenhower, for example, the top marginal tax rate in this country for billionaires was 90 percent. The estate tax was over 70 percent. This was the case around the developed world. It's only since the 70s and the 80s at tax rates have gone down and down and down and inequality has grown and grown and grown. So it's really about going back to an older tradition.
BOB GARFIELD: Now Rutger, if you did not exist conservatives would have to invent you. Because your proposals represent the very nanny state big government, welfare queen nourishing society, that they have been screaming about for 50 years. Government handouts, open borders, 15 hour work week, and you know probably trees overflowing with gum drops. Now, your book lays this all out very succinctly, but would you please explain why you are not, in addition to a bogeyman for the right, an actual commie lunatic.
RUTGER BREGMAN: I really think that the idea of universal basic income is the perfect marriage between progressive and conservative thinking between the left and the right. So the left gets is, obviously, the eradication of poverty–a pretty good thing in itself. Now what the right gets is a much smaller state in terms of paternalism. The traditional left always wants to help people to make better decisions. Right? To put them in all these kind of programs. My idea is that poverty is not a lack of character but just a lack of cash. And if you just give people the means to make their own choices, give them the freedom then they'll have some venture capital and they can move on to a different job, start a new company, move to a different city which will unleash a lot of dynamism and energy in the economy. So actually I think that a universal basic income would be the crowning achievement of capitalism.
BOB GARFIELD: And the evidence suggests, you write, that you know contrary to the axiom that rather than giving someone fish it's better to teach them to fish. You're saying, 'no, give them the fish.' In fact give them the cash and let them buy their own damn fish.
RUTGER BREGMAN: There have been fascinating experiments in the 70s in this country where, you know, thousands of families received a guaranteed basic income. And the researchers just tracked what happened and tried to find out whether people used this money in a good way, whether they stop working. And time and time again what the scientists have found is that healthcare costs go down, crime goes down, kids do much better in school. And this is really an investment that pays for itself. There a wonderful study that's been going on in North Carolina for years now, since the early 90s, where there's the Eastern Band of Cherokee Indians that started operating a casino there, and they give out all the earnings of the casino to the members of the band, which has pooled a lot of people out of poverty. And what researchers have found out is that actually the reductions in terms of lower health care costs, lower crime rates are bigger than the cash grants themselves. So in that sense this is literally free money. It's an investment that pays for itself.
BOB GARFIELD: You're not all alone in discussing this.
[CLIP]
MARK ZUCKERBERG: We should explore ideas like universal basic income to make sure that everyone has a cushion to try new ideas.
ELON MUSK: And I think ultimately we will have to have some kind of universal basic income. [END CLIP]
BOB GARFIELD: Mark Zuckerberg, Elon Musk, Democratic presidential candidate Andrew Yang and others have raised the notion of universal basic income. And there's this kind of jaw dropping fact that there was another big booster of free money. And that was--
[CLIP]
RICHARD NIXON: The present welfare system has to be judged a colossal failure. [END CLIP]
BOB GARFIELD & RUTGER BREGMAN: Richard Nixon.
RUTGER BREGMAN: Yeah
BOB GARFIELD: Ahhh, tell me.
RUTGER BREGMAN: So you have to know that at the end of the 60s almost all the experts believe that some form of guaranteed basic income was going to be implemented. It was a hugely popular idea back in a day. So in the early 70s, Nixon thought, 'OK well if everyone is in favor of this, you know what, I'll be the president that implements it.'.
[CLIP]
RICHARD NIXON: That is why tonight, I therefore propose that we abolish the present welfare system. And that we adopt in its place a new family assistance system. [END CLIP]
RUTGER BREGMAN: So he had a bill for a modest basic income that went through the House of Representatives twice.
[CLIP]
RICHARD NIXON: For a family of four now on welfare, with no outside income, the basic federal payment would be $1600 a year. [END CLIP]
RUTGER BREGMAN: And was only killed in the Senate by Democrats, actually, not because they didn't like the idea of a basic income for everyone but because they wanted a higher basic income. So it's a terrible, terrible irony that it didn't happen back then.
BOB GARFIELD: It's just hard for me to get my head around the idea that it was that close. Now by the time it failed in the Senate, Nixon himself had already been sort of moved off of the idea because he had learned historical argument against universal basic income. I think from 19th century England.
RUTGER BREGMAN: So what happened in the early 19th century is that there was a small program called the Speenhamland system where certain British towns tried to do something about poverty. It was sort of the first basic income-ish program. And back then in 1834, there was a report written by the English government where researchers were very, very critical of this program. You know, they wrote thousands of pages how this basic income had made the poor too dependent, too lazy, marriages had broken down and, you know, that was basically a total disaster. Now fast forward 150 years, Nixon is thinking about, 'do I want to implement this basic income and am I enthusiastic about that?' And then one of his advisers, a guy named Martin Anderson who was a huge fan of people like Ayn Rand and Milton Friedman. He put forward that it had been a disaster back then. So that more or less convinced Nixon to change his rhetoric.
[CLIP]
RICHARD NIXON: And about first time, benefits would be scaled in such a way that it would always pay to work. With such incentives, most recipients who can work will want to work. This is part of the American character. [END CLIP]
RUTGER BREGMAN: To, you know, talk about workfare instead of welfare, talking about the lazy poor, etc. What he didn't know is that actually this whole report that was made in the 1930s by governments so-called scientists was actually a hoax. That's what historians later found out in the 60s and 70s is that all the evidence was just made up basically and that in reality it was quite a successful program. It's a grave example of how contingent history sometimes can be and that it's not governed by big laws but that sometimes small things can make a huge difference.
BOB GARFIELD: Just to be clear, you're not saying that people will live entirely on their universal basic income. No, the data suggests that once they have that their instinct is not to work less but to work more.
RUTGER BREGMAN: The basic income is really a floor on which you can always stand, you can always fall back on it. In all these experiments that happened around the globe since the 1970s is that people sometimes do a little bit less paid work like 3, 4 percent. You see very small reductions. But this is always compensated by people doing more volunteers work, caring for their kids, caring for the elderly or maybe start a new company or something like that.
BOB GARFIELD: All right, so once again if we've been having this conversation even. I don't know, two years ago people would think that you and I had both taken leave of our senses. But holy moly, maybe your time has come. The Overton window seems to have cracked open a little bit. What's changed to make these proposals even thinkable? Why are you all of a sudden not such a marginal figure?
RUTGER BREGMAN: Well, there's a great saying in science. Science progresses one funeral at a time, and I sometimes have the feeling that the same is true for politics. So I'm part of a generation that was born just before or after the fall of the Berlin Wall. We're not traumatized by the Cold War. We don't look at the world in terms of, 'oh this is capitalism versus socialism.' And like the standard responses that you always get is, 'oh that sounds like communism, that sounds like Venezuela that doesn't work anymore.' We say whatever because we see the huge challenges that lie ahead. Climate change, income inequality is spiraling out of control. So I guess it's just really a new generation that is desperate for new ideas and doesn't only want to know what it's against but also want something to be actually for.
BOB GARFIELD: There was this moment in your confrontation with Tucker Carlson that he expressed incredulity that you were even familiar with Fox. I think you told him that you have the--.
RUTGER BREGMAN: The internet.
BOB GARFIELD: --the internet in The Netherlands. It kind of makes me wonder how the partisan increasingly polemical media world we're living in now affects this debate and affect your chances of actually seeing the kind of progress we want to see.
RUTGER BREGMAN: Well I thought for a long time about whether I wanted to release this recording of the Tucker Carlson interview yes or no. In the end, why I decided to do it simply because it would ensure that we'd be talking about the right things for a couple of days. Right? There would be a lot of oxygen going to talking about taxes and taxation and inequality. What I realized at that point is that releasing the video yes or no, it's really a matter of you have what's your deep philosophy of how political change works, you know? Do you. Do you believe that people need to get together and have this constructive conversation? Or do you believe that sometimes you need to just aggressively put forward certain issues? And normally I would prefer the former but I'm afraid we live in a world now that sometimes you just need to use the latter strategy.
BOB GARFIELD: Gigantic shifts, I would say tectonic shifts in economic policy and the role of government tend to happen over long periods of time after being battled out by think tanks and the media and lots of failed legislation and so on. But then there was, you know, same sex marriage which kind of came from nowhere to become the law of the land in just a few years.
RUTGER BREGMAN: Exactly, exactly.
BOB GARFIELD: Does the zeitgeist offer you an opportunity to effect change that otherwise would have been glacial in its evolution?
RUTGER BREGMAN: My take on history is that if you zoom out a little bit you see that every milestone of civilization was once a utopian fantasy. So as Oscar Wilde once wrote at the end of the 19th century, 'progress is the realization of Utopias.' Democracy was once a crazy idea. The end of slavery was once dismissed as, 'oh that's never going to happen.' The welfare state was once seen as a bizarre and reasonable idea. So I'm really interested in those people who are the fringes of the debate and who are being dismissed. And then they start moving towards the center. But it works in both directions. If you look at the history of the 20th century, take the 50s for example, what you see is that there was a small group of thinkers who called themselves neo-liberals like Milton Friedman and the Austrian philosopher Friedrich von Hayek and they gathered in this place called [french] in Switzerland and they said to themselves, 'we're in the minority right now. I mean we're the radicals. Everyone has become a socialist. Everyone believes in big government these days. But what we need to do is to start developing our ideas, building our networks, our think tanks, our institutions and this will take years and years and years, but our moment will come. There will be a crisis in the future and then we got to take the stage. And this is exactly what happened in the 70s. So if you want to know where Reagan and Thatcher came from, you got to go back to the 50s because they just got their ideas from people like Friedman and von Hayek. And that's what is happening right now. If you want to understand AOC, well you've got to do good historical research into all the ideas that she's now advocating because it didn't come out of nowhere.
BOB GARFIELD: Rutger, thank you so much.
RUTGER BREGMAN: Thanks for having me.
BOB GARFIELD: Journalist and economic historian Rutger Bregman is the author of Utopia For Realists. And Tucker Carlson doesn't like him.
RUTGER BREGMAN: Haha, very true.
[MUSIC UP & UNDER]
BOB GARFIELD: That's it for this week's show. On The Media is produced by Alana Casanova-Burgess, Micah Loewinger, Leah Federer, Jon Hanrahan and Asthaa Chaturverdi We had more help from Xandra Ellin. And our show was edited this week by our executive producer Katya Rogers. Our technical director is Jennifer Munson. Our engineers this week were Sam Bair and Josh Han. On The Media production of WNYC studios. I'm Bob Garfield. And hey, I wanted to hear about the lost speech of Tucker Carlson that blew up this week, Check out the website OnTheMedia.org