Nixon's Undoing Came Long Before Watergate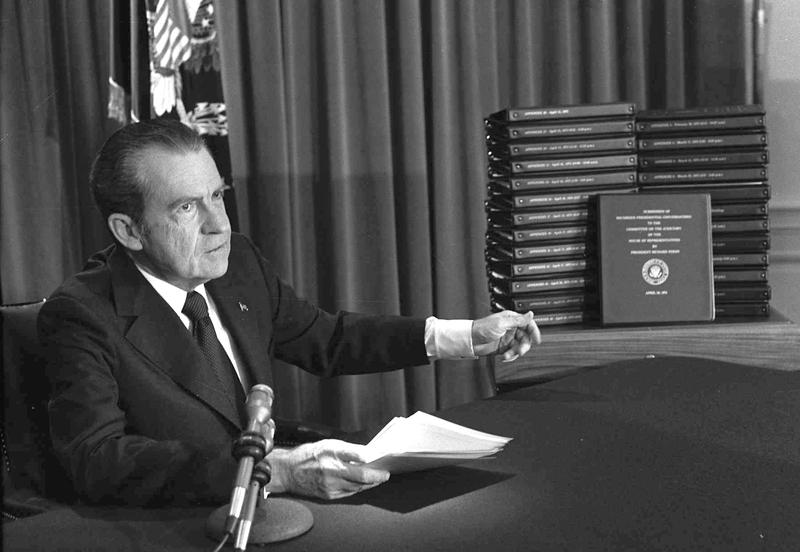 Transcript
BROOKE GLADSTONE At some point, every American president tangles with an unruly press. The hard boiled surveillance campaigns Apuzzo described are not particularly novel. But no president, other than perhaps the last one, conjures up media fear and loathing more than Richard Nixon, who told his foes they'd be sorry when he was gone.
[CLIP]
RICHARD NIXON Just think how much you're going to be missing. You don't have Nixon to kick around anymore.[END CLIP]
BROOKE GLADSTONE That was him in '62, freshly a sore loser of the California governor's race, berating a hundred journalists at what he called his last ever press conference. Six years later, Nixon was a presidential candidate, desperate not to lose again and to ensure he wouldn't, he did something that, according to the new podcast, Nixon at War, would forever haunt him. Kurt Anderson, host of Nixon at War, says the need to protect that secret escalated Nixon's paranoia when Daniel Ellsberg released the Pentagon Papers in 1971 prompted the infamous Watergate break-in in '72 and ultimately ushered in Nixon's bitter end. Welcome to the show, Kurt.
KURT ANDERSEN I couldn't be happier to be here with you, Brooke.
BROOKE GLADSTONE So the Nixon years have been litigated over and over again, but your innovation is you make it feel more intimately knowable. I want to play a clip from Episode 2 wherein President Lyndon B. Johnson talks about then presidential candidate Richard Nixon's meddling in Vietnam War peace talks in '68. On a Saturday night, Johnson called Senate Minority Leader Republican Everett Dirksen. Johnson calls what Nixon is doing treason. Dirksen agrees, but Johnson says he's not going to call it out.
[CLIP]
LYNDON B JOHNSON I know who's doing this. I don't want to identify it. I think will shock America if a principle candidate was playing with a source like this on a matter of this important. I don't want to get in a fight with him there. I think Nixon is going to be elected. But I know this, that they're contacting a foreign power in the middle of war.
EVERERR DIRKSEN It's a mistake.
LYNDON B JOHNSON And it's a damn bad mistake. [END CLIP]
BROOKE GLADSTONE So what was Nixon up to in '68?
KURT ANDERSEN If not treason, it was certainly wrong, illegal. It was a violation of the now somewhat famous Logan Act, which prevents American citizens from doing exactly what candidate Richard Nixon was doing, which is to say, using his agent to keep telling the South Vietnamese president and regime, our allies, to not go along with this peace breakthrough that Lyndon Johnson had just crafted because it would help his vice president, Nixon's opponent, Hubert Humphrey, win the election.
BROOKE GLADSTONE You mentioned Nixon's agent. To scuttle the peace talks in Paris, he enlisted the help of Anna Chennault, a former Chinese journalist and a prominent Republican. Of course, Nixon denies it. And here, your team dug up a previously unheard clip from the famous interviews of Nixon by British TV host David Frost.
[CLIP]
DAVID FROST There have been a lot of reports that Madame Chennault was in touch with president Thieu, via the Vietnamese embassy. Urging him to take a firm line because he would get better terms, better support from you than from a Democratic president and so on. Did you ever hear about that?
RICHARD NIXON I have, of course, I'm hearing about it from you today, and I would do nothing to undercut them. I did nothing to undercut them. I couldn't have done that in good conscience. [END CLIP]
BROOKE GLADSTONE What did you learn about Anna Chennault in the course of making this podcast? How pivotal was she?
KURT ANDERSEN Absolutely pivotal. And she's an extraordinary character. This teenage war correspondent who meets this famous US Air Force general during World War II, marries him, and comes to the United States, he dies and she becomes this right wing anti-communist powerbroker and Nixon's biggest female donor. That's how she was referred to at the time. And was big pals with the South Vietnamese ambassador to the United States, whom she introduced to Nixon. And in that introduction was named by Richard Nixon to be his sole emissary as a candidate to South Vietnam to make sure they didn't go along with this peace breakthrough. If it came to be.
BROOKE GLADSTONE You see his sabotage as kind of the first domino. It certainly did seem to be of a piece with what followed later. I mean, right up until when the Pentagon Papers were published. And they weren't even necessarily bad for Nixon since they were about prior administrations. In fact, you share what Kissinger told Nixon on the day they were published.
[CLIP]
KISSINGER No one reading this can then say that this president got us into trouble. I've read this stuff. We come out pretty well in it. [END CLIP]
BROOKE GLADSTONE So why did they trigger Nixon to order a break-In?
KURT ANDERSEN There was a secret file that he thought the Brookings Institution, the big liberal think tank, had that would prove and show all of his dirty deeds about the peace talks to get elected.
[CLIP]
RICHARD NIXON Get it done. I want it done. I want the Brookings Institute's safe cleaned out. [END CLIP]
KURT ANDERSEN Days and weeks later, have we taken care of Brookings? Have we done that? Did we get the men there last night? Part of the plan at one point had been to also commit arson there as a diversion from the burglary they were going to commit. Never took place, but this is the moment at which the plumbers, as they were called, these burglars, were really given carte blanche to do whatever it takes to find out what secrets the Democrats had or anybody else who he saw as his enemy.
BROOKE GLADSTONE You say all roads lead back to Vietnam for Nixon?
KURT ANDERSEN All of the paranoia and fascination with secrets that led him to do the Watergate burglary and then the cover up really started back here in 1971, right after the Pentagon Papers when he was ordered to break-in of the Brookings Institution. And then before that, in this really covered-up, dismissed story of Anna Chennault and dealing with Vietnam and using and justifying to himself any means of national security, the NSA, the CIA, the FBI, whatever, for political reasons, were justified because we're fighting a war. One of the great tragic ironies is, is that way too slowly, but the war was winding down, fewer American men were being drafted, we were pulling out, and yet he couldn't let it alone. It drove him mad. Vietnam and the politics of Vietnam and the liberals are against me and the press is against me and all of that, that really set him off the rails and right into Watergate and his downfall.
BROOKE GLADSTONE He also exploited a kind of organic political fissure between middle America, the silent majority and the so-called elites. He literally hit hard hats against hippies.
KURT ANDERSEN A bunch of construction workers in lower Manhattan attacked a bunch of protesters a few days after the Kent State killings. And then that became a thing. Construction workers marched day after day after day in favor of the Vietnam War, and this "America. Love it or leave it" stuff. Starting in '68 more softly. This was part of his pitch, us normal Americans versus the professors and the liberals and the hippies and the protesters and the black people. And then he gives this speech at the end of 1969, just after there had been these massively successful anti-war protests called the moratorium. He gives a speech, famous silent majority speech in which he doubled down on that.
[CLIP]
RICHARD NIXON I would be untrue to my oath of office if I allowed the policy of this nation to be dictated by the minority who hold that point of view and who try to impose it on the nation by mounting demonstrations in the street [END CLIP]
KURT ANDERSEN And we really are in a way that I had never fully realized, living with the residual effects of Richard Nixon's making as his central political pitch – what is now the central political pitch of the Republican Party.
BROOKE GLADSTONE Nixon famously loathed the press.
[CLIP]
RICHARD NIXON They're running the line, Chuck, a 'right to know'. That's, of course, a goddamn code word, 'right to know'? The public has no right to know secret documents. [END CLIP]
KURT ANDERSEN In the speech Richard Nixon gave, for instance, in 1962 when he lost the governorship of California, it's a many, many minutes long aria about why the press hates him. And it's, it's all about Alger Hiss.
[CLIP]
RICHARD NIXON For 16 years, ever since the Hiss case, you've had an opportunity to to attack me. [END CLIP]
KURT ANDERSEN Richard Nixon made his name as a freshman congressman, persecuting and then prosecuting former communist Alger Hiss.
BROOKE GLADSTONE He was also a kind of upper crust patrician type that would have especially rubbed Nixon the wrong way.
KURT ANDERSEN A hundred percent. No, he was this Ivy Leaguer who the liberals in the newspapers loved. And, and then, you know, Daniel Ellsberg, a different kind of guy, but also an Ivy Leaguer, Jewish. And although Richard Nixon had many Jewish people working for him, was famously – and we have tapes galore to testament to this – a raging anti-Semite. And he just saw this is the same thing all over again. The press loves Ellsberg. Ellsberg is a fink, just like Alger Hiss was. He just keeps saying, no, no, no, this is how we did it with Alger Hiss. We ruined him in the press. We've got to ruin Ellsberg in the press. He rode Alger Hiss into political success and rode his idea that it was happening again with Daniel Ellsberg and the Pentagon Papers and then Watergate right out of office. If you were doing this as a movie, as a novel, it's a little pat, but that's exactly what happened.
BROOKE GLADSTONE What was the most surprising thing that you learned from producing the podcast?
KURT ANDERSEN Kissinger really is the other major character in this story. And just the sense of them and their relationship that one gets in this audio way that you don't get from text. It's not the same. After Richard Nixon gives a speech late in the game in 1971, the anchors on television are saying you did OK, and spends the whole night getting call after call after call from various employees, friends, donors, sycophants, saying, oh, you were great, you were great, were great, and then starts worrying like this person didn't call, why didn't this person call? So Henry Kissinger keeps calling back.
[CLIP]
KISSINGER The speech that we can all be proud to have had the privilege to be associated with.
RICHARD NIXON Well, I'm glad you feel that way. It was a God damn good little speech.
KISSINGER It was also magnificently delivered. It was the best delivery. [END CLIP]
KURT ANDERSEN This sense of the Nixon whisperer, Henry Kissinger, using this guy as he himself was being used by him. It's not a new revelation, but I would say that my sense of that is now deeper than it ever was.
BROOKE GLADSTONE Kurt, thank you very much.
KURT ANDERSEN Brooke, thank you. A longtime fan, first time guest.
BROOKE GLADSTONE Kurt Anderson is author of Evil Geniuses: The Unmaking of America, A Recent History, and also the host, writer and producer of the podcast Nixon at War from PRX.
Coming up, most of us know the end of the story of the Pentagon Papers. Next, we return to the beginning. This is On the Media.
Copyright © 2021 New York Public Radio. All rights reserved. Visit our website terms of use at www.wnyc.org for further information.
New York Public Radio transcripts are created on a rush deadline, often by contractors. This text may not be in its final form and may be updated or revised in the future. Accuracy and availability may vary. The authoritative record of New York Public Radio's programming is the audio record.