Listening to Epstein's Victims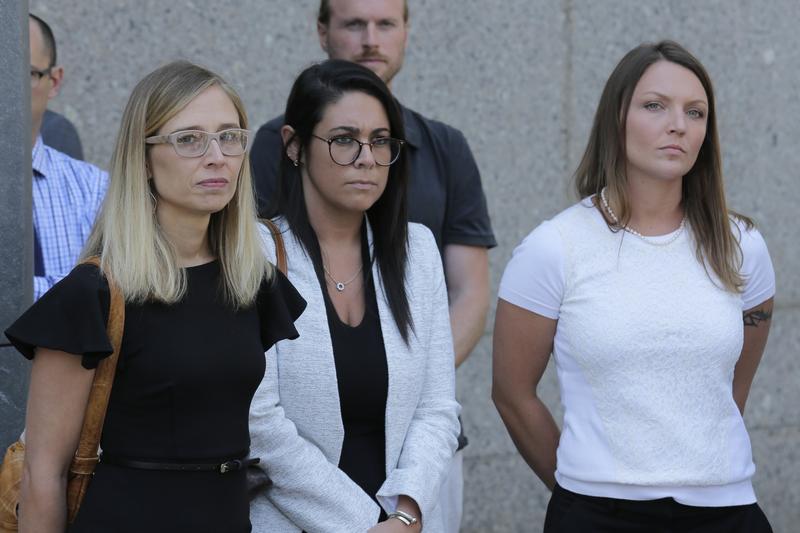 Transcript
BRANDY ZADROZNY This is On the Media, I'm Brandy Zadrozny. Amid the panics over saving and protecting the children, one story of predation and abuse has sparked its own cottage industry of conspiracism. It's the saga of convicted sex trafficker Jeffrey Epstein, which first grabbed headlines back in 2008.
[CLIP]
NEWS REPORT A year long investigation by the Palm Beach police detailed an assembly line of young women and girls coming to Epstein's mansion to give him massages. In some cases, one of them involving a 14 year old girl, the encounters led to sexual activity. [END CLIP]
BRANDY ZADROZNY The media spotlight had mostly moved on from the Jeffrey Epstein story when Julie K. Brown started reporting on him for the Miami Herald in 2017. But her dogged search for the truth led to explosive headlines and real world consequences.
[CLIP]
NEWS REPORT Just 48 hours after he took questions about that secret plea deal for Jeffrey Epstein years ago. Labor Secretary Alex Acosta is out tonight, resigning...
NEWS REPORT ...Billionaire financier Jeffrey Epstein has been arrested. He was taken into custody overnight at a New Jersey airport. All this comes months after a three part investigation by the Miami Herald.
BRANDY ZADROZNY To Brown, something was missing in prior Epstein coverage, specifically, the voices of the dozens of women Epstein had abused. The press often mischaracterized Epstein's young victims as sex workers, when in fact, many of the girls had been lured to his Palm Beach mansion under false pretenses. The extraordinary lengths she went to in order to find these women is outlined in a new book, Perversion of Justice: The Jeffrey Epstein Story. Her work began with a tedious task, the search for the names of Epstein's victims in any court or police documents she could get her hands on. There was just one problem. They had been heavily redacted.
JULIE K BROWN I called them the redaction police. They're really people with black magic markers to sit around and take things out of reports. They inevitably forget to redact something. They leave a name in or they leave a parent's name or they leave a date of birth in. And I did find names or things that were supposed to be blacked out, but you could really see through it if you put a white paper under it. There's all kinds of little tricks like that. Then once I had a handful of names, I could go to their social media pages. Now most of them are on Facebook and I could see their friends. Epstein had a certain type of girl that he particularly liked and that were usually very fair, blond, blue eyed, waif-like girls. And even in their late 20s, you could see they were still that kind of type. So it was inevitable that some of them would have one or two friends that fit that profile. And then I was able to confirm that they were victims themselves because they brought a lot of their friends in. I basically connected all the dots. And it did take a long time, though. It took me six months to get together a list.
BRANDY ZADROZNY So I'm a librarian as well as a reporter. I started in Newsroom libraries and I was delighted to read this line from your book. You wrote, "Librarians are the unsung heroes of journalism, the fact finders and fact checkers behind the scenes who often don't get the credit they deserve." Can I ask about Monika Leal at the Herald and how she assisted in your search for these women?
JULIE K BROWN Well, you're making me a little emotional because I just love Monika, and, you know, I've worked in my career with a lot of different librarians and they really help immensely. And in Monika's case, there were a number of people that I hit a wall on not being able to find. And she would be able to say, well, let's try one more place. You know, she always knew one more place to look. She helped me not only just sometimes to look up information, but she was actually into the stories that I did. You know, when you have somebody that could go and say, guess what, I found out and she would say, oh, my gosh. And she almost made me feel like I could do this story. Whereas, you know, my editor was much more skeptical and other reporters were very skeptical and she was always sort of a cheerleader for me.
BRANDY ZADROZNY OK, thank you for indulging me. Back to your story, once you identified some of Epstein's victims, you wrote them letters. What did those letters say?
JULIE K BROWN I pointed out that most of the things that I read about the stories weren't told from the victim's point of view. And I told them that I thought that that was probably one of the reasons why he's still free. So I pointed out that he's probably out there and he could be still preying on other girls and that it's important that we tell the public and the world exactly what happened. And it's clear that we don't know how he got away with what he got away with.
BRANDY ZADROZNY Now, I've reported on stories involving victims, and I have this thing that I say. It's a kind of Miranda Rights, and I go something like this, which is I want to tell this story. I think it's important, but I never want you to regret talking to me so often. I, with this victim, will sit and talk about all the worst case scenarios so they can decide whether telling their story is something that they really want to do. Because of this, I have lost out on stories, but usually it builds trust, being willing to sort of walk away rather than take the agency away from this person. And I'm wondering, how did you build your trust and what did you learn about these women in the process?
JULIE K BROWN I think one of the ways that I was able to really calm their fears was, number one, I made it very clear from the very beginning that they did not have to talk to me about the abuse. They did not have to tell me what he did to them because the story was really not about that. It was about how they were treated by the criminal justice system. And one of the things I did, for example, is just ask them to talk about who they were back when this happened. You know, what was 16 year old Courtney Wild like? She was wearing braces. She was a cheerleader. She wanted to grow up to be a secretary. I needed to hear why and how they got trapped into this horrible cycle of sexual abuse.
BRANDY ZADROZNY You asked some experts for advice. What was it? What did they tell you?
JULIE K BROWN Well, what they told me to do was, first of all, understand that when you're 13 or 14, your brain isn't really wired the way it is when you grow up and you're in your 20s and 30s, that's what they say teenagers don't always think things through. It's because their brains aren't in that place yet. For example, prosecutors would say, well, her story is inconsistent. Well, what the experts told me is it's more natural for a child or a teenager to tell stories that are inconsistent because of the way their brain works.
BRANDY ZADROZNY That's so interesting because journalists have a phrase "trust, but verify," but you seem to be suggesting that that's much harder when we're talking about children who are victims of sexual abuse.
JULIE K BROWN Yeah, in fact, if you have a child or an adolescent, it tells the story exactly the same every time. That's a sign that they were coached and that it might not be true. The fact that they were inconsistent only would make them more credible. So there was, you know, an effort to approach this story deliberately from the place of a cold case detective, really that was trying to take it apart from the very beginning and to understand and put it back together in a way that seemed to explain it better than it had been explained before, how this criminal justice case really fell apart and really failed these victims.
BRANDY ZADROZNY I was really struck by the leash that you were given to start a project that few people really had faith in at first. And it's the kind of freedom that I think is often behind some of the best journalism. It's what I think of as the freedom to fail, dedicating time and money and resources to an endeavor that you couldn't have known would work.
JULIE K BROWN The Herald deserves an awful lot of credit. And Casey Frank, my boss, even though he was very skeptical and we locked horns quite a lot. I also lucked out in some respects because in the middle of when I was doing this, the MeToo movement exploded. I probably would not have been given as much time because that really turned the tide in my favor, not that Casey was against it, but he was really gung ho on it after that happened because literally on TV at the time, they also had Larry Nassar's victims, one by one going into court and tearfully describing what had happened to them. So I was able to say, look, this is going to be an even more powerful story, because as one of the girls said to me in my original series, we weren't the kind of people anybody would listen to. I mean, we weren't celebrities, we weren't Olympic stars, and nobody would care about what happened to us, and Epstein knew that, and he was right. And that was the biggest tragedy, I think, of all in this whole scandal.
BRANDY ZADROZNY Initially, there was a skepticism or maybe an indifference about the depths of Epstein's depravity and his connection to power that you rejected in order to conduct your investigation. Years later, as more information has been uncovered, almost the opposite has happened. There's this kind of incredulousness and a hunger for conspiracy theories, particularly about Epstein. There are camps that say Epstein was murdered by the Clintons. Others out there say he's alive, that his death is all a ruse. What do you think makes Epstein's life and death so ripe for conspiracism?
JULIE K BROWN And almost everything about this case has been sealed or the victims have been silenced. I mean, that's where conspiracy theories flourish. From the very beginning, they sealed the plea agreement, they made sure the victims wouldn't appear in court, there were countless court documents that were filed under seal, there have been reports that we still can't get from the FBI. The FBI hasn't released a whole lot of information at all. I tried to get reports from the Office of Homeland Security, for example, which was theoretically supposed to be monitoring who he was bringing in on his planes. That's all redacted right down to the report on how he died. We've never seen the autopsy report.
BRANDY ZADROZNY You do include a controversial chapter called Jeffrey Epstein Did Not Kill Himself. Now, I'm familiar with this meme. So I assume that the title is a sort of tongue in cheek reference to a meme spread on social media after his death. But the claim, that's a pretty contested claim, it's flush with conspiracism in itself. Why did you spend so much time on it?
JULIE K BROWN Yes, it was a meme, but I don't think that it's out of the realm of possibility. In fact, I think most people don't believe that he killed himself, and I have not seen any evidence to show that he did. As I said, it's been hushed up. You know, we have at least two ongoing investigations and it's been two years since he was found dead. And we still don't have the results. What's taking so long? Number one. Number two, you have some very key people that don't believe that he killed himself, his own brother, and his lawyers who were in contact with him right up to the time his body was found.
BRANDY ZADROZNY But if I can I assume, you know, the trope of conspiracy theorists "just asking questions," and so if we're just at the "just asking questions" stage, did do you think that this sort of conjecture can feed conspiracy theories instead of illuminating answers to these questions?
JULIE K BROWN Yes, I guess you're always going to run the risk that you will add to the kinds of people that'll blow it into craziness. What I'm saying is that authorities need to really come clean with what evidence that they have showing that he committed suicide because this story has been so shrouded in secrecy for so long. My aim is to pressure, and it did work to some degree with my series in that I kept pointing to inconsistencies or problems with the investigation, and that led authorities to reopen the investigation and ultimately to arrest him. I think it's incumbent upon journalists to keep asking questions, even if we don't know the answer. And yes, to keep investigating. In fact, with the launch of the book last week, I'm getting more tips from people, some of them crazy, but you never know. You still have to talk to the people that sound crazy.
BRANDY ZADROZNY In your book. You relay a piece of advice that has stuck with you and it's quote, "When you see a pack of journalists, go the other way." Now, because of your own reporting, there are a crowd of reporters circling the Eppstein beat once more with countless stories, podcasts, documentaries. So are you staying or going?
JULIE K BROWN Well, I have to stick it out to some degree. I kind of opened this whole can of worms, so it would be probably a derelict of duty if I completely walked away from it. And of course, Ghislane's trial will probably happen in November and I'll be covering that. Aside from that, the Herald is still suing to unseal a lot of documents that have remained largely hidden all these years.
BRANDY ZADROZNY Your reporting has achieved so much, but you've said that you fear that readers have lost sight of the bigger picture, the protection of young children.
JULIE K BROWN It's still a story that people get angry about, but it's disheartening to see that there hasn't been a momentum to, you know, fix or at least lead to some kind of reform in the way that we handle cases involving people who are not privileged. So it's just a whole big challenge that I think that we haven't really addressed.
BRANDY ZADROZNY I could talk to you forever. I haven't even gotten into Florida yet, which is where I'm from.
JULIE K BROWN Oh my gosh. Yeah, that is another whole book.
BRANDY ZADROZNY Julie, thanks so much.
JULIE K BROWN Oh, you're welcome. I always enjoy doing interviews with people who actually read the book.
BRANDY ZADROZNY Julie K. Brown is an investigative reporter at the Miami Herald and author of Perversion of Justice: The Jeffrey Epstein Story.
Thank you so much for having me the last couple of weeks, it's been a thrill to host my favorite show. On the Media is produced by Leah Feder, Micah Loewinger, Eloise Blondiau, Rebecca Clark-Callender and Molly Schwartz with help from Ellen Li. Xandra Ellin writes our newsletter. Our technical director is Jennifer Munsen. Our engineers this week were Adriene Lilly and Sam Bair. Katya Rogers is our executive producer. On the Media is a production of WNYC Studios, Brooke Gladstone will be back next week. I'm Brandy Zadrozny.
Copyright © 2021 New York Public Radio. All rights reserved. Visit our website terms of use at www.wnyc.org for further information.
New York Public Radio transcripts are created on a rush deadline, often by contractors. This text may not be in its final form and may be updated or revised in the future. Accuracy and availability may vary. The authoritative record of New York Public Radio's programming is the audio record.