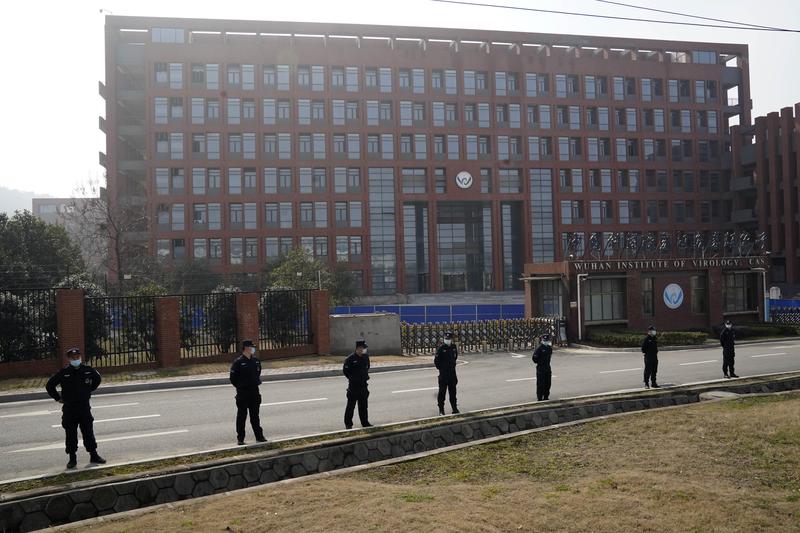 Transcript
ALINA CHAN We are in this pandemic that's been ongoing for about one and a half years now, there has been no actual investigation of how it began.
BROOKE GLADSTONE We know it's likely covid-19 came from a bat, but how did it get to us? From WNYC in New York, this is On the Media, I'm Brooke Gladstone. While the origin story is still being pieced together, the life saving answers in aerosol science are just beginning to get their due.
MEGAN MOLTENI What the past year has demonstrated to people is that aerosol science isn't just about climate change and hairspray, but it has this whole other application in the world of infectious diseases.
BROOKE GLADSTONE Plus, a buzzword among online futurists is the metaverse, but human beings have always looked for ways to escape reality.
GENE PARK I see a lot of similarities between drug experiences and virtual worlds and video games to even a Travis Scott concert while on Fortnite definitely felt like a very surreal, trippy experience.
BROOKE GLADSTONE It's all coming up after this.
[BREAK]
BROOKE GLADSTONE From WNYC in New York, this is On the Media, I'm Brooke Gladstone. Bob Garfield is out this week, and as many of you know by now – every week, having been fired after a warning and other efforts at amelioration for a pattern of bullying behavior. The entire staff agreed with that decision. The problem was not over passionate discourse. We don't fear that, we've even put some of our own on the radio, nor was it merely about yelling, but there's not much more I can say. Look, you know how this works: one side, as an individual is free to present their case however they see it, or wish to see it. They may describe their conduct in ways the other side might not even recognize, but that other side cannot engage because they're part of a bigger enterprise that balances many concerns, including legal ones. I know it's unsatisfying as much for a show as deeply devoted to transparency as ours as for some of you. But even if we could be totally transparent, the view would likely still be obscured under a heap of he said, they said. In the end it really comes down to trust, most especially and relevantly in the show and what it offers today, next week and the week after that. And so dear listeners on with the show.
Back when the pandemic started so many lifetimes ago, we, that is to say, all the humans on the planet, were faced with a host of questions. How does the virus that causes Covid-19, called Sars-cov-2, spread? How do we protect ourselves? And somewhere further down the list, amidst so much confusion and loss, how did it start infecting humans?
[CLIP]
NEWS REPORT As scientists work to contain the coronavirus, researchers are still trying to figure out where it came from. Early research suggests human picked up the coronavirus from animals, possibly bats. [END CLIP].
[CLIP]
NEWS REPORT We know it's very similar to the virus in the back, but did it go through an intermediate species? So this is a question we all need answered. [END CLIP]
BROOKE GLADSTONE One possible scenario emerged early and then promptly retreated from mainstream scientific discourse, the theory that it had leaked from the lab. It's an idea that hinges on two key facts. One, that the first outbreak of the virus occurred in Wuhan, China, and two, that Wuhan is the home to the Wuhan Institute of Virology, a lab that studies active coronaviruses like Sars-cov-2. That a lab leak could have been the source of this coronavirus seemed at first to a layperson at least plausible. But it was quickly swatted down when an international group of scientists published an open letter in The Lancet in February 2020 condemning, quote, conspiracy theories suggesting that Covid-19 does not have a natural origin.
[CLIP]
NEWS REPORT Most scientists think the bats are the original source of the virus. And then it jumped to humans in a wunan wet market. [END CLIP].
[CLIP]
NEWS REPORT To many, perfect coincidences would have had to take place for it to have escaped from a lab. [END CLIP].
[CLIP]
NEWS REPORT There is also no reason to believe any of these conspiracy theories that it was leaked from the lab and Wuhan, whether intentionally or otherwise. [END CLIP]
BROOKE GLADSTONE One group, however, saw a political opportunity in the lab leak theory. It's the same group that was banging on about the China virus.
[CLIP]
NEWS REPORT Both President Trump and Secretary of State Mike Pompeo linked the virus to a lab in Wuhan, without providing evidence.
REPORTER Have you seen anything at this point that gives you a high degree of confidence that the Wuhan Institute of Virology was the origin of this virus?
DONALD TRUMP Yes, I have. [END CLP]
BROOKE GLADSTONE Thus, it became a notion embraced by the conspiratorial right, but mostly shunned by the scientific community. And scientists who did explore it, people like Alina Chen of the Broad Institute at Harvard and MIT were tarred as conspiracy theorists. That is until this month when a group of 18 prominent scientists, some of the most trusted virologists and epidemiologists studying covid-19 penned an open letter in the journal Science titled Investigate the Origins of Covid-19. Alina Chan was one of them.
ALINA CHAN Yes, I think this letter will go down in history as being the turning point when scientists – leading scientists say that we have to investigate the lab-leak hypothesis.
BROOKE GLADSTONE None of the scientists assert that the virus did, in fact leak from a lab. They merely ask for, quote, a dispassionate science based discourse on the issue. And they offer a critique of the one major WHO, quote, investigation into the origins of the virus conducted by a team of international scientists, half of whom were China based. It was the Chinese team that actually did the investigating, gathering, processing and ultimately holding onto the data to those who penned the open letter. The result was extremely unsatisfying.
ALINA CHAN This was not an investigation at all. They had no power. So all they could do was really look at the findings of the Chinese side of the team and think, is this reasonable? And then sign off on the document altogether to present it to the world, in March of this year.
BROOKE GLADSTONE The Chinese team had four different hypotheses.
ALINA CHAN So the first was a bat to human direct transmission. That a virus that was in bats jumped directly into humans. The team said that it was possible, but they didn't say it was the most likely scenario because there has been no record of such a transmission happening, at least not publicly.
BROOKE GLADSTONE What was the most likely?
ALINA CHAN There is the second scenario where a bat first gives the virus to an animal that is more similar to humans and then that animal gives it to humans, so it requires an intermediate host.
BROOKE GLADSTONE I remember the film Contagion. It came from a bat to a pig to a human.
ALINA CHAN Yeah, exactly. And in Sars-1, it was civet cats.
BROOKE GLADSTONE Mmhmm. Then there's the third scenario, the possibility of a lab leak. The Chinese team really didn't like that hypothesis.
ALINA CHAN The China, WHO team said that it was extremely unlikely, and decided not to pursue this route of investigation or study any further. Then report, it was the trigger for all scientists to say we need to speak up, say that a lab-leak hypothesis is still plausible and worth investigating.
BROOKE GLADSTONE Then there's the frozen food scenario. The Chinese team seemed to like that one.
ALINA CHAN Yes, and again, this was another hypothesis that was very surprising to a large number of scientists. There's no precedence of a virus jumping from frozen foods into humans, as far as I know. In fact, even with this many millions of people infected, there's been no proven record of someone catching sars-cov-2 from a block of frozen fish, or frozen meat. But yet the China, WHO team said that this was more likely than the lab-leak hypothesis, which actually has precedence. SARS virus itself has leaked from a lab close to 6 times.
BROOKE GLADSTONE We know that this argument isn't merely of historical interest.
ALINA CHAN We need closure. This pandemic has affected so many lives and it's killed 3.5 million people, and we need to mitigate this kind of risk. If it did come from animals, especially illegally trafficked animals, it can help us put all the weight we have against this sort of trafficking. But if it came from a lab, even if it came from well-intentioned research, then we have to start regulating that research. This is research that sends researchers into remote areas to collect mobile viruses and bring them back into densely populated cities for study. This sort of work has been pitched as pandemic predicting and preventing work, but if it actually is the source of new pandemics, then we need to have a good, hard think about how we should do this research in the future.
BROOKE GLADSTONE Just to clarify, nobody who signed this letter is saying that a lab leak did caused the pandemic, just that it warrants investigation, right?
ALINA CHAN Yes. And I think that's one challenge that has really obstructed the investigation of this hypothesis since the beginning, because anyone who raised the hypothesis of a lab leak was accused as sort of warmongering as saying that this definitely came from a lab.
BROOKE GLADSTONE That anyone who suggested there was a lab leak was spreading misinformation.
ALINA CHAN There was some scientists who came out very strong at the beginning of the pandemic, when barely anything was known about the virus, said that it's clear that this is from nature. No lab-based scenario is plausible. And these works are published in The Lancet and Nature Medicine. So, when you have that, then the rest of the scientific community and science journalists tend to fall in line. That set the tone for the rest of the discussion for the year I think.
BROOKE GLADSTONE The February 2020 letter in Lancet, the first draft of it was written by a Peter Daszak, who actually had a stake of a kind in the Wuhan lab.
ALINA CHAN Peter Daszak, he's the president of an equal health alliance, a nonprofit organization based in New York. They received millions of dollars of funding and part of that money was sent to the Wuhan Institute of Virology.
BROOKE GLADSTONE Let's get back to the politics for a second. In early 2020, both China and the United States started slinging theories around that China intentionally created this virus. And then there were others who said it actually came from a lab in the United States.
ALINA CHAN Yes, I think the circumstantial evidence points away from an intentional release. As to whether there was bioweapons work – who can tell? Most of the viruses that have escaped from labs are selected from nature. They don't need to be Frankenstein Chimaira built in the lab. They don't have to be bioweapons. Nature already has a lot of good stuff, it has a lot of very scary, dangerous viruses that we can bring back into the lab and accidentally leak.
BROOKE GLADSTONE But isn't part of the problem with the resistance to looking into an accidental lab leak, the fact that it has been shuffled in with these other conspiracy theories?
ALINA CHAN Yes. And so I kind of understand why some scientists were in such a rush to condemn any idea of that leak, because they wanted to strongly shut down any conspiracy theories about bio weapons. I understand that, but I also think that they should have more publicly explained this nuance. On the last day of 2019, on the first day of 2020, when the Beijing CDC went to sample the Wuhan Market, they collected hundreds of samples from this market, including from all the animal carcasses as well as the environment. So, the surfaces, doorknobs, sewers, and there were no animal samples with this virus in it. And in fact, if you read the reports, they said that there were no live mammals in this market. So, it's a live animal market, but they were selling live frogs and reptiles and snakes. None of these are hosts of sars-cov-2 virus. There's no way for an intermediate host to be spilling over this virus into humans at that market.
BROOKE GLADSTONE Can you talk about some of the scientific misconceptions that have caused confusion around the origins of covid-19?
ALINA CHAN One major misconception is that this SARs research at the WIV was conducted in such a safe high biosafety level that it could never have leaked. All of this work was done at much less safe levels than people thought.
BROOKE GLADSTONE But there are a lot of labs doing this kind of work. Are there similar lapses in safety measures in all of them, including the US?
ALINA CHAN Yes, even labs have no reported biosafety incidents have biosafety incidents. If there are no accidents ever in the lab, that means you're not doing any experiments. And so, in the case of the first SARS virus. It escaped from a lab in Singapore, it escaped from BSL-4 in Taiwan, it escaped about 4 times from a single lab in Beijing when it was being studied back in 2004. And none of these scientists were doing anything crazy with the virus. One of them didn't even work with the virus. Somehow it had contaminated his sample, and he got sick. Another massive misconception is that the Wuhan Institute of Virology wasn't built there because it's a SARS hot zone, that is completely untrue. The strongest route by which the SARS virus could get all the way from its home in South China, more than a thousand miles into Wuhan is, in my opinion, actually dozens of lab personnel crawling into this extremely difficult to reach caves, bringing thousands of that samples back into the crowded city of Wuhan, its a very modern city.
BROOKE GLADSTONE All of this makes one think that maybe we shouldn't be doing that kind of research. And you're afraid that people will come precisely to that conclusion.
ALINA CHAN It's important for us to understand what is out there. I think it's very valuable. It's not that this research should not be done. The question is how can we make it safer? So maybe we shouldn't be doing it right smack next to the international airport. Maybe we should be doing it in a place where researchers are required to quarantine for two weeks or more between working and those locations and coming back in to where there are millions of people in the city. There are ways to make this research safer while still doing it.
BROOKE GLADSTONE All you're asking for is an investigation. In an effort to protect scientific research, has the scientific community run the risk of undermining its own credibility?
ALINA CHAN Yes, this science letter that was just published really is a call to return back to science-based discourse. For me, the mistake would be for scientists to show the public that, no, we cannot check ourselves, we can audit ourselves. Scientists need to take the leadership reviewing the research that we've been doing and saying, could this have caused a pandemic? This is a precedent setting situation. So, this is the first time there's been such a plausible scenario of overlap resulting in a pandemic. We really need to establish a protocol and a system where we can investigate no matter where the next possible, lab leak pandemic occurs. Because if we don't investigate, then we keep letting these past and we keep letting it go. We're just going to end an era of lab-based pandemics. So we just don't need every five to 10 years. A new virus escaped from a high security lab. We can't let that happen.
BROOKE GLADSTONE Alina, thank you very much.
ALINA CHAN Thanks for having me on the show.
BROOKE GLADSTONE Alina Chan is a post-doctoral researcher at the Broad Institute of MIT and Harvard. Coming up, how an argument over aerosols and droplets probably cost us a whole lot of lives. This is On the Media.
Copyright © 2021 New York Public Radio. All rights reserved. Visit our website terms of use at www.wnyc.org for further information.
New York Public Radio transcripts are created on a rush deadline, often by contractors. This text may not be in its final form and may be updated or revised in the future. Accuracy and availability may vary. The authoritative record of New York Public Radio's programming is the audio record.