Jon Ronson And Public Shaming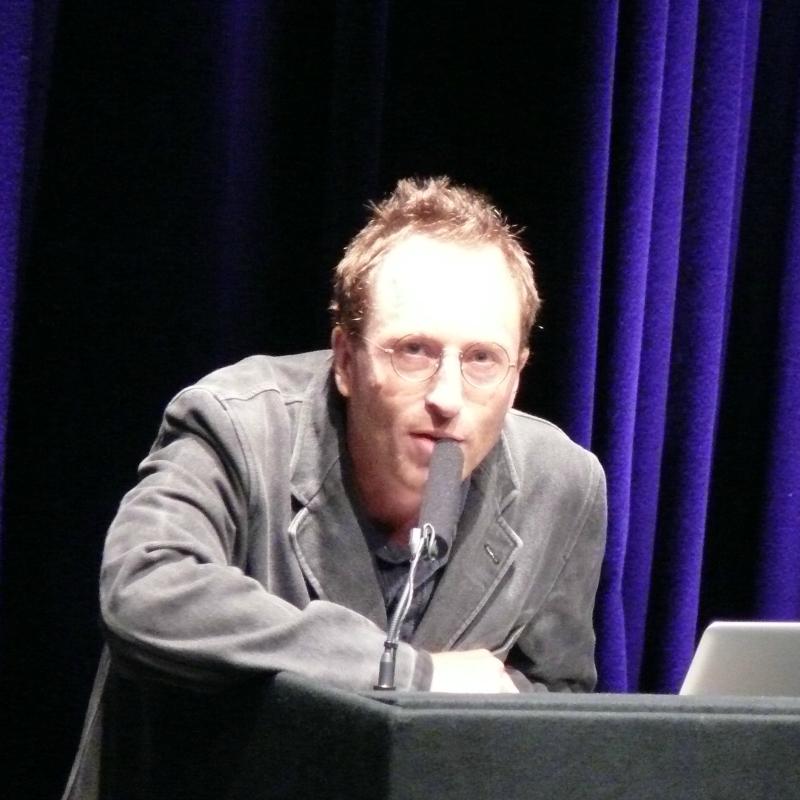 Transcript
This is On the Media. I'm Brooke Gladstone. You know that many of those Ashley Madison users, if they're exposed, will find themselves in serious marital trouble. But it's not likely that the ordinary guy users, the regular not famous guy users, will find themselves publicly shamed. Because the moral arbiters who rule the social media really don't care about guys who cheat, unless famously hypocritical. They do care about the women. That double standard is just one of the many insights journalist and author Jon Ronson shares in his book So You've Been Publicly Shamed, which podcast listeners heard a few months back. Ronson's masterful investigation of public shaming, especially it's online manifestations, was triggered by his own discovery that someone had started using a twitter account in his name and with his face. An unknown entity that tweeted in a way that was utterly unlike Ronson.
Jon Ronson: Yeah, talking about how he was very much looking forward to having a dinner party, and he's gonna make some nice lemongrass stew.
B: So this was annoying, embarrassing even, but it wasn't exactly shameful.
JR: No.
B: How did that episode lead you into ultimately what became a deep exploration of shame?
JR: Well I asked these guys to take down their spam bot and they refused, and this went on for a couple of months. Finally, I said look, if you wont take down your spam bot, they kept calling it an info morph, can we at least meet and you can explain the rational behind your spam bot and they said "yeah, we'd very much like to meet to explain to you the rational behind the info morph" and I said good because I'm really looking forward to finding out the inspiration behind the spam bot. So I met them and, to cut a long story short, I filmed them for an hour, we had a huge fight, and then I put the video on YouTube and was dreading it because I'd lost my cool, and I just thought everybody was gonna mock my screecheeness. But instead -
B: Au contraire
JR: Au contraire, thousands of people leaped to my defense in the most visceral way.
B: These campaigns of vigilante justice online usually begin within reasonably voiced objections to the behavior at issue and end with death threats.
JR: Yeah, end with "gas them", which was literally one of the things that somebody wrote. So I went from feeling thrilled and delighted to starting to feel kind of uneasy.
B: But on the other hand, you were something of a fan and an occasional participant in social media's shame brigades and you offer some early examples of social media shaming where greedy exploitative people were shamed into doing the right thing. I mean this was true democratic justice at work.
JR: Yeah and still is to some extent. One recent example is the Black Lives Matter protests.
B: On the other hand, your book deals with a darker strain that emerged and you start off with a couple of very different but also similar cases, and I wonder if you can take them one at a time.
JR: Sure. Jonah Lehrer was a wunderkind pop neuroscience writer
B: He made stuff up and generally cut corners in presenting fascinating research that he couldn't support. Describe Jonah Lehrer's shaming.
JR: Jonah was fired from the New Yorker, obviously, and his books were recalled and pulped and there was a lot of noise, a lot of editorials, and then it kind of died down. And then he said he was gonna make an apology at the Knight Foundation lunch, the Knight Foundation is a journalist foundation, and what the Knight Foundation had done was erect a giant screen Twitter feed behind Jonah's head. Anybody could tweet their ongoing opinion of Jonah's quest for forgiveness and their comments would appear, huge, right in Jonah's eye line. So as Jonah was trying to apologize, he was seeing in real time Twitter saying "Oh, Jonah Lehrer is boring us into forgiving him. Oh, Jonah Lehrer is just a frigging sociopath. Jonah Lehrer is tainted as a writer, forever". He was being told that there was no way back in. There's no forgiveness, this is forever. Is that the world that we want? That you're swallowed up by the worst things you ever did? As opposed to put within the wider human context?
B: Which brings us to Justine Sacco.
JR: Yeah. So I started to meet people who were similarly torn apart, or in fact worse than Jonah (was) torn apart, for jokes that landed badly, for nothing, and for me the saddest one was this woman Justine Sacco.
She was a New York City PR woman with 170 twitter followers, and a rather brittle way about her Twitter presence. So, she was travelling from New York to Cape Town and tweeting acerbic little jokes (like) "Weird German dude, get some deoderant, this is the 21st century", "chilly, bad teeth, back in London", and then the final leg, when she was at Heathrow, she tweeted "going to Africa. Hope I don't get aids, just kidding, I'm white."
B: Taking that apart, it's clear that she doesn't think white people are immune to aids, she's making a kind of tinier joke about white privilege.
JR: Yeah
B: She gets on the plane
JR: Yeah, so she chuckles to herself when she writes this joke, presses send, wakes up 11 hours later in Cape Town, turns on her phone, straight away there's a text from somebody she hasn't spoken to since high school that says "I am so sorry to see what's happening to you", and then her phone, she said to me, just exploded with texts and alerts, and her best friend Hannah said "you need to phone me immediately, you are the worldwide number 1 trending topic on Twitter right now."
What had happened was that one of her 170 followers had sent the tweet to Sam Biddle, who's one of the main guys at Gawker, and he re-tweeted it to his 15,000 followers and that just went viral within an hour or two of her just stretching out in her seat.
B: Tell me about how her life changed in that transatlantic flight.
JR: Well, so at first it was philanthropic people saying "in the light of this disgusting, racist tweet I am donating to aid for Africa", so this is following then the old pattern of lets do something good. Then the trolls got involved, you know "is it terrible for me to hope that Justine Sacco gets aids? lol", so an awful lot of ones like that. And then celebrities got involved, like Donald Trump found it hilarious.
Then people started to call for her to be fired, so eventually her employers said "this is an outrageous tweet, employee currently on an international flight", and that's when everything changed, because it became hilarious to hundreds of thousands of people, just like us, that this woman was being destroyed and she didn't know it. We knew something that she didn't know. And so a hashtag began to trend worldwide, #hasjustinelandedyet, and there were countless tweets like "oh man, I can't wait to see when Justine Sacco turns on her phone" etc etc... You know there's a thing in torture called the bucha effect, where the holy grail is to debilitate somebody by startling them in a profound way. I think that's what we on Twitter learnt to do that night.
B: So you started to think about the nature of mob mentality, and we've all heard about the research that people's better selves are extinguished when we assemble into mobs and the lizard brain emerges, and in a especially great chapter you discovered gaping holes in that mob mentality research, and I wonder if you could briefly summarize what we thought we knew and what we don't.
JR: Sure, and whenever the crowd gets frightening we bring out the phrase group madness. Obviously there's a certain amount of this stuff that goes on, but turns out that group madness goes out to a guy called Gustave Le Bon -
B: Lovely guy.
JR: 19th century Parisian - he wanted to be accepted into the Parisian elite. He was sort of nouveau riche so he did this huge study measuring brains, and came up with the theory that white prosperous men had the biggest brains
B: And woman are barely above lemur's in his assessment, but what does that have to do with mob mentality?
JR: Well, eventually he worked out that man utterly loses free will and becomes like a grain of sand amid other grains of sand in a crowd. People loved it. This book came out, The Crowd, which was hailed by Mussolini and Goebbels, and basically formed our opinion of how people behave in crowds for 100 years. To this day, in fact, just before I moved to NYC there was this big riot in London, the London riots, and it was very frightening and everybody was starting to evoke these ideas of
Gustave Le Bon
, like these people who have been infected by a virus which means that they have no free will. And I was hearing all of this on the news, and the riot was getting closer and closer to my house and I was terrified. We locked all the doors, and it was getting closer and closer, but we lived up a hill and what happened was the riot stopped at the bottom of the hill.
B: Somehow, this mob gained enough native intelligence not to climb a hard hill in bad weather.
JR: Exactly, so that didn't sound like they were infested by a virus to me at all. I think they made the very lucid decision, which is a decision that I try and make whenever I can, of not climbing the hill.
B: That really comprises the first section of your book. You examined (if we are) wired to create these kind of vigilante mobs to shame people and you decided that we aren't necessarily wired, right? And then you transition to the next section, which has to do with what happens when you are shamed? One of the great insights that you make and then you kind of back away from, you use this guy named Max Mosley.
JR: Yes, so Max's father was the head of the British Union of Fascists, I think he probably felt pretty jealous of Hitler and Mussolini.
B: Right, and Max's mother was a Mitford.
JR: Yeah, in love with Hitler. Anyway, so Max manages to share this very dark legacy, and becomes the head of Formula 1 racing's governing body, so becomes really successful. And then a few years ago, somebody phoned him up and said "have you seen the news of the world?", and it was a picture of Max, naked, in what the News of the World called a "sick, Nazi orgy".
B: And he sues the News of the World and he wins a defamation suit because it turns out it was German but it wasn't Nazi, so it was kind of on a technicality. But that's not the real point. The point is he goes "yeah, I like that kind of sex", and this is when you had this profound insight. You theorize that perhaps, and I quote you, "our shame worthiness lies in that space between who we are and how we present ourselves to the world". He said "yeah, I like this S&M B&D stuff, sue me, it's not illegal" whereas-
JR: Jonah did the absolute opposite. Jonah maintained, in the light of overwhelming evidence that he was being extremely unprofessional, pretended that he was more professional than anybody else. Max said look, everybody knows that when it comes to sex people think and do and say strange things that only an idiot would think made them worse for it, but lots of unashamed people still get shamed. What is it? And finally after months and months of thinking about this, I came to the conclusion that the real reason why Max Mosley survived his shaming was that there was no shaming. We just didn't care. If you're a man in a consensual sex scandal, who cares. And what it means is that on Twitter, we have total control over people's destiny. We on Twitter have decided Max Mosley, that's fine we don't care, Justine Sacco, she's dead.
What I find so interesting is that we haven't woken up to that realization about ourselves. We still like to see ourselves as the hitherto silenced underdog fighting the good fight. We have insane amounts of power right now. Because what's the worse sin now? The worse sin now is a misuse of privilege. Now of course, a misuse of privilege is a worse sin than a consensual sex scandal, but we're tearing people apart for our perceived idea and a misuse of privilege is getting wider and wider and wider as a concept.
B: That's right. You have to express yourself less and less, so you aren't like Justine Sacco, deliberately misconstrued. Now I want to go to the penultimate part of the book, which is a profound exploration of the nature of shame and a lot of this insight comes by way of a psychiatrist named James Gilligan. He was a Harvard educated psychiatrist, he started examining homicidal prison population and ultimately he found that universal among the violent criminals was the fact that they were keeping a secret, and that secret was that they felt deeply ashamed, chronically ashamed, acutely ashamed. As children these men were shot, axed, scolded, beaten, strangled, tortured, drugged, starved, and I'll end his quote there and just say that it would inevitably give rise to the kind of extreme behavior they took part in as adults.
JR: Right, and he said this line that's followed me around, I think it's one of the most profound things anybodies ever said to me, he said "all violence is an attempt to replace shame with self-esteem". And I feel in that moment, other than the tiny minority of people who have a neurological absence of empathy, that feels right to me. And yet, here we are.
I think what a lot of people forget was when Twitter began, it was the opposite of how it is now, it was actually a kind of radical de-shaming exercise. People would blab out their hither to shameful secrets, because as James Gilligan's research shows shame internalized leads to horror, shame let out leads to freedom, or if nothing else, a funny story. And that's what people were doing on Twitter. So it was a wonderful thing and then what did we do with it? We started to use it against ourselves and created this cold, brittle conservative thing when if somebody admits their shameful secret we destroy them for it.
B: As you wind down you talk about what is the solution, at least to online shaming, that can destroy lives and you talk about a lovely person who worked with the disabled.
JR: Loveliest, just most ordinary person in the world. Her name's Lindsey Stone. She used to have this running joke with her friend Jamie where they would make fun of signs. So, you know, smoking in front of a no smoking sign and so on. So they went to Arlington, the tomb of the unknown soldier, and she said to me "inspiration struck". There's a picture of her in front of the silence and respect sign and she's flipping the finger and pretending to shout. You know, again, just like Justine, not the best joke in the world, nobodies saying that it is, but she posted it on Facebook and then a month passed, nothing happened, and then suddenly it went viral. She was fired, and became agoraphobic, deeply traumatized, felt utterly worthless, there's nothing worse, I can really tell you this, something that people don't realize is that being publicly shamed -
B: You suggest that Its a kind of death. Gilligan said that, that the word mortification means to deaden.
JR: To be told that you're worthless and that you're out, you're out of society.
B: So how do you fix this?
JR: Well, there's a team of people in San Francisco, a company called Reputation.com.
B: I wanna say, full disclosure, they have been a sponsor of this program at some point.
JR: Unfortunately it costs a hell of a lot of money. It would cost hundreds of thousands of dollars to correct the kinda mistake that Lindsey Stone made.
B: And you decided to cover what they did for your book, they wanted a subject, you landed on Lindsey Stone.
JR: Yeah, and it's the only way that she would agree to talk to me too, because she was just too traumatized to tell the story, but I offered her quite the incentive, and it really worked wonders. But the really sad thing about it is that I'd listen in to these conference calls between Lindsey and Reputation.com. Basically, what they do is try and replace this silly, impudent full hardy mistake that she made with pleasant benignities. "What's your favorite type of ice cream?", "what do you think of Lady Gaga's new jazz album?".
B: An un-objectionably bland human being. A Donna Reed for the internet.
JR: Yeah, because we have created a world where the smartest way to survive is to be bland.
B: And it worked. Her objectionable picture fell down in the rankings, until of course the end of February when your guardian feature came out about your book, the photograph was there again.
JR: I asked her, what do you think about that? She said that talking to me was very cathartic and she also felt that it's really important to be a part of the discussion, which she is. And I think that Lindsey's story and Justine's story in my book might actually change people's behavior. Not, think twice before you tell an impudent joke, but think twice before you destroy somebody for telling an impudent joke.
B: You conclude by saying "I personally no longer take part in the ecstatic public condemnation of people unless they've created a transgression that has an actual victim" and you've noted that there usually isn't a victim.
JR: And I don't think that's the perfect ending. The other day I did an interview and the interviewer said something along the lines of "yeah, you're right, people should be allowed to make risque jokes, for instance there was somebody the other day making fun of a transgender person, called them a fruit loop, and what's wrong with that?" and there is something wrong with that.
B: Yeah, it isn't about feel free to be as objectionable and insulting as you want.
JR: That's the opposite of what i'm saying, because of course when you insult a transgender person you're shaming, that's what you're doing. But I think think twice before gleefully condemning somebody for doing almost nothing wrong.
B: You said that you miss the fun a little, but it feels like when you became a vegetarian you missed the steak, although not as much as you anticipated, although you could no longer ignore the slaughterhouse.
JR: Because I met so many of these people now who've been destroyed in this way, and it's agonizing to meet them. We have no idea how severe our punishments are.
B: Jon, thank you very much.
JR: Thank you.
B: Jon Ronson is a journalist and author of the book So You've Been Publically Shamed. That's it for this week's show. On the Media is produced by Kimmie Regler, Mira Sharma, Alana Cassanova-Burgess, Jesse Brenneman, Sam Dingman and Jenna Kagel. We have more help from Maya Brownstein and our show was edited by me. Our technical director's Jennifer Munson, our engineer this week was Greg Rippin. Katya Rogers is our executive producer. On the Media is produced by WNYC and distributed by NPR. I'm Brooke Gladstone.