What Fox News Hosts Were Really Thinking on January 6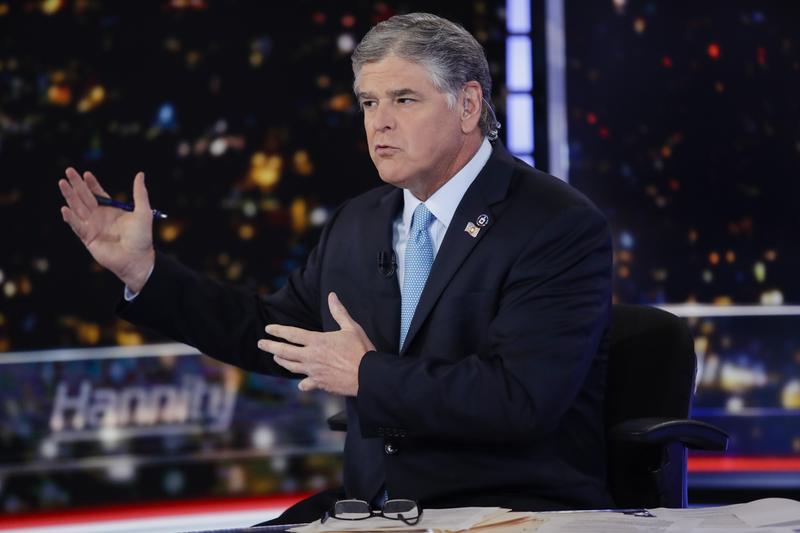 Transcript
Brooke Gladstone: From WNYC in New York, this is On the Media. I'm Brooke Gladstone. As the dust was settling on the Capitol grounds on January 6th after the attempted insurrection, the hosts of Fox News were already weighing in with their branded bunkum.
Fox News Host 1: There are some reports that Antifa sympathizers may have been sprinkled throughout the crowd. The Capitol was under siege by people who can only be described as antithetical to the MAGA movement.
Fox News Host 2: They knew there were hundreds of thousands of people that came to town. We also knew that there's always bad actors that will infiltrate large crowds. I don't care if they're radical left, radical right, I don't know who they are.
Brooke Gladstone: Of course, we didn't know until this week that that same day, they were sending texts with very different sentiments to White House Chief of Staff Mark Meadows. Liz Cheney, the ranking Republican on the House Select Committee investigating the January 6th insurrection read a few.
Liz Cheney: "Mark, the President needs to tell people in the Capitol to go home. This is hurting all of us. He is destroying his legacy," Laura Ingraham wrote.
Brooke Gladstone: Meanwhile, on the air, Ingraham was saying--
Laura Ingraham: Because of a small contingent of loons, these patriots have been unfairly maligned.
Liz Cheney: Quote, "Can he make a statement, ask people to leave the Capitol," Sean Hannity urged.
Brooke Gladstone: This week, Hannity said--
Sean Hannity: Where is the outrage in the media over my private text messages being released again publicly? Do we believe in privacy in this country? Apparently not.
Brooke Gladstone: Angelo Carusone, CEO and President of Media Matters, a left-wing non-profit that tracks misinformation in the right-wing media, told us why this particular Fox controversy is different from so many others and why the coverage is better, too.
Angelo Carusone: Because the rest of the news media has a much clearer lens to understand the relationship between Fox News and the rest of our civic and political landscape.
Brooke Gladstone: Because of the Trump years or because of the recent texts? What has provided that clarity?
Angelo Carusone: It's partly attributable to the Trump years, for sure, but I actually think COVID changed the relationship between the rest of the news media and Fox News. Early on, Fox was calling it a hoax, they got a little bit of blowback for that, but when they went all-in on hydroxychloroquine, and then Trump himself started championing it, I think that that was the clearest illustration of the Trump-Fox pipeline.
If you fast-forward to now, when you see a moment like this, the information media is not just covering it but they're giving the context, which is that, not only was Fox helping build the scaffolding for the attacks on January 6th but running cover for Trump in the aftermath of it while simultaneously, as these texts exposed, being pretty clear that they attributed it, in part, to him.
Brooke Gladstone: We could, if we chose, do Fox every single week, but it's boring. You have to do it, and that's your brief. It probably should be a large part of ours, but 21 years into this job, it's tough, but this was one we couldn't let go.
Angelo Carusone: This is a stunning example of Fox News engaging in the kinds of partisan deceit that they're often accused of. There are few moments these days that transcend the traditional partisan back-and-forth, but that was different and distinct. It was a real touchstone.
Brooke Gladstone: You're saying January 6th was?
Angelo Carusone: It's not a touchstone anymore, for sure, but there was a moment in time where, at least the first couple of days, where it felt like that would be distinct, where that was something where we could all agree was not acceptable. That's probably why this is so powerful, because, if you go back and look at the first day or so, there was a recognition that, "Woah, that's too far. That's not okay."
What Fox, at the tip of the spear of the rest of the right-wing echo chamber, has been able to do successfully is turn what should be a pretty clear-cut example of, "No, too far," into an attack on Democrats and something to glorify.
In the 6 months after the attacks on the Capitol, Fox News hosted members of Congress that had voted to overturn the election 600 times, creating a drumbeat and a narrative that, "Yes, you know what? That election was stolen. We should've done something about it." If you do that enough long enough, what you start to do is minimize the threat, minimize the results, rewrite history, and then, separately, you start to create a rationalization and even a justification for the events that unfolded.
Brooke Gladstone: Let's talk a bit about your organization, Angelo. This is what you do. You've been doing it for 12 years. You point out the misinformation, the hypocrisies, and the dangers of right-wing media, but let's be honest, isn't this futility built-in?
Angelo Carusone: It doesn't need to be. I think there's a difference, though, between wanting something that's aligned with your perspective and something that is totally divorced from any fact. What Fox does is they are not just pushing an ideology, they are working hand-in-glove with external forces, in this case, the Trump campaign or the Republican Party, to build power.
Just like what we saw with critical race theory, that was something that wasn't part of the conversation a year ago, but Fox News, over the course of two and a half months, ran 1,900 segments about it this year, primed that pump, and it is now a new front in this broad array of culture wars that we are dealing with. It's not their ideology or even the bubble that Media Matters is concerned with, the difference-maker is the deceit mixed with calls to action and the organizing of power on what once was considered the fringes.
Brooke Gladstone: Glenn Beck, Bill O'Reilly, Roger Ailes are all gone.
Angelo Carusone: Right.
Brooke Gladstone: Now you have Tucker Carlson in ascendence. It's like the Hydra of myth, you cut off the head and two grow back.
Angelo Carusone: Well, yes, Glenn Beck being removed off of Fox News was a really big deal. Glenn Beck, at 5:00 PM, he was explosive. His audience was huge. His revenue for the show was off the charts. If advertisers did not walk away from the show when they did, what you would've seen is more Glenn Becks on Fox News. Alex Jones would've gotten a Fox News show because Glenn Beck would have changed the calculus and the business model. He would've moved the line.
Brooke Gladstone: But the market did react then, and the market now seems to be just fine.
Angelo Carusone: Well, one, I would say, the market is not totally fine. Tucker Carlson's show has lost a huge amount of advertising, huge. He used to have 30 paid commercials a show, now he's down to between 14 and 16.
Brooke Gladstone: Rush Limbaugh would lose advertising from time to time after one outrage or another, they'd always come back quietly, under the cover of darkness.
Angelo Carusone: That's true. The radio piece is a little bit different, but I would say that Limbaugh lost a lot of stations, too, and the company that kept him on air was billions of dollars in debt. They were running at a loss for many, many years. Rush Limbaugh was not helping patch that up. If you draw the contrast with what's happening at Fox, advertising is no longer what is relevant to Fox News.
What Fox did after Glenn Beck, and then Bill O'Reilly, but it started after Glenn Beck, is the same way they built Fox News to make sure what happened to Richard Nixon never happened to another Republican president. That was literally in the organizing memo that Roger Ailes had drafted for it. What they did after Glenn Beck is they made sure that they would never be in that position again.
They started to embark on the way of shifting their revenue model. Most TV shows care about commercials because that's where they get their major revenue stream. What Fox did was change the revenue equation so that most of their revenue came from cable subscriptions. Fox is the second most expensive channel in everybody's cable box right now, ESPN is number one.
Just to show how powerful that is, Fox News could have $0 in advertising revenue, not a single commercial, they could run ad-free, and they would still have a 90% profit margin. No other commercial TV channel operates like that.
Brooke Gladstone: Hold on here. Does one subscribe to Fox?
Angelo Carusone: No.
Brooke Gladstone: Isn't it a basic cable channel?
Angelo Carusone: That's right. Everybody that has cable is forced to pay for Fox News and Fox Business. The way it works is, if you have a cable company, you pay a channel a nominal fee to broadcast it. Your subscribers don't subscribe to the channels, you offer them a package. What Fox decided to do, through a series of highly controversial moves over the last decade, is force cable companies to pay them way more than a nominal fee in order to provide it to their customers. That is something that every cable customer then has to pay for by extension.
Fox News currently gets about $2.50 from every single person that has cable. Fox Business gets about 30 cents a subscriber. That means about $300 million in revenue a year. Nobody watches Fox Business. They have tens of thousands of viewers on a good day. That's the same amount of revenue that MSNBC gets from cable companies even though they have a million to 2 million viewers.
It has nothing to do with viewership, it has everything to do with how you negotiate and how rabid your audience can be in pressuring cable companies, ironically, to increase the bill for everybody. Fox News no longer needs commercials, and that's why we're in a period right now where it feels like they're even further removed from any kind of accountability.
Brooke Gladstone: You say you're optimistic, why?
Angelo Carusone: For three reasons. One, because the rest of the news media is clear eyed about the threat of Fox News and the need for there to be some line finally drawn. That takes away a really important headwind and it helps build consensus. That consensus has started to form that Fox News is a destructive force and needs to be held accountable.
Brooke Gladstone: Where is that happening?
Angelo Carusone: In the news media, whether it's former media reporters from the Baltimore Sun that used to go on Fox News that have criticized it, to people like Billy Crystal, who's a conservative, to Chris Wallace who was a stalwart part of Fox News for decades leaving the channel and on his way out, pointing out that it's an extraordinary thing when Fox News does not interfere in your show.
The second reason is that there are 90 million cable customers in the country. There are 3 million Fox viewers, on average. That means that there are way more non-Fox viewers than Fox viewers. Then the third is that there's an opportunity. Because Fox News has abandoned the commercials as their primary revenue driver, they've gone all-in on cable contract renewals, and coming up this year, Fox is going to actually go through a series of major renewals with these cable companies.
In order to offset all of the losses from advertising over the past couple years, in part, because of Tucker and the extremism, they not only have to keep their high number, they actually have to go from $2.50's subscriber to over $3. That's a big jump. There's a campaign on Fox My Cable Box, that's the name of it. The same way that Fox News organizes their viewers to contact cable companies to say, "Hey, you better keep Fox News," our simple ask is this, don't raise our bill. Don't make us pay more money for Fox News. In fact, you shouldn't be forcing us to pay for Fox Business at all. There's really no rational basis for that.
Everybody is always mad at their cable companies because their bills are so high and a big part of the reason why their bill is so high is because Fox News keeps forcing it to go higher.
Brooke Gladstone: That being said, Fox isn't the only game in right-wing media. It's interesting to see Newsmax host, Rob Schmitt, ask Mark Meadows about these texts, even if Fox wouldn't. Really, do the new players in right-wing media change anything for Fox? Could they just replace Fox?
Angelo Carusone: My fear with these emerging platforms, One America News, in particular, was that if they were able to ankle bite on Fox News, that because Trump and their relationship with parts of the Trump audience, that they could leverage that to force cable companies to pick them up, the effect of that on all of us would be that it would accelerate the movement of Fox News increasingly to the right and make Fox News more extreme.
Here's the evidence. Fox News called Arizona for Joe Biden the night of the election. They got a ton of blowback from their own audience and from Donald Trump about that. They then spent the next two weeks in 774 individual instances challenging the very results of the election that they called to try to compensate for angering their base is that it demonstrates that instead of Fox trying to keep their current footing or move more to a sensible place, they have now made it a part of their strategy to race further and further to the extreme to stake out that terrain, block out any potential competitors.
Brooke Gladstone: [unintelligible 00:13:28] your optimism.
Angelo Carusone: I look at this from a cold business calculus. They've lost a few hundred million dollars in revenue from advertising. This is real money. What they've done is they've created an inflection point, a decision point. Usually, it's spread out. The decision point for all of us is actually coming up this year. That's rare. We just don't get that. The second reason why I have some optimism is that because there is a consensus forming around the destructive power of Fox News, it incentivizes the call to action, which is to go to cable companies and say, "Do not make me pay more money for Fox News."
Brooke Gladstone: You don't just cover Fox, though. You do cover One America News Network. You do cover Newsmax. If Fox did, suddenly, "poof", go away, which it won't, but let's say it did, you wouldn't be out of a job?
Angelo Carusone: No. We are concerned with the problem of misinformation and, obviously, a lot of that is moving increasingly into the tech platforms, into online. Our role would change and that's okay. Fox provides a distinct threat that requires a much more focused and concerted response, but what we really should be doing is research. If you want to know how many times cable news talked about climate change over the course of the year compared to other topics, or other news channels, we can give that stat in a second. We can run a report, say, "Wow, they only spent 13 seconds on it this month."
Earlier this year, when the wildfires were taking over parts of the country, we were able to show, very quickly, that in the first few days of coverage, there was no contextualization between the wildfires and climate change. We were able to hold a mirror up to reporters to say, "You're enabling misinformation by not providing this connective tissue and context."
There's a role for watchdogs in any arena, especially the media now. I wish that was the day-to-day that we were doing instead of thinking about how some particularly insidious forces, one of which is Fox is increasingly organizing power on the fringes with destructive effect.
Brooke Gladstone: Angelo, thank you very much.
Angelo Carusone: Thank you.
Brooke Gladstone: Angelo Carusone is the President and CEO of Media Matters, a progressive nonprofit that monitors misinformation in the right-wing media. Coming up, a New Yorker piece about a star on the Fox-inflected show, Succession, raises questions about what we really want from the celebrity profile. This is On the Media.
Copyright © 2022 New York Public Radio. All rights reserved. Visit our website terms of use at www.wnyc.org for further information.
New York Public Radio transcripts are created on a rush deadline, often by contractors. This text may not be in its final form and may be updated or revised in the future. Accuracy and availability may vary. The authoritative record of New York Public Radio's programming is the audio record.