Jakelin Caal Maquin's Death: More Than Another Outrage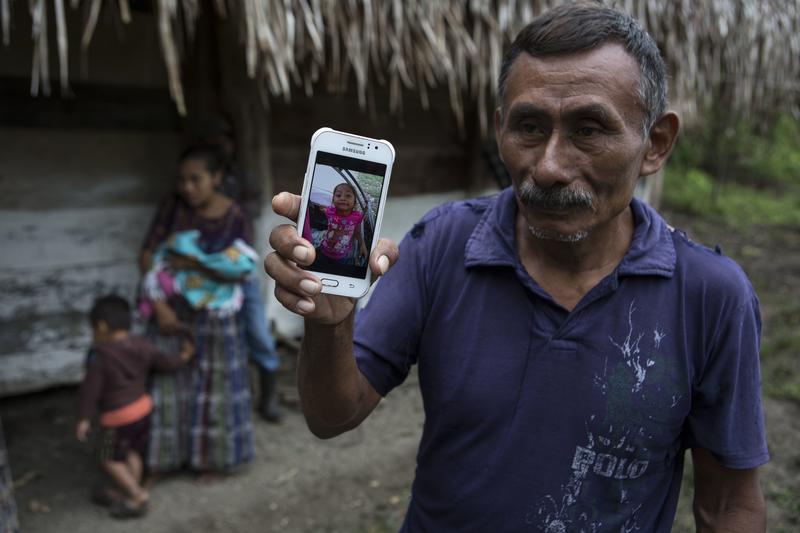 Transcript
BROOKE GLADSTONE: From WNYC in New York this is On The Media, I'm Brooke Gladstone.
BOB GARFIELD: And I'm Bob Garfield. On December 8th in El Paso Texas, Guatemalan national Jakelin Caal Maquin died in the custody of US Border Patrol. She'd entered the United States two days earlier with 162 other migrants. She had fever near 106 degrees and persistent vomiting. And family members said she was given no water by authorities when she was first held at a remote New Mexico station. Her death came after many hours of waiting and bus travel followed by a helicopter evacuation to a Texas emergency room. Jakelin was seven years old. The particulars of her illness and death are still not clear. Her father, with whom she was apprehended, has asked the press not to speculate. Also ambiguous is the level of attention paid by authorities, although clearly the Border Patrol's bounds forward operating base where the Caals were first taken is not equipped for medical emergencies. What is clear is this: despite explicit rules, Congress was not notified of her death for five days after the Washington Post had already reported it. And secondly, according to the Trump administration Jakelin's death is her parents fault.
[CLIP]
KIRSTJEN NIELSEN: This family chose to cross illegally. What happened here was they were 90, about 90 miles away from where we could process them. They came in such a large crowd that it took our border patrol folks a couple times to get them all. We gave immediate care, we'll continue to look into the situation. But again I cannot stress how dangerous this journey is--.
MALE CORRESPONDENT: Sure.
KIRSTJEN NIELSEN: --when migrants choose to come here illegally. [END CLIP]
BOB GARFIELD: That was Homeland Security secretary Kirsten Nielsen. That talking point did not sit well.
[CLIP]
MALE CORRESPONDENT: Jakelin Caal, the new face of what some are calling a humanitarian crisis.
FEMALE CORRESPONDENT: Outrage at the border tonight over the death of a seven year old girl.
MALE CORRESPONDENT: I placed the blame where it belongs. The tone and tenor of all of this starts at the top. The president of the United States of America. [END CLIP]
BOB GARFIELD: Yes a spasm of outrage. Just as there was a spasm of outrage over the forced separation of children from their parents at the border. Just as there were spasms of outrage at conditions in the archipelago of detention facilities and at the president's rhetoric and at the naked racism of cable TV hosts. But like most everything else in the ongoing cruelty of zero tolerance, it quickly evaporated, replaced by a succession of other grotesqueries. Literally as we record this the president is threatening to shut down the US government unless he gets $5 billion for a border wall and so on. Aura Bogado is an immigration reporter for Reveal the news site and podcast from the Center for Investigative Reporting. She's been covering immigration for a decade and doesn't have the luxury of intermittent attention to an ongoing nightmare. Aura welcome back to the show.
AURA BOGADO: Thanks for having me Bob.
BOB GARFIELD: When Jakelin died I said to myself, 'surely this will capture and hold the attention of the press and public. Surely Americans will go out on the streets and demand an end to cruelty in our name.' You didn't think any of those things did you?
AURA BOGADO: When I saw this I was completely horrified as I think everybody else was. But I did think, 'hmm I wonder how long this will pass particularly given that holidays are coming and people will have something else to pay attention to.'.
BOB GARFIELD: I don't want to discuss politics or policy here. I want to ask you when asylum seekers or other migrants surrender or are caught, what are the conditions they experience?
AURA BOGADO: No matter if you turn yourself in at a port of entry or you're apprehended for crossing without authorization, you will be placed into what is called hielera, an icebox, a freezing cell. It's always concrete. Sometimes you just hardly have places to walk in between all of the people that are either sitting down, standing up or laying down.
BOB GARFIELD: Concrete floors, hard benches, no beds and for some reason cold. Why cold?
AURA BOGADO: The CBP may tell you that that's in order to control infectious diseases. Contagion is less likely to spread when it's colder instead of hotter. By the way, contagion is less likely to spread when you don't crowd people in inhumane conditions. I often get to see the medical records of both adults and children who have spent time in the hielera. Very often there's swollen nodes which indicates infection. They may be sick before they get there. They made be sick once they're already there for a few days but it's very common that kids are sick.
BOB GARFIELD: The children are often placed in other jails called los perrera.
AURA BOGADO: Perrera are probably the images that people are most used to. Those have the chain link fence, there's sort of a small mattress, they tend to be a little less crowded. However they sometimes are very very overcrowded.
BOB GARFIELD: And la perrera, it means dog kennel.
AURA BOGADO: These are the words that people use to describe what happens when they cross–ice boxes and dog kennels. People don't ask if I'm familiar with the word. They're just like 'oh and I was in the hielera and then the perrera' and it goes back and forth.
BOB GARFIELD: Aura, tell me about the smells of captivity.
AURA BOGADO: Over and over again. For the perrera in particular, people will tell you that they know how long other people have been there because of the way that they smell. You can't bathe. And so what people try to do is they use the little sink water that's attached to the toilet that they just use and so did everyone else use. Women have told me about this over and over again. They smelled so bad they developed sores consistent with not having been able to be bathed. Sometimes you do get like a little hand towel. People tell me that they're very grateful when that comes. You're supposed to get that right when you come in, that's not always the case. When you do decide to wipe yourself down that's another thing. It's, 'I had to, I had to wash myself somehow but it was so cold.' The other thing is you get zero privacy. There is no door period. If you're lucky you get a little plastic sheet that opens back and forth. A lot of times people describe not wanting to touch it because it's, it's got poop on it.
BOB GARFIELD: Tell me about drugging children.
AURA BOGADO: Earlier this summer, we broke the story of a place called the Shiloh treatment center just outside of Houston, Texas. What happens is children who arrive unaccompanied and then for some reason were identified to have certain psychiatric issues that the shelter couldn't handle. They are then sent to a place called a residential treatment center. In this case, it's called Shiloh. For Shiloh, a source had told me about court records that alleged forced drugging with pills and injections without the consent of the child or the parent. For me, it became important to really track down children who were there. I didn't want just the court record with anonymous names. It did talk to several children who were there. There was one family in New Orleans who did allow me to spend time with them and to talk to them about what happened to their 10 year old. You know, he wound up there because he repeatedly said that he wanted to run away and then he did try to run away once. He knew that he was in the United States and he knew that he wanted to be reunited with his mom. That was enough for a psychiatric evaluation which found that he needed more professional help than what the shelter could provide. He was then sent to Shiloh and forcibly drugged for four months. His mom, over time, she was able to do video calls with him and she found him to be just absolutely lethargic.
BOB GARFIELD: What you're describing could be the consequence of medical authorities paying close attention to the psychiatric well-being of those in custody or some sort of Soviet warehousing of prisoners under a flimsy pretext of psychiatric issues. Do you have a sense of which of these things is taking place?
AURA BOGADO: In my non-medical professional opinion, I think he really wanted to be with his mom. If he had to run away in order to be with her, that's what he was going to do. I can tell you that as I kept digging I found that the psychiatrist who writes all of these prescriptions and evaluates all the children, his name is Dr. Ruiz, the government had testified that he was board certified to treat adolescents and children. I looked into the record and I found that although he is fully licensed, he actually lost that board certification about 10 years ago.
BOB GARFIELD: You had another story this summer about kids being held in a vacant office building in Phoenix.
AURA BOGADO: We got a tip that someone said that, 'you know, they're putting all these kids in this vacant office and here's a video.' The first time I saw the video I was like, 'is this a setup? This just looks too unreal.' I watched about two or three times and I want to say I was on a flight at like 5:00 in the morning the next day to Phoenix. The children were no longer there but this neighbor and I, you know we walked right up to the door and we saw a medication schedule for one of the children. We saw a box that was labeled baby shampoo which was consistent with one of the toddlers that we saw being filed into this vacant office in the video. We moved really quickly to figure out that a private defense contractor called MBM Incorporated, they've operated in like Iraq and Afghanistan, Guantanamo Bay, they are now charged with transporting children. They were holding children in this office overnight. They won't admit to doing so but children had at least spent at least two nights there if not more. We don't know the full number of kids that did so because the company won't tell us, ICE won't tell us. This little boy who I was able to track down, you know, he came with his mom. He spent time in the hielera with her and then he was taken away by a defense contractor. And then he was held in this like vacant office. He says that people were nice to him there. He got three sandwiches a day. He didn't think it was a bad thing. He knows violence in a different way, right? To him violence isn't necessarily having to sleep on a floor with a whole bunch of teenagers in an unauthorized vacant office that nobody knows about. Violence is knowing that some of his friends have been killed by gang members in this totally rural area of Guatemala. I think that sometimes things are relative to people, right? People are leaving situations for certain reasons.
BOB GARFIELD: As an institution, what is the press just getting wrong here? And we have a responsibility for the public's fluctuating levels of outrage?
AURA BOGADO: I can tell you that we absolutely have a responsibility in the Trump era, especially, to include the perspectives of people who are most affected by the policies that we write about. We can only do that when we start to consider that the people who are dying from some of these policies are high level sources. If I have a source who is high up in the government, you bet, like I am texting them for random things that have nothing to do with immigration, check in how they're doing, might grab a coffee if we're in the same town. You know, we sort of are always in touch. Most of the reporters on my beat have no such sources in the immigrant community. I've heard a lot of times reporters ask a random person at a bus stop that was just released from detention like, 'why did you come to the United States?' That's a fair question but I think it betrays the originating reason of 'why did you leave your country?' Being deeply immersed not just in the national security sources but being well--well immersed in the communities that we write about. That's what's missing.
BOB GARFIELD: So finally, I want to come back to something that did not happen at our southern border but happened in Turkey when a 3 year old Syrian boy Aylan Kurdi washed up on the beach. He was dead. He was part of an attempted migration into Europe fleeing the Holocaust in Syria. That did horrify the world, and I wonder if there were a picture of 7 year old Jakelin's dead body, would that spur us out of our complacency?
AURA BOGADO: A different question to ask is why would it take that–knowing everything that we know. If we listen to people who have sustained these conditions for more than a decade and that doesn't bring us to reconsider what's really happening in the way that we think about people's movement particularly when fleeing violence sometimes as a result of long term intervention by the United States. The rescue group, the NGO that scours the desert for missing loved ones, you know, one of the bodies that they found, the volunteers estimate that it was a little child about 6 years old. And that's just, it's just talking with the man who sort of leads this group. He just paused, not unlike you just did and was like, 'the bones are so small. They're just so small.' So that is who's already dying on the border. I don't know that--that seeing the remains will necessarily change anything. I think that listening in a more sustained way and challenging ourselves to do so might.
BOB GARFIELD: Aura, thank you very much.
AURA BOGADO: Thank you so much Bob.
BOB GARFIELD: Aura Bogado is an immigration reporter for Reveal, the news site and podcast from the Center for Investigative Reporting.
BROOKE GLADSTONE: Coming up. Guess what? Sometimes journalism does have an impact.
BOB GARFIELD: This is On The Media.