It's Just Business: How Media, Money, and Football Changed the Legal Profession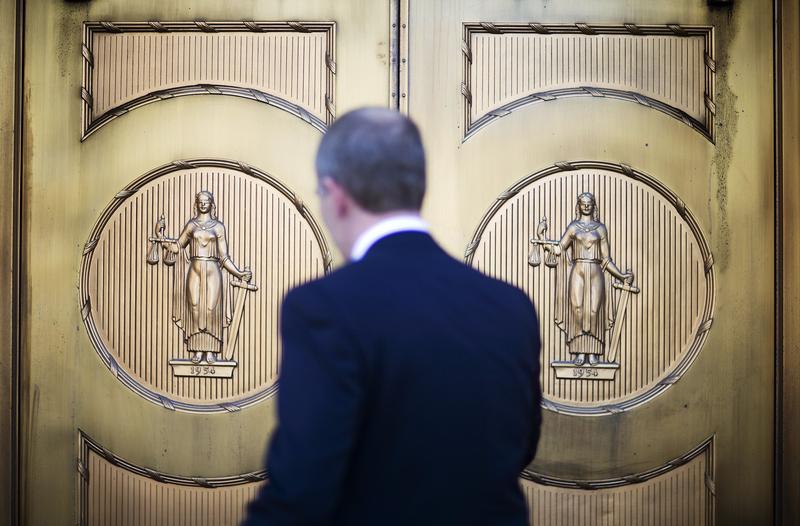 Transcript
DAVID FOLKENFLIK This is On the Media. I'm David Folkenflik, sitting in this week for Brooke Gladstone. In the midst of scoops and scandal surrounding Donald Trump, there is one constant: litigation. Hundreds of suits filed against and by him — the latest filed this week.
[CLIP]
NEWS REPORT Former President Donald Trump suing CNN saying the network defamed him. Trump seeking $475 million. [END CLIP]
DAVID FOLKENFLIK Hard to forget some of the more famous members of Trump's legal team. Rudy Giuliani was a news story all his own for many months. And then there's the giant law firm Jones Day, which had a revolving door with the Trump White House and became something of a household name itself in the last few years. But it was not ever thus. Back in 1908, the American Bar Association made it illegal for lawyers to advertise themselves, aside from the standard business card lawyers used to hand out. You couldn't even have your name and number in the Yellow Pages. That all changed in 1977, when the Supreme Court ruled in Bates v State Bar of Arizona that lawyers promoting themselves constituted a protected form of commercial speech. The case was a win for small firms looking to provide affordable legal services who, without ads, had historically relied on a risky game of client telephone. But as decades passed, the consequences of that ruling changed, as demonstrated here by the cast of Saturday Night Live.
[CLIP]
SNL CAST Hi, I'm Lisa Broderick.
SNL CAST And I'm Jeremy Gains.
SNL CAST Have you been injured in an accident? Talk to us. We'll get you the money you deserve.
SNL CAST After my accident, Jeremy Gans got me a settlement of $6,000.
SNL CAST Thanks to Lisa Broderick, we were awarded $2 million.
SNL CAST Wait, those guys got how much? [END CLIP]
DAVID ENRICH The most obvious effect is that, as you can see today, anytime we drive down a highway, the world is blanketed with ads for lawyers.
DAVID FOLKENFLIK David Enrich is the business investigations editor at The New York Times and author of the new book Servants of the Damned: Giant Law Firms Donald Trump and the Corruption of Justice. And he says the Bates decision was the first in a chain reaction that turned the profession of law into an industry, and that the media that covered it was slow to catch on.
DAVID ENRICH I think the more insidious effect, which took a little bit longer to kick in, was that lawyers were now free to promote themselves in other ways. They could now start soliciting clients. It had been the case that lawyers wary of violating these bans on self-promotion, they would wait passively for clients to arrive at their doorstep. Lawyers did not talk to the media. They could go to conferences and other business cards.
DAVID FOLKENFLIK So right before the Supreme Court heard Bates, there was a student at Yale Law School. He wrote an article that would also change perceptions of the legal profession. How did Steve Brill reshape the way lawyers thought about themselves?
DAVID ENRICH Well, Brill came up with the idea that the legal profession deserved all of the attention and kind of excitement that one would expect from a sports reporter or a Hollywood reporter covering the movie industry. And he started this with a magazine article he wrote while he was still a student at Yale that looked at a big takeover fight involving Colt Industries, the big gun company, and looking at the two very aggressive and enormously wealthy lawyers at big firms that were litigating this takeover fight. The article went viral 1970s style, at least in Brill's telling today, and the success of that story and how much it resonated with readers of New York Magazine gave him the idea that maybe he could start an entire magazine devoted to covering the legal profession. And that magazine became the American lawyer, and it immediately changed the industry.
DAVID FOLKENFLIK But after Bates versus the State Bar of Arizona, tons of publications surfaced. What distinguished American Lawyer? What made Brill's publication different?
DAVID ENRICH Starting in the mid 1980s, Brill and his team got the idea that they would start publishing annual rankings of the biggest law firms, and not just in terms of the number of lawyers they had or the number of offices they had. But they would start publishing a lot of financial information about the firms in terms of how much money they made, how much they paid their partners, and how profitable they were. Less than a decade earlier, the discussion of money and profits was really uncouth, and in any case, it was top secret. And so Brill and this team of reporters set out to get under the hood at all of these big law firms and figure out and then publish what their finances were by letting everyone know how much everyone else was making, it allowed people to start competing with their rivals and competing internally with their own firms to get more money.
DAVID FOLKENFLIK Sounds a little bit like baseball after free agency, when people were allowed to talk about money to share information and had some agency about where they landed.
DAVID ENRICH Yeah, I think that's exactly right. The result was that law firms had to start paying their employees more, which put a lot of pressure on the law firms to find new sources of revenue. And the biggest way they did that was they would go out trawling for more clients and becoming much more loose about the types of assignments they would take on. And all of a sudden, we're in an era where many, many law firms have thousands of lawyers all over the world. When a couple of decades earlier, that concept would have just been completely unimaginable to almost everyone in the profession. And obviously, the big difference between baseball and lawyering is that lawyering is something that is ingrained in the fabric of our justice system and our Constitution. Having lawyers and law firms that are much more focused on figuring out ways to fill these revenue holes that they have — that potentially causes a lot more problems than having diluted loyalty to a certain baseball team in a certain city.
DAVID FOLKENFLIK So advertising allowed for law firms to have a greater reach and to solicit more clients. It allowed lawyers to talk to the press. That kind of coverage, in turn, depicted firms more like businesses and firms, in some ways; acknowledging the depiction, really started acting like businesses. And that history, that cycle as you present it, leads to the creation of legal firms like Jones Day. For someone who's never heard of Jones Day. How would you describe it?
DAVID ENRICH It's a firm that was started in the 1800s in Cleveland, Ohio, representing mainly local companies. And it has today become one of the largest law firms in the world. And it represents not only a who's who of big, powerful companies and industries ranging from fairly anodyne companies like General Motors to much more controversial companies like Purdue Pharma. And it also has branched into politics. It was the law firm that represented Donald Trump's 2016 and 2020 campaigns. It today represents a who's who of Republicans. I picked them as a focus for this book because in many ways they are emblematic of the shift that the profession has undergone going from a profession to an industry.
DAVID FOLKENFLIK In your book, you describe a pivotal moment in the firm's history where they were called Judas Day. What happened?
DAVID ENRICH So one of Jones Day's clients for many years had been a guy named Art Modell. And Art Modell, among other things, was the owner of the Cleveland Browns NFL team in Cleveland. Jones Day had represented him on a bunch of different things, including some litigation and business disputes he'd been involved with. And then in the mid-nineties, Modell secretly began having talks with the city of Baltimore about moving the Browns from Cleveland to Baltimore. And he went to his people at Jones Day and said there's likely to be a pretty big backlash. Do you have my back? And Jones Day said yes. So this move got announced and the city of Cleveland just went ballistic. The backlash turned borderline violent, and then that abuse started spreading to Jones Day as its lawyers. And at one point, the editor of The Plain Dealer newspaper in Cleveland called the head of the firm and said, just a warning. We are going to describe you in tomorrow's newspaper as "Judas Day," because you have betrayed the city of Cleveland. They saw this as kind of a call to arms, and it essentially led them to double down and representing Modell. And the firm now uses the Judas Day moment as a justification in a defense of a lot of the polarizing work that today they do, whether it's on behalf of a tobacco company or a gun company on the one hand or on the other hand, on behalf of a polarizing politician like Donald Trump.
DAVID FOLKENFLIK The classic rebuttal is that an attorney's involvement, a firm's involvement, no matter what the legal problem is the American way; no matter how upsetting the charge people are entitled to representation. What is wrong with that? In fact, I think there's something very right with that.
DAVID ENRICH No, I totally agree with you that there's something very right with that. The Sixth Amendment to the Constitution gives anyone who is accused of a crime the right to legal representation. But I think it's worth pausing for one second to note that the reality is that that is less and less what the modern law firms are actually spending their time or their resources doing. Much more of their work involves things like helping people or institutions avoid or water down government regulations, helping them hide money, or at least move money in ways that will avoid regulatory scrutiny, or avoid taxes. I'm not even saying people shouldn't be entitled to pay for those services. I'm saying that lawyers that provide those services, I think, are opening themselves up to media scrutiny.
DAVID FOLKENFLIK Much of the time, these big and influential law firms aren't covered particularly skeptically or particularly critically. They're just seen as sort of agents of the folks they represent. Why aren't they subject to that kind of scrutiny themselves?
DAVID ENRICH I think part of it is just a relic of the days when lawyers were viewed as kind of accessories. And because they're public servants or public officers of the court, they don't deserve that kind of scrutiny. I think a bigger reason lately is that lawyers are sources. They're really good sources a lot of the time. And, again, this is not about Jones Day. This is about the media writ large. We find excuses. I have personally found excuses in my own brain over the years for not wanting to write about great sources.
DAVID FOLKENFLIK Give me a feel for how a law firm can help a reporter who may or may not be an expert in a given terrain.
DAVID ENRICH Look, I covered the banking industry for a long time, and so there were big law firms that had huge banking practices. And within those firms, there were maybe three or four top partners who were doing all the banking work. And so I would develop relationships with these lawyers and they would give me tips. Sometimes they would give me documents. It's generally not stuff where they're betraying any client's confidences. It's gossip that they've heard. I spent a long time, I think, very naively in hindsight, just thinking that the reason lawyers were doing this was A. that they enjoyed talking to the media and, you know, they would learn things from the media as well as feeding things to the media and that lawyers also kind of thought that they were spinning things to advance their client's interests. But I think that is really not the root of what was going on. The root of it was that lawyers viewed very cozy relationships with reporters as the powerful disincentive for that reporter or that entire news organization to be writing critically, not just about that lawyer, but about his entire firm. They are using this pretty explicitly that we can either be your friends or your foes. And if we're your friends, you can count on us to be a reliable source of information on things that matter to your readers and to your reporters. Or we can be your foe and you can write about us critically, and you've got this nasty story about us, and you can just kiss that access goodbye.
DAVID FOLKENFLIK Not only do you kiss access goodbye, but actually you document that they can take some pretty prickly stances. Indeed.
DAVID ENRICH I think it's worth listeners knowing that it has become standard operating procedure when writing about big businesses that are represented by law firms that you are going to get as a journalist, threatening letters from that law firm to yourself, to your editor, to your publisher, basically warning about the risks of litigation. As I neared the completion of the reporting on this book before the book was actually written, I went to Jone's Day with a lot of fact checking questions and as is, I think, standard in effect and process, there were facts that I had wrong, which is the exact purpose of this exercise to begin with. So they provided a bunch of information correcting some of the mistakes I had made, and I wrote the book accordingly, incorporating most of what they had told me. Several months later, my publisher got a letter from an outside lawyer that Jones Day had handled, warning that my book, which they had obviously not seen, was replete with inaccuracies as evidenced by the fact the fact checking questions I had sent them had inaccuracies in them. And this was the kind of the beginning of a barrage of letters that my publisher and I received from lawyers working on behalf of Jones Day. When you're working at the New York Times, that's something that we're accustomed to. We have procedures in place and very good lawyers in place to deal with. But for a lot of other publications, that is not the case. And I think these letters can have just a really dramatic, chilling effect on what actually ends up getting written and also on the future appetite of journalists to take on subjects like this.
DAVID FOLKENFLIK What do you want the ordinary reader to take away from your book, and what would you want journalists to take away from what you've written here?
DAVID ENRICH There are two groups of people that I was thinking about as I wrote this book. One is fellow journalists, and I really hope that the book encourages other journalists to dig more aggressively into other big law firms in the legal industry writ large. I think this is a hugely undercovered industry. And the other big audience that I really hope pays attention to this are law schools, where many aspiring lawyers and the professors who teach them have not thought very closely about the role that they are playing in the creation of these mega law firms and the lack of value that they are providing to the world and to our democracy and to our economy and society. And I hope that there is a little soul searching that goes on as people read this book.
DAVID FOLKENFLIK David, thank you so much.
DAVID ENRICH It's my pleasure. Thanks for having me.
DAVID FOLKENFLIK David Enrich is the author of Servants of the Damned: Giant Law Firms, Donald Trump, and the Corruption of Justice. Full disclosure, New York Public Radio OTM's parent company, has used Jone's Day for legal work in the past. So has my employer, NPR.
Copyright © 2022 New York Public Radio. All rights reserved. Visit our website terms of use at www.wnyc.org for further information.
New York Public Radio transcripts are created on a rush deadline, often by contractors. This text may not be in its final form and may be updated or revised in the future. Accuracy and availability may vary. The authoritative record of New York Public Radio's programming is the audio record.