The Lawsuit That Could Upend E-Book Lending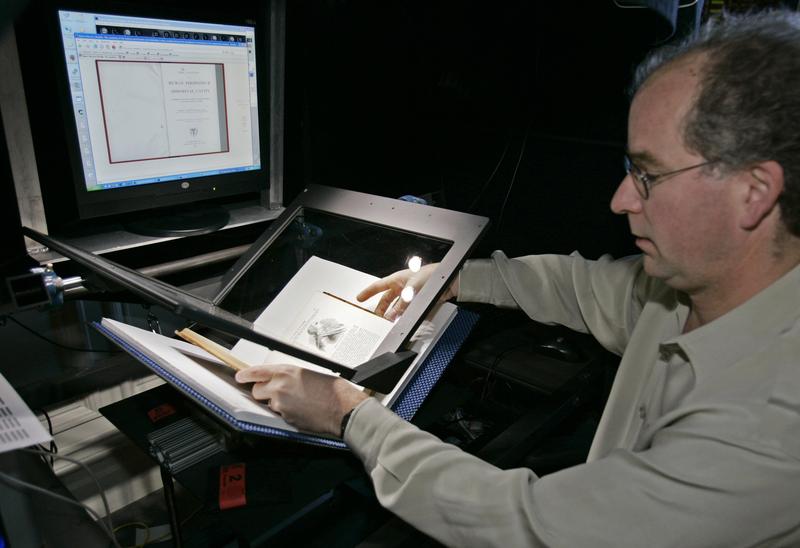 Transcript
BROOKE GLADSTONE This is On The Media. I'm Brooke Gladstone. A few weeks back, attorneys filed a final round of briefs for a largely unknown case against the world's biggest free digital library: the Internet Archive.
[CLIP]
NEWS REPORT Several of the world's largest publishers have sued the Internet Archive for its emergency library of 1.3 million books, claiming the organization is engaging in willful digital piracy on an industrial scale.
[END CLIP]
BROOKE GLADSTONE This case is potentially hugely consequential. Hachette v. Digital Archive could disable some digital libraries and cripple digital lending as we know it everywhere. Here's how and why: Back at the height of the pandemic, the Internet Archive lifted restrictions on its digital lending, basically making all books available to everyone all the time. This is not how it usually works. Usually the Internet Archive and libraries practice what's called "controlled digital lending." This allows libraries to treat digitized materials just like print books. They purchase some and then lend them out to one patron at a time. Over and over, the four major publishers bringing the lawsuit were prompted by the pandemic era orgy of unbounded lending, now over and done with, to raise objections to what had become business as usual. The publishers claim that digital lending has bled them of millions and violates copyright laws. Some writers have chimed in as well.
[CLIP]
NEWS REPORT The problem came up when the Internet Archive said no wait lists. If we've managed to get our hands on a physical book, anybody can check it out as much as they want.
[END CLIP]
BROOKE GLADSTONE Brewster Kahle, the founder of the Internet Archive, posted a video message to Facebook shortly after the lawsuit was filed.
[CLIP]
BREWSTER KAHLE This lawsuit is not just an attack on the Internet Archive. It's an attack on all libraries. The publishers want to criminalize libraries owning, lending, and preserving books in digital form.
[END CLIP]
BROOKE GLADSTONE As of early November, the site holds a treasure trove of over 35 million books, 8 million videos, and also some 734 billion Web pages offering a kind of history of the net in its Web archive called the Wayback Machine.
NITISH PAHWA Anyone can log on to there and look up any websites and see what they look like a number of years ago.
BROOKE GLADSTONE Nitish Pahwa is a web editor and writer at Slate. He says the Wayback Machine is a chronicle of Internet history going back to 1996, which would be equivalent pretty much to a little after the founding of America in 1776.
NITISH PAHWA 1996 is such a huge year for media in general. I mean, you have the Declaration of the Rights of Cyberspace. You have the vision being laid out for a very open web. You also have the Telecommunications Act, which will, of course, end up doing a number on radio stations across the country. You have this influx of differing visions of what 21st century media is supposed to look like. And we've basically found out that it's going to be how capitalism works in America — a lot of tech giants, people with financial stakes in these things.
BROOKE GLADSTONE Which brings us to the case in question. During the pandemic in 2020, it launched a national emergency library and made 1.4 million books available for free, any number of them for as long as you want. Some of these books — it didn't have the rights to. To be clear, in controlled digital lending, a library scans each page of a physical book that it already owns, uploads a digital copy, generally allows one person to check it out for a period of time. So what you've got in the National Emergency Library is no limits on copies and no limits on time. And it was the limitlessness of this library that the publishers and writers objected to.
NITISH PAHWA Exactly. A lot of publishers have really not cared for the Internet Archive or its open library system for a while. There have been squabbles over this going back to when Google Books started up scanning pages, although in that case, when authors were suing Google, the law came in on the side of Google because only portions of books were available, whereas in the Internet Archive, in both the Open Library and the National Emergency Library, everything was just available.
BROOKE GLADSTONE It seems like they aren't happy with controlled digital lending either, which is pretty much the electronic version of what the library does with its paper and cloth books, which is lend them out for a period of time. They don't pay the publishers every time someone reads the hard copy of their book. So they're calling into question the basic practice of book lending that has been used for centuries. Am I missing something here?
NITISH PAHWA Yeah, that's definitely a way of looking at it. I do think that the battle here is more over digital versions of books than physical books themselves.
BROOKE GLADSTONE Right. But theoretically —
NITISH PAHWA Theoretically, absolutely. If this system were applied to physical books that are checked out and handed to you, that would mean a lot more money from libraries to publishers and would very likely affect how many physical books are available in your local library.
BROOKE GLADSTONE The publisher's argument is pretty straightforward. The archive shares their intellectual property, and now they have to pay them back. I think I get that argument. I just don't understand how they have the gall of making it. I mean, when Benjamin Franklin and company decided to create the library system, it was done with the assumption that the library would only have to pay once for the book. So how does the archive defend itself against this, since they ended the emergency limitless practice that they were using at the beginning of the pandemic and they're back to their old way of doing things?
NITISH PAHWA The archive is defending itself by saying, 'Look, the emergency library was an emergency. The typical ways of access to books and literature is completely shut off.' So they're trying to argue that that creates a fair use case. Some authors want their work out there, even if it means sacrificing some sales because access and availability is far more important than monetary gain. And they're arguing that this doesn't actually cost publishers all that much money.
BROOKE GLADSTONE Stay with the author's position. It isn't uniform, as we know. But the original authors spoke out against the National Emergency Library, including Chuck Wendig, N.K. Jemisin and Colson Whitehead. Have they changed their views?
NEWS REPORT There are a lot of authors who came out very strongly, like those you just named, against the archive and the emergency library. And then they deleted those messages later on and they just don't answer any more questions about their stance. Chuck Wendig says, "Now I would like to be excluded from this narrative" basically.
BROOKE GLADSTONE A little late for that, but okay. Yeah.
NITISH PAHWA And others like Neil Gaiman say that they were misunderstood from the outset, that they support the archive and libraries in general. You know, there's a lot of coverage around this that makes it look like if this goes through, there will be a hit to the Internet Archive financially. And maybe that means that there are other services are crippled. Most people can agree that the Wayback Machine is a very important resource. No one wants to lose that, least of all authors who can use it for research. How many online publications have closed over the past decades? And the archive snapshots are the only records of those.
BROOKE GLADSTONE In terms of the threat to the Wayback Machine, the Internet Archive says, 'if you're charging us this much to lend books, it's going to threaten the whole operation.' Do you think that's a credible claim?
NITISH PAHWA Of course. When it comes to copyright claims changing the way of lending, no matter what, the archive takes a financial hit. It's a nonprofit. The data centers the power that they need to keep everything they have up there and alive depends a lot on donors and requires tens of millions of dollars every year. It is not a cheap venture.
BROOKE GLADSTONE If the Internet Archive loses the suit, does that mean all libraries that lend out digital books according to the control lending process — would they have to change that practice as well?
NITISH PAHWA Absolutely. You know, however many libraries are employing controlled digital lending right now. They would have to stop that and figure out their own monetary damages and their scale. And this would apply to movies, audio recordings, sheet music. Libraries will have to rethink all those, too. Maybe the Internet Archive just stops having open library altogether, but they keep operating everything else. And libraries that look to control digital lending as a way to save some of their costs are not going to have that option.
BROOKE GLADSTONE They would have to pull back on lending the physical copies, which means that readers or scholars, historians, would have to be physically present like they were, you know, back in the early nineties and all the years prior to that.
NITISH PAHWA Yeah, exactly. And I know that that is a concern for some authors who view this as, 'Look, we want people with disabilities, people who can't go to physical storefronts, to be able to access our work still.'
BROOKE GLADSTONE It makes me wonder, do publishers really want to be in the position of threatening libraries and library systems in this way? I mean, is it clear to everybody what this lawsuit could mean?
NITISH PAHWA I don't think it is, frankly, to readers, to authors. Copyright law is its own whole world, especially in the digital age. They're constant battles to be had over it. I was reading this morning actually that there is this library hoping to lend out unlimited copies of Toni Morrison novels like The Bluest Eye and Beloved in the face of book bans that have been taking over the entire country, which is a very, I think, noble thing to do. The ability to do even something like that, whether on a temporary or longer term basis, would also be impeded.
BROOKE GLADSTONE So you have likened the potential loss of the Internet Archive to the burning down of the Library of Alexandria. But it's really not just about the Internet Archive at all.
NITISH PAHWA It's about copyright. It's about libraries. It's about how we view books and how we view writing and how we treasure and arrange knowledge, basically. I talked to the author and journalist Stephen Witt for the piece, and he put it in a very nice way, I think, which is that, you know, ultimately this suit is also a big closing of the door on the very concept of a much more free and open Internet. No matter which way this case swings, it's going to change a lot. You know, should the archive prevail? You know, CDO-controlled digital lending could become even more popular. And we could see a lot more of that sharing of knowledge libraries are there to do. If not, then we're not going to get that and we're going to have definitely more barriers to access.
BROOKE GLADSTONE Nitish, thank you very much.
NITISH PAHWA Thank you for having me.
BROOKE GLADSTONE Nitish Pahwa is a web editor and writer at Slate. Coming up. For centuries, innovators and storytellers have been inspired by a legendary library. This is On The Media.
Copyright © 2022 New York Public Radio. All rights reserved. Visit our website terms of use at www.wnyc.org for further information.
New York Public Radio transcripts are created on a rush deadline, often by contractors. This text may not be in its final form and may be updated or revised in the future. Accuracy and availability may vary. The authoritative record of New York Public Radio's programming is the audio record.