India's Reporting on Rape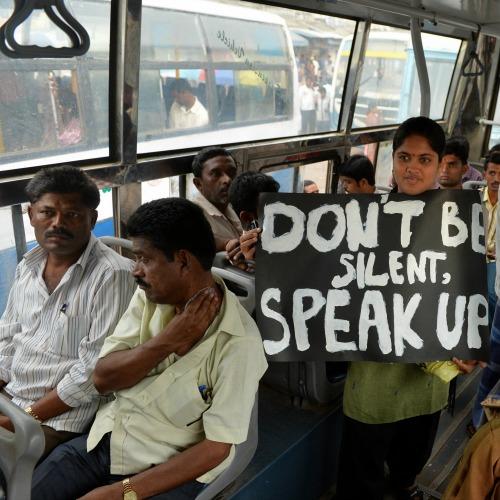 Transcript
BOB GARFIELD: On December 16th, 2012 at about 9:30 p.m. in New Delhi, a young woman and her male companion, on their way home from seeing Life of Pi at a mall, were picked up at one of the city's many private buses. Once on the bus, the boyfriend was bound and beaten unconscious by the six other male passengers and the woman was gang raped and beaten. An hour and a half later, the couplewere found where they'd been dumped on the roadway. Two weeks later, the woman died from the assault.
[CLIP]:
[CROWD HUBBUB]
MAN: An angry nation has come together for justice.
[END CLIP]
BOB GARFIELD: In Delhi, demonstrations lasted for months, igniting as much as any single incident could, a loud fractious dialogue about violence against women.
[SOUND OF ANGRY PROTESTORS]
CORRESPONDENT: There were furious protests earlier today, at Delhi Chief Minister Sheila Dikshit's residence, as well, and through the day the police had to use water cannons to restrain them.
[END CLIP]
BROOKE GLADSTONE: Response from the justice system was unusually fast. Within 24 hours, the perpetrators were arrested. Most cases take years to wend their way through India's courts. This took nine months, culminating in death sentences for four of the five living defendants. The sentencing judge said, quote, "In these times, when crimes against women are on the rise, the court cannot turn a blind eye to this gruesome act."
OTM Reporter Jamie York went to India this summer to report on what effect, if any, this crime had on India's media.
JAMIE YORK: That sentencing judge signaled the breakthrough for India's justice system, where the conviction rate for rape is pitifully low. But nobody knows of crimes against women are on the rise. India has no reliable data about sexual violence that I'm aware of. What India does have is page after page of reporting on rape in the newspaper, crimes against women, mostly urban middle class. It certainly feels like an epidemic.
MEENA MENON: You see the papers in Mumbai, the six pages of so-and-so's rape.
JAMIE YORK: Meena Menon writes for what might be India's most respected national daily, The Hindu, and she was part of the first real wave of women journalists in the 1980s. She began, as most journalists did then, by working nights at a Mumbai paper, monitoring the newswires and writing up breaking news until the shift ended at 2:30 a.m. But there were no trains until 3:30, so she and her women colleagues told their news editor:
MEENA MENON: We'll do it, provided you drop us home or you give us a place to stay. So he said no. Our news editor said, do you want to be raped? This was his question. And he found it funny. So I just said, no. So we used to sleep on the office tables.
JAMIE YORK: To him, it was a joke. But in the last 15 years, as Indian newspapers and television boomed, stories about crimes against women have grown into an audience draw. And they followed pretty much the same pattern.
MEENA MENON: You're not really giving a perspective and an understanding of why this is happening and how this must be prevented.
JAMIE YORK: On the occasions when a rape victim actually gets the police to hear her statement, called the First Incident Report, or FIR, it's likely to appear in its entirety in the newspaper, sometimes with her name, sometimes without, but with enough detail – her place of work, a photo of her address - that it might as well be her name. And, it's often insinuated that the victims are to blame. And then there's the term "Eve teasing," a British holdover. It's a biblical reference in a majority Hindu country. The idea that Eve likes to be teased by Adam is a media mainstay.
VRINDA GROVER: It is fed in a very, very large way by Bollywood cinema.
JAMIE YORK: Vrinda Grover is one of India's foremost attorneys.
VRINDA GROVER: The hero actually harasses the heroine, whether in public transport or on the road, and she keeps trying to shun him away. And then in the course of that song, the harassment seems to turn into a love affair. And that seems to have taken an unbelievable root in the public imagination of this country.
JAMIE YORK: She says the term is constantly invoked.
MEENAL BAGHEL: The police uses it, the judiciary uses it, the media uses it. Senior leaders in the Parliament joked and said, which man here has not stalked women, and stalking is the way we all go around making girlfriends.
MEENAL BAGHEL: It's one of the great Indianisms, you know. We, we have quite a few, and this is one of them. A, a large number of crimes go under the rubric of Eve teasing. This is one of the few newspapers that the word "Eve teasing" is banned. [LAUGHS]
JAMIE YORK: That's Meenal Baghel, one of the few newspaper editors in India. She oversees Mumbai's biggest tabloid, the Mumbai Mirror. She says the phrase "Eve teasing" was just one problem with the coverage. The other was that few editors have thought seriously about the line between reporting on gender crime and just printing rape accounts, short on context, long on titillating detail. Among those papers publishing First Incident Reports, or FIRs, was the Mirror.
MEENAL BAGHEL: I think it's out of ignorance. We use too much graphic detail. Look, auntie, we in this newspaper, which is edited by me, I mean, we've been in the past guilty of reporting an FIR in a rape case. We did that and we faced, you know, flack, and then I realized that it was a huge error on our part, because it was so graphic.
JAMIE YORK: For her whole career, Attorney Vrinda Grover has been trying to get the media to do away with terms like "Eve teasing: she knows the influence they wield. She watched as the public reaction to the Delhi rape case was fanned by wall-to-wall coverage.
VRINDA GROVER: It shook society. That definitely shook people out of their slumber, which was important. It did start a conversation.
JAMIE YORK: She saw the power wielded by the media spotlight, the benefits and the liabilities.
VRINDA GROVER: People were angry. That anger wanted to hang six men, wanted to castrate six men. It wanted to respond to the endemic violence with more violence.
JAMIE YORK: Likewise, if rape coverage, decontextualized but explicit, merely begets more of the same rape coverage, what is the point?
VRINDA GROVER: If each day you're going to only tell me so-and-so girl was raped, so-and-so woman got raped, so-and-so girl got raped, as a woman, when I read the newspaper, when my young daughter reads the newspaper, it's actually very, very disempowering.
I know that that is a large scale of violence against women. Please also tell me women are going and fighting about it. Please also tell me that women are being supported in this. Please tell me that the state structures are being compelled to do their duty.
JAMIE YORK: When the coverage of rape is market driven, it does not diminish the problem. Grover says she'll believe India's news outlets have learned something from the Delhi rape case that they, as they claim, support women, when they take on some of the most difficult aspects of Indian society.
VRINDA GROVER: You will have to support her, even if she is saying this is marital rape. Well, marital rape is an issue which gets most people in this country into a complete flurry. We will have to talk about rape when it is taking place in conflict areas. We will have to talk about rape when it is taking place to lower caste women. We have to talk about rape when it happens with a working class woman. We will have to talk about rape when it happens during a communal conflict, in which there are political parties and state powers involved.
We will have to talk about rape when the Indian Army is involved.
Only if we are going to talk about it across the board, are we going to challenge this rape. Otherwise, it's about there are some bad men who are doing this to woman, the rest of us are all all right as a society.
JAMIE YORK: Shoma Chaudhury has been reporting those stories for her whole career. She's the editor of Tehelka. It's one of India's few investigative magazines. Hers is a lucky position in Indian media. Tehelka focuses on corruption, women and the poor, while speaking to the powerful. But, as Chaudhury began reporting the Delhi rape case, she knew that providing that larger context, missing in so many stories, might seem like moral relativism, excusing evil.
SHOMA CHAUDHURY: Because there is a danger of looking at causes, because then you can explain away any act of violence.
JAMIE YORK: But she went to talk to the rapists' families, anyway. They were extremely poor but, in a crowded city, they could see how the other half lived.
SHOMA CHAUDHURY: And they are these boys who are living on the skin of, of the city, constantly exposed to its glamour and to its possibilities, and never yet able to make an entry into it. There were times when they couldn't find money to eat, but they were all superbly dressed, they were very interested in clothes. They were very interested in music, the latest Bollywood films. And it was particularly poignant because their victim was also somebody who came from a really impoverished background, but who was really rising up the ranks of possibility, you know.
So yes, their acts were demonic, but we'd be wild and stupid not to look at it and to fear what we are doing to own cities and definitely country, which is of putting an extremely volatile, combustible material in your fire, and that is of creating great desire. And yet, the only discourse became about, kill them now, you know, hang them up, why are we even having a trial?
JAMIE YORK: Whether you're a journalist in India, or elsewhere, you don't get to choose when public attention comes to an issue you care about. Something like the Delhi rape case happens, and you just hope you've laid the groundwork for a fuller understanding of the issue.
SHOMA CHAUDHURY: Right now, there is an environment where there is a focus on this issue, and it's long overdue. If people are suddenly aware that a lot of rapes happen in India, that's good. You may do nothing about it, but it stays as annoying sort of discomfort in you. And if that does, you know, you've achieved something.
JAMIE YORK: Chaudhury, Baghel and Menon are part of the first chapter of women in Indian journalism and, unsurprisingly –
[MUSIC UP & UNDER]
- they disagree about their responsibility to work in the service of their gender, and even about how much coverage enlightens and how much titillates. What they do finally agree on is the need to create stories that keep people reading, about the most vulnerable Indians and even the ugliest facts of Indian society. This is one of those moments that catalyzes change, where journalists force India to ask itself discomforting questions, why the crime happened, how the criminal justice system is responding, what it says about us. For On the Media, I'm Jamie York.
[MUSIC/MUSIC & UNDER]
BROOKE GLADSTONE: As we mentioned a few weeks back, Jamie's been a producer at OTM for nearly a decade, where he produced some of our memorable pieces, ones we love to replay, like his piece on the Uncanny Valley, that is, the problem Hollywood digital wizards confront when building a human being. As Ren Wechsler noted in Jamie's piece:
[03/05/10 CLIP]:
LAWRENCE WECHSLER: If we made it 95 percent lifelike, that was the best – oh, that was so great. If you made it 96 percent lifelike, it was a disaster. And the reason, essentially, is because a 95 percent lifelike robot is a robot that's incredibly lifelike. A 96 percent lifelike robot is a human being with something wrong.
[END CLIP]
BROOKE GLADSTONE: It was a fabulous listen, and much more than the sum of its parts, that went to the heart of human perception. Likewise, Jamie's piece on Border Radio was more than the quintessential tale of American hucksters selling salvation on the radio, in the form of various gods – or goat glands.
[MUSIC UP & UNDER]
In fact, it was about our shared longing to place our faith in something. We wanted to take a moment now to say a proper goodbye to Jamie, now deep into his next assignment. He was never a Dr. Brinkley hawking goat glands, he was more a Dr. Who, whose time machine was much bigger on the inside.
BOB GARFIELD: That's it for this week's show. On the Media was produced by Alex Goldman, PJ Vogt, Sarah Abdurrahman, Chris Neary and Laura Mayer. We had more help from Megan Teehan and Zac Spencer. And our show was edited – by Brooke. Our technical director is Jennifer Munson. Our engineers this week were Andrew Dunne and Doug Bressler. [?]
BROOKE GLADSTONE: Katya Rogers is our Senior Producer. Jim Schachter is WNYC's Vice President for News. Bassist composer Ben Allison wrote our theme. On the Media is produced by WNYC and distributed by NPR. I'm Brooke Gladstone.
BOB GARFIELD: And I'm Bob Garfield.