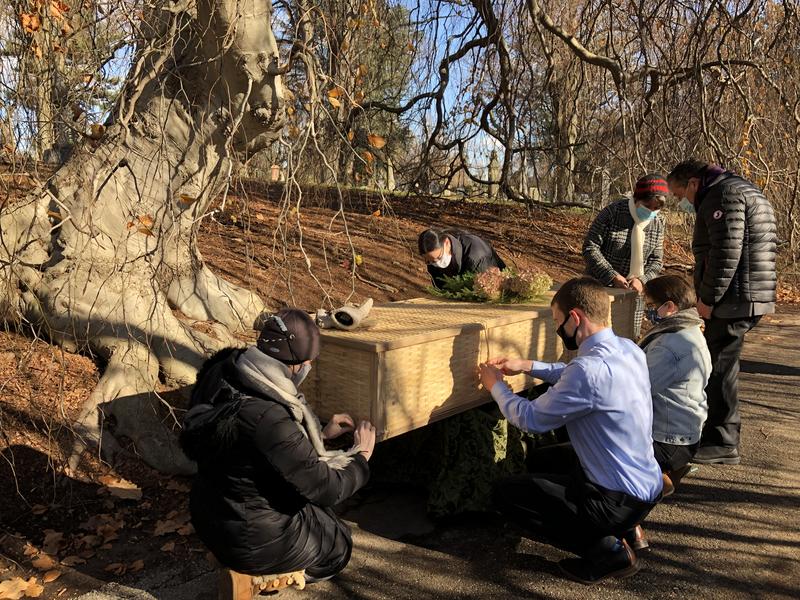 Transcript
BROOKE GLADSTONE Back in July, The Washington Post reported that several sources familiar with White House thinking were banking on Americans growing numb to the pandemic. And research does suggest that anything that is consistent can induce that effect. But the pandemics ebb and flow has hardly been that. And every death that every person experiences is unique and extraordinary. So let's talk about death. Our funeral industry is swamped. It can no longer swiftly separate us from the bodies of our loved ones and dispatch them. But there are movements long afoot that assert sweeping the remains out from under the bereaved does more harm than good. The death positivity movement is premised in part on the idea that Hands-On participation at home with the body chilled for a day or three on dry ice while preparing the casket or celebrating the life lived is a far better farewell. The Green Burial Movement encourages giving back to the planet by returning the body directly to the soil or from ashes to ashes. Amy Cunningham is a practitioner of all these movements, including the dry ice preservation technique originating in Southern California. She's a death educator, a funeral director and owner of Fitting Tribute, Funeral Services in New York City.
AMY CUNNINGHAM At first, when the coronavirus hit as an eco friendly funeral director, I felt like I had very little to offer. But then when I found myself on the telephone with a man in the Bronx whose mother in law was dead in the house of the coronavirus, the medics had come and pronounced the death and turned him over to find a funeral director to come collect her. And every funeral director in New York had 15 cases ahead of his. He found when I told him I couldn't help him immediately, he said, well, ordinarily we would have a wake. And I said, Listen to me. She's in the bed, she's dead. This is your wake, put on music, get clergy on face time, allow your wife an opportunity to grieve, keep your masks on. And I helped them find a way to navigate that terrible moment when they felt so hopeless. I think if I hadn't had experience in home based funeral design, I wouldn't have known to tell them to make that moment a meaningful experience that you didn't have to wait for a funeral director, that he could take the reins right there, celebrate this woman and honor her.
BROOKE GLADSTONE It seems in a way reminiscent of rituals from a long time ago, maybe centuries ago, when all over the world and still in many places, people are more used to confronting death, both the pain of it, the omnipresence of it and the inevitability of it. You know, before this interview, I went back and looked at some ancient rituals. In many places, women were expected to suffer more isolation and discomfort than men, even as late as Victorian times. But at least no one would have told a Victorian woman to hurry up and get over it.
AMY CUNNINGHAM Bereavement experts now say that the Victorians were not as crazy as we laughed them off to be. That there's something very beautiful about changing the way we dress, announcing - things are different around here. There are little buttons now that say I'm grieving, go gentle. You can also put a wreath on your door, some kind of announcement that you are walking through this doorway, a changed person. At the height of the crisis, I told a gentleman on the Upper East Side whose wife was dying of cancer, in the midst of all this, I said, when it happens, when she dies, call hospice, report the death, but then take yourself to the eighteen hundreds. You're in the home. You can light candles and you can make this as beautiful as you want it to be. Just take it back in time and you know what to do. It's in your bones. People have been dying and honoring the dead for a long, long time.
BROOKE GLADSTONE I'm not an observant Jew, but when my parents died, I was so appreciative of the rituals, the piece of black torn cloth. You didn't have to wear it so that it could be seen, but you wore that for a prescribed time. There was the unveiling of the tombstone, after a year. There were stages to grief and I found it profoundly comforting.
AMY CUNNINGHAM The Jewish protocol has phases and moments and particular days of commemoration. So to we need to see a death in the family as the launching of moments. Each of which could have ceremony and ritual attached. The moment at the bed, the moment at the gathering. If none of these moments are as you would have hoped, there are other moments that you can create. The first birthday after the death. We're going into the holiday season, a lot of people are deeply, deeply grieving. A holiday without someone. Photos, recipes, all kinds of homebound things can support us. You can bring all the elements of nature and play the out of doors are enormously important to us all, and we were so close to our computers and are closer to them than ever, perhaps. But now is such a vitally important time to step outside and be in the weather. I personally, as a funeral director, I've got to get warmer boots, long underwear. I'm going to be outside for the rest of the season. But once you're out, they're bundled up and with a thermos of hot tea. You recognize that? Gosh, I wouldn't have had it any other way.
BROOKE GLADSTONE But what about corpse aversion? Many of the rituals you talk about would just sound macabre to many people living in the US today. When my father died, we called the funeral home and they came and basically zipped him up in a, what looked like a garment bag and took them away. And I thought there must be a better way. But three days in a bed seems like a lot. What are you do about the fact that corpses in our culture are not a sign of affirmation?
AMY CUNNINGHAM We like things pretty in our culture. We put makeup on to look less old, but there are such powerful lessons to expanding our definition of what beautiful is. And I've been surprised the natural body isn't always gorgeous, but there's some aspect of it that has appeal, even if it's just a wrinkled, weathered hand that you've grown up with and held for so many years. It's not for the faint of heart, I guess, but there are signals the body gives us that it's time to separate and we are not our bodies. A rabbi in Brooklyn Heights named Rabbi Serge Lipp taught me to say at funerals that we don't cremate people, we don't bury people, we bury and cremate bodies. It's the bodies we separate from. A lot of people are coming to me lamenting the fact that they weren't able to have a proper farewell. Many of them haven't been able to say goodbye in person. And some of these people may not believe in God, so they're there at sea because they don't know where that person is. So I try to tell them and I haven't figured it out completely. I wish I could say they're there for you. The relationship will continue and you can grow within it. And you may be astonished to find that even that person you're missing is still growing. As you live on the rest of your life. You'll be in conversation with that loved one.
BROOKE GLADSTONE When I was talking to our producer, Michael, lowinger about the pain he wasn't feeling and how he was worried about it and wondering about what value that pain had. I was thinking about it and I was reminded of this poem by Pablo Neruda called The Dead Woman. And if you'll indulge me.
AMY CUNNINGHAM Yes, please.
BROOKE GLADSTONE If suddenly you do not exist, if suddenly you no longer live, I shall live on, I do not dare, I do not dare to write it. If you die, I shall live on. For where a man has no voice there. My voice where blacks are beaten. I cannot be dead. When my brothers go to prison, I shall go with them, when victory, not my victory, but the great victory comes. Even though I am mute, I must speak. I shall see it come even though I am blind. No, forgive me if you no longer live, if you beloved my love, if you have died, all the leaves will fall in my breast, it will rain on my soul night and day. The snow will burn my heart. I shall walk with frost and fire and death and snow. My feet will want to walk to where you were sleeping. But I shall stay alive because above all things, you wanted me indomitable, and my love, because you know that I am not only a man, but all mankind.
AMY CUNNINGHAM Wow, it's beautiful. Confronting death is sort of a key to unlocking and entering into a house of empathy and caring. When we're so angry and alienated from each other, perhaps of the deaths surrounding us will enable us to communicate, caring that we all share, and I hope through this national grieving process and I hope that our new president as a griever-in-chief, will perhaps be able to guide us through the coming year. I engage in my work with such deep appreciation because a good grief sharing event can send you out into your own life with a different approach. And yes, we're facing each other on Zoom and speaking to our losses as articulately as we can. But even that kind of event can set you off into having a better life in the time you have left. So many people are saddened, they feel that their loved one died alone, but my observations of the dying process and my work with families grieving a loss has taught me that we all die alone. We lift off from this planet and all the harsh realities. I think we move into a different space and it's OK that we do that by ourselves. There's a beautiful poem that's another great one, like the Neruda called The Long Boat by Stanley Kunitz. When his boat snapped loose from its mooring under the squeaking of the gulls, he tried at first to wave to his dear friends on shore. But in the rolling fog, they had already lost their faces. Too tired even to choose between jumping and calling. Somehow he felt absolved and free of his burdens, those mottos stamped on his name tag. Conscience, ambition and all that caring. He was content to lie down with the family ghosts in the slop of his cradle, buffeted by the storm, endlessly drifting. Peace. Peace could be rocked by the infinite, as if it didn't matter which way was home, as if he didn't know he loved the Earth so much he wanted to stay forever. It's like as you lift off from all that caring, you stop remembering that you really didn't want to die. I was lecturing and we were talking about home funerals and dry ice layouts in the house, and I said, you know, truthfully, even though I teach this stuff, I'm not sure I want to be laid at my house with my husband and my kids put dry ice around me. As much as I like that for others, I said for one reason, I still rather vain and I want to be seen when I look my best. And a woman in the back row raised her hand and shouted, You'll get over that.
[BROOKE LAUGHS]
AMY CUNNINGHAM So it's caused me to think, oh, gosh, we the to be liberated from caring how I looked.
BROOKE GLADSTONE Amy, thank you so much.
AMY CUNNINGHAM Thank you.
BROOKE GLADSTONE Amy Cunningham is a death educator, funeral director and owner of Fitting Tributes Funeral Services in New York City.
And that's the show. On the Media is produced by Alana Cassanova-Burgess, Micah Loewinger, Leah Feder, Jon Hanrahan, and Eloise Blondiau with help from Ava Sasani. Xandra Ellin writes our newsletter. Our technical director is Jennifer Munsen. Our engineers this week were Sam Baier and Josh Hahn. Katya Rogers is our executive producer.
On the Media is a production of WNYC Studios, Bob Garfield will be back next week.I'm Brooke Gladstone.
Copyright © 2020 New York Public Radio. All rights reserved. Visit our website terms of use at www.wnyc.org for further information.
New York Public Radio transcripts are created on a rush deadline, often by contractors. This text may not be in its final form and may be updated or revised in the future. Accuracy and availability may vary. The authoritative record of New York Public Radio's programming is the audio record.