How an OTM Reporter Became Part of One of the Biggest January 6th Trials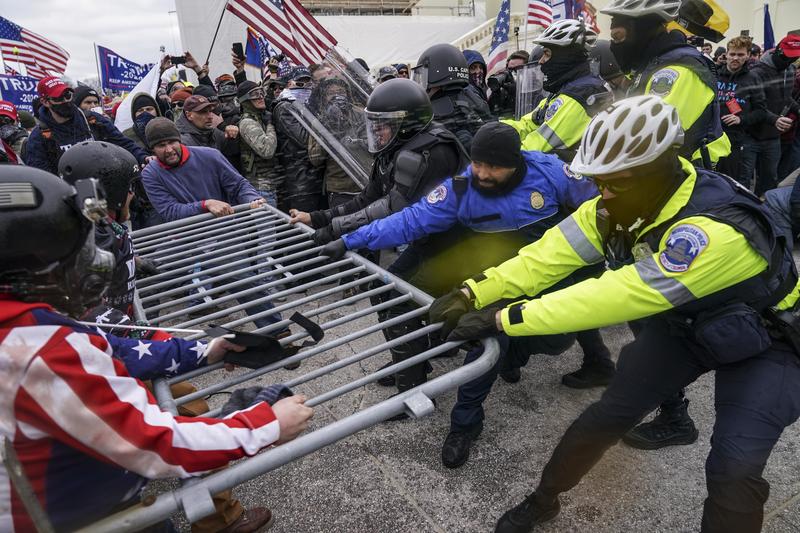 Transcript
Micah Loewinger: Hey. Micah Loewinger here. As you'll hear in a minute, this week's episode of On the Media is the culmination of three and a half years of reporting. Reporting that made a difference. Reporting that our listeners have helped support with their donations. Thank you to every single one of you that has contributed to our show. If you're listening now and you know that you haven't chipped in, now is a great time to do it. Go to onthemedia.org to donate or text OTM to 70101. It's really just that easy.
Over the next hour, you'll hear reporting that is the hallmark of public radio, careful and thorough, and asking questions you want answers to. If you're wondering how we spend your money, let me reassure you that this is a bare-bones operation over here. No first-class travel or accommodations, no fancy dinners on expense accounts, no frills of any kind. We're just seconds away from the show, so let me remind you of the details of how you can go from OTM listener to OTM supporter. Go to onthemedia.org and hit Donate or text OTM to 70101. Thank you so much. Okay. On with the show.
[music]
Micah Loewinger: On January 6th, 2021, I recorded the secret communications of the Oath Keepers.
Jessica Watkins: We have a good group. We got about 30, 40 of us who are sticking together and sticking to the plan.
Micah Loewinger: Two years later, that audio was a key piece of evidence that sent a militia leader to prison. From WNYC in New York, this is on the media. I'm Micah Loewinger. On this week's show, I explore what happens when journalists are compelled to testify in court.
Earl: You're in an awful situation because you're at the top of your career and all of a sudden they're saying something that could get you killed.
Micah Loewinger: Plus, I spoke to Tasha Adams, the ex-wife of Stewart Rhodes, who was just sentenced to 18 years in prison this week about her life with the founder of a far-right militia group.
Tasha Adams: I helped start this. I helped start this, it turned into that and people died that day. Would this have happened had I not supported Stewart?
Micah Loewinger: It's all coming up after this.
[music]
Brooke Gladstone: From WNYC in New York, this is On the Media. I'm Brooke Gladstone. Our show this week is the final chapter of an investigation that started back in 2019, an investigation that contributed to the first big January 6th sentences announced this week.
Male Speaker: The founder of the far-right Oath Keepers' militia, Stewart Rhodes, was sentenced to 18 years in prison for seditious conspiracy. That's the stiffest penalty yet in the January 6th investigation.
Female Speaker: Jessica Watkins was sentenced to eight and a half years behind bars.
Brooke Gladstone: That last name, Jessica Watkins, you might recognize from our show. OTM correspondent Micah Loewinger was monitoring a walkie-talkie app called Zello during the insurrection and recorded her real-time chatter with other Oath Keepers.
Jessica Watkins: We have a good group. We got about 30, 40 of us who are sticking together and sticking to the plan.
Brooke Gladstone: Because of his reporting, part of a long collaboration with researcher and journalist Hampton Stall of MilitiaWatch, Micah was sucked into the Oath Keepers federal investigation and criminal trial. It's quite rare for a reporter to be called as a federal witness or to have his journalism scrutinized in a criminal trial, let alone such a high-profile one so we asked Micah to document his experience.
Male Speaker: The story will continue in a moment.
Micah Loewinger: In April 2021, a few months after the insurrection, I was on 60 Minutes.
Female Speaker: On January 6th, Micah Loewinger found an open stop, the steal conversation going on among a hundred people on Zello, and started recording.
Micah Loewinger: It wasn't until a couple days later that I started to-- A few months later, an assistant United States attorney, one of the prosecutors spearheading the Oath Keepers criminal cases at the time, reached out to me to tell me he had seen me on TV and he wanted to talk on the phone about the Zello tape.
[music]
I thought maybe if I got this guy on the phone, I might be able to glean some useful information about the investigation that would help my own reporting. Maybe even a juicy scoop. I wasn't interested in giving him the Zello tape. I don't believe journalists should work with law enforcement in any capacity. When I responded saying I could make time for a chat, he replied saying that he had forgotten to mention that the lead FBI agent was also interested in speaking with me. I got lightheaded reading this. The FBI? My fear was that they would come up with a reason to take my phone and computer, use the Zello stuff as a pretense to get access to all my interviews and notes related to the insurrection. "I had done my job," I thought, "and now it was time for the FBI to do their job without me."
[music]
I consulted with some colleagues at WNYC and we decided to just put the full unedited Zello recording online, that way, anyone, including investigators, could access the material without me having to act as a middleman. I uploaded the two-plus hours of Zello audio to SoundCloud and a video screencap of the app, just as I had seen it, to YouTube. I didn't talk with the prosecutor, but I sent him a link to the now public audio and I thought that would be the end of it.
[phone ringing]
Brooke Gladstone: Hi, Micah.
Micah Loewinger: Hey, Brooke. What's going on?
Brooke Gladstone: Nothing much.
Micah Loewinger: Do you have a quick second?
Brooke Gladstone: Sure.
Micah Loewinger: Okay. I think I was just subpoenaed.
Brooke Gladstone: Call me back in five.
Micah Loewinger: Okay. Sounds good. Bye.
[music]
Micah Loewinger: This is a call from August 15th, 2022, over a year and a half after I first heard from the feds. It turns out just having access to the audio wasn't enough for the Justice Department. To play the tape for the jury as evidence in the Oath Keepers criminal trial, the government needed somebody to take the stand and verify its authenticity. As the person who made the recording, I was the only one who could do it. When the DOJ asked if I would testify voluntarily, my lawyer declined on my behalf pointing to the importance of journalistic independence. Hence, the subpoena.
Brooke Gladstone: The value of your testimony is limited. They're asking you for a little bit about your process of recording it, but you're not giving them any information beyond what any of our listeners heard.
Micah Loewinger: My concerns are still like all of the coverage around the January 6th stuff has been so heated, particularly when it comes to the defendants, the people in prison.
Brooke Gladstone: You stuck yourself into something heated, right?
Micah Loewinger: Yes.
Brooke Gladstone: You're a reporter. You uncovered stuff that other people hadn't talked about. That's good.
Micah Loewinger: Brooke felt I should stop worrying and just enjoy the attention I was getting for my work, but it was the attention that was making me worry. In the words of another reporter on this beat, if you testify in this case, no right-wing sources are going to talk to you ever again. They're going to think you're a fed. In fact, this exact suspicion started before I even testified.
Female Speaker: We need a lot more answers about how many FBI agents, not just were involved that day but months beforehand, including the infiltration in these alleged militia groups.
Micah Loewinger: This is one of the far-right reporters who claims the events of January 6th were set in motion by the government. She wrote an article suggesting that I had been tipped off by undercover agents so that the feds could entrap well-meaning patriots. Needless to say, that's a dumb conspiracy theory. I didn't want my participation in the trial to help any other conspiracy theories take hold, but I didn't see a clear alternative. If I didn't comply with the subpoena, I might face the same consequences that, say, Judith Miller did in 2005 after she refused to testify before a grand jury.
Female Speaker: Judith Miller, a Pulitzer Prize-winning reporter for the New York Times was sent to jail yesterday after she refused to identify a confidential source.
Micah Loewinger: My situation was very different. I had no source to protect. I really had nothing to hide, so going to jail would be a pointless stunt. I spoke with someone intimately involved in the Judith Miller case who told me that trying to fight these kinds of subpoenas in court often wastes a lot of time and resources. I decided to just testify and get it over with begrudgingly.
Anna Sale: What I hear you saying is it doesn't seem like a good look to be a government witness when you're an independent investigative journalist.
Micah Loewinger: This is Anna Sale, host of the podcast Death, Sex & Money, which is produced by the same shop as OTM. Anna and I reported a piece together about the Oath Keepers that you'll hear later in this episode.
Anna Sale: Federal trials usually don't let cameras or even audio recordings of their proceedings so I want you to help us set the scene.
Micah Loewinger: I showed up to court. They assigned an FBI agent to me to walk me around so that they can make sure you don't talk to any other witnesses. Your testimony can, in theory, be influenced by watching the trial and by speaking to people involved in the trial. They put me in a witness waiting room for three or four hours. They gave me a fidget toy, like a finger trap with a marble in it and so I just nervously played with that for three hours.
By the time I showed up to testify at the federal courthouse in October 2020, I had met with the lead prosecutor, assistant US attorney Jeff Nestler and an FBI agent who sat to the side quietly scribbling on a notepad as I recounted my experience of January 6th. They asked me about some records they gotten from Zello, the company. It was the back end of my years using the app. They had a list of users I had messaged on the app. A list of the exact moments to the minute I had Zello open on my phone in the days leading up to January 6th. Maybe I should know better, but I was shocked to see just how easy it was for the government to access some of the personal data related to my reporting.
Anna Sale: What did you wear?
Micah Loewinger: I wore a standard suit.
Female Speaker: Wait. Why does that make you laugh?
Micah Loewinger: I don't know, just because I'm not a super serious person. I don't have a serious side to me, but I felt like I was like this kind of a man-child dropped into a very serious situation.
Anna Sale: Where did you focus your eyes when you were answering questions?
Micah Loewinger: I looked mostly at the prosecutor because it's a kind of Q&A format. "Mr. Loewinger, is it true that you work On the Media?" Yes. At one point, the prosecutor was like, "Mr. Loewinger, did you win an award for this reporting?" Before I could answer yes, the defense was like, "Objection." Like standing up. They ask me about getting banned from this group and rejoining it under a different name. The prosecutor said like, "Why were you banned?" I said, "Because it's my job as an investigative reporter to listen in on conversations that people don't want me to hear."
Anna Sale: Who was sitting at the criminal defendants' table? How many criminal defendants were in the room?
Micah Loewinger: The only one that I recognized was Stewart Rhodes, the founder and leader of the Oath Keepers who was a defendant himself. I recognized him because he wears an eyepatch. When the prosecutor ask me like, "Have you been banned from these channels in the past?" I said, "Yes." I heard him snicker to himself quite loudly. When he later took the stand, he didn't say anything about me. He did say that he was under the impression that journalist were trying to infiltrate the Oath Keepers at all times, and so perhaps that confirm some of his paranoia and that's why he laughed.
Roger Parloff: You sounded uncomfortable in a good way. You were walking align because you're a journalist and you don't want to sound like you're in there for the government.
Micah Loewinger: This is Roger Parloff, senior editor for Lawfare. He watched my testimony. Jessica Watkins's testimony and testimony from an FBI agent who took the stand to play the Zello audio for the jury.
Jessica Watkins: We have a good group. We got about 30, 40 of us.
Roger Parloff: What you hear on that tape-
Jessica Watkins: We're sticking together and sticking to the plan.
Roger Parloff: -is unambiguous in terms of a plan to invade the capital, so it was a very powerful piece of evidence.
Micah Loewinger: If it was so powerful then, why did Jessica get off easier than Kelly Meggs and Stewart Rhodes? They were charged with seditious conspiracy and she was not.
Roger Parloff: Correct. Now she was convicted of two other conspiracies of course. Conspiracy to prevent federal officers from discharging their duties that refers to both congressmen and police officers, and the substantive count of obstructing an official proceeding. As far as this seditious conspiracy, they apparently didn't feel there was proof beyond a reasonable doubt. She did testify as you said and there were aspects of her biography that were sympathetic.
Micah Loewinger: What about it stuck out to you?
Roger Parloff: She's a transgender woman and her parents had disavowed her. When she was in the military and she was beginning to have these thoughts about who she was, another soldier confronted her, called her crude names. She was afraid for her life, she went AWOL, she was discharged. She did turn to the transgender community, but it wasn't her either. The transgender community to her was very touchy-feely. It was usually left of center and here she is, she wants her own militia. She really didn't fit in anywhere and then COVID hits. She ran a bar, and so the bar had to close and she was in hard straits. I think the jury could have felt for her as leading a very, very difficult life.
Micah Loewinger: It was impression that she was less involved in a lot of the higher level planning, as oppose to Meggs and Rhodes.
Roger Parloff: Regardless of what role she played in the planning, she was one of the most violent because she led her group toward the senate side when she got inside and really led them in a violent push against a group of riot police.
Micah Loewinger: After the jury handed down its verdict, the government prepared a 183 page recommendation for the judge making it's case for 18 years of jail time for Jessica Watkins. The Zello tape was referenced four times in the section where the DOJ outlines the sentencing point system, converting testimony and evidence into units of time behind bars.
Roger Parloff: They treat her as a leader the same as Rhodes and Meggs, so they each get a four-point enhancement. As far as terrorism, they give her a three point enhancement which is slightly less than Meggs with four and a good bit less than Rhodes at 6.
Micah Loewinger: Seeing my reporting factored into this cold hard math has left me with complex feelings. I believe there should be consequences for the illegal and anti-democratic violence that took place on January 6th, but I also think our criminal justice system is deeply flawed. It's often racist, and cruel, and often fails to rehabilitate people. I'm really proud my work had an impact and that I could help show America what the militia movement really represents, but I didn't get into this line of work to play such an active role in locking people up. I realize now that I was naive. I wanted to believe that the end game of journalism is truth, but sometimes it's prison.
Brooke Gladstone: Coming up, when the FBI tried to turn a reporter into a spy, he took them all the way to the Supreme Court. This is On the Media.