How Hacked Records Revealed Oath Keepers Ties With Police Departments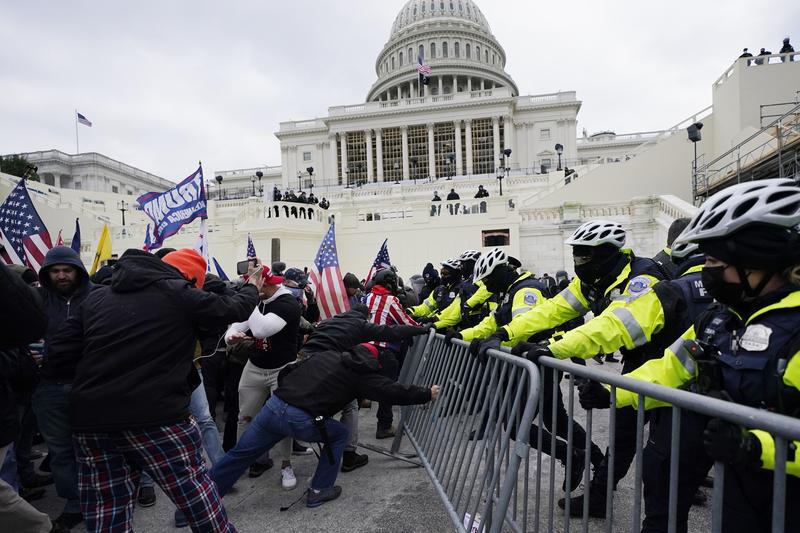 Transcript
BROOKE GLADSTONE We owe the new wave of scrutiny surrounding tax havens and Facebook to whistleblowers and leakers who've supplied journalists with truckloads of valuable records. And even as we speak, reporters and researchers are unearthing revelations about far-right groups whose secrets were recently dredged up in what's known as the 'epic hack.'.
[CLIP]
NEWS REPORT Fallout continues after a hacking group named Anonymous took responsibility for a massive data breach of Epic, an internet company that registers website domains.
NEWS REPORT Let me list you a few of these domains. Infowars, One American News, AR-15.com, The Proud Boys, the Oath Keepers, Patriots.win, BitChute, 8chan, Gab, Parler and others.
NEWS REPORT The data that's been released is enormous. It includes tons of personally identifying information such as usernames, passwords, financials, including current credit card numbers. But all these pieces that researchers say can really help fill out the puzzle on who's involved in far-right movements, how they're connected to each other and where the money's coming from. [END CLIP]
BROOKE GLADSTONE That leak was just one in a string of 2021 hacks into right wing websites like Parler, Gab, and GiveSendGo, the crowdfunding site used for the defense of Kenosha shooter Kyle Rittenhouse. And the hacks have had consequences.
[CLIP]
NEWS REPORT The police officer is fired after reportedly donating to the Defense Fund of a teen charged with killing two people in a protest against police brutality.
BROOKE GLADSTONE At the heart of all this coverage is a transparency nonprofit called Distributed Denial of Secrets or DDoS, which doesn't do the hacks themselves, but does make the information available to journalists and researchers. One of their latest releases caught the eye of On the Media correspondent Micah Loewinger, who's been tracking far-right military groups like the ones that stormed the Capitol on January 6th. He dove into the militia data looking for clues about the relationship these groups have with law enforcement.
MICAH LOEWINGER Last week, when I saw DDoS Secrets had uploaded this new batch of militia records, I booted up a Tor browser and downloaded the files from the dark web. And there it was. Five gigabytes of emails, instant messages and membership logs allegedly belonging to the Oath Keepers. Yeah, those guys.
[CLIP]
NEWS REPORT The far-right extremist group the Oath Keepers appeared in federal court. They face charges of conspiracy and breaching the Capitol during the January 6th insurrection. [END CLIP].
MICAH LOEWINGER Oath Keepers have said many of their members were active police and military. Government employees in an anti-government militia, but journalists and researchers haven't been able to verify the group's claims until this data showed up. I started digging into this alleged membership list featuring thousands of people who paid membership dues dating back to 2011.
GEORGE JOSEPH There's a lot of names. A lot of people are going to be doing this. We need to start working really quickly.
MICAH LOEWINGER This is George Joseph at WNYC Reporter who covers the NYPD.
GEORGE JOSEPH I'm a local reporter, so normally I'm covering things that are happening in our courts and just in the streets of New York.
MICAH LOEWINGER George suggested we look up every name in the list with a New York address using Google and a database of public employees, which we did one by one by one, all three hundred and fifty-plus names.
GEORGE JOSEPH And we found a good number of people who were currently in or formerly involved in police departments, corrections officers' groups, court officers groups, people who had appeared to have signed up for the Oath Keepers from New York all over the state.
SAM JACKSON I think that information is alarming, but not at all surprising.
MICAH LOEWINGER Sam Jackson is a professor at the University of Albany. He's also the author of the book Oath Keepers: Patriotism and the Edge of Violence in a Right Wing Anti-Government Group.
SAM JACKSON It specifically tried to target current and former members of law enforcement and the military to join the group. The idea being military and law enforcement have sworn an oath to support and defend the Constitution against all enemies. Foreign and domestic and Oath Keepers has a very particular, and I would say, unconventional understanding of what that oath means.
MICAH LOEWINGER Jackson says. The Oath Keepers and other so-called Patriot groups can mislead the press, the public and even their own members by hiding their far right beliefs in innocuous language. Take a listen to this interview with the Arizona Oath Keepers chapter on 60 Minutes in April.
[CLIP]
CORRESPONDENT Do you all think that we are in the middle of a civil war?
OATHKEEPER I think that we are. We've got good versus evil right now going on in our country.
CORRESPONDENT Who do you view as evil?
OATHKEEPER Anybody that doesn't support our constitution and follow what they're trying to change it. [END CLIP]
MICAH LOEWINGER Of course, the Constitution is a living document, as they say– even the Second Amendment was a change. And by defending a staunchly conservative interpretation of the Constitution, the Oath Keepers have put themselves in some dicey situations.
SAM JACKSON In some cases, they situate themselves in explicit opposition to law enforcement. A really concrete and concise example of that was Kim Davis, who refused to issue same-sex marriage licenses in the aftermath of the Supreme Court decision, finding that LGBTQ Americans have a constitutional right to not be discriminated against in terms of legal marriage.
[CLIP]
KIM DAVIS I can't put my name on a license that doesn't represent what God ordained marriage to be. [END CLIP]
SAM JACKSON She was found in contempt of court, and in response to that, Oath Keepers said, We think this is judicial tyranny. We are publicly offering armed security for Kim Davis, and we will protect her from any U.S. marshals that try to enforce such an illegal and unjust court order. That's a really big problem.
MICAH LOEWINGER This was the sort of conflict of interest that we had in mind when George and I started reaching out to the names on the hacked Oath Keepers list. Like this guy? Thomas Schmidt, the GOP candidate for Queensborough president.
[CLIP]
THOMAS SCHMIDT Who's calling.
MICAH LOEWINGER Hey, my name is Micah Loewinger. I'm a reporter with WNYC. I'm working on a story about Oath Keepers in the New York area.
THOMAS SCHMIDT Right?
MICAH LOEWINGER Are you a member of the Oath Keepers?
THOMAS SCHMIDT As of right now, no.
MICAH LOEWINGER When did you stop your membership?
THOMAS SCHMIDT Three years ago
MICAH LOEWINGER Three years ago, and why did you stop?
THOMAS SCHMIDT The chapter dissolved.
MICAH LOEWINGER And how do you feel about the fact that Oath Keepers have been indicted for storming the Capitol on January 6th?
THOMAS SCHMIDT Yeah, that's a damn shame, really. You know, it's a PR problem right there because I don't believe anybody who was, you know, me personally, people, I know they were all good people as far as I'm concerned that were in the Oath Keepers, and if people like that did what they did. They made their own decisions. You know, that was their own prerogative, what they did. [END CLIP]
MICAH LOEWINGER Another name in the membership logs, Ed Keyrouze, chief of staff for the New York Guard George Joseph explains.
GEORGE JOSEPH We found one guy, Ed Keyrouze, who admitted to us that he had signed up for the Oath Keepers, claim that he was no longer affiliated with them, but in the membership logs associated with his name, the logs refer to his ability to recruit people who are in the New York guard, military, defense volunteer and military forces. The Air Guard, the army, the Coast Guard.
MICAH LOEWINGER In an email, Keyrouze said he only paid membership dues for one year after signing up online several years ago. He said he was never active in the group, and I have no way of verifying that claim because the logs appear to only show when someone signed up. Anyway, this is what happened when we reached out to two active NYPD officers whose names also showed up in the records.
[CLIP]
OFFICER Hello.
MICAH LOEWINGER Hi, is this officer ––?
OFFICER Who's calling?
MICAH LOEWINGER Hi, my name is Micah Loewinger, I'm a reporter with WNYC. I have my recorder running. I'm working on a story about Oath Keepers and NYPD. Are you a member of the Oath Keepers?
OFFICER How did you get my number?
MICAH LOEWINGER I obtained a membership log of Oath Keepers, which had your name and contact information.
OFFICER Yeah. No, don't call me again. Appreciate it.
MICAH LOEWINGER Are you a member of the Oath Keepers? [OFFICER HANGS UP] [END CLIP]
GEORGE JOSEPH Another of the officers whose name matched that of a person in the Oath Keepers membership logs was one who was in the Strategic Response Group, which is a unit that the NYPD has deployed over the years to quell protests. It has been very controversial. They wear sort of specialized gear, and they've been accused of brutality in many instances. So it was interesting to find that someone who is part of this sort of alleged anti-government right wing organization potentially was involved in that kind of work on the force.
MICAH LOEWINGER But when I called up the person in question, I got the same response. No comment. Click And that's to be expected, I guess. New York cops are trained not to talk to the press, and since we couldn't confirm they were members of the Oath Keepers, we chose not to name those two NYPD officers. But before publishing our findings in Gothamist, WNYC's partner publication, we reached out to the mayor's office for comment, which led to this.
[CLIP]
NEWS REPORT New York City Mayor Bill de Blasio has launched an investigation into the NYPD.
NEWS REPORT Mayor Bill DeBlasio says any ties to Oath Keepers will disqualify the officers from serving the city.
BRIAN LEHRER Your office has launched an investigation, you confirmed. But could you tell us more about the scope of that investigation? [END CLIP]
This is WNYC host Brian Lehrer interviewing Mayor DeBlasio last Friday.
[CLIP]
BRIAN LEHRER Will it be limited to just the two officers the story mentions, or will it involve going into the data and looking for more possible names?
MAYOR DeBLASIO If we confirm that any police officer has pledged allegiance to Oath Keepers and to those values, then it's time they'll be. They'll be due process. Of course, they deserve a trial, but we're not going to go through all the ranks NYPD looking for what people's political values are. That smacks of McCarthyism to me. And I said yesterday my parents went through the McCarthy era and were victims of the McCarthy era. I'm not going to start a new progressive vision of the same thing [END CLIP]
MICAH LOEWINGER After we broke this story. A flood of reports began uncovering other potential law enforcement ties across the country. An editor at a major Utah newspaper messaged me asking for advice for how to do this type of reporting in his state. BuzzFeed News found names matching officers in Washington state and Louisiana who are being sued for civil rights violations. And USA Today wrote about ties between the group and a sheriff in Southern California.
[CLIP]
NEWS REPORT Riverside County Sheriff Chad Bianco is one of hundreds of law enforcement officials caught on a list of leaked membership records for the Oath Keepers.
NEWS REPORT He says he did pay for a one-year membership to the group back in 2014, but while he's distancing himself from the Oath Keepers, he doesn't disavow them either. Saying, quote, "what happened on January 6th by a few people should have nothing to do with something I did in 2014 with an organization that supports the Constitution." [END CLIP]
SAM JACKSON I'm not particularly optimistic that a leaked membership log will spur law enforcement around the country to think about this issue.
MICAH LOEWINGER Sam Jackson.
SAM JACKSON There is a long history of law enforcement agencies and individual members around the country being involved in extremism. This isn't new by any means, and this particular form of extremism is one that is politically contentious. There is not agreement that Oath Keepers, for example, are extremists the same way that there is agreement that ISIS is a terrorist.
MICAH LOEWINGER OK, so it's completely futile.
SAM JACKSON It's not completely futile. I can certainly imagine that New York City takes action regarding this sort of thing in a way that lets say a county sheriff's office in upstate New York doesn't take action, right? That the politics of the context are just different. I think that systemic change in law enforcement will only happen when we have systemic change in American political culture.
MICAH LOEWINGER I also wasn't surprised by the notion that cops might be members of the Oath Keepers, but I'm going to share something that might make me sound kind of naive, as we dug into the names on that hacked list it was the broader picture that gave me pause. Programmers, nurses, doctors, lawyers, security guards, investment bankers, carpenters, CEOs, blue collar, white collar, rural and urban. There's a guy in the list who lives on my street in Brooklyn. Oath Keepers shown to undermine the rule of law in the name of a distorted, diminished constitution. It turns out we don't live in a bubble, after all. Even in Brooklyn. Well, I'm glad I know, I guess. For On the Media, I'm Micah Loewinger.
BROOKE GLADSTONE Actually, the theme of the whole show turned on the vital news that whistleblowers and hackers provided us to enable us to catch a glimpse of the faces some of us keep hidden from those who would judge us or confront us or arrest us. The Oath Keepers, who resist the rule of law in the name of law, but also Facebook, which knew very well what harm it was causing. The world leaders and the politicians, movie stars, mob figures, lawyers and bankers who hid taxable income that could have materially improved the lives of fellow citizens. In essence, it's about the debt we owe to each other and the lengths that some of us will go to ignore it.
That's it for this week's show. On the Media is produced by Leah Feder, Micah Loewinger, and Eloise Blondiau, Rebecca Clark-Callender and Molly Schwartz with help from Juwayriah Wright. Xandra Ellin writes our newsletter, and our show is edited by Katya and me. Our technical director is Jennifer Munson. Katya Rogers is our executive producer. On the Media is a production of WNYC Studios. I'm Brooke Gladstone. And after a summer off, I'm glad to be back.