How the Far-Right Media Spin Trump Chaos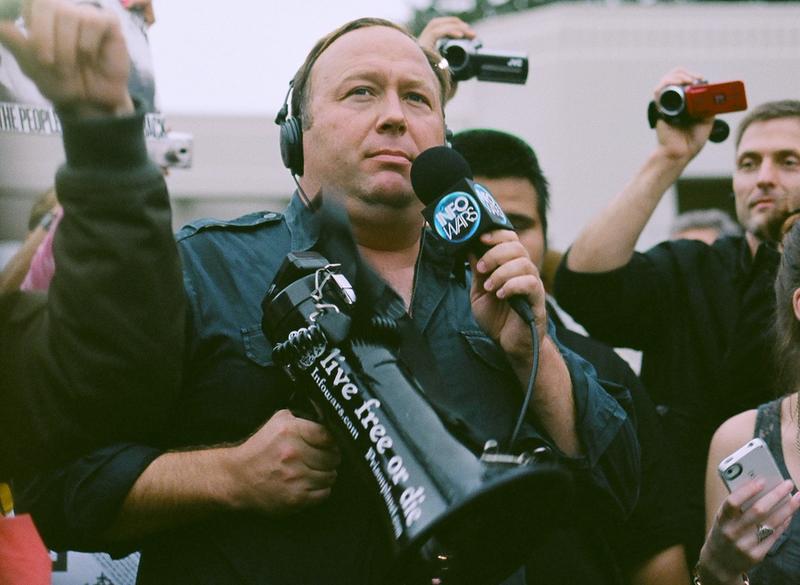 Transcript
BOB GARFIELD: From WNYC in New York, this is On the Media. I'm Bob Garfield.
BROOKE GLADSTONE: And I'm Brooke Gladstone. What a week it's been.
[CLIPS]:
FEMALE CORRESPONDENT: The New York Times reports on a dinosaur mummy that's the best-preserved specimen of its kind. Its skin was fossilized and the contents of its guts were intact.
MALE CORRESPONDENT: Former CEO and chairman of FOX News Roger Ailes has died.
FEMALE CORRESPONDENT: Chelsea Manning, posting on Instagram, "First steps of freedom!!" just after her release from a Kansas military prison Wednesday morning.
BROOKE GLADSTONE: And then there's that other stuff.
FEMALE CORRESPONDENT: …as the White House reacts to bombshell reports claiming President Trump shared classified intelligence with top Russian diplomats.
MALE CORRESPONDENT: The New York Times reporting tonight that the fired FBI Director James Comey created a paper trail….
MALE CORRESPONDENT: Attorney General Rod Rosenstein has decided to appoint a special counsel to investigate…
FEMALE CORRESPONDENT: Apparently, the president told the Russians, and, and let me just quote the president, according to The Times, "I just fired the head of the F.B.I. He was crazy, a real nut job. I faced great pressure because of Russia. That's taken off."
BROOKE GLADSTONE: All this adding up, as you no doubt heard, to a word so fraught you need to ease into it.
FEMALE CORRESPONDENT: More on the "I-word," impeachment, coming up.
FEMALE CORRESPONDENT: Is it too early to be, to be saying the word out loud?
MALE CORRESPONDENT: Some of colleagues up on Capitol Hill have used the "I-word" –
MALE CORRESPONDENT: And if you're talking about obstruction of justice, can impeachment be too far behind? I mean, I hate using that word –
BROOKE GLADSTONE: But on FOX, and elsewhere on the right, the discussion was decidedly different.
ERIC BOLLING/CO-HOST, FOX NEWS: So the mainstream media, frothing at the mouth, are throwing out words like "impeachment" like rabid dogs.
JESSE WATTERS/HOST, FOX NEWS: This is a scandal with no video, with no audio, with no sex, with no money, with no dead bodies. It's a boring scandal.
[END CLIP]
BOB GARFIELD: The news about Trump spilling classified information and trying to influence the former FBI director flew around the world, except in places where it could not penetrate. I speak not of North Korea but rather the US right-wing media. Charlie Warzel, senior technology writer for BuzzFeed News, tracked the alternate reality of the week's news in the Rightosphere. Charlie, welcome to the show.
CHARLIE WARZEL: Thanks for having me.
BOB GARFIELD: You observed four phases of the counter-narrative against the Post's reporting, beginning shortly after the Post its story at 7 pm Monday night. What was Phase 1?
CHARLIE WARZEL: So Phase 1 is actually something that's very foreign, if you monitor this pro-Trump media space, which is a kind of quiet period. The second phase that I saw came about an hour or two later. It's the blaming the usual suspects phase. It's the classic Trump media talking points that really work with the base. There's a media malpractice narrative that by publishing this explosive piece of in – of information that Trump leaked and actually bringing attention to the classified information, and that that is actually a very reckless thing to do. Sean Hannity and Laura Ingraham were very quick to call this just straight up fake news.
[CLIPS]:
MAN: Laura Ingraham tweeted this out last night: "WH source with direct knowledge just told me @washingtonpost didn't talk to ANY U.S. official at mtg w/Lavrov. 'It's Fake News.'"
SEAN HANNITY: Welcome back to "Hannity," time for tonight's fake news media roundup. And last night the Washington Post reported…
ALEX JONES: The Washington Post is worse than The Onion, it really is. And it is, and it is less credible than The Onion.
[END CLIP]
CHARLIE WARZEL: You have people like the Twitter pundit Bill Mitchell who say that Trump is far out ahead of everyone else in his strategic thinking and that this is actually a brilliant play and he's setting people up and that we can't see his brilliance quite yet, so just trust him, don't worry.
BOB GARFIELD: And there were accusations that, oh, these are just the rumblings of the deep state, the unelected apparatchiks who are just trying to destabilize the presidency.
CHARLIE WARZEL: That's right. It's the idea that he is just being unfairly assaulted from all sides. And so, the bias goes even beyond the media. It's in the government, as well.
BOB GARFIELD: Then there was another complaint, and maybe with some merit, that this story came from anonymous sources. A lot of the stories in the gathering Trump and Russia scandal have come from anonymous sources in law enforcement and intelligence, and anonymous sources can be abused. So I guess they could get some traction simply calling attention to the veracity of the story and the motives of its sources.
CHARLIE WARZEL: Yes. So many of these pro-Trump media pundits really drill down on that and go so far as to say that how do we know this isn't made up? And if you did have this information and you were a whistleblower or a truth crusader, why wouldn't they attach their name to it, why wouldn't they want that?
[CLIP]:
WOMAN: What's interesting is the leaker was so upset al – that the president allegedly leaked the stuff that they went to the Washington Post and leaked the information.
MAN: Anonymously sourced, likely from deep state leaks, trying to smear the president.
KELLYANNE CONWAY: You said that somebody, quote, "close" to the White House. I don't know if that somebody works at the sandwich or the coffee shop across the street.
CHARLIE WARZEL: And most of their audience buys that narrative, and I think that that has to do a little bit with a casual reader not knowing necessarily how the sausage of journalism [LAUGHS] gets made.
BOB GARFIELD: Here's a piece of tape from Roger Stone, the "political dirty trickster" who, himself, has been investigated in the Russia affair, on Alex Jones on Monday, saying that all this stuff is just part of the overall plot to find Donald Trump unfit for office.
[CLIP]:
ROGER STONE: They are going to claim that Donald Trump has Alzheimer's and that it is progressing and that is the source of his insanity. I've talked to the president fairly recently. He is sharp of – as a tack. There is no evidence –
[END CLIP]
CHARLIE WARZEL: Roger Stone there is sort of broadcasting partners in crime with Alex Jones, America's best-known conspiracy theorist, and he does this incredibly frequently. It's you, you figure out the thing that someone might say and you get out ahead of it before it begins and you get to say, see, I told you so!
BOB GARFIELD: But even then, they could not control this story because until the next big scoop came along it absolutely dominated mainstream coverage worldwide. So then came Phase 3. What was that?
CHARLIE WARZEL: Phase 3 is probably the most important of all, which is simply just changing the news cycle and making sure that at least the pro-Trump side of the internet is talking about something completely different; they've moved on. That means that the Washington Post story couldn't be that important because we're talkin' about somethin' else.
BOB GARFIELD: And what they moved on to was the unsolved murder of a Democratic National Committee staffer named Seth Rich, who was shot to death on the street back in July. What do we know about that murder and what was the narrative being spun this week?
CHARLIE WARZEL: Back about six months ago, this conspiracy center of the far-right internet was saying that Seth Rich had been communicating with WikiLeaks prior to his death and that Russia didn't hack the DNC, it was actually a leak from a patriot DNC staffer. So this bubbled up again after being dormant, conveniently, a few hours after the Washington Post story. A Washington DC FOX affiliate posted a report alleging a link between Seth Rich and WikiLeaks that was found on his laptop.
[FOX NEWS CLIP]:
BRIAN KILMEADE: Breathtaking breaking developments, Griff.
GRIFF JENKINS: Breaking, indeed, and developing at a rapid pace, bombshell new evidence…
[END CLIP]
CHARLIE WARZEL: Even though it was a semi-confirmed, very loose, tenuous report, it immediately just caught fire on the conservative side of the internet.
BOB GARFIELD: And we should observe that while the Washington police are stymied as to why Rich was murdered because it didn't appear to have been a robbery, they have located absolutely zero evidence that he was involved with WikiLeaks and that any such murder conspiracy by Russians or by Democrats is plausible, am I correct?
CHARLIE WARZEL: Yes, this report fell apart almost immediately under scrutiny. CNN has done a lot of good reporting debunking this. The investigator at the center of the FOX affiliates' report has since walked it back. FOX has issued an editor's note correction. So this story has sort of been proven to be false in this iteration, and yet, the narrative had already played out across the internet.
BOB GARFIELD: And then there's the coup de grace, Phase 4, "no, I'm not fake news, you're fake news" tactic. Having just used the Seth Rich nonstory to drown out the Oval Office breach of secrecy story the right claims [LAUGHS] that the opposite happened.
CHARLIE WARZEL: That's right. This is what I call closing the loop. The idea here is that this Seth Rich story was starting to bubble up, FOX was about to report this and the Washington Post broke this other story in order to take away from this really important, very serious national story.
[CLIP]:
ROGER STONE: Now, they've clearly brought out the new Comey memo they had waiting to obscure this.
FEMALE CORRESPONDENT: The news story on Seth Rich, talk about an interesting report, again, that the Washington Post just has no interest in covering.
CHARLIE WARZEL: And it's really just tightly tied in a bow so that it looks like they're the truth warriors all along.
BOB GARFIELD: All right, now I have to ask you one more thing. Since the Oval Office story broke and all of the reaction to it, there's been a cavalcade [LAUGHS] of other astonishing developments in the White House. The first was that we discovered that fired FBI Director Comey had taken notes of a conversation with the president in which he is alleged to have asked Comey to get off of the Russia case. We have learned that Michael Flynn, the former national security advisor who was fired by the president for misleading him about his contacts with the Russians, he and others in the campaign had at least 18 other previously undisclosed contacts with Russian officials. And we have learned that a special counsel has been appointed by the Justice Department to carry on the FBI investigation of the Russia affair. How have the pro-Trump media reacted to those developments?
CHARLIE WARZEL: There is a lot of Phase 1 going on right now. There is a lot of silence. You have some of the standard blame the deep state defenses. What it is right now that it hasn't been before is kind of disjointed. For the most part, I think this has been an extremely chaotic week. They're on the backs of their feet as much as the White House is right now.
BOB GARFIELD: Charlie, thank you very much.
CHARLIE WARZEL: Thank you for having me.
BOB GARFIELD: Charlie Warzel is a senior technology writer for BuzzFeed News.