How to Cover a Candidate Like RFK Jr.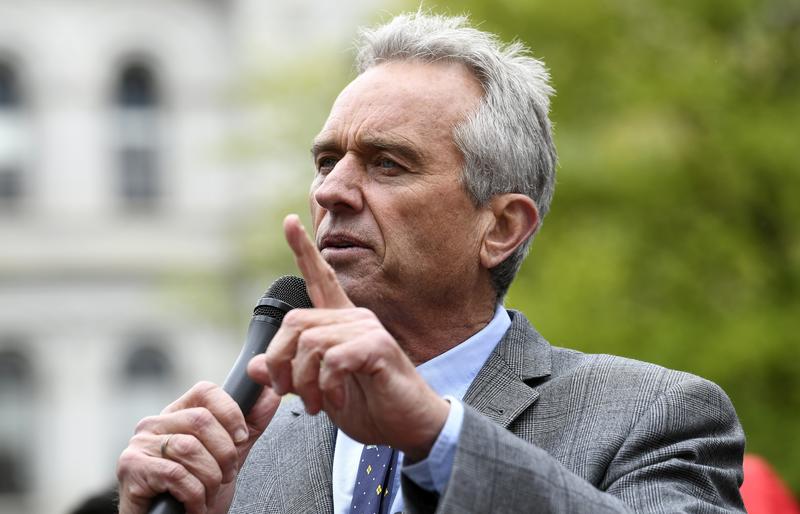 Transcript
This is On The Media. This is On The Media. I'm Brandy Zadrozny sitting in this week for Brooke Gladstone. In my role as a senior reporter for NBC News, I cover misinformation, extremism, and the internet which explains why a few weeks ago I was on a Los Angeles hiking trail with this guy.
Robert F. Kennedy, Jr.: Hello, ladies.
Speaker: Hey.
Speaker: Oh, hi, there.
Speaker: Lucky dog.
[laughter]
Brandy Zadrozny: Good morning.
Speaker: You guys are coming from the brush?
Robert F. Kennedy, Jr.: Yes, it comes up. It's Hollyhock.
Speaker: Hollyhock, yes.
Brandy Zadrozny: Robert F. Kennedy, Jr., former environmental activist and lawyer and scion of the most well-known brand in American politics had become a media pariah after his anti-vaccine activism reached a fever pitch during the pandemic. Since announcing his bid for the presidency in April, he's everywhere. He hit up the usual conspiracist-friendly podcasts like the one hosted by English comedian turned provocateur Russell Brand.
Russell Brand: We're going to have a pretty intensive reckoning over events of the last couple of years. I'm, of course, being joined by Robert F. Kennedy, Jr. Thanks for joining us, sir.
Brandy Zadrozny: And Jordan Peterson.
Jordan Peterson: Hello, everyone. Today I'm speaking with writer, attorney, environmentalist, and 2024 presidential candidate, Robert F. Kennedy, Jr.
Brandy Zadrozny: And, of course, the motherload, The Joe Rogan Experience.
Joe Rogan: What do you think happens when you get into office? You're talking about your uncle who was assassinated, and you believe the intelligence agencies were part of that. What happens to you?
Robert F. Kennedy, Jr.: Well, I've got to be careful.
Brandy Zadrozny: He's showing up in the respectable joints too. Interviews with the candidate appeared on both ABC News and CNN, and, of course, I discussed my article about him with my colleagues on NBC and MSNBC.
NBC Host: We're taking a look at what an RFK Jr. administration could look like. Straight from the candidate himself, in a new interview with NBC's own Brandy Zadrozny.
MSNBC Host: NBC News senior reporter Brandy Zadrozny recently spoke with RFK Jr. I'm joined now by Brandy Zadrozny.
Brandy Zadrozny: He told me on our hike that he's particularly happy to be back on the platforms that had banned him like Instagram which kicked him off in 2021 for spreading misinformation. He said this is partly why he's running.
Robert F. Kennedy, Jr.: There's rules that make it difficult, but then [unintelligible 00:12:59] public airwaves to censor you if you're running for president. There's actually a rule that says that and then the FCC is supposed to govern that and make sure that there's no bias, and so I thought, "Maybe I should run." I just thought I could speak to the American people for the first time in 18 years. [whistles] Come here.
Brandy Zadrozny: Kennedy is mis-citing a federal law that requires broadcast stations provide candidates for public office with equal opportunity to airtime. But anyway, he says he isn't going to lead with vaccine talk on the campaign trail which is odd given that he's the founder of Children's Health Defence, one of the largest anti-vaccine organizations in America, and given that this is the issue that's animated him and it's made him a lot of money for the last 18 years. On Bill Maher's podcast this week, Kennedy said the quiet part out loud.
Robert F. Kennedy, Jr.: Well, I'm not talking about this stuff on my campaign. I'm just talking between you and me.
Bill Maher: That's a ridiculous assumption. Of course, you're going to have to talk about it. You--
Robert F. Kennedy, Jr.: Well, if somebody asks me, I'm going to.
Bill Maher: They're all going to ask you. Are you serious?
Robert F. Kennedy, Jr.: No, they don't want to hear it.
Bill Maher: This is all they're going to ask you about.
Brandy Zadrozny: This glaring omission in his campaign speeches and videos, it's a calculated move. His views on vaccines put him at odds with most Americans, especially Democrats. Right now, among Democratic voters, he's polling about 15% against Joe Biden.
Robert F. Kennedy, Jr.: Only 22% of Americans now trust the government and we need to--
Brandy Zadrozny: Kennedy told me that were he to become president, his plans would include redesigning the way childhood vaccines are tested. He says he would gut agencies like the FDA, the NIH, the CDC, and he would ask the Justice Department to investigate the editors of medical journals. If you're going to dismantle and repair, who leads the CDC? Do you have somebody in mind? Do you have-
Robert F. Kennedy, Jr.: I have people for all public health agencies. I have people in mind who could actually turn them back into healing and public health agencies.
Brandy Zadrozny: Kennedy's probably not going to win in November 2024. Most likely, he won't win the Democratic primary either. Even if he gets nowhere, just sticks it out through part of this election cycle, he'll garner plenty of media coverage and his dangerous ideas will reach more people. My article was published on nbcnews.com a few weeks after our encounter after I'd had plenty of time to fact-check and contextualize his response, but not everyone's going to have that luxury.
For help and advice on covering conspiracy-peddling candidates on the trail, we called up Anna Merlan. She's the author of Republic of Lies: American Conspiracy Theorists and Their Surprising Rise to Power. In a recent article, Merlan described Kennedy's supporters as a "Coalition of anti-vac activists, crypto enthusiasts, Silicon Valley moguls, and supporters from across the horseshoe of extremism."
Anna Merlan: On the left, Mr. Kennedy is obviously talking a lot about his bona fides as an environmental lawyer which is the job he did prior to becoming an anti-vaccine activist, and he is weighing heavily on the family name. On the right and the far right, he is promoting frankly Trumpian talking points. For instance, talking about sealing the border permanently, blaming mass shootings on pharmaceutical drugs like Prozac.
Robert F. Kennedy, Jr.: Anecdoctly, it appears that almost every one of these shooters were on SRIs or some other psychiatric drug.
Anna Merlan: Promoting a view that the war in Ukraine is fundamentally a proxy war.
Robert F. Kennedy, Jr.: President Biden has said that we're there to de-platform, to depose Vladimir Putin, and if that's why we're there, we're killing a lot of Ukrainians as pawns.
Anna Merlan: He has said that he opposes trans-women competing in women's sports. He also has an incredibly combative and often litigious relationship with both mainstream media and mainstream systems of government. He wants to persuade people who think they're Democrats that they're not Democrats, and people who think they're Republicans that they're not Republicans is how he put it to Dr. Drew. He's presenting himself as a non-partisan everyman who is equally dissatisfied with both sides.
Brandy Zadrozny: Let's talk about how journalists and media outlets are handling this candidacy. You wrote that ABC and CNN demonstrated how not to cover RFK Jr.
Anna Merlan: Yes.
Brandy Zadrozny: What did they do wrong?
Anna Merlan: This was a very early example of media platforms just not really being ready to cover Kennedy's candidacy. What ABC did was they sat down for a fairly conventional Kennedy interview with Kennedy, but during it, he did what he does which is he started spouting COVID and vaccine misinformation. ABC made the decision to just cut that portion from the interview, and then tell their audience that that's what they were doing.
Host: We should note that during our conversation Kennedy made false claims about the COVID-19 vaccines. Data shows that the COVID-19 vaccines prevented millions of hospitalizations and deaths from the disease. He also made misleading claims about the relationship between vaccination and autism.
Anna Merlan: I think that it was a well-intentioned decision, but what it did was it gave Kennedy an incredibly powerful talking point to say, "You see, my views on COVID and vaccines are so powerful and so threatening to the establishment that they cannot see the light of day."
Robert F. Kennedy, Jr.: This is what happens when you censor somebody for 18 years. They cannot shut me up that long because now I'm going to really let loose on them. For the next 18 months, they're going to hear a lot from me.
Anna Merlan: One thing that misinformation peddlers do is they bank on the fact that if they put certain claims on mainstream platforms, they will get removed either under pandemic-era misinformation policies or even before that, just under general medical misinformation policies. There's a gap of time between when you put something on a mainstream platform and when it is taken down that allows a claim to start getting speed, and then when it is taken down, you can use it to feed back into a claim and a talking point that again, your information is so powerful and so dangerous to the establishment that it is being censored.
CNN was a little bit more unusual. Essentially, what happened is that a CNN political journalist named Michael Smerconish put Kennedy on and managed to use the word vaccines exactly once in his introduction, and then proceeded to have a very friendly jocular interview with Mr. Kennedy about his campaign that managed to not ask about his anti-vaccine activism at all. They spent more time talking about Mr. Smerconish's fandom of Cheryl Hines, Mr. Kennedy's wife.
Robert F. Kennedy, Jr.: If I had not convinced her that I can win this race, I would not be in it because she's the ultimate boss.
Michael Smerconish: Okay, listen, I do love your wife. I'm Team Cheryl. Having said that--
Anna Merlan: It was really, really striking.
Brandy Zadrozny: Okay, that's what journalists do wrong. How can we do things right?
Anna Merlan: The first, of course, is you absolutely cannot go into arguably any interview unprepared but especially with someone who has spent the better portion of the later part of their adult life promoting and advancing false claims about one thing specifically, and is very, very, very trained in how to do that. The second is to be prepared to push back in real-time. Then the third I think is a broader existential question, which is, ask yourself what the purpose of interviewing him is. At its base, what you are hoping to convey to readers and listeners, the unanswered questions that an interview might go towards answering.
Brandy Zadrozny: Well, let's talk about that. Fact-checking in real-time. It's very hard.
Anna Merlan: Yes, it is. Mr. Kennedy does something that is a kind of known rhetorical style that other folks do, too, which is called this Gish gallop is the term for it.
Brandy Zadrozny: Named after Duane Gish, a creationist.
Anna Merlan: Right, the idea of the Gish gallop is that you are making claim upon claim upon claim, bad argument after bad argument very, very, very quickly, so quickly, that it is hard for the person that you were speaking to, to respond to all of those claims effectively and in real-time. One thing that is recommended for responding specifically to Gish gallop is picking out one claim and focusing in on it. Whether it's the most ridiculous, the most dangerous, the one that has been debunked the longest, you can pick a single claim and go from there. Debunking a single claim goes a long way to illuminating the larger false premises on which some of these claims lie.
Brandy Zadrozny: A lot of these pointers deal with TV interviews. I work for a television company, but I prefer print because then you do have more control over the outcome. I'm actually reminded of the Brandolini's law, which is this internet adage that says, "The amount of energy needed to refute [beep], is an order of magnitude bigger than is needed to produce it." In print, I can contextualize quotes more easily. I can take the time to consult experts and fact-check. Do you think print journalists have a little easier here, and have they been doing a better job with him? I'm also thinking that with presidential candidates, TV coverage is such a big part of it.
Anna Merlan: Yes, I agree with all of that. There is a reason why I do not work in TV, and it's not just because I'm not photogenic enough. It's because I really believe that this is the appropriate mechanism for covering claims like this that often require not just a lot of explanation, but a lot of links to other sources. I really believe in providing links to scientific studies, position papers, good, strong contexts that can lead people to understand better the claims that he's making. It is so hard to do that in a two-minute TV hit. Even in a longer sit-down interview, it can be just incredibly, incredibly difficult.
Brandy Zadrozny: What have you learned from your experience reporting on conspiracy theorists? Is there anything that you've done that you wouldn't repeat?
Anna Merlan: In terms of things that I have done that I would no longer do, I would be less flippant about their ability to affect politics. I went on this cruise for conspiracy theorists in 2016, and I went into it with a light-hearted attitude, thinking that this was going to be a fun kooky story, and almost immediately was really checked, really sobered by what I saw on what was going on. Andrew Wakefield, who's the father of the modern anti-vaccine movement was on that boat, people promoting conspiracy theories about the financial system that put themselves and others quite literally in prison. I think the one thing I would never do is discount the ways that conspiracy theories can shape our politics, shape our national conversation, and decimate people's lives.
Brandy Zadrozny: I think that's the biggest complaint that I get is, why are you reporting on this? Just ignore them and they will go away.
Anna Merlan: Sure. I think that is a very attractive viewpoint that I certainly hear a lot of. I don't think that it is our job as journalists to ignore reality. I also think that when we ignore candidates making false, misleading, or polarizing claims, we fail to accurately reflect or take the temperature on what is happening in this country, which is an increasing amount of political extremism and polarization. I really do not believe that ignoring things makes them go away. At the same time, and I think this was a conversation that we had ad nauseam in the Trump era, we do know that coverage, even negative coverage can have the effect of increasing a candidate's name recognition.
There are some people, I don't think it's a huge plurality of voters, but there are some people who, the more someone is debunked in the "mainstream media", the more attractive that candidate becomes to them. As journalists, the way that we talk about a system impacts that system. We cannot just be observers, whether we like it or not. This is an incredibly tangled tricky area for us to get into but I will simply never believe that the answer is ignoring something that we don't like or that is polarizing or that is false. I just don't believe it.
Brandy Zadrozny: Regarding language specifically, how should we refer to Kennedy? Would you use the word friend?
Anna Merlan: When I first wrote about his campaign, I referred to him as a longshot candidate, and I'm going to stop doing that because I don't think it's true anymore. The base of support that he's coalesced this quickly, suggests that he is not a longshot candidate. I think you can say that his beliefs are fringe or his beliefs are extreme, or his beliefs are often false and misleading. What I try to avoid doing, in general, is leaning on terms without explaining them. If I'm going to call Mr. Kennedy fringe, if I'm going to call him a conspiracy theorist, I'm going to explain what that means, hopefully, in the context of an article, both because I think it can make desensitizing to readers and because I think that when I use terms like that, I need to make a case for it.
Brandy Zadrozny: You've been covering conspiracy theories for over a decade.
Anna Merlan: Yes, at this point, and God help me.
Brandy Zadrozny: The anti-vax movement for longer than that, I think.
Anna Merlan: Yes.
Brandy Zadrozny: You said when RFK Jr. announced his candidacy, that you understood what it meant. What did it mean?
Anna Merlan: I think it's doing a couple of things. First, he obviously has an eye toward his legacy. I can say that without being a mind reader. He is clearly trying to decouple his legacy solely from the anti-vaccine activism by stressing his relationship with the family name, but it was also a very clear signal that Mr. Kennedy and his supporters were going to try to push their most extreme talking points about science and health further into the mainstream, and we already see that happening. The anti-vaccine movement feels, first of all, like they have the wind at their backs. They think that it is time for political and legal revenge, whether that is running for office, whether that is filing this volley of lawsuits against mainstream health organizations, and pharmaceutical companies. They feel like now is their moment.
Brandy Zadrozny: I see Kennedy's candidacy as a really, really significant moment in this movement overall.
Anna Merlan: Oh, absolutely. This is a huge test for how far they can get their claims into the political and social mainstream. It's, of course, worth pointing out not just Mr. Kennedy's claims about vaccines, his claims about 5G technology and Wi-Fi, his claims about essentially making the case that perhaps HIV does not cause AIDS, which is an incredibly alarming and false claim that he made in one of his books. Claims about medical information and science and health that are not supported by any available evidence from any trusted body. It is a real test of how far those can go.
Brandy Zadrozny: Anna Merlan is a senior staff writer for Vice. Anna, thank you so much.
Anna Merlan: Thank you so much for having me.