Grieving in Life, and in the Media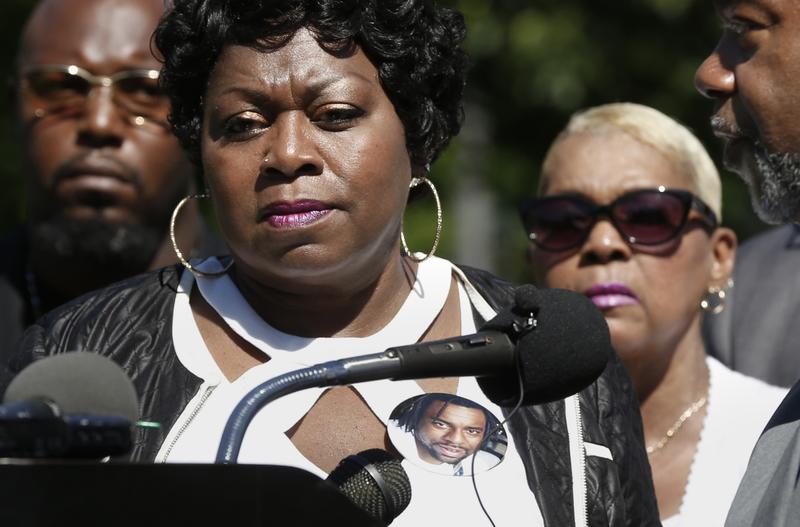 Transcript
BOB GARFIELD: This is On the Media. I'm Bob Garfield.
BROOKE GLADSTONE: And I'm Brooke Gladstone. Back in the USA, in the last month, three trials of police officers who shot and killed unarmed black men came to a head.
[CLIPS]:
MALE CORRESPONDENT: A Minnesota police officer acquitted in the death of Philando Castile, a fatal encounter during a traffic stop, broadcast on Facebook live.
MALE CORRESPONDENT: A jury found former Milwaukee police officer Dominique Heaggan-Brown not guilty of reckless homicide for shooting Sylville Smith last August.
MALE CORRESPONDENT: Deadlocked jury in the Samuel DuBose shooting case. That makes three officers tried in a single week for shooting a black man, not one convicted.
[END CLIP]
BROOKE GLADSTONE: After the verdict in Minnesota, Philando Castile's mother took to the podium.
[CLIPS]:
VALERIE CASTILE: There has always been a systemic problem in the State of Minnesota. The system continues to fail black people and it will continue to fail you all, like I said, because this happened with Philando. When they get done with us, they're coming for you, for you, for you and all your interracial children. Y'all are next and you'll be standing up here fightin' for justice, just as well as I am.
BROOKE GLADSTONE: It's an all-too-familiar sentiment, one we've heard from so many black families.
WOMAN: If it takes the rest of my life, I'm going to fight for justice for my son, and not only my son, for other people's sons.
WOMAN: There needs to be some reform and change across this nation because if not, America's going to be in trouble.
MICHAEL BROWN, SR.: I do not want my son's death to be in vain. I want it to lead to incredible change, change that makes the St. Louis region better for everyone.
[END CLIP]
BROOKE GLADSTONE: Defend the victim, decry racism, condemn the system, campaign for justice. This grim ritual dates back to Mamie Till-Mobley who, in 1955 decided to publish a photo of her son Emmett Till in an open casket, his face brutalized, so the whole nation could see what happened to him.
Mychal Denzel Smith recently wrote in the New Republic that now black families feel obliged to "mourn in public."
MYCHAL DENZEL SMITH: They know exactly what is in store for them. They are going to be hounded by journalists, they're going to be expected to go on television and speak eloquently about how much they hope for justice in the system. There's often an ask for forgiveness. My question though is, do they always feel like they have a choice, in many respects? And they do feel compelled. I mean, we're dealing with this history that Mamie Till-Mobley is really responsible for, in publishing the picture of Emmett Till in the open casket, his body mutilated, in Jet Magazine and in saying, we know what the power of these images are, we know what the power of telling our stories is. It can spark activism. It can spark movement.
BROOKE GLADSTONE: In your New Republic piece, you focus on a couple of recent memoirs. One is Rest in Power: The Enduring Life of Trayvon Martin by Sybrina Fulton and Tracy Martin.
MYCHAL DENZEL SMITH: Sybrina Fulton writes that she did not want to go to Sanford, Florida, ever, the place where her child was taken away from her, and she was compelled to do so because the police had not made an arrest. Their attorney said to, to Tracy Martin, we need the mother to see and feel that maternal love, to know that this was a child that was actually cared for. Tracy Martin, Trayvon Martin's father, was doing television interviews, interviews with print journalists and he was there, and he says over and over again, I'm a truck driver, just reiterating his regularness, to say that I wasn't prepared for this role, I was not wanting to be in this spotlight.
[CLIP]:
TRACY MARTIN: So a lot of people think that everything that we're going through, with writing the book and, and just being spokesmens for the voiceless, they think it's a easy road. But, you know, every day you wake up with that, with that burden that your, your child is not here and that, that you know he's not here because of a senseless act of violence. And so, it's a tough road, but we, we know that this is something that we have to do.
BROOKE GLADSTONE: For the parents, you wrote, what is being asked of them is to turn their personal pain into a healing process for the rest of the country. The same nation that denies the problem of racist violence even exists asks the most vulnerable to diagnose and treat it.
MYCHAL DENZEL SMITH: My deeper question there is, do we actually care enough about the people to say, you get to choose how you grieve, you get to do that without our pressure, without feeling obliged to teach us because we care about you as a person and whether or not you'd survive.
BROOKE GLADSTONE: Let's talk about the memoir of Michael Brown's mother, Lezley McSpadden. It's called, Tell the Truth & Shame the Devil: The Life, Legacy and Love of My Son Michael Brown. You say it takes on an even bleaker task, the labor of rehabilitating her son's image.
MYCHAL DENZEL SMITH: Yes, he's been depicted as a thug. That has, in part, to do with the testimony of former police officer Darren Wilson. He says that he looked like a monster. He was hulking over him and he thought that, you know, his life was in danger after seeing that convenience store footage of him, unclear, but they understood to be him stealing these cigarillos. He fit every stereotype of young black men.
BROOKE GLADSTONE: He had it coming.
MYCHAL DENZEL SMITH: He had it coming. And Lezley McSpadden, what she does is talk about the tenderness with which he loved her, you know, the smile that she found joy in seeing, and the ways in which she was trying to raise him and produce a man that hopefully wouldn't be talked about in this way, the ways in which she struggled as a teenage mother in poverty, as a victim of domestic violence, I mean, the school [LAUGHS] that Michael Brown went to having lost its accreditation. These are the things that they were up against, and yet, she fought to ensure that he did graduate and that he had a plan for his future and just saying, we were also a normal American family struggling, trying to make it.
BROOKE GLADSTONE: There was an article in The New York Times last month that reported that when police go on trial for shooting an unarmed black man, "Questions of guilt," wrote The Times, "do not hang on who fired the fatal shot but on what officers were thinking when they pulled the trigger. As soon as the officer gets on the stand and subjectively says, 'I was fearing for my life,' many juries aren't going to convict." Usually, it's not just whites on those juries, so empathy, identification, these are crucial. Who better than parents to build it?
MYCHAL DENZEL SMITH: Absolutely. I mean, these are learned behaviors. I mean, it's in the sort of ether of our communities, our, our society. That group of teenagers that's loud and boisterous and just being teenagers, they're a threat. If we are to develop that sort of empathy that teaches us to not view that as a direct threat, maybe these stories will serve some purpose.
BROOKE GLADSTONE: So, James Baldwin agrees with you.
MYCHAL DENZEL SMITH: Mm-hmm. [AFFIRMATIVE][LAUGHS]
BROOKE GLADSTONE: He repeatedly expressed the idea that we keep asking those most vulnerable to racism to fix racism.
[CLIP]:
JAMES BALDWIN: What white people have to do is try to find out in their own hearts why it was necessary to have a nigger, in the first place, because I'm not a nigger. I'm a man, but if you think I'm a nigger, it means you need it. The question you got to ask yourself, the white population of this country has got to ask itself, if I'm not the nigger here, and though you invented him, you, the white people, invented him, then you got to find out why. And the future of the country depends on that, whether or not it is able to ask that question.
[END CLIP]
BROOKE GLADSTONE: Can I ask you something?
MYCHAL DENZEL SMITH: Yes.
BROOKE GLADSTONE: Would you roll your eyes if you saw some white person on the subway reading one of these books?
MYCHAL DENZEL SMITH: I'm a little skeptical. I don't necessarily say that I'd roll my eyes but I am curious about what their level of engagement is and what their purpose for engagement is.
BROOKE GLADSTONE: Okay.
MYCHAL DENZEL SMITH: Mm-hmm.
BROOKE GLADSTONE: This seems to leave us in a bind.
MYCHAL DENZEL SMITH: Yeah.
BROOKE GLADSTONE: Baldwin says that it's up to white people to look into themselves for the cure, but when white people strive to look into their hearts, make common cause, they often can be castigated as clueless or presumptuous.
There was a painting by white artist Dana Schutz –
MYCHAL DENZEL SMITH: Mm-hmm.
BROOKE GLADSTONE: - of Emmett Till in his casket. It was shown at the Whitney. It sparked a big backlash and she was blasted for appropriating black pain. So, if those who suffer most from racism shouldn't have to bear the responsibility for solving it and if those who enjoy privilege in a racist system shouldn't presume to feel outrage from racism or empathy for its victims, where does it leave us? I mean, what is the right way to behave?
MYCHAL DENZEL SMITH: So this is getting into sort of this fear of being perceived as doing it wrong and being chastised by someone within that group.
[BOTH SPEAK/OVERLAP]
BROOKE GLADSTONE: Yeah, that, that's pretty much it.
MYCHAL DENZEL SMITH: Right?
BROOKE GLADSTONE: How do you do it right?
MYCHAL DENZEL SMITH: You're going to do it wrong. There is a frustration among marginalized people. There's a wealth of information out there. We've given it to you over and over again. When do you seek it out on your own? Why do you keep asking and demanding of my personal time to teach you?
And I think that also you have to be prepared to be uncomfortable and to be told that you're doing it wrong and like be open to listening. That's the part that a lot of people get further wrong, is that they're not open; it's an assault on their character, in some way, to being told that they did it the wrong way. But if I tell you what I need from you is something different and you believe in this cause, why won't you listen?
BROOKE GLADSTONE: I didn't actually see the painting by Dana Schutz. Was it offensive?
MYCHAL DENZEL SMITH: Yeah, it was offensive in its mediocrity in that it just didn't say anything, right? It's just a painting of the famous photo that we all know. It added nothing new to this discussion. And it was particularly offensive that the painting was done by a white woman, when the death of Emmett Till, the responsibility falls a lot on the white woman who told lies about his behavior that day. The lynchings that were commonplace were often the result of the lies that white women told or were forced to tell about whether or not they were assaulted by black men. The ask of the painting itself is to say, bring in your perspective as a white woman who means well, who feels some empathy for Mamie Till-Mobley, to say, what does it feel like to be the protected, to have someone killed in your name, in your honor?
BROOKE GLADSTONE: It's kind of a big ask. I mean –
MYCHAL DENZEL SMITH: It's a big ask. There have to be big ask. I think that she related to Mamie Till-Mobley from the perspective of being a mother –
[BOTH SPEAK/OVERLAP]
BROOKE GLADSTONE: That's what she said.
MYCHAL DENZEL SMITH: - and losing a child. I mean, that's fine but that doesn't broaden our discussion any further.
BROOKE GLADSTONE: So if you don't enter this arena with the assumption that you are the beneficiary of the system and you don't express that in your art, you're just borrowing pain and giving yourself a pass.
MYCHAL DENZEL SMITH: Exactly.
BROOKE GLADSTONE: Artists can say, I should be able to do what I want, but nobody is thereby absolved of any criticism for doing so.
MYCHAL DENZEL SMITH: We have to criticize. We have to keep asking questions of everything we produce. And if we don't, we're, again, shirking a responsibility to ourselves to dig deeper into these identities that maybe we did not choose but have overdetermined our lives together in our relation to one another and the systems that produce them. And if we're not asking those questions, how do we ever expect these problems to be solved?
[MUSIC UP & UNDER]
BROOKE GLADSTONE: Thank you very much.
MYCHAL DENZEL SMITH: Thank you.
BROOKE GLADSTONE: Mychal Denzel Smith is author of The New York Times bestseller, Invisible Man , Got the Whole World Watching: A Young Black Man's Education.
BOB GARFIELD: America has many calls to action and many anthems. Coming up, the story of one of the most enduring.
BROOKE GLADSTONE: This is On the Media.