Grading Electric Utilities' Big, Green Goals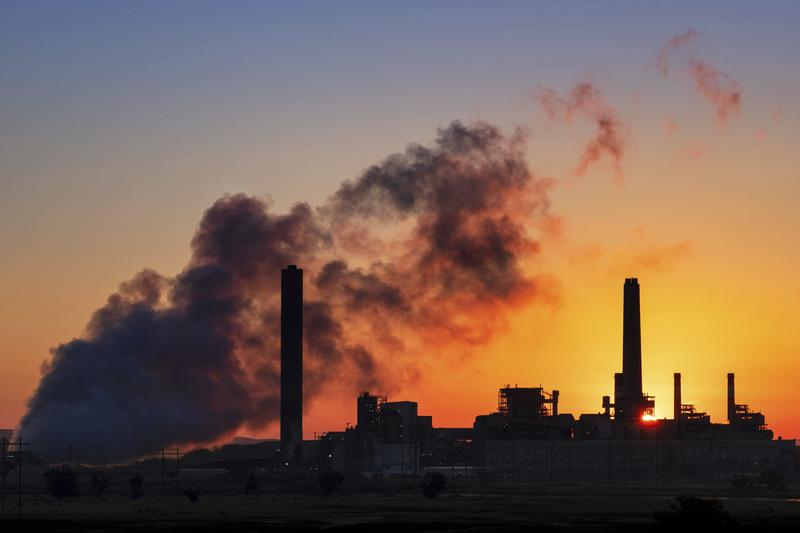 Transcript
BOB GARFIELD This is On the Media, I'm Bob Garfield.
BROOKE GLADSTONE And I'm Brooke Gladstone. According to the EPA, fully a quarter of American greenhouse gas emissions are created by generating electricity through burning coal and gas. These companies have also seen the bottom-line value of big talk on decarbonization.
[CLIP]
DUKE ENERGY These may look like solar panels, but they're so much more than that. They're building blocks of a clean energy transformation. To shift beyond coal, and a gateway to more renewable energy for all our families. We're Duke Energy, and all across the Carolinas and in your community, we're building a smarter energy future. [END CLIP].
BROOKE GLADSTONE But spinning green dreams is one thing, taking steps to realize them, something else altogether. That's the takeaway from a new study called The Dirty Truth about Climate Pledges from Sierra Club and University of California, Santa Barbara energy policy expert Leah Stokes. To take stock of the discrepancies between words and deeds. It graded 50 of the dirtiest electricity producers on three criteria.
LEAH STOKES The first was what are their plans to get off of coal? We know that we need to shut down coal plants by 2030 at the latest. The second thing was gas. Are companies planning to build a lot of new gas plants? And finally, we looked at their plans to build new renewable and clean energy.
BROOKE GLADSTONE Why those three things in particular, and why these companies?
LEAH STOKES So we wanted to look at the electric utilities that have the most at stake when it comes to retiring fossil fuel generation, because what those companies do will be so critical for climate stability, let alone for public health. And so we zoomed in on these 50 big companies, which have a lot of operating companies, and we asked, what are they actually doing in practice?
BROOKE GLADSTONE Let's do a case study. Duke Energy, which provides energy to seven point seven million Americans, says that it's, quote, striving for net zero carbon emissions by 2050.
[CLIP]
DUKE ENERGY Since 2005, we've exceeded expectations and lowered our carbon emissions by 39 percent. We've accelerated our timeline to retire coal plants, expanded our renewables portfolio, and we're on a mission to do more. We're a clean energy leader, and will do our part to tackle the challenges of climate change. [END CLIP]
BROOKE GLADSTONE But exactly how hard is Duke striving?
LEAH STOKES Well, these utilities are really big. They have a lot of subsidiary companies. They're things like Duke Energy Florida or Duke Energy Indiana. They're saying, yeah, my parent company made that goal, but I'm the operating company and that goal does not apply to me. So, for example, Duke Energy Carolinas is currently planning to retire a whopping two percent of its coal capacity by 2030. Duke Energy Florida plans to retire zero percent of its coal capacity by 2030. We also see massive amounts of new gas that's being proposed by Duke. You're not going to be a carbon neutral company if you continue to build new gas in the 2020s.
BROOKE GLADSTONE You have energy companies on a scale of 0 to 100, with 0 being just awful and 100 being stellar. How did they do overall?
LEAH STOKES Very poorly. The average score was 17 out of 100. And so we actually had to use a grading scale where if you were doing slightly better than average, let's say you had 20 out of 100, you passed, so to speak, you got a D rather than an F.
BROOKE GLADSTONE You graded on a curve?
LEAH STOKES Well, yes! Because otherwise a lot more of the utilities would have been failing. But there are companies like NIPSCO that operates in Northern Indiana that has committed to retire all of its coal plants, that it will not build new gas plants and has really big plans to replace about four fifths of its current generation with clean power. That's the kind of company that gets an A in our grading scheme.
BROOKE GLADSTONE Is there any difference between companies that expressed a desire to lower emissions compared to those who made no such promises?
LEAH STOKES You have to kind of squint to see the difference. The companies that made the pledges are planning to retire 27 percent of their coal, but the companies without the pledges are planning to retire at 23 percent, so that's not exactly a huge difference. And the companies WITH the pledges are actually planning to build almost twice as much new gas plants as the companies without the pledges. If we continue to build this, we are going to blow past our climate thresholds.
BROOKE GLADSTONE Have you noticed that a lot of the people who are most enthusiastic about using the government to help us transition from fossil fuels, are nostalgic for the Tennessee Valley Authority created to provide power to struggling regions in the U.S.? I think it was a New Deal program that provided direct inspiration for the Green New Deal except the Tennessee Valley Authority wasn't that green, was it?
LEAH STOKES No. The TVA is unfortunately one of the worst companies that we studied. It got a 9 out of 100 and it's actually got the –
BROOKE GLADSTONE [LAUGHS] 9?!
LEAH STOKES Yeah, 9. And one of the challenges is that the TVA has a debt ceiling, so one thing that we have to do potentially is help it get rid of its coal plant debt in exchange for building lots of new renewables. That said, why is the TVA saying it wants to build tons of new gas? It really isn't looking at the lowest cost options because we know that renewables are even cheaper right now than any other solution.
BROOKE GLADSTONE So why?
LEAH STOKES Well, a lot of utilities are used to things the way they were, even though we know that clean energy has gotten so much cheaper. And that's before we add in the costs of climate change, which are in the billions of dollars annually just in the United States, or before we add in those health costs. The new study came out that showed that 9 million people are dying every year from fossil fuels. And what I think is that Congress should be stepping up and passing a law this year saying that all utilities have to be moving towards 100 percent clean energy, which, by the way, is what almost every utility in Colorado is already doing. So we can change this issue, we just need our federal government to act by passing a clean electricity standard.
BROOKE GLADSTONE You think the federal government should be writing off coal plant debt, right, for the TVA, for the rural energy co-ops?
LEAH STOKES One of the ways that we can get rid of coal plant debt, which has been pioneered in places like New Mexico and Michigan, is called coal plant securitization. It's like refinancing your house except we're refinancing the coal plant debt, and we can use some of those savings to reinvest in the communities to help the workers at that coal plant, which is closing, and some of the money can also go to lowering electricity bills. So it's really a win-win-win. And that's the kind of model that I think we should be scaling up nationally, so that all the communities are coming along in this transition.
BROOKE GLADSTONE If I look through your report, and we'll link to it on the website, and I find out that my utility company has been making vague promises and doing hardly anything to keep them. What do I do? Write my congressman?
LEAH STOKES If you go to the Dirty Utilities Report at Sierra Club, you'll click a link and you'll go to a dashboard and you can find your utility from a dropdown list. Remember, not every utility in the country was studied, we just looked at the top 50 dirtiest ones. And what can you do with this information? Well, we are going to have comprehensive climate legislation for the first time in about a decade this spring, hopefully, in Congress. And so this is really a critical time to be reaching out to your congressional representatives and your senators and saying, where is that 100 percent clean electricity standard that President Biden and Vice President Kamala Harris campaigned on?
BROOKE GLADSTONE I noticed that you focused on the electricity companies, but they don't have a monopoly on PR. What about the gas companies that heat millions of people's homes and have an existential fear of the carbon free transition? How does that show up in their PR work?
LEAH STOKES Well, I've spent most of my research on electric utilities, but I'm actually becoming much more optimistic about the electric utility sector because through electrification, through things like electric vehicles, through things like induction stoves, as well as heat pumps, these are basically ways we can use electricity rather than fossil gas in our homes. We've got a whole plan for electric utilities to make a lot of money, actually, but that is not the case for the gas companies.
BROOKE GLADSTONE So this is a legitimate existential fear.
LEAH STOKES Yeah, but, you know, let's not feel too bad because, for example, my gas company, SoCal Gas, was responsible for the Porter Ranch leak, which was a gas leak at a storage facility that went on for months, caused hundreds of people to have to evacuate their homes and led to a bigger greenhouse gas footprint than the Deepwater Horizon oil spill. And there are gas companies in the Northeast, as well as in places like Baltimore, where there are so many leaks that people's entire houses have been exploding. So gas companies are not exactly good actors. Homes with a gas stove actually have 42 percent more risk of children developing asthma because it turns out you're putting out nitrous oxide into the air at such a rate that if you're cooking for 20 minutes or 30 minutes, you're getting to levels of indoor air pollution that are not even allowed in other kinds of facilities.
BROOKE GLADSTONE So if I find out that my gas provider is lying to me, they still have a monopoly on my kitchen and my furnace and my landlord's furnace. If I'm a renter, there's a lot we can't do.
LEAH STOKES Yeah, it's particularly hard if you're a renter, although you can do things like getting in a little electric space heater. I have one in my bedroom, for example. You could get a toaster oven. There are some little ways that you can defect from the system and resist even if you're renting. But if you own a home, I'd really encourage people to start looking into electrifying their home. Can I get a heat pump, for example? Can I get an electric hot water heater? Can I get an induction stove? I just bought an induction stove, the cost was basically the same. And I think especially if you have young kids at home, this is a really important thing to look into for your family's health.
BROOKE GLADSTONE We're doing this interview because we're really interested in the space between public relations and reality. The question is, how important is public relations to these companies?
LEAH STOKES We do have levers in our democracy to call out these front groups, and actually that's why journalism is so important. People like Rebecca Leber at Mother Jones, who did reporting that these Instagram influencers, young women, were being paid by the gas industry to go on Instagram and say, "oh, I love my gas stove so much" to a new generation of millennials. Well millennials got to realize that gas stoves are toxic. So journalists play a really critical role, and if you're reading these kinds of stories, reach out to our government offices, reach out to your representatives.
BROOKE GLADSTONE We went solar.
LEAH STOKES Oh cool.
BROOKE GLADSTONE In eight years, we'll have paid it off.
LEAH STOKES That's not so bad for a payback period, right!
BROOKE GLADSTONE But we do have a gas stove.
LEAH STOKES Next stop is an induction stove, Brooke.
BROOKE GLADSTONE [LAUGHS] Thank you so much.
LEAH STOKES Thank you so much. This was a lot of fun.
BROOKE GLADSTONE Leah Stokes is an energy policy expert at the University of California, Santa Barbara, and author of The Dirty Truth about Climate Pledges.
We asked Duke Energy and Southern Company for comment. Duke told us that it is, quote, exploring faster coal retirement and the addition of more renewables and storage and that it has, quote, reduced emissions 39 percent since 2005, but that its efforts require, quote, supportive policy. And Southern, similarly notes that its greenhouse gas emissions have dropped 44 percent since 2007, that it is working to expand its renewables, and that it is, quote, embracing an orderly transition of its coal fleet. You can find Duke's and Southern's full statements at onthemedia.org.
Copyright © 2021 New York Public Radio. All rights reserved. Visit our website terms of use at www.wnyc.org for further information.
New York Public Radio transcripts are created on a rush deadline, often by contractors. This text may not be in its final form and may be updated or revised in the future. Accuracy and availability may vary. The authoritative record of programming is the audio record.