The Global Implications of the Conflict in Gaza and Israel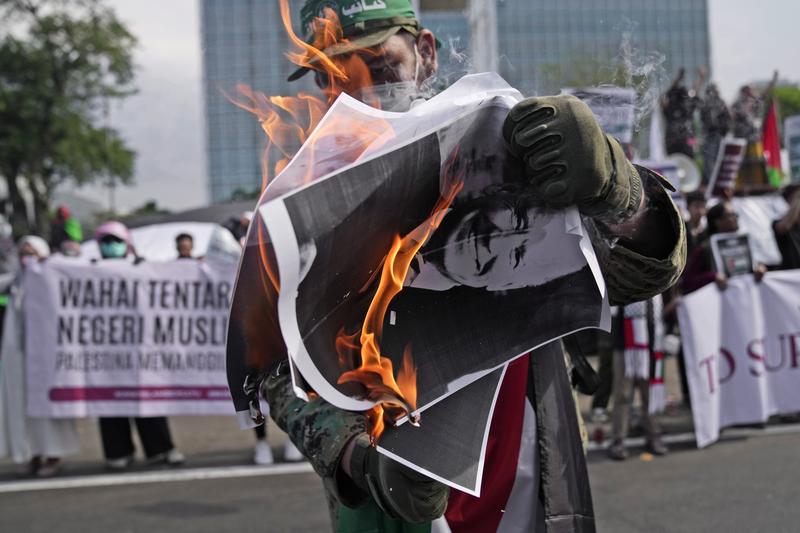 Transcript
Brooke Gladstone: This is On The Media. I'm Brooke Gladstone.
Micah Loewinger: I'm Micah Loewinger. In the days following Hamas's attack on Israel, President Biden expressed himself in the starkest terms possible.
President Biden: This was an act of sheer evil.
Speaker 23: The US has deployed two aircraft carrier strike groups to the eastern Mediterranean. 2,000 American troops are on standby.
Micah Loewinger: On Wednesday, when Biden arrived in Israel-
Speaker 24: There was a hug, an embrace, between President Biden and Prime Minister Netanyahu just as soon as President Biden exited Air Force One.
President Biden: I come to Israel with a single message. You're not alone.
Micah Loewinger: He also announced-
President Biden: $100 million in new US funding for humanitarian assistance in both Gaza and the West Bank.
Micah Loewinger: On Friday, Biden formally asked Congress for $10.6 billion in military support for Israel, on top of the more than $3 billion in military aid it already receives annually. Biden had been scheduled to meet with leaders of Egypt, Jordan, and Palestine in Amman, Jordan, as part of a broader diplomatic mission. Then the deaths at the hospital in Gaza on Tuesday night put an end to that.
Mahmoud Abbas: [foreign language]
Speaker 25: President of the Palestinian Authority, Mahmoud Abbas, has said that he will no longer attend that meeting.
Speaker 26: The president's meeting with Arab leaders in Jordan has been called off, saying it was a mutual decision.
Micah Loewinger: After seven and a half hours in Tel-Aviv, Biden left, as the region erupted.
Speaker 27: Right now, hundreds are demonstrating in Beirut, Lebanon, outside of the US and French embassies, in support of Palestinians.
Micah Loewinger: In Jordan-
[protesters shouting]
Micah Loewinger: -in Egypt-
[protesters shouting]
Micah Loewinger: -the West Bank-
[protesters shouting]
Micah Loewinger: -and in Lebanon, Iraq, Iran, and Tunisia.
Tareq Baconi: These are protests that are in solidarity, obviously, with the Palestinians in Gaza.
Micah Loewinger: Tareq Baconi is the author of the book Hamas Contained: The Rise and Pacification of Palestinian Resistance. He's also the president of the board of Al-Shabaka, the Palestinian Policy Network, a think tank that has been highly critical of Israel's treatment of Palestinians. With the collapse of Biden's plan to meet with the leaders of the region, we called Baconi to ask him what he thinks might happen now.
Tareq Baconi: This could have a domino effect around the region for things that have nothing to do with Palestine, that Palestine becomes the vehicle for the people in the region to begin to express their anger and dismay at regimes who are aligning themselves in ways that are ideologically opposed to their own people. Both Jordan and Egypt have had cold peace with Israel for decades, but the populations themselves have never really warmed to Israel.
Micah Loewinger: When it comes to Lebanon, a government which hasn't recognized Israel, the situation is even more volatile.
Tareq Baconi: It's still formally at war with Israel and Hezbollah, which is one of the biggest military powers in the Middle East, which operates predominantly out of Lebanon, has obviously aligned itself with Hamas, as it has in the past. It is very likely that if this escalates, that it will come out in defense of Palestinians as another party, another front to this war.
Speaker 28: Towns along Israel's northern border with Lebanon have been evacuated after repeated exchanges of fire. All this comes as Hezbollah's backer, Iran, is warning of preemptive action against Israel.
Micah Loewinger: Iran is implicated as the country that provides funds and weapons to Hezbollah.
Speaker 29: Today, Iran's Supreme Leader, Ayatollah Khomeini, denied Iran was behind the attack, claiming that those saying so are wrong. He added we kiss the hands of those who planned the attack.
Micah Loewinger: Earlier this week, Iran's foreign minister made some of the strongest statements yet.
Speaker 30: Let me read what he just said. Groups backed by Iran will not allow Israel to do what it wants in Gaza. Among those groups is Lebanon's Hezbollah.
Tareq Baconi: If Lebanon is pulled into the fray, that could be existential for Lebanon as well. Just in the immediate constellation around Palestine, we see three Arab countries that could be pulled in in ways that are existential if this escalates.
Micah Loewinger: Another inciting factor, Saudi Arabia, whose move towards normalization with Israel was unpopular with the Saudi people and is said to have been a potential spark for Hamas's attack on October 7th.
Speaker 31: You'll recall, of course, that in recent months, the White House had been supporting the effort to normalize relations between the Saudi government and its longtime adversary, Israel. Due to concerns about Israel's retaliatory strikes in Gaza, the Saudis now reportedly say those talks are over.
Tareq Baconi: I don't see that deal proceeding at least in the immediate future.
Micah Loewinger: Baconi says it was a huge miscalculation on the part of the Israeli government to assume that the blockading of over two million people in Gaza was sustainable, also underestimating the anger and passion with regard to the plight of Palestinian people throughout the region.
Tareq Baconi: To think that this is something that is limited to Palestine is to miss the possibility that Lebanon, Egypt, Jordan, and Iran could very quickly be embroiled in this just because of the politics around Israel-Palestine. In a global reality where we also have a European war, and we also have major geopolitical realignments happening, this is more explosive than it's ever been in my lifetime, at least.
Micah Loewinger: Tareq Baconi is the author of Hamas Contained: The Rise and Pacification of Palestinian Resistance.
Brooke Gladstone: The attacks on Israel and its aftermath, the long tale of global impacts that will likely follow has called up a certain historical analogy.
Speaker 32: What Israel experienced was the equivalent proportionately of seven 9/11.
Speaker 33: This is our 9/11.
Speaker 34: This is unimaginable. This is, as someone said, our 9/11.
Speaker 35: Yesterday, it was Israel's 9/11. It's the worst of humanity.
President Biden: For a nation the size of Israel, it was like 50 9/11s.
Brooke Gladstone: As journalist George Packer wrote in The Atlantic, the facts are different but the feelings are the same, profound shock, unbearable grief, humiliation, rage, and solidarity. Certainly, October 7th will be remembered as a moment of national anguish like 9/11. In that case, it marked a turning point in how Americans saw their security and consequently their place in the world. The legacy of 9/11 is as important as the events on a single day, the mistake made in its wake, the lessons learned. How much can we really invest in analogizing 9/11 to October 7th?
Because we just don't know what'll happen over the long haul. David Klion is a contributing editor of Jewish Currents and writes for many publications including The Nation and The New Republic. His latest article for n+1 is called Have We Learned Nothing? David, welcome to the show.
David Klion: Thanks so much for having me.
Brooke Gladstone: Let's talk about the analogy. As George Packer and you yourself observed, the horror is comparable but the scale isn't. Packer went on to say the thousands or more civilians butchered on Saturday by Hamas are relative to Israel's population, a lot more than 3,000 killed in the US by Al-Qaeda. The proportionate number of dead on 9/11 would have been close to 40,000. Although Al-Qaeda had the ability to strike terror anywhere in the world, it couldn't destroy the US.
Hamas, he said, can threaten Israel's very existence both in principle and in practice if it allies with more powerful entities like Hezbollah, Syria, Iran. Why should we consider 9/11 in the midst of this conflict? What does it teach us?
David Klion: Packer and I don't agree on everything but one thing that we do agree on is that the fallout of 9/11 was basically folly, that the US started a series of wars around the world that were enormously destructive and continue to be in many cases suspended civil liberties in various regards, set up torture camps around the world, spied on American citizens and people around the world alike. For what, basically? The war in Iraq is widely understood to be a disastrous failure that never should have happened.
The war in Afghanistan, though I think it made sense to a lot of people in the beginning, went on for 20 years and ended in basically total defeat, and the collapse of the US-backed government in Kabul. The lesson there is that cooler heads might have prevailed in the first place after 9/11 and no one wanted to listen to them.
Brooke Gladstone: You wrote that you couldn't remember a time since 9/11 when emotion and bloodlust overwhelmed reason as thoroughly as they do now, including among liberal elites and media, and politics. You liken it to the 9/11 attacks inducing a kind of collective psychosis.
David Klion: I was living in DC at the time of the 9/11 attacks and I was about to move to New York, so that was kind of my world DC and New York. I think may be hard for younger people than myself to fully understand just how lockstep so much of the liberal conventional wisdom was in favor of a militarized response. People experienced the attacks very viscerally. It's not just that they were shocked and traumatized by the horror itself, but their entire sense of security, their sense of immunity was so badly shaken.
I think that in order to understand what Israel's going through right now, people have to consider that the basic premise of the Israeli state is that it will protect Jewish life. That's what it failed to do. The basic premise of so many American Jews who feel connection to Israel is that Jews will be safe there. There's a certain cruel irony in the fact that the biggest massacre of Jews on any day since the Holocaust took place, not in the diaspora, but in Israel because of the failures of the Israeli state to protect its civilians.
Brooke Gladstone: That would be another 9/11 analogy, wouldn't it? The scale of the intelligence failure. The George Bush administration didn't pay attention to pretty explicit warnings in this case. The failure seems to have been because of Netanyahu being very distracted by the schisms in his nation and in his need perhaps to duck the actions of a court regarding corruption.
David Klion: That's basically right. Israeli society has been deeply divided over the past year because Netanyahu was convicted of corruption charges. In order to avoid accountability has formed a coalition government with extreme right-wing, pro-settler parties whose language toward the Palestinians is eliminationist, it's genocidal, who also don't really believe in the ideal of Israel as a liberal democracy. Netanyahu has been eroding Israel's independent judiciary, cynically, to protect himself from accountability. Israeli society, Israeli liberals, in particular, have taken to the streets for months in large numbers to protest him.
That's what was going on at the eve of this attack. The other thing that was probably distracting Netanyahu and the Israeli defense force is the IDF, is that his policy prioritizes expansion of illegal settlements in the West Bank and encourages what are essentially pogroms by West Bank settlers against Palestinians living there, which have been happening all year. In order to protect these settlers and their ability to do that, Netanyahu has deployed large numbers of IDF reserve units to the West Bank when in hindsight, probably they should have been protecting the border against a potential incursion by Hamas.
Brooke Gladstone: You also observed, again, with regard to 9/11, that it wasn't that American elites were unaware that the US had committed injustices in the Middle East or that 9/11 could be construed as a blowback. It was that 9/11 had given them permission not to care.
David Klion: There was panic and fear and anger after 9/11. You're seeing a lot of the same thing now in Israel and in the US government and in the American-Jewish community writ large. In the context of that panic and fear. There are significant factions in Israel, including serving in Netanyahu's government and in the American Jewish community that I think want to expel Palestinians from their homes in even larger numbers and to annex and settle their land. This is the explicit goal of some of Netanyahu's cabinet ministers.
For them, I think that their horror at the attack is matched with a sense of opportunism, which is somewhat analogous to how, for instance, neoconservatives in the wake of the 9/11 attack who had already been planning a US invasion of Iraq as their imperial fantasy, suddenly had the chance to make it real, and did, Iraqis and the whole world suffered consequences from that.
Brooke Gladstone: Let's talk about another echo of the analogy, which is that Israel, like the US after 9/11 had no end game. I heard the Israeli intelligence ministers say on the BBC, I've heard it elsewhere too, that what happens in Gaza's tomorrow's problem. I think that's pretty significant.
David Klion: Yes, I think that Israeli society is deeply destabilized right now, both domestically and internationally with this acute trauma. It's just endured. You're absolutely right that the open-endedness of the US war on terror and of the specific wars in Iraq and Afghanistan was a huge strategic liability that some people warned about in vain beforehand, and is why those wars dragged on as long as they did, and produced as many unintended consequences as they did.
Any sustainable solution to the Israeli-Palestinian crisis would require a much bolder strategic vision than any Israeli leader in, at least the past two decades, more than that, I'd say has been willing to seriously consider. Instead, I think there will be lashing out, there will be violence, generational reprisals, and it's hard to imagine any positive end game at the moment.
Brooke Gladstone: Just an anecdote, the intercept had two headlines last weekend. One was, yes, this is Israel's 9/11 and the other was not Israel's 9/11, but a prison riot.
David Klion: There's some truth to both of those framings. I think obviously I have an inclination to defend the first one, but I want to be wary of language that would justify Hamas itself or the atrocities that it committed. There are voices here and there, though I don't think very many prominent ones that have attempted to do that. I don't want to do that but I do think that it's imperative to understand the conditions that Israel maintains in Gaza and has maintained for decades in Gaza that have allowed Hamas to entrench itself and to have some legitimacy.
Those conditions include overcrowding, they include Israeli control of water, fuel, electricity, internet, all of which Israel has cut off at various points in the last week. They include periodic bombardments and we're also talking about a place where half the population is under the age of 18. Children are spending their entire lives under these conditions and are shaped in many cases into people with a lot of hatred toward the state of Israel.
Brooke Gladstone: Let's say this 9/11 analogy, though not perfect, is at least instructive. I've noticed that it's being used in two disparate ways. The first being your take. Don't go crazy. Don't let this horror give us license to ignore history and context or license not to care about innocent lives. The second being that since this is 9/11, there is no response to small. The latter was echoed by George W Bush last week. He said.
George W Bush: For that's gone on too long. Surely, there's a way to settle this through negotiations. Both sides are guilty. My view is one side is guilty and it's not Israel.
David Klion: In a way, it was almost vindicating to see George W Bush say that because here's a president whose instincts after 9/11 caused a lot of problems that we're still dealing with. For him to essentially reiterate the exact simplistic mannequin and worldview that he's so famously had after 9/11 tells you something about the dangers of this moment and the examples to be avoided.
Brooke Gladstone: You think that the comparison to 9/11 could inspire restraint?
David Klion: I hope so.
Brooke Gladstone: Was there a particular moment that inspired you to write this piece?
David Klion: I wrote this piece because the publisher and co-editor of n+1, Mark Krotov and I were having a conversation. He's an old friend. I'd only written for him once before, but we were having a conversation about how distraught we felt and how distraught so many people we knew felt, and how insane a lot of people we knew felt. This was only a few days in to quote the old poem that "The best lack all conviction, while the worst are full of passionate intensity."
Brooke Gladstone: The center will not hold, William Butler Yeats.
David Klion: Yes, exactly. We felt that what was needed was less a policy prescription, that op-ed and more a piece that would capture what it feels like to live through these times, to know that this has happened before the helplessness, that you feel knowing that terrible things are going to happen, that you can call out and demand not happen. You can and you will, but you know on some level it's not going to work. That some of it is unavoidable. That sense of deja vu, I guess.
Brooke Gladstone: I'm wondering whether you would read the last paragraph of your article. It starts with the remark of a campus anti-war activist on the night that Bush announced that the US had begun bombing Iraq.
David Klion: Certainly. They're already dead. I recall a campus anti-war activists saying to me on the night Bush announced that the US had begun bombing Iraq. He was right. Hundreds of thousands of Iraqis were about to die in Bush's folly. Their fates already decided. At the time, I understood and somewhat appreciated what the activist was saying, but I also was parochial enough to wonder whether he even cared about the Americans at ground zero who were literally already dead. Never mind that Iraq had nothing to do with what had happened to them.
Today, though his words echo in my head, as I think about the Palestinians in Gaza, and the agony of knowing that they're already dead, no matter what any of us feel, or think, or say.
Brooke Gladstone: David, thank you very much.
David Klion: Thank you. I'm really glad I could do this.
Brooke Gladstone: David Klion is a contributing editor at Jewish Currents and writes for many publications, including The Nation and The New Republic. That's the show. On the Media is produced by Eloise Blondiau, Molly Schwartz, Rebecca Clark-Callender, and Candice Wang with help from Shaan Merchant. With enormous thanks to our beloved producer, Suzanne Gaber, who gave us everything she had every leak, and now sadly for us, she's going to give it to another show. We miss you already, Suzanne.
Micah Loewinger: Our technical director is Jennifer Munson. Our engineer this week was Andrew Nerviano. Katya Rogers is our executive producer. On the Media is a production of WNYC Studios. I'm Micah Loewinger.
Brooke Gladstone: And I'm Brooke Gladstone.
Copyright © 2023 New York Public Radio. All rights reserved. Visit our website terms of use at www.wnyc.org for further information.
New York Public Radio transcripts are created on a rush deadline, often by contractors. This text may not be in its final form and may be updated or revised in the future. Accuracy and availability may vary. The authoritative record of New York Public Radio's programming is the audio record.