The Global Culture War For YouTube Supremacy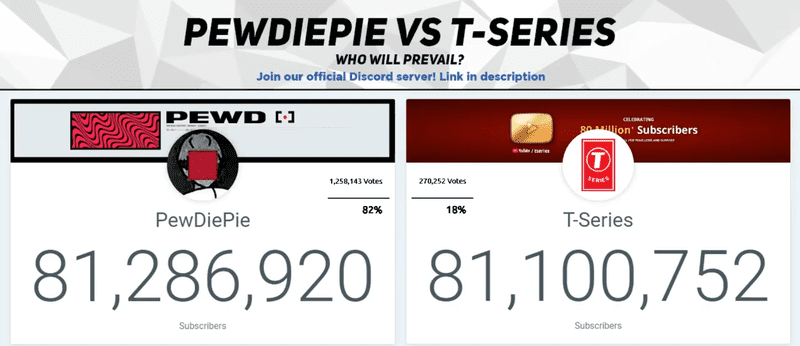 Transcript
BOB GARFIELD: This is On The Media, I'm Bob Garfield.
BROOKE GLADSTONE: And I'm Brooke Gladstone. So we've got a battle over Brexit, which fundamentally is about big symbolic issues–power, sovereignty, inclusion. And we're up against a wall over the US government shutdown which also is about big symbolic issues like executive power, national priorities and the role of government. And then there's the hand-to-hand combat taking place under our very noses over who is the supreme leader of YouTube. A 160 million people have taken sides in what is depicted as a David versus Goliath story–or maybe Goliath versus Goliath. Let's start with--.
[CLIP]
FELIX KJELLBERG: How is it going everyone? My name is PewDiePie. [END CLIP]
CLAY SHIRKY: So PewDiePie is character played by Felix Kjellberg. He is a caustic and funny gamer.
BROOKE GLADSTONE:Clay Shirky is a tech writer and vice provost of educational technology at New York University. He's tracked PewDiePie's nine year rise to the top of YouTube.
CLAY SHIRKY: He's Swedish, he lives in England, he's 29 and he's one of the first generation of YouTube's who did it as a hobby and converted it to a career.
[CLIP]
FELIX KJELLBERG: Friday with PewDiePie, on a Friday.
BROOKE GLADSTONE: PewDiePie's subscriber count started to rise on the appeal of a now classic genre of videos called let's play. As in you watch him goof around while he plays a game. He's now got 80 million subscribers. But two years ago he started dipping into controversy.
[CLIP]
FEMALE CORRESPONDENT:All right, Disney cutting ties with, what is this?
MALE CORRESPONDENT: PewDiePie.
FEMALE CORRESPONDENT: PewDiePie.
FEMALE CORRESPONDENT: The Wall Street Journal reporting that PewDiePie, the world's highest paid YouTube star posted nine videos featuring anti-Semitic comments or Nazi imagery.
FEMALE CORRESPONDENT:The Wall Street Journal reported that a January 11th video showed two men holding a sign that said, 'Death to all Jews,' allegedly hired by the 27 year-old Internet personality.
BROOKE GLADSTONE: Google cut PewDiePie from its lucrative preferred ad program and canceled his premium YouTube original series. PewDiePie, by the way, did not respond to any of our requests for comment.
FELIX KJELLBERG: I am sorry for the words that I used, as I know they are offended people. I do strongly believe that you can joke about anything. Here's the thing though, the media takes what I say out of context to portray me as a Nazi. Old school media does not like internet personalities because they're scared of us.
CLAY SHIRKY: The context question is often used as a 'Get Out Of Jail' card to say to people, 'I don't want to be held to standards other than those held by my own audience.'.
BROOKE GLADSTONE: And I bye that, I do. But there's this really smart anthropologist's Crystal Abidin and she went through a lot of the citations of PewDiePie's transgressions that were assembled by the Wall Street Journal. The Wall Street Journal circulated a still of PewDiePie supposedly making the Nazi salute, when this was actually him just extending his arm and pointing off screen. There was another one that the Wall Street Journal did of PewDiePie donning a uniform and watching Hitler videos when this was actually the second half of a longer snippet in which PewDiePie refuted earlier media accusations that he was a Nazi and then jokingly donning a British uniform while pretending to watch clips of Hitler's Speech to depict how he thinks the media views him. I mean this isn't just casual context.
CLAY SHIRKY:No, that's right. But I don't think there's any claim of being out of context that saves the 'Death to all Jews' stunt.
BROOKE GLADSTONE: Actually I watched that entire thing and he was asking a whole bunch of people to--
CLAY SHIRKY: On Fiverr.
BROOKE GLADSTONE: --to do things that he knew they wouldn't do. And this was one that he had put in that group on Fiverr who, for a certain amount of money will do something on video that you request. He'd asked for outrageous things. No one did it and for five bucks, two guys from India did this, 'Death to all Jews' thing and you see his reaction.
[CLIP]
FELIX KJELLBERG: I am sorry. I didn't think they would actually do it. I feel partially responsible but I didn't think they would--[END CLIP]
BROOKE GLADSTONE: And he looks genuinely shocked. He just never expected it. Now, should he have done that? Was it really obnoxious and creepy? Yeah, but I think she kind of conceded that himself.
CLAY SHIRKY: Yeah but that to me says he can sort of have it both ways.
[CLIP OF PEWDIEPIE SINGING UP & UNDER]
CLAY SHIRKY: [00:37:11] The problem with PewDiePie is not that he's a Nazi, the problems that is an ass-- and wants to be both edgy and not upsetting people because his audience expects edginess but his advertisers expect not upsetting people. And one of his constant complaints about people pushing back on his edgy content–which often involves racial slurs or using the word retarded, casual homophobia, these kinds of things–is that he's being held to a standard that his own audience doesn't have, right? He's now finally being treated as a cultural figure who says something about the larger society. He's not just a gamer mouthing off to amuse other gamers.
BROOKE GLADSTONE: PewDiePie's mounting controversy has had little effect in his ranking as the most subscribed to YouTube for until the rise of the Indian Super Channel T-Series.
[CLIP]
FEMALE CORRESPONDENT: It's on course to become the most subscribed channel on YouTube and is about to pass the controversial personality Pew--PewDiePie.
CLAY SHIRKY: Out of nowhere comes this channel T-Series. There are like 60 million subscribers and their channel is going insane and I'm thinking,' who are these guys? What is T-Series?'
[MUSIC UP & UNDER]
BROOKE GLADSTONE: T-Series is like India's Disney. Almost synonymous with the films and music it produces like the viral song Lahore by Guru Randhawa.
AJEY NAGAR: T-Series, I guess, is everywhere. Every part of the country, there is T-Series.
BROOKE GLADSTONE: This is Indian YouTuber Carry Minati who adds 5.5 million subscribers.
AJEY NAGAR: YouTube came in India very late. Before YouTube, we had CDs, DVDs. We had VHS, we had cassettes. Every Bollywood movie has a song in it.
BROOKE GLADSTONE:Of course.
AJEY NAGAR: Most of them were released by T-Series. I think it's been them forever.
BROOKE GLADSTONE:Forever? Coming from a YouTube knows his way around the entertainment industry.
AJEY NAGAR: Okay, so I've been doing this for a long time. It's been like 10 years, I guess now.
BROOKE GLADSTONE: And how old are you?
AJEY NAGAR: I'm 19.
BROOKE GLADSTONE: Wait a minute, you've been doing it since you were nine?
AJEY NAGAR: Yeah, I know. I've been making like a lot of content, from like football tricks to PSP tutorials to game plays. A lot of things, I've done a lot of things. Gulshan Kumar, a juice seller, started what became T-Series in 1983 growing it into what's now the ubiquitous emblem of Indian pop culture. And so it remains, though Kumar was murdered by the Mumbai underworld in 1997. Today, the company distributes Bollywood, Bhangra and hip hop in a variety of Indian languages, all of which is available on a YouTube channel. The subscribership of which has sometimes briefly even overtaken PewDiePie's.
[CLIP]
FELIX KJELLBERG: For failing YouTube channel is taking over. That's right. In no less than in November this year, PewDiePie will not be the biggest channel on YouTube. No! We must fight back. [END CLIP]
BROOKE GLADSTONE: YouTube, Instagram, Twitter and Snapchat were flooded with PewDiePie's calls to action.
[CLIP OF MONTAGE]
JUSTIN ROBERTS: I want to put 'subscribe to PewDiePie' on the largest billboard in Times Square.
MR. BEAST: In this video, I will say PewDiePIe 100,000 times to stop T-Series.
MALE CORRESPONDENT: People around the world doing campaign for PewDiePie. And in Bangladesh, it's not different people. They're sticking posters under trees and the walls.
YOUTUBER: PewDiePie, PewDiePie, PewDiePie, PewDiePie, PewDiePie, PewDiePie--
VILONIOUS TV: I am going to destroy my body with a subscribe to PewDiePie tattoo.
MALE CORRESPONDENT: Everyone's doing their part. Have you been doing your part?
FEMALE CORRESPONDENT: They have taken control of printers around the world to create posters supporting the vlogger PewDiePie. [END CLIP]
SARAH MOORE: The other day I was sitting at work in the printer started printing something--.
BROOKE GLADSTONE: While 23-year-old Sarah Moore was working her job at a hair salon in Wilson North, Carolina. The office printer, one of 50,000 hacked worldwide, spread out posters promoting PewDiePie.
SARAH MOORE: It was honestly one of the best thing that's ever happened. I never thought it would come to my salon, that I work at and everything. So basically, I've always been a fan of PewDiePie, since like forever.
BROOKE GLADSTONE: So what does the war represent to you?
SARAH MOORE:The Wall Street Journal and like these other publications. Basically they are just taking things completely out of context.
BROOKE GLADSTONE: Mmmhm.
SARAH MOORE: And to rise up and defend him, I guess? And like, have the battle for him. To me, it kind of represents that YouTube still has this really nice deep seated community of people who know what's right and what's wrong. And we live in a world where cancel culture is so strong. Somebody does one thing wrong and then you want to cancel them forever.
BROOKE GLADSTONE: Sarah disavows the anti-Semitic joke video but believes his apologies are genuine and her fear of cancel culture is shared widely on the platform. To many of his fans, PewDiePie is the David up against YouTube with the Goliath, against the media Goliath, against the T-Series Goliath.
[CLIP]
JUSREIGN: While everyone else is just moaning and complaining and turning our beloved T-Series into a tyrant, to this big music industry typhoon that's coming in and taking away the little guy–which, don't get me wrong, definitely, definitely is all those things. But it's our evil corporation, OK? For once our evil corporation gets to win and gets to take the number one spot.
BROOKE GLADSTONE: Canadian Indian YouTube JusReign.
JUSREIGN:Because maybe it is our time now. Maybe your karma of colonizing us is finally catching up–through us beating you and completely unnecessarily racially motivated subscriber race on YouTube. [END CLIP]
BROOKE GLADSTONE: [00:43:00]Meanwhile the diss track 'bitch lasagna,' with over 100 million views, is PewDiePie's most popular video. The song takes its title as gloom ridiculing the broken English of Indians online. Other YouTubers like Ethan Klein of h3h3productions have fanned the flames.
[CLIP OF BITCH LASAGNA UP & UNDER]
[CLIP]
ETHAN KLIEN:They must have 1.4 billion people in India. They are churning out YouTube views in unprecedented numbers. Bollywood is the Corniche on the history of the earth and aren't all Indians the goofiest people you've ever met in your life. No I'm kidding? That was a joke. [END CLIP]
BROOKE GLADSTONE: In response to PewDiePie, Ethan Klein and the waves of anti-indian hate on social media, Carry Minati made his own diss track in Hindi to capture how Indians are processing the feud.
AJEY NAGAR: I've seen a lot of comments that say that PewDiePie did it as a joke and I've seen a lot of comments that said he did not do this joke and they are offended and they are angry and are showing a bit of rage.
[CLIP OF BYE PEWDIEPIE UP & UNDER]
AJEY NAGAR: ' ,' that means the world unites against ordinations because a lot of people are saying that it's not just PewDiePie vs T-Series. India is like alone in this.
BROOKE GLADSTONE: In an effort to defuse the vitriol unleashed by the subscriber war, PewDiePie asked his fans to support a charity for Indian children. Clay Shirky says the aggression exhibited by his most vocal fans suggests that for these guys, racism is the principal fuel. He does offer lower case w lower case s white supremacy.
BROOKE GLADSTONE: What is that?
CLAY SHIRKY: He is in that mode of white guy gamer for whom he exemplifies a kind of freedom to be caustic and insulting without consequence. And that is something that has been given to white men more than to other members of society. And to hear that people who like Bhangra and Bollywood music are going to displace him, does in fact raise those cultural anxieties.
[CLIP].
LUCIAN WINTRICH: Do we want an American in the top YouTube spot or do we want an Indian man succeeding better on a platform that us Americans created. [END CLIP]
BROOKE GLADSTONE: [00:45:26]Former Gateway Pundit White House correspondent Lucian Wintrich at the right-wing American priorities conference in DC. The neo-nazi site Daily Stormer with tongue firmly in cheek, called PewDiePie the true leader of all racists, anti-Semites and fascists, hoping no doubt to entice a few of his terminally ironic viewers while inciting hysterics in the mainstream press. And PewDiePie also gotten the nod from Canadian psychologist Jordan Peterson who depicts PC culture and left-wing politics as mortal threats to Western civilization.
[CLIP]
MALE CORRESPONDENT: Hey Jordan, what are you doing right now?
JORDAN PETERSON: I'm subscribing to PewDiePie. [END CLIP]
CLAY SHIRKY: What everyone has learned, on all sides of the political spectrum now, is how to take an isolated event in the world and add it to the giant referendum on everything that we're currently living through.
BROOKE GLADSTONE: Even if PewDiePie doesn't mean it, especially if he doesn't mean it. Because he's saying that if you don't mean it, it's kind of ok.
[CLIP OF PEWDIEPIE SINGING]
BROOKE GLADSTONE: Meanwhile, in the war for subscribers the, Internet's Swedish Emperor still claims the prize–but his grasp is increasingly shaky.
CLAY SHIRKY:Smartphone penetration in India is less than 25 percent, which is to say the West has topped out there will be incremental growth only. When India has triple the number of people online that it has now, something that's not possible in the US or Europe, T-Series will leave PewDiePie well behind. This is kind of John Henry and the machine, right? There's this last ditch attempt by PewDiePie's fans to kind of create fake demand to push them over the 80 million mark, which they've--which they've done 80 million subscribers. But a lot of that's people's second email addresses or people doing it as a joke. Like his view counts aren't going up as fast as his subscribe counts. This is not an audience anymore, but it's not even a competition because the T-Series people don't care.
BROOKE GLADSTONE: We asked Louie, media analyst and the 11-year-old son of our executive producer Katya Rogers, to offer some perspective for middle school. Louis says that subscribing to PewDiePie is more mean than anything else. In fact, he sees the current competition as merely a temporary reprieve for a brand that was already losing its luster.
LOUIE: Some people, I could see them listening to one sentence of PewDiePie and just hating him, thinking he's so racist and he is a lot. Also sometimes, I can see him just doing it to get more views just to get money. I don't feel like he's actually really trying for good content. So no one really watches his videos if they subscribe to PewDiePie. They just press subscribe, leave his channel.
[CLIP OF PEWDIEPIE SINGING UP & UNDER].
LOUIE: Right after this whole PewDiePie vs T-Series thing, he's gonna be gone and no one's going to care about him.
[MUSIC UP & UNDER]
BROOKE GLADSTONE: I'm guessing that not many of you ever did care about him. But this show is about big symbolic issues. So I'll end on the ones addressed earlier this hour, the perils of capitalism and what happens when the basic human need for attention is denied and wrap them both up in the saga of PewDiePie. This week Eli Pariser wrote in Time magazine about restoring dignity to technology. And he drew on the work of Harvard researcher Donna Hicks, who tracked how violent conflict around the world arises from assaults to human dignity. How being excluded stimulates the same part of the brain as a physical wound. Pariser laid out how online platforms like Twitter, Facebook and YouTube threaten our dignity. Ignoring what we want and distracting us with what we don't, so that we stay and stay and stay.
[MUSIC UP & UNDER]
BROOKE GLADSTONE: Eager eyeballs, angry eyeballs, anguished eyeballs are all worth the same. PewDiePie knows this and he may be sorry, but not that sorry. Extrapolate to the culture, it's not hard and you'll see that it doesn't respect us either. I used to blame human nature for the messes we made online and off. But I'm starting to realize that our natures are plastic. We could be enticed easily to be our better selves but we wouldn't be worth as much. Because we wouldn't need to stay so long.
[MUSIC UP & UNDER]
BOB GARFIELD: That's it for this week's show. On The Media is produced by a Alana Casanova-Burgess, Micah Loewinger, Leah Feder, Jon Hanrahan and Asthaa Chaturedi. We had more help from Xandra Ellin and our show was edited by Brooke. Our technical director Jennifer Munson and our engineers this week were Sam Bair and Josh Han.
BROOKE GLADSTONE: Katya Rogers is our executive producer. On The Media is a production of WNYC studios. I'm Brooke Gladstone.