Gawker and the New Era of Media Censorship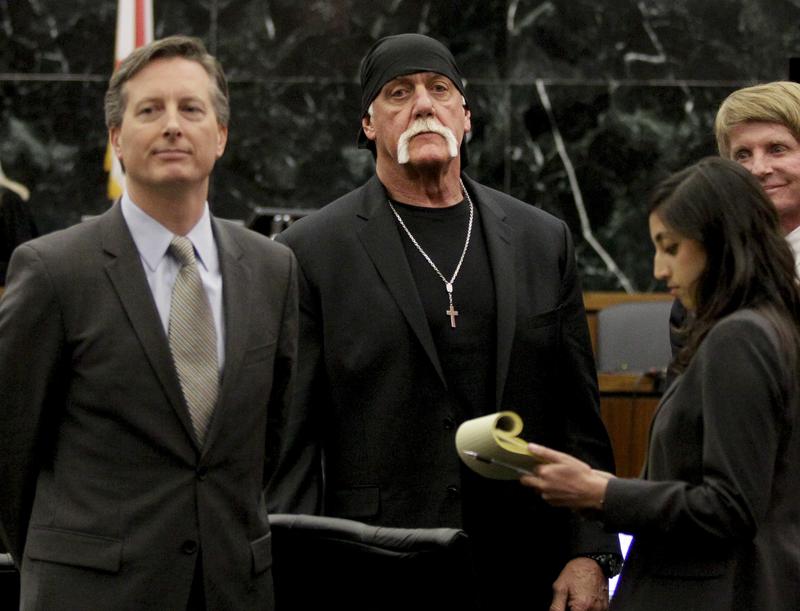 Transcript
BOB GARFIELD: This is On the Media. I'm Bob Garfield.
This week, defamation in the news was back in the news.
[CLIPS]:
MALE CORRESPONDENT: On Wednesday, suspended Fox News host Eric Bolling, who is under investigation for allegedly sending graphic pictures to female colleagues, is suing the journalist who first broke the story.
FEMALE CORRESPONDENT: Bolling is suing journalist Yashar Ali Hedayat for defamation and is seeking $50 million in damages.
BOB GARFIELD: The sex and celebrity have a familiar ring and also the eye-popping demand of $50 million, in the wake of last year's $140 million jury award to pro wrestling legend Hulk Hogan.
FEMALE CORRESPONDENT: Hogan, whose his real name is Terry
Bolleais, is suing Gawker for $100 million over its release of a sex tape that shows the Hulk having sex with the former wife of radio shock jock Bubba the Love Sponge.
FEMALE CORRESPONDENT: A jury sides with Hulk Hogan, awarding him $115 million in his sex tape lawsuit against the website Gawker.
MALE CORRESPONDENT: The 14-year-old company went into bankruptcy after the judgment and was sold to Univision.
[AUDIO UP & UNDER]
BOB GARFIELD: The Huffington Post can't be thrilled to recall how quickly jurors voted to give a smarty-pants New York media company its comeuppance. But here's the critical difference. As far as anyone knows, Eric Bolling is underwriting his own case. The Gawker case was bankrolled by a third party, Silicon Valley billionaire Peter Thiel, in vengeance for Gawker's outing of him years earlier. He anonymously used Hogan's claim and the court system to wage his own private battle.
In the documentary, Nobody Speak: Trials of the Free Press, filmmaker Brian Knappenberger deconstructs the morality play that was the Gawker case, but then pulls back to observe a larger pattern, the use of big money to subvert, chill, manipulate and punish a free press, from a Florida courtroom to the White House.
BRIAN KNAPPENBERGER: I was really fascinated by what was happening in that courtroom, that even though it had this veneer of tabloid sensationalism, it was pretty clear there were some big-picture First Amendment versus privacy issues at stake.
BOB GARFIELD: In the movie, you make the point that Thiel's involvement was so sinister that people at Gawker were saying, there's something odd going on here, and Nick Denton, the principal behind this, just simply refused to believe that it could get that dark.
NICK DENTON: We had a suspicion that there was, there was somebody. This has cost $13 million in legal fees for us, so far. It was suggested there's another agenda. So the lawyers would occasionally raise this possibility with me.
[MUSIC UP & UNDER]
MAN: Nick refused to believe it 'cause he didn't want to get wrapped up in any kind of conspiracy theories. From my perspective, it was a, a sense of like creeping dread.
BRIAN KNAPPENBERGER: You felt that there was something bigger going on here. The media was on trial. And eventually, they start to believe that there is somebody. And then, actually, The New York Times breaks the story that that's true, that somebody was funding it, and then Forbes comes in and reveals that's Peter Thiel.
BOB GARFIELD: The lawyering that Peter Thiel bought was [LAUGHS] top drawer. There's a point that we learn that they actually reduced their claims in the case for the specific reason of making sure that they could inflict the most pain, not only on the corporation, Gawker Media, but on the founder and CEO, Nick Denton and other editors at the publications.
BRIAN KNAPPENBERGER: Yeah, absolutely, a bizarre series of events because, you know, you'd think that if Hogan was going for the biggest financial payoff they would just throw everything at the wall and see what stuck. But what they realized was that dropping the account actually let the insurers off the hook for insuring Gawker should there be a big damage, so the full weight of the judgment would fall on Gawker and on the writers. That is something that you wouldn't do if you were Hogan's team and you wanted to get the most money, but it's something that you would do if you wanted to kill Gawker.
BOB GARFIELD: The lawyers were able to persuade the jury that Hulk Hogan was macho and kind of superhuman [LAUGHS], but poor Terry Bolleais, the wrestler's actual name, was actually crushed emotionally and embarrassed by the tape.
BRIAN KNAPPENBERGER: Yeah, this leads to really one of the most fascinating parts of the trial, I think, and that is since Gawker made the case that Hulk Hogan had talked about his sex life so graphically on Howard Stern and other shows, that this was, in some ways, fair game; he's a public figure and brought this up himself.
So the Hogan defense came up with something that they hadn't presented before, and that was to really draw a line between Terry Bolleais, the private individual, and Hulk Hogan, the public person. And that distinction got very, very weird.
BOB GARFIELD: I can attest.
[KNAPPENBERGER LAUGHS]
It got very, very [LAUGHS] weird.
BRIAN KNAPPENBERGER: And so, essentially it came down to a passage where he was bragging about his 10-inch penis. And in the courtroom, when he was asked about this, he said, well, Hulk Hogan is 10 inches and Terry Bolleasis, well, not so much. And, weirdly, that became a [LAUGHING] distinguishing factor between this idea of a public persona and a personal one. And it's a very strange thing when you talk to people about this. I mean, you're, you're allowed what they call puffery, which is the promotion of a commercial. You're allowed to kind of exaggerate a little bit. It's weird, as we're cutting this, at the same time, you know, you have this rise of Donald Trump who, you know, at the time was actually being accused of making all of these misogynistic remarks and, and all this stuff, and some of his surrogates basically stepped forward and said, those are things he said as a television personality, that's not how he really feels. So it was a similar kind of distinction being made, and I guess you're left wondering, as a journalist, what do you do with that? When is a public figure to be held accountable?
BOB GARFIELD: For the moment, let's a pull back from the details of the litigation and to its significance, and that is a third party with endlessly deep pockets using a court case to seek his own private justice.
BRIAN KNAPPENBERGER: I think we should be afraid that what Peter Thiel did could be a blueprint for other people. It does seem to have empowered a bunch of lawsuits, if you think about what we've seen just in the last couple of months. I mean, we've seen this lawsuit against John Oliver by this coal magnate. We've seen Sarah Palin using some of the Hogan lawyers in order to sue The New York Times.
A story that we actually cut out of the film was the story of Mother Jones magazine and an Idaho billionaire, Frank VanderSloot, who tried to put them out of business. And ultimately, the readers of Mother Jones and others were able to raise enough money to actually push it back, and they won that case. But I do think that there's something new going on here, in terms of this secretive funding of a case to silence a journalist.
Now, I'm careful when I say that because, you know, very wealthy individuals and organizations and others have funded court cases before but, as I understand it, it used to be illegal to secretly fund court cases, up until the late '50s. This goes back, I guess, all the way to common law. This is a legal term called champerty. And the reason why this was overturned is a pushback against the NAACP who was backing cases in that time period about segregation. And this was a way of kind of thwarting their lawsuits, like Brown v. Board of Education, and others. So I think there's something very different here, between NAACP or the ACLU or, you know, Greenpeace funding a lawsuit, where you know that it's them and you know what their political position is. And there's something different between that and, and that Thiel did here, a single individual with an axe to grind that is not transparent to anybody.
BOB GARFIELD: Now, this isn't taken up in your film but is there any kind of appeal underway?
BRIAN KNAPPENBERGER: No, there isn't an appeal, and the cases at this point have actually settled.
BOB GARFIELD: I want to talk about the last third of the movie, which moves into other examples of big money stifling independent reporting. You make the case that a scary pattern is forming. Let's start with Sheldon Adelson's secret takeover of the Las Vegas Review-Journal. What happened there?
BRIAN KNAPPENBERGER: This is, I think, just a fascinating story where the reporters at the Las Vegas Review-Journal were informed that their paper had been purchased, so they asked, well, who is it and what are their expectations? And they were told not to worry about it.
BOB GARFIELD: And they find out that the new mystery owner is Sheldon Adelson, who is probably the richest man in Nevada, and is a very, very big Republican donor who has been in battles with the Review-Journal for decades. He just doesn't like the paper and its reporters, and now he's the boss.
BRIAN KNAPPENBERGER: Well, it's a, it's a pretty harrowing story when they figure this out. There's an amazing moment when they, they actually have the story ready and they're about to publish it and they're waiting around for a yes or no, you know, should we do this or not, from the murky upper management. [LAUGHS] And they don't get a yes or no or a maybe or anything, and at some point, finally they say, okay, let's just do this, and they do it without any kind of approval, knowing that it might -- they might lose their jobs in the process. So a lot of them are forced to resign. It takes off close to 100 reporters that may have said something that Sheldon Adelson doesn't like.
BOB GARFIELD: There is one particularly poignant story about a guy who had been a burr in Adelson's saddle for some time, who wound up with a sick kid. Tell me about it.
BRIAN KNAPPENBERGER: So, John L. Smith, who's a really beloved columnist in Las Vegas and in Nevada, he wrote a book called, Sharks in the Desert and Mr. Adelson took exception to one of the passages in that book and sued him. And he got this news right as he was dealing with his daughter who had cancer. And basically, an intermediary allegedly comes to John Smith and gives him an offer for a six-figure sum to handle some of his daughter's medical expenses, on the condition that John L. Smith admits that he libeled him. And John L. Smith turns this down and he ends up sticking with the case and he, and he ends up winning his case.
BOB GARFIELD: And the daughter?
BRIAN KNAPPENBERGER: The daughter is okay.
BOB GARFIELD: But he's no longer working at the Las Vegas Review-Journal.
BRIAN KNAPPENBERGER: He does not.
BOB GARFIELD: All right, this is America. Historically, rich people buy newspapers --
BRIAN KNAPPENBERGER: Mm-hmm. [AFFIRMATIVE]
BOB GARFIELD: -- and they use them to flog their own politics, their own values, their own personal interests. There's nothing new about that. Why is the Adelson case so concerning?
BRIAN KNAPPENBERGER: It's the secrecy, and it's the same thing that bothers me about the Thiel example. That, combined with the fact that we're in the kind of new period now in which inequality has gotten so staggering, has been growing for decades, and you pair that with the fact that media, in general, has become so vulnerable, particularly independent watchdog journalism has lost a lot of its revenue, financial underpinnings to the Internet and to others, while the uber-rich have gotten much, much richer and much more powerful. So that's the moment that I'm trying to describe here.
BOB GARFIELD: There's a third element in Nobody Speak. After the Hogan trial, after Adelson and the Review-Journal, you explore a -- another billionaire and his impact on free expression.
BRIAN KNAPPENBERGER: Yeah, you may have heard of him.
BOB GARFIELD: Yeah, tell me about Trump --
[KNAPPENBERGER LAUGHS]
-- and how this figures in.
BRIAN KNAPPENBERGER: Well, he kind of inserted himself into my film. We were in the middle of making this film about Hulk Hogan and Gawker and understanding Peter Thiel and this ability of billionaires to wage litigation against the press, and here's this highly litigious, thin-skinned billionaire who is gaining momentum, at least at that point in the Republican side, I mean, whipping his crowds at his rallies and speeches into a kind of frenzy and pointing at the media and the cameras in the background and saying, oh, you -- these are scum, they're horrible people, and all of this stuff, blacklisting some news organizations, the Washington Post, BuzzFeed and others from getting press credentials in the usual way. So these things seem to connect in a way that looked at a kind of bigger picture of media in America.
BOB GARFIELD: The proper question for me to ask you now is how these three threads, Hogan, Adelson and Trump, woven together presage something particularly bad? But, actually, you addressed that very question in your film. You talked to NYU Professor Jay Rosen.
[CLIP/MUSIC UP & UNDER]:
PROF. JAY ROSEN: I think the common thread among the Peter Thiel story, the Adelson story and the Trump story is billionaires who are proclaiming, we are not vulnerable to truth, we are invulnerable to the facts. And it simply doesn't matter what you say, what the press does, we are more powerful than the truth.
[END CLIP]
BRIAN KNAPPENBERGER: I found that statement by Jay to be very powerful. I do think that's essentially what we're facing now, this notion that the truth doesn't matter if you're rich enough. We see Sinclair Broadcasting, which apparently struck up a deal with Trump for, quote, unquote, "fair coverage," buying up local TV stations across the country, apparently becoming the biggest owner of local TV in the United States. So you have this use of money to sort of consolidate and control the media, which controls public opinion. There's a lot of reasons to be concerned if you're a fan or believe in the Fourth Estate.
BOB GARFIELD: Yeah, you know what, I'm gonna try to do a radio show about that.
BRIAN KNAPPENBERGER: [LAUGHS] Something about the media would be good.
BOB GARFIELD: Well, I like your thinkin'. Brian, thank you very, very much.
BRIAN KNAPPENBERGER: Thanks a lot for having me, appreciate it.
BOB GARFIELD: Brian Knappenberger is a documentary filmmaker who recently directed, Nobody Speak: Trials of the Free Press. It's available on Netflix.
[MUSIC/MUSIC UP & UNDER]
That's it for this week's show. On the Media is produced by Alana Casanova—Burgess, Jesse Brenneman, Micah Loewinger and Leah Feder. We had more help from Jon Hanrahan and Isabella Kulkarni. And this week we say goodbye to Jane Vaughan, who has interned ably and nobly. We wish her the best of luck.
Our technical director is Jennifer Munson. Our engineers this week were Terence Bernardo and Sam Bair. Jim Schachter is WNYC's vice president for news. Bassist composer Ben Allison wrote our theme. On the Media is a production of WNYC Studios. Brooke Gladstone will be back next week. I'm Bob Garfield.