Is Fox News Guilty of Incitement?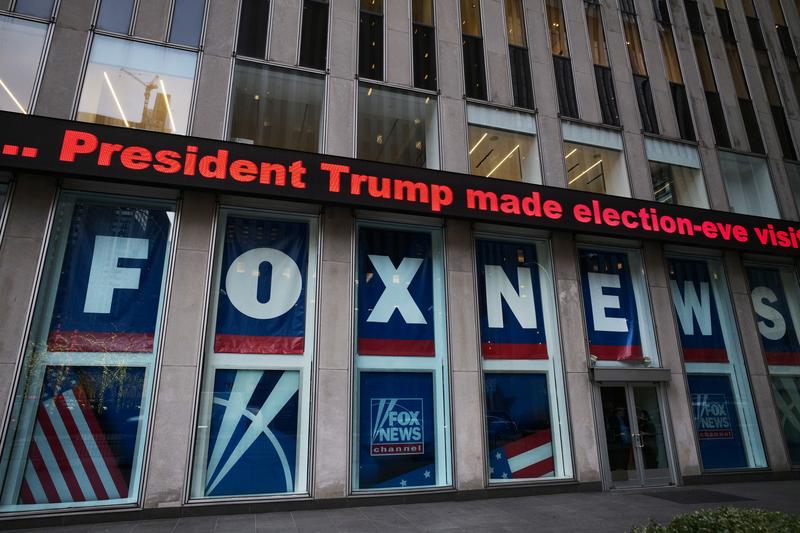 Transcript
BOB GARFIELD This is On the Media, I'm Bob Garfield. To recap, we're discussing how the marketplace might force Fox News Channel into responsible behavior or even into financial catastrophe. Most of that discussion tends to focus on advertiser boycotts, but Media Matters Angelo Carusone has just redirected our attention to Fox's real cash cow. Say Moo, it's you.
ANGELO CARUSONE They can have zero commercials and still have a 90 percent profit margin because they are the second most expensive channel on everybody's cable box, and Fox is in the process right now of renegotiating 40 to 50 percent of all of their contracts.
BOB GARFIELD Fox commands about twenty dollars per cable subscriber per year, not per viewer per subscriber. As long as your cable system embraces Fox to deliver its steady, loyal audience – you, basic cable subscriber – are underwriting Fox and Friends. So if this is truly an inflection point, it may be that we can't depend on advertisers to inflect, but instead the cable companies themselves. Comcast, Charter, Cox, Verizon and so forth. Yes, imagine your cable company, which you almost certainly hate for reasons that have nothing to do with politics, as a savior of American democracy like King Kong versus Godzilla, only Godzilla, is late for your service window.
ANGELO CARUSONE That's a good way to put it, yes! It is a weird case where you don't know who to root for, but you know, the fight needs to happen. If they are able to successfully complete these renegotiations over the next year and get more money out of it. There's nothing they can do or say that will get them any meaningful consequences and force them to change. This is really the last opportunity that we have to address the role and the destructive influence that Fox News played, currently plays and will play in our society. I don't think we need to censor them, but I do think that there needs to be a recalibration and some meaningful accountability for all the damage that they've created.
BOB GARFIELD Neither urgency or hopefulness, however, make it so.
JASON HIRSCHHORN I've spoken to a couple of people at the cable companies, not all. I haven't heard one that is seriously thought about it, nor gone back to Fox to talk about content.
BOB GARFIELD Jason Hirschhorn was formerly chief digital officer of MTV Networks, president of Sling Media and recently co president of MySpace, where he worked for Rupert Murdoch. Now as founder and curator of the newsletter Media Redef, he's in regular touch with top executives throughout the multichannel universe.
JASON HIRSCHHORN There has been no sign to me that they're going to stop and no sign that any cable company will take them off.
BOB GARFIELD Nobody was asking for de platforming when Fox was talking about tax and spend Democrats and the war on Christmas, but things have changed pretty markedly of late. I mean, we're in clear and present danger territory, are we not?
JASON HIRSCHHORN When I worked at News Corp years ago and I was chief product officer of News Corp at the same time, I was head of MySpace. The one area I refused to work on and I made a deal with Rupert was Fox News. And back in 2009, I even thought they were spinning off the planet then. And I wish they were like that now compared to what they are now.
BOB GARFIELD So much of its revenue comes from the carriage fees, so what kind of leverage would someone have to have with the cable providers to make them act?
JASON HIRSCHHORN When you sign a cable deal, you're signing a cable deal and you're telling the cable company exactly what you're going to provide, and that's part of the deal. And if you don't provide them that, if you in some way substantially change what you're programing is, then they have the right to drop. And this is as simple as if you rename a network and rebrand it or you actually change what you put on the network. And I would love to see the description of Fox News as it stands in a Comcast agreement or an AT&T agreement, DirecTV agreement and see if they've changed.
BOB GARFIELD If the contract says Fox will provide news and information, Hirschhorn speculates, by spewing lies and disinformation, Murdoch may be violating the contract terms. We contacted the five top cable providers for comment. Only one responded, off the record, pointing to the legal challenges that would accompany any such move. Surely there would be more screams of censorship and cancel culture. There could be an antitrust complaint, alleging, for example, that Comcast was ditching Fox to favor its own NBC brands of news, or programming extortion.
JASON HIRSCHHORN That's their trump card there: their sports rights, their broadcast channel. If you tried to deplatform them, Fox would say, we're going to pull the Fox Network or we're going to pull Fox Sports or we're going to pull regional sports outlets. This is how the cable business works. It works with leverage.
BOB GARFIELD And part of that leverage, Hirschhorn says, is a loyal, stable audience in a cable marketplace that is otherwise not only very volatile, but in its final stage of prosperity. Cord cutting is increasing each month, and the business imperative for the moment is to milk the aging cash cow while it can. Nor does he expect an industry that has forever refused to deliver programming a la carte to unbundle Fox from basic cable and shift it into a costly premium tier, no matter how many howls from Fox hating subscribers.
JASON HIRSCHHORN Fox News is a non-droppable channel as they see it today. It's something that they have to have and their argument would be that their audience calls for it.
BOB GARFIELD There is, however, one circumstance Hirschhorn can imagine, prompting cable providers to act contrary to their short term business interests, namely their long term business interests. The potential harm they may face from government regulators if they continue to platform Fox extremism.
JASON HIRSCHHORN Any threat of regulation on those businesses worries them because they want to do more deals. There's going to be more consolidation, there's going to be more growth. Whether they want to expand their broadband businesses, whether they want to buy another carrier, whether they want to buy another streaming service. All that stuff would come under regulatory review, and obviously this would play a role. For this precise scenario, there is, in fact, a recent precedent. In the U.K. where quasi governmental regulator Ofcom had Fox in its sights. Steven Barnett, professor of communications at the University of Westminster, says Fox was alleged to have violated British broadcast standards demanding accuracy and political neutrality.
STEVEN BARNETT There was an incident during 2015-2016 when one of the Fox News guests talked about the Birmingham UK, not Birmingham, Alabama, second city in the UK being a no go area because of the rise in Muslims and Muslim activity, which was complete nonsense and potentially quite dangerous. And then there were issues around Brexit where there were very one-sided and partisan comments in favor of Brexit, which were being discussed even before voting in the UK had finished, which is against the rules in Britain. And then following that around the arrival of Trump and the 2016 presidential election, there were again very partisan comments, pro-Trump and anti-Clinton comments which had no balance whatsoever.
BOB GARFIELD Before the regulators even got a chance to rule though, Murdoch himself pulled Fox Channel out of the UK.
STEVEN BARNETT They gave the reason for taking it off air as being low ratings, but it had been on air for years and the ratings had more or less stabilized. The real reason was because at that time they were in a battle with the UK regulator and government to be able to take full control of the Sky platform. The Sky Operation.
BOB GARFIELD This is the satellite TV operation Rupert Murdoch coveted full ownership of for a couple of decades.
STEVEN BARNETT Exactly right. And it was a very profitable operation. And because of Sky News being part of the package, there were real plurality and competition concerns which had been sent off to Ofcom for consideration by the relevant cabinet minister in the UK, and they were in the middle of looking at whether that deal should be referred to the competition authorities and pulling Fox News from the UK platform was one way of signaling we're, OK, you can let us through.
BOB GARFIELD In the end, Murdoch was turned down on his Holy Grail deal anyway, but sacrificing his sickly Fox baby on the altar of Sky TV does demonstrate that in the end, money talks. Consumer pressure, competitive pressure, advertising pressure and not incidentally, legal pressure put money at stake. You may have noticed that Rudy Giuliani and fellow conspiracy peddling lawyer Sydney Powell have recently piped down about voting machine fraud since being sued for a billion dollars plus on defamation grounds by Dominion voting systems. That litigation may also explain a bizarre episode this week on Newsmax. Trump supporter Mike Lyndell, CEO of MyPillow.com, was booked ostensibly for his views on cancel culture, but when he went off on an election fraud tangent, the host freaked.
[CLIP]
MIKE LYNDELL Well, first mine was taken down because we have all the election fraud with these Dominion machines. We have a 100 percent proof. And then I – when they took it down,.
HOST Mike! Mike, you're talking about machines that we at Newsmax have not been able to verify any of those kinds of allegations.
[MIKE LYNDELL SPEAKING UNINTELLIGIBLY UNDER HOST]
HOST There's nothing substantive that we've seen. Let me read you something there. While there were some clear evidence of some cases of vote fraud and election irregularities, the election results in every state were certified, and Newsmax accepts the results as legal and final. The courts have also supported that view. [END CLIP]
BOB GARFIELD They were right to be nervous. On Thursday, the company Smartmatic, developer of the software on Dominion voting machines, sued Fox News and its host for 2.7 Billion dollars on grounds of defamation. Who didn't see that coming?
Rupert Murdoch's plaintive condemnation of "woke" culture was universally seen as defiant, doubling down, but to my ear anyway, there was also a note of resignation or pragmatism or cynicism by any name. Self-preservation may be the greatest muzzle of all.
In reporting this episode, we sought comment from Fox, Comcast, Charter, AT&T, Verizon, Procter & Gamble, Amazon, Liberty Mutual, Progressive, the Association of National Advertisers and the Interactive Advertising Bureau. Not one would talk to us.
Coming up, want to suppress dangerous speech? Think carefully. This is On the Media.
Copyright © 2021 New York Public Radio. All rights reserved. Visit our website terms of use at www.wnyc.org for further information.
New York Public Radio transcripts are created on a rush deadline, often by contractors. This text may not be in its final form and may be updated or revised in the future. Accuracy and availability may vary. The authoritative record of programming is the audio record.