The FBI's Role in Breaking Up the Plot to Kidnap Michigan's Governor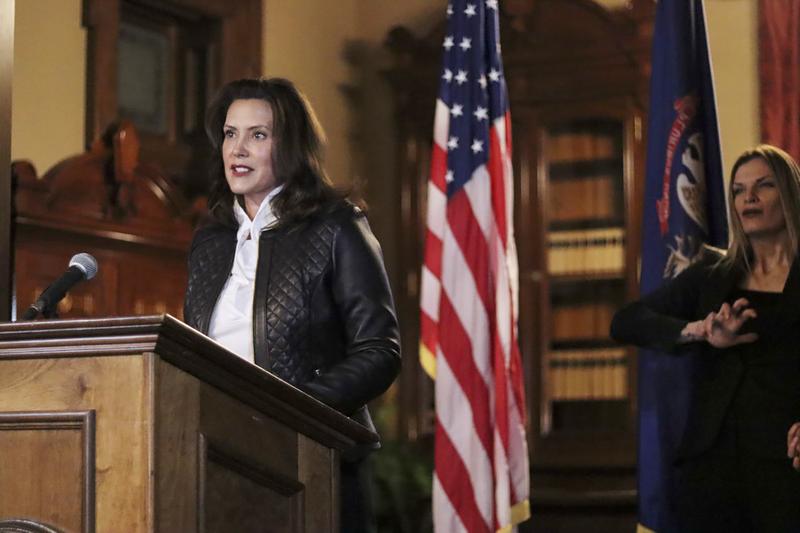 Transcript
BRANDY ZADROZNY From WNYC in New York, this is On the Media, I'm Brandy Zadrozny. You can usually find me at NBC News, where I'm a senior reporter covering the Internet. For the next couple of weeks, I'll be sitting in for Brooke while she takes a well-earned vacation. This week, the House Select Committee hearings on the January 6th insurrection began, and for Capitol Hill police officers, an opportunity to give their perspective on the events of the day and the aftermath.
[CLIP]
MICHAEL FANONE I feel like I went to hell and back to protect them and the people in this room, but too many are now telling me that hell doesn't exist or that hell actually wasn't that bad. The indifference shown to my colleagues is disgraceful. [SLAMS] [END CLIP]
BRANDY ZADROZNY For a moment in American history, watched by so many, our memories and opinions of the day continue to defy consensus. Some of the violence, though, is beyond refute. During the attack, Daniel Hodges of the D.C. Metropolitan Police was forcibly jammed into a doorway by crowds of insurrectionists trying to get into the building. The footage is horrifying.
[SOUNDS OF DANIEL HODGES SCREAMING IN PAIN PLAY]
BRANDY ZADROZNY Hodges took the stand on Tuesday and he had one word to describe the people who stormed the U.S. Capitol, nearly taking his life:
[CLIP]
DANIEL HODGES ...I backtrack and started pulling the terrorists off my team... One of the terrorists who had scaled the scaffold...Terrorists were breaking apart the metal fencing and bike racks... [END CLIP]
BRANDY ZADROZNY When asked why he used the word "terrorist," he replied with a definition from U.S. statute:
[CLIP]
DANIEL HODGES U.S. Code, Title 18, Part one, Chapter 1-1-3-B, as in brown, Section 2331. The term domestic terrorism means activities that involve acts dangerous to human life, that are a violation of the criminal laws of the United States or of any state. And B, appeared to be intended to intimidate or coerce a civilian population or to influence the policy of a government by intimidation or coercion. [END CLIP]
BRANDY ZADROZNY After January 6th, demands to call the capital invaders "domestic terrorists" were everywhere, and the events of that day motivated a decree from the White House.
[CLIP]
NEWS REPORT The Biden administration unveiling the first ever national strategy to combat domestic terrorism. [END CLIP]
BRANDY ZADROZNY But not too long ago, that term was directly associated with its occupant.
[CLIP]
NEWS REPORT The person who's behind all of the disinformation that's driving some of this domestic terrorism threat is the president of the United States. [END CLIP]
BRANDY ZADROZNY The word terrorist packs an emotional punch, but it can also give some very practical powers to agencies that don't exactly have a track record of using them responsibly. For decades, the U.S. intelligence community has used extralegal tactics to investigate, frame and arrest people deemed existential threats to the government. In the 1950s, that meant socialist boogeymen.
[CLIP]
NEWSREEL New York and Pittsburgh, 17 U.S. communist leaders are arrested. Among Israel Amter, a charter member of the American body. Four more red leaders are still being sought. [END CLIP]
BRANDY ZADROZNY In the 1960s, the Black Panthers.
[CLIP]
BLACK PANTHER We want an immediate end to police brutality and murder of black people.
NARRATOR Not many people know that the Panthers got some of their first weapons from a man named Richard Aoki. And nobody knew that Aoki was an informant for the FBI. [END CLIP]
BRANDY ZADROZNY Where the state labeled radicals go, the FBI follows or... Infiltrates. And after 9/11, the scrutiny of the feds focused in on one particular kind of enemy of the state.
[CLIP]
NEWS REPORT Breaking news tonight at 11. Police say they've found what appears to be an improvised explosive device in a car in Times Square.
NEWS REPORT It is unclear whether the suspect had help from others in planning the attack. But officials say it does appear he was at least inspired by terrorists. [END CLIP]
BRANDY ZADROZNY Some of the splashiest stories around busts of terrorist plots, it turns out, later featured FBI informants as main characters, like the 2009 story of 4 Muslim men arrested in connection with a plot to shoot down planes in Newburgh, New York. A plot they were led into by a man working for the FBI.
[CLIP]
NARRATOR This operation was specifically designed to turn them into terrorism. [END CLIP]
BRANDY ZADROZNY It's a tactic that, while fraught, hasn't gone out of style. Take the stymied attempt to kidnap Governor Gretchen Whitmer, the purported warm up act to the January 6th attack.
[CLIP]
GRETCHEN WHITMER This is anti-American, this kind of language and threatening actions to our fellow Americans. This kind of behavior cannot stand and people of goodwill need to call it out and call it domestic terrorism when it does happen. [END CLIP]
BRANDY ZADROZNY At the time arrests were made in the case last October, it was a front page win for the FBI, almost like something out of an action movie, complete with informants wearing wires, code names and the rescue of a high profile politician. Six men were charged in federal court with conspiring to kidnap a sitting governor, and 8 additional men were charged in Michigan State Court with providing material support for terrorist acts. But two investigative journalists at BuzzFeed News have now revealed that the story is much less clear cut than federal prosecutors originally made it seem.
KEN BENSINGER What we discovered. Speaking to defense attorneys, reading through extensive court documents, transcripts, was that the government didn't just have a passive role in this.
BRANDY ZADROZNY Ken Bensinger co-wrote the story for BuzzFeed News.
KEN BENSINGER On the contrary, the government was very deeply involved in the entire situation almost from the beginning, it had a network of multiple informants, we believe at least 12 informants working for the FBI were involved, as well as at least 2 undercover agents were mixed in with these people.
BRANDY ZADROZNY Can you tell me about Thor?
KEN BENSINGER Thor is the code name the FBI gave to a guy whose name is Dan, and we know his last name, but we're not revealing it because he has expressed in court concerns about his safety. He is an Army veteran who served in Iraq doing the really toughest on the ground kind of combat you can imagine. Dan was a gun enthusiast and someone who wanted to keep his skills that he learned in the army in shape. And he thought that he could potentially find individuals or groups in Michigan who he could train with. So in early March 2020, Dan went onto Facebook looking for people he could talk about the Second Amendment and guns with. The recommendation engine for Facebook spat out a few different things you could look at it, and among them was a group called the Michigan Wolverine Watchmen.
BRANDY ZADROZNY And so Dan joins this group and he's sort of concerned with what he sees after he gets sort of under the hood. He gets through the Facebook group, he goes on an encrypted messaging app and something that he sees there scares him.
KEN BENSINGER That's right. When Dan, within a few hours of joining and looking through their encrypted messaging group, he finds messages that truly disturb him because instead of talking about training, they're talking about hunting down and killing police officers. One of the members encourages them to download a hunting app onto their cell phones that can be used to tabulate police officers' home addresses. And they could use that theory to go and hunt them in their homes and kill them. Dan is scared enough by this that he goes and tells a friend who's a local police officer and that friend communicates with the FBI about it. And within a few days, Dan finds himself inside the FBI's field office in Flint, Michigan.
BRANDY ZADROZNY And he becomes an informant and he wears a wire. How else do Dan and the other, you said, dozen informants work with the FBI and what does the FBI give in return for their service?
KEN BENSINGER Dan's role with this group is to essentially let them mirror his phone and his computer. And he also, within about a month of signing up with the FBI, starts wearing a wire to pretty much every single event, and likewise with other informants, we found that there's this large network of informants. We don't know the role of all of them, but for example, one of them is a gentleman from Wisconsin who from the early stages was planning meetings and organizing some of the meetings at the FBI, and the Department of Justice have now pointed to his signal moments in putting this all together. And he went to great lengths to get people to come and in some instances offered to pay for their lodging and transport if they would come to these meetings. So you're seeing financial assistance essentially from informants to get people active and involved. And in exchange, these informants were all reimbursed not only for their expenses, but for more stuff. So in the case of Dan, who played such an important role in the case, he got 24,000 dollars in payment for services for the government, an additional 30,000 for expenses. The government paid his mortgage for a while. They paid his telephone bill. They bought him a new computer, a new cell phone, and they bought him a new truck. And when he sold his house and he didn't get what he expected to get on it, they also paid him 4500 dollars to make up for the difference in the in the house price.
BRANDY ZADROZNY There's a conflict here right around the use of FBI informants? Some are going to say whatever it was, these guys were in a car with night vision goggles, plotting a kidnapping. And, you know, whatever you want to say about that confidential informant or no, it worked, right? There was no attack. But others are going to call that entrapment or at least government overreach? Saying that the men would have never been involved at all had the FBI not set the stage, picked the players, wrote a lot of the script.
KEN BENSINGER Well, that's certainly one of the questions we were trying to poke at with this story. Reminds me of the old expression that you can't prove a negative. We, of course, will never know how far these men would have gotten without the government's involvement. The government can certainly trumpet the fact that, no, the governor was never kidnaped, and that's true, but, you know, one has to wonder whether that surveillance operation would have ever happened without 4 or 5 government operatives in the cars that made that surveillance mission.
BRANDY ZADROZNY I have to say, it's very reminiscent of some of the very popular far right conspiracy theories we're hearing right now around the January 6th attacks.
[CLIP]
TUCKER CARLSON The government knows who they are, what the government has not charged them. Why is that? You know why. They were almost certainly working for the FBI. So FBI operatives were organizing the attack on the Capitol. [END CLIP]
BRANDY ZADROZNY Were you at all concerned in reporting your story that you could inflame those claims?
KEN BENSINGER We were concerned we would inflame it. At the same time, we didn't feel, given what our reporting was, that it was appropriate not to talk about how this case was really made.
BRANDY ZADROZNY Your story specifically cites the court records that show the informants used by the FBI. And have you seen similar things inside the January 6th?
KEN BENSINGER Yeah, that's exactly right. You know, the government has even put one of its informants on the stand. So there was a full day of testimony by Dan or Thor as he's known. And the government has also admitted it had multiple undercover federal agents. When it comes to January 6, though, we haven't seen any of that, right? We've seen misinformed statements that court documents prove it because they say they identify people as person 1 or person 12 in court documents and they misunderstand sort of the rubric of federal courts where they think that means those people were undercover agents. But in fact, it's clear if anyone who understands how court documents are, those are not federal agents and nowhere else has there been any kind of evidence anyone was infiltrated in that crowd.
BRANDY ZADROZNY Can we talk about the term domestic terrorism? How did that label play into the FBI's operation?
KEN BENSINGER You know, when the case was first charged, this was still in the Trump administration and Bill Barr was still attorney general and they arrested these people and charge them in the federal case with one count, which was kidnaping, conspiracy. And there was no mention of terrorism in the charging papers or in the press releases or any other documents. And then in April of this year, now under the Biden administration, with Merrick Garland as attorney general, they added additional counts. And in the indictment, they specifically called the acts, acts of domestic terrorism.
BRANDY ZADROZNY Are you suggesting that's political?
KEN BENSINGER It's possible. That might have been a reaction to the kind of pressures that the post January 6 world has put upon the Justice Department to decide that this is domestic terrorism. Part of the context and backdrop is that there is no federal statute for domestic terrorism as its own kind of crime. There are definitions within different statutes that can be aggravating. That is to say they can increase the penalties when people are sentenced. That said, since January 6, there's been a movement by some, particularly on the left, to create a federal statute that would officially make being members of a domestic terrorist group a crime and create a national list of domestic terrorism organizations. And that's a debate that's been going around in Washington, and you have some talking heads on this topic, ranging from former FBI agents to former prosecutors who have a varying degree of opinions about what the correct thing to do.
BRANDY ZADROZNY Yes, they're in my Twitter replies quite often.
[KEN CHUCKLES]
BRANDY ZADROZNY I'm sure you've seen them as well.
KEN BENSINGER I have, yeah.
BRANDY ZADROZNY That their calls to call it domestic terrorism.
KEN BENSINGER Right. And, you know, I think it spotlights one of the things we really want to poke at with a story which is, broadly speaking, people on the left right now want to see sort of everyone who's involved in an alleged conspiracy to kidnap a governor or who walked into the Capitol to sort of be prosecuted to the full extent of the law and strung up in public, if possible. And the right thinks it's overblown and government overreach, and this is outrageous. And that kind of is an exact flipping of the script we might have seen in the 1960's And 70's with groups like the Black Panthers or the Weather Underground or for that matter, Martin Luther King or Malcolm X. So the worm has kind of turned around on that stuff. But I think, you know, a lot of civil libertarians, people are interested in particularly the First Amendment, would say that the fundamental questions about government overreach apply to both groups and that making these things into partisan issues distracts from the real questions that we as Americans should be thinking about.
BRANDY ZADROZNY So apart from Twitter reply guys and politicians, do you think that journalists have been using the term domestic terrorism responsibly?
KEN BENSINGER I've seen instances where they haven't. I think there's a lot of pressure and I think social media amplifies it to be as sensationalistic as possible when covering these matters. Right? People in your replies on Twitter or like call them a terrorist, call them a terrorist, call them what they are! But there are those of us who are here for the clicks and likes, like it's tempting to go down that road, but I don't think it really does a tremendous service to the public to just put that out there and not give it context. I think we have a responsibility to provide as much context to the story as possible. And when we don't do that, we just feed stereotypes.
BRANDY ZADROZNY Can your original breaking story, the one 9 months ago, it was headlined, quote, "Here's How a Group of Radical Militants Hatched a Plan to Kidnap Michigan's Governor Before the Election." And now I have a confession, and it's that I wrote a story the same day and I covered the story very similarly. Is it fair to say that your, or our, early coverage was too credulous?
KEN BENSINGER I mean, you read that to me, and I'm just thinking I really should have thrown "allegedly" in that headline. I'm not going to fall into the reporter's trap of just blaming editors for writing the headlines, I, you know, at least saw them, and I wish I'd thrown allegedly in there because it was a really big story and we were all frantic to cover it. And we were receiving sort of direct-into-the-vein what the federal prosecutors were telling us. And I tried hopefully to provide some analysis there, but ultimately, you know, we all in those moments sometimes serve a little more than transcription agencies for what the prosecutors want to put out there. And sometimes we don't want to hedge our writing by saying "allegedly" or "what prosecutors claim" and that sort of thing, but that language is really important, especially when we look back 9 months later on what we wrote. I think is difficult because we as reporters want to feel the moment and–
BRANDY ZADROZNY It's intoxicating.
KEN BENSINGER It is intoxicating. And I can't say I'm really proud. I think that story had a lot of good stuff about it, but I do think that we should have been a little bit more careful to cast that as allegations and not a definitive thing.
BRANDY ZADROZNY Knowing this lesson now, knowing that facts change, knowing that what we get originally is often right from the prosecutor and from social media. What should a news consumer keep, I guess, in their head, next time they see a story like this?
KEN BENSINGER Yeah, I mean, I think that it's kind of a heavy burden to put on our readers to say, well, I'm circumspect, and I should read a couple different sources on this, but a sense, there is kind of a duty on readers to think that not everything that comes from the government is true or not everything for the press is true. And that's, that's a weird conflict because we as journalists try really hard to tell the things as true as we can. And we really get our backs up when people suggest that the lame stream media is making it all up. Because, you know, those of us who've worked in this for a long time, know that we really do endeavor to do it, play it as straight as we can and as honestly as we can, and that's a point of pride for us. But if readers can say, well, that's interesting, I can't wait to learn more, that might be a better thing than OK, now I know that these guys were domestic terrorists, racists who wanted to kill the governor. That's the kind of takeaway I wouldn't want to see happen.
BRANDY ZADROZNY Well, your story was really clarifying and I think made me think and will continue to do so. Thank you for writing it.
KEN BENSINGER It was my pleasure. And thanks for the thoughtful questions.
BRANDY ZADROZNY Ken Bensinger with coauthor Jessica Garrison wrote "Watching The Watchmen" for BuzzFeed News. Coming up, hack's leaks and data for sale. This is On the Media.
Copyright © 2021 New York Public Radio. All rights reserved. Visit our website terms of use at www.wnyc.org for further information.
New York Public Radio transcripts are created on a rush deadline, often by contractors. This text may not be in its final form and may be updated or revised in the future. Accuracy and availability may vary. The authoritative record of New York Public Radio's programming is the audio record.