Is Fake Meat Really the Future?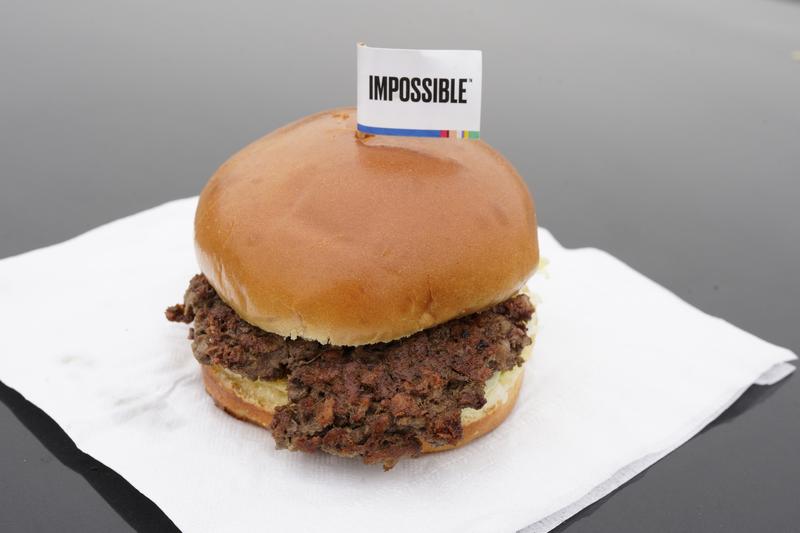 Transcript
BROOKE GLADSTONE From WNYC in New York, this is On the Media, I'm Brooke Gladstone.
BOB GARFIELD And Bob Garfield. Quote, The next few years are probably the most important in our history, stated Debra Roberts, co-chair of the IPCC Working Group II in 2018. That's the history of the planet, she's talking about. IPCC being the U.N. body for monitoring the science of keeping global temperatures below 1.5 Degrees centigrade over pre-industrial levels. We have already seen undeniably the devastating impact of greenhouse gases. And time is our enemy. But gosh, look at the energy guzzlers suddenly on Earth's side.
[CLIP]
NEWS REPORT FedEx saying it is designating more than two billion dollars, initially, to help combat climate change with the goal of the shipping giant being carbon neutral by 2040.
NEWS REPORT Let's talk about Amazon going green. Chief executive, Jeff Bezos, has pledged to make his company net carbon neutral by 2014 and meet the goals of the Paris climate pact 10 years early.
UNITED AIRLINES We're talking to you about United's new commitment to be 100 percent green by the year 2050. And when we talk about being carbon free, we mean something different than what you've heard a lot of other companies say. [END CLIP]
BOB GARFIELD Maybe. When corporations talk about their benevolence, though, the marketing department is usually lurking nearby.
BROOKE GLADSTONE The messaging thickens the air like so much methane. So how to assess the world saving promises from high tech wunderkinds and corporations looking to cash in on their own contrition. That's the question this week, and the setting is your home. From the recycling bins out front, to the gas meter out back, to the electric lines snaking down from their poles into our hearts and minds. But first, the freezer!
[CLIP]
BEYOND MEAT What if just taking the animal out of the meat made us and our planet healthier? What if we all go beyond? [END CLIP]
BROOKE GLADSTONE That's a commercial from Beyond, a company that makes fake meat out of plants, peas mostly. Eat Just, one of their alt-meat competitors, uses animal cells to make their meat in a lab for, you know, the planet.
[CLIP]
EAT JUST We don't have to think about what it took to make that chicken in that nice packaging, but the reality of the way that it came about, it's incredibly unsustainable. And that's one of the biggest problems facing humanity right now, but we figured out a way to solve it. [END CLIP]
BROOKE GLADSTONE Patrick Brown, founder of the soy-based meat company Impossible Foods, is down with that.
[CLIP]
PATRICK BROWN I grew up eating burgers probably once a week. It's such a canonical food, the flavor and aroma and texture and the juiciness and you know, all of that. But there's this huge dilemma that's posed by the fact that the way that we're producing meat is using a land area bigger than North America, South America, Australia and Europe combined. Animal farming is using the amount of water that could fill San Francisco Bay every day. There's actually an incredibly simple solution. Give people all the meat that they want, but just produce it from completely non animal sources. [END CLIP]
BROOKE GLADSTONE Today, you can eat impossible patties fried up in a whopper at Burger King, or in a cheese topped slider at White Castle. You can buy beyond products at Target, Costco and Whole Foods or order it up in a faux sausage breakfast sandwich at Dunkin Donuts, but being green is still their biggest selling point. Otherwise, why not eat the real thing? Vegans and vegetarians aren't the target audience here. There's no question that producing beef is one of our nation's most destructive industries, but is alt-meat the only solution? Is that even our best solution? According to food and climate writer Alicia Kennedy, we need to think bigger.
ALICIA KENNEDY Right now, the average American eats 222 pounds of beef per year. And since 2010 at least, the U.N. has urged people to move to a meat and dairy free diet to change the way we use land. 80 percent of global farmland is used for animals, which produce only 18 percent of the calories we are consuming. So it's really inefficient.
BROOKE GLADSTONE Enter Bruce Friedrich, a co-founder and executive director of the Good Food Institute, a nonprofit making the case to donors and governments around the world that it would be a good idea to turn to alternative meat.
[CLIP]
BRUCE FRIEDRICH Innovating in this area will address massive global challenges. 800 million people malnourished globally. The end of modern medicine through antibiotic resistance, the existential threat of climate change. The governments that innovate in this area will have bragging rights until the end of time. [END CLIP]
ALICIA KENNEDY You know, I view Impossible burgers and Beyond burgers as perhaps a necessary stopgap. They're getting people who usually eat a lot of meat to say, you know what, I'm going to go for the impossible burger today or the beyond burger today and try and do something nice for the planet. But in terms of these burgers positioning themselves as a quote unquote, solution to climate change, that's where they really lose me. Marco Springmann, the senior environmental researcher at Oxford, found that impossible burgers and beyond burgers have five times more of a carbon footprint than a classic veggie burger, maybe based on black beans, and half the impact of chicken. And lab based, cultured meat, cellular meat – it goes by many names – lab meat is found to have five times higher carbon footprint than chicken because of the energy used to produce it. If you're selling point on these burgers is it's a little bit of flavor, but it's really focused on climate change. You're going to have to do better than that kind of impact.
BROOKE GLADSTONE To your earlier point, that one could regard these alternatives as a stopgap measure, but not much more than that. You note that in the marketing and media coverage of fake meat, it's claimed that the production can be scaled up. Here's a clip from an interview Impossible Foods CEO Patrick Brown gave to CNBC in 2019.
[CLIP]
PATRICK BROWN In 20 years, we're going to look back and basically say, well, remember back in the day when we used those animals to make meat because people wonder how big the plant based meat industry is going to be. It will be the meat industry in 20 years. [END CLIP]
ALICIA KENNEDY I think this is the problem. We're recreating the conditions where people are dependent on specific, non-diverse protein sources, whereas the U.N. Intergovernmental Panel on Climate Change, they're telling us that we need a diverse diet. To use land in a very diverse way. When we're talking about moving ourselves toward Impossible Burgers, toward Beyond Burgers as the sole solution to these land use problems causing the food system's big carbon footprint, we are basing these proteins on soy, on peas and using land again in these mono cropped manners. We're not getting that biodiversity. We're not creating proper ecosystems for the insects and things that keep the ecosystems moving.
BROOKE GLADSTONE Are all these plant-based or cell-based meat alternatives equally bad? Bill Gates' company Nature's Find seems to use mushrooms to make fake meat. Is that better?
ALICIA KENNEDY Mushrooms are always going to be better than soy [LAUGHS] than using a lot of land to grow peas that could be used in a much more diverse way. You know, mushrooms eat waste. So that's a great way of using up waste from the timber industry. That's what a lot of mushrooms are cultivated upon. But I do think we get into a gray area when big companies get in on the alternative meat business. These are companies that are not known for their great ecological histories.
[CLIP]
NEWS REPORT The competition is fierce. Nestlé, Tyson Foods, Perdue and Impossible Foods are all launching their own alternative meat products in grocery stores this year. [END CLIP]
ALICIA KENNEDY We have to be concerned that we're moving from industrial or factory farmed meat toward another industrial system where we're not getting that diverse diet, that diverse land use. We are just creating a new system that mimics the old system.
BROOKE GLADSTONE You've implied, in your writing, that there's a failure of imagination here. That the idea seems to be, quote, to fix something – the global food system – that has been broken by capitalism with more, better capitalism.
ALICIA KENNEDY Without large scale movement toward a plant-based diet, by 2050, we are not going to stay below dangerous levels of climate change. Burgers and lab meat can't be the solution forever because they recreate these corporate vertical and mono crop conditions and they don't encourage the necessity of people eating locally and eating sustainably.
BROOKE GLADSTONE OK, so now let's talk about your bee– I can't believe I was about to use that expression – your problem with the role of journalists in covering food, or this kind of food in particular. Reporters will focus on the tech, the texture, the taste, the look. I mean it to makes sense.
[CLIP]
CHEF It actually cooks like beef and crisps.
HOST ONE Oh, it does.
HOST TWO I already took a bite, it's awesome.
HOST ONE Is it good? [END CLIP]
ALICIA KENNEDY This seems like something that will give people everything they want. It'll taste like meat, but it won't have the same impact as meat. I would like to see journalists asking questions about why so many of the studies that suggest that these are a great solution to climate change are funded by the companies themselves. There's very little third-party research into what we can really expect if these things take the role of beef in our lives. It's interesting to see recipes now published even at The New York Times that suggest you use impossible or beyond beef to make a vegan burger. You don't see recipes usually recommending a specific farm. You don't see them recommending a specific bakery. It's interesting that it's OK in this realm for there to be this focus on these corporations specifically depending on them, and showing them as the solution is, I think, just too soon.
BROOKE GLADSTONE That said, well, what direction do you think we should move in as a civilization?
ALICIA KENNEDY Toward more localized food systems which are ultimately more sustainable because then you're eating with the seasons and you're not having that big carbon footprint from processing and from getting food from one place to another.
BROOKE GLADSTONE But I don't know if you can get enough food that way.
ALICIA KENNEDY No, I do concede that industrial agriculture is at some level necessary to feed the whole world. Of course it is, but, we need to move toward figuring out what is good to cultivate at an industrial scale and what is not and how to change food systems on a local level to be more sustainable. Of course, that requires people's wages go up so that food can be a nice concern for them and not just a nice concern for people who have a lot of money and a lot of access to local food. Ultimately, we have to make those decisions about where we're putting tax money, because industrial meat and dairy production gets a lot of money from the government, so does soy and wheat and corn. We need to figure out how we fund changing the food system because it can't go on the way it is. And alternative meat is still not going to be the solution in the long run.
BROOKE GLADSTONE So if we reduce the subsidies for meat and dairy production, where would you redirect that support?
ALICIA KENNEDY Funding the local communities of people who have been historically kept from having land. We give them that money so that the land is cultivated. People can't be completely fed on local food, but we can reallocate money so that we're not funding just industrial food production. We're funding localized food production and we're seeing where we need to move toward industrial scale. But which industrial scales and at what scale is actually sustainable? The land is there to do that. We just use it to feed cattle and other livestock and the money is there, we just put it back into industrial meat and dairy production. Thinking differently with how we use what we have because we have the resources. We just allocate them in a way that makes things inaccessible, that makes things unsustainable.
BROOKE GLADSTONE Alicia, thank you very much.
BROOKE GLADSTONE Thank you so much.
BROOKE GLADSTONE Alicia Kennedy is a writer on food and climate based in San Juan, Puerto Rico.
BOB GARFIELD Coming up, we're really cooking with gas. The PR emissions from gas and electric companies may be hazardous to your health.
BROOKE GLADSTONE This is On the Media.
Copyright © 2021 New York Public Radio. All rights reserved. Visit our website terms of use at www.wnyc.org for further information.
New York Public Radio transcripts are created on a rush deadline, often by contractors. This text may not be in its final form and may be updated or revised in the future. Accuracy and availability may vary. The authoritative record of programming is the audio record.