The Fairness Doctrine Won't Fix Fox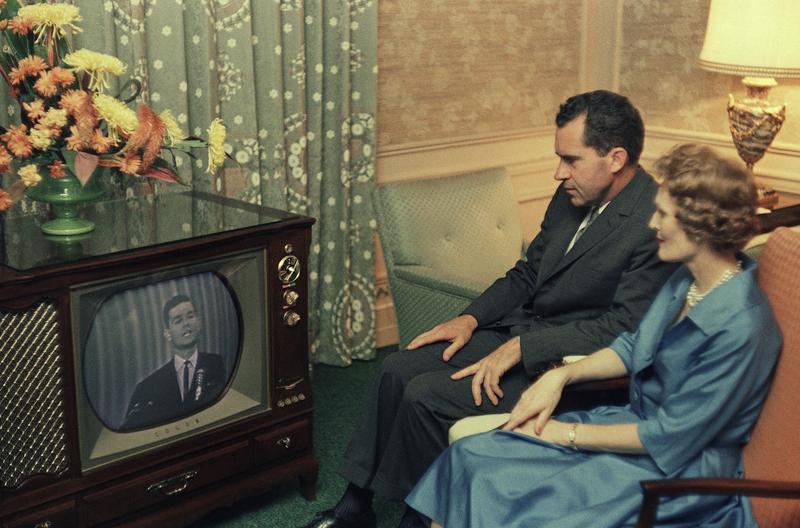 Transcript
BOB GARFIELD This is On the Media, I'm Bob Garfield. We know that freedom of speech in the United States, though fundamental, is not an inviolable right. Libel, defamation and conspiracy are all punishable, and so, too, is incitement.
[CLIP]
TRUMP If the liberal Democrats take the Senate and the White House and they're not taking this White House, we're going to fight like hell. I'll tell you right now. [AUDIENCE CHEERS] [END CLIP]
BOB GARFIELD Donald Trump faces an impeachment trial for allegedly inciting the invasion of the Capitol on January 6th. Could Fox News be held responsible too? The answer, explains Rod Smolla, dean and professor of law at the Delaware Law School of Widener University. All comes down to Brandenburg.
ROD SMOLLA Brandenburg versus Ohio is one of the classic First Amendment cases to come out of the 1960s. It involved a coup Klux Klan rally outside of Cincinnati in which there was incendiary racist speech with the Klan marching in regalia and burning a cross and making all sorts of racist statements, but there was nobody else there other than Klan members. The Supreme Court held that the Klan could not be criminally prosecuted and convicted for their racist speech because it was abstract advocacy, but it was not an actual legal attempt to incite violence. And the famous test that arose from that case was that the speech must be directed to the incitement of imminent lawless action and likely to produce such action. What Fox did would probably fall on the abstract advocacy side of the line and not on that immediate incitement to violence side that is required under Brandenberg.
BOB GARFIELD I want to call your attention to two cases, counselor. One is called Paladin, which may be of some interest to you because I believe you litigated it.
ROD SMOLLA I was the lead lawyer there, right.
BOB GARFIELD Tell me about Paladin.
ROD SMOLLA Paladin involved a how to murder manual. And so this was a manual produced by a publishing company to instruct people on how to go into business as an assassin. And I was the lead counsel in the case arguing that that book was not protected under the First Amendment. Fox was truly engaged in advocacy. It was perhaps engaged in the big lie about who won the November 3 election, but it wasn't providing detailed how to behind the scenes information, break into the capital, defeat security services and that sort of thing.
BOB GARFIELD I want to ask you about one other case, a much more extreme case and one obviously of a vastly more horrific scale than what took place at the Capitol, but nonetheless, in its way, reminiscent. In the 1994 Rwanda genocide, the broadcaster Hutu Power Radio Station not only spent months and years vilifying Tutsi tribesmen, but told its audience to, quote, cut down the tall trees, which was deemed eventually by the International Criminal Tribunal to constitute a crime against humanity. Again, not to in any way equate the scale of the events. But can right-wing media, which so built up rage against supposed immoral and corrupt and tyrannical enemies and incited protests based on a big lie? Can they under U.S. law not be held responsible for anything?
ROD SMOLLA Your question is terrific, and it may well be that in the Rwanda example, there was enough specificity, enough exhortation, enough immediacy to put the provokers in Rwanda in a position where even under American law, they would have crossed the line. And I think there are probably speakers who were engaged in extremist exhortations in social media who crossed the line legally leading to the events at the capital. I am doubtful that the broadcasts of Lou Dobbs or others on Fox, though they contributed generally to the atmosphere, had enough pointedness, enough immediacy, enough clarity of intent to cross the line. That's the American commitment to free speech. The First Amendment is not absolute. You lose free speech protection if you intentionally defame someone. You lose free speech protection when you engage in a deliberate fraud. You lose it when you threaten someone with violence. You lose it when you intend to incite immediate violence. We have all of these lines that we have drawn and I think the lines are drawn thoughtfully. So I'm all in favor of holding those accountable when you've got the evidence of accountability there. I think it would become a dangerous business to start down the line and start saying that people that generally create the atmosphere could be subject to criminal sanctions, given our traditional American views on the First Amendment.
BOB GARFIELD I guess it's worth observing that we are a liberal democracy and there are dozens of other liberal democracies over in Europe which have a very different approach, which don't even require a connection between incitement and violence, but the very expression of fascistic ideas is enough to get you prosecuted.
ROD SMOLLA The fact is that what you've called the European position was once the American position. As late as 1952, it was the American position that involved a case in which persons passing out racist leaflets in my hometown, Chicago, were prosecuted. And the Supreme Court said that prosecution did not violate the First Amendment because racist speech has a tendency to cause social unrest. And in that famous case, the Supreme Court alluded to the Third Reich and where racist speech took Germany because of the propaganda of Hitler, so that was not that long ago. That was the American rule. It is still the American rule in many settings. That's the rule we follow in the workplace, in our schools. That's the rule most corporate employers follow. That's basically the rule that Facebook and Twitter and other social media platforms follow. So we have this kind of double system in the open general marketplace, we let the really evil bad speech go. Government can't prosecute it unless it meets these high standards. But in all of these other settings, in American culture, we don't follow that. We follow the older American rule and the current European rule. And I tend to think that that's probably the healthiest overall for democracy.
BOB GARFIELD Which leads me finally to this. We have spent most of this hour discussing various kinds of deplatforming and boycotting that might be brought to bear in order to chasten, moderate, or simply kill Fox News Channel. In the case of a cable company that distributes Fox News Channel to its viewers, in its region or nationally, is that a setting in which someone could decide to deplatform this channel on the basis of all that we have discussed in the last few minutes?
ROD SMOLLA The answer is yes. The cable companies are private actors that can make their own decisions. They could decide that the hew and cry against Fox News is enough for them to distance themselves. And of course, we've already seen the deplatforming of many speakers, including the former president, from platforms such as Twitter. But here's my cautionary note - that speech is not going to go away, it's just going to be driven to other platforms. And that's the risk you have. At least when it's on Fox, those who oppose it can rail against it. And there's some degree left of the marketplace of ideas and a back and forth. You have to remember, not everybody that appeared on Fox was part of this program. There were legitimate journalistic statements. People like Chris Wallace, even Tucker Carlson at one point called to account Sydney Powell's theories about the election, and so it may be that we're a bit safer being able to listen and have some dialog than having it all driven underground. And that could be one of those situations where be careful what you wish for, because it may be you end up in a more dangerous place.
BOB GARFIELD Rod, thank you so much.
ROD SMOLLA My pleasure, Bob. Take care.
BOB GARFIELD Rod Smolla is Dean and professor of law at the Delaware Law School of Widener University.
If criminal law isn't the solution., How else to enforce moderation on dangerously immoderate media channels? Once upon a time in the world of broadcast, there was just such a legal mechanism, the Fairness Doctrine, which governed broadcasters in the United States for about four decades. It existed for the very purpose of de-platforming demagoguery and propaganda. Earlier, we heard from University of Westminster Professor Steven Barnett, who thinks a retooled Fairness Doctrine or its British regulator equivalent called Ofcom, might be just the ticket.
STEVEN BARNETT It certainly works in terms of the levels of trust in broadcast journalism in the UK. If you look at the data that is produced by Ofcom and from other regular surveys of whether British citizens, British voters trust their journalists, the impartiality regime has meant that broadcast journalism, by and large, commands very high levels of trust in the UK. 70 to 75 percent, which is not true of other sources of news.
BOB GARFIELD Enticing, but perhaps not the panacea it may at first glance suggest. Nicole Hemmer is a research scholar at Columbia University and author of Messengers of the Right: Conservative Media and the Transformation of American Politics. She says that, for starters, the Fairness Doctrine was meant to cure the ills of a vastly different media ecosystem.
NICOLE HEMMER So the Fairness Doctrine, it comes out of this moment immediately after World War II, when Americans are pretty worried about radio propaganda. They had just watched the rise of fascism in Europe, they had seen proto fascist movements in the U.S. using radio as propaganda tools. And there was a real concern that that was going to happen in the United States as well. So in 1941, the FCC issued something called the Mayflower Doctrine, which says that there can be no editorializing on radio, there can be no opinion. After the war has passed, there's kind of a reflection that maybe that's gone too far, and so they come up with the Fairness Doctrine as a way of saying, OK, we can debate politics, we can share opinions on the radio, but we are really worried about totalitarianism and propaganda. So we have to have some rules that make sure that controversial issues are covered fairly.
BOB GARFIELD Didn't that do the trick?
NICOLE HEMMER Well, it sometimes did the trick a little, which is as resounding an endorsement as I can give it. It was put in place in order to prevent radio stations in particular and later television stations from becoming propaganda outlets, and to a certain extent, that worked. Whenever a news program or program in general reflected just one side of a controversial issue, people who represented the other side could complain to the FCC and demand to have their point of view represented.
BOB GARFIELD You say that with a number of caveats. There's a but, in fact, there's a number of buts.
NICOLE HEMMER First and foremost, for people who are thinking about the media environment today is that it only applies to broadcast media. Today, there just isn't a lot of our media that's carried on broadcasts. It's carried on cable and podcasts and the Internet. It never applied to print. So it was a pretty narrow doctrine.
BOB GARFIELD And it was enforceable because broadcasters were using public broadcast spectrum to deliver their product.
NICOLE HEMMER And they were able to profit off of using what were essentially public airwaves. And the FCC could conceivably come in and take away that license if a broadcaster was not covering issues fairly. If it was actually using its bandwidth for propaganda. You know, the FCC didn't actually intervene all that often, and some people worried that it had a kind of chilling effect on political speech. That instead of covering controversial issues and covering them fairly, a lot of stations just didn't touch controversial political issues at all because they didn't want to have to deal with finding these contrary voices and giving over their airtime to this kind of programming.
BOB GARFIELD It went away in the 80s during the Reagan administration. It's not that Ronald Reagan axed the Fairness Doctrine, he just let it expire?
NICOLE HEMMER So actually, he had appointed FCC commissioners to look at ways of getting rid of the Fairness Doctrine. So it would remain on the books after the 1980s. But as of 1987, the FCC had voted that they were no longer going to enforce this. So even though it's still technically existed like some of those old laws about where you can ride your horse, it no longer was really enforced anymore. And so by 1987, the Fairness Doctrine is dead letter as far as a regulation.
BOB GARFIELD Understanding that Reaganism was all about deregulation. Still, the Fairness Doctrine had been employed by conservatives as a line of defense against what they considered to be an overwhelmingly liberal media.
NICOLE HEMMER This was a big change in the conservative movement in the 1970s. In the 1950s and 60s, conservatives hated the Fairness Doctrine. They felt like it was being used to silence their voices, but in the 1960s and 70s, Richard Nixon and some other conservatives thought, you know, if we control the federal government, then we can actually use the FCC to promote conservative ideas. So conservatives, particularly through something called Accuracy and Media, which was a media watchdog group, would file Fairness Doctrine complaints rapidly throughout the 1970s in concert with the Nixon administration to try to get administration views and conservative views on more television stations and radio stations.
BOB GARFIELD There is one character in the Nixon administration drama. A guy named Charles Colson, one of the Watergate coconspirators – spent a fair amount of time in prison, who was right in the thick of a kind of shadow campaign.
NICOLE HEMMER Oh, yes, Chuck Colson, who never met a dirty trick that he wasn't willing to go all in on, was really the main person in the Nixon administration who was pushing for weaponizing the Fairness Doctrine in order to damage independent media outlets. And so he teams up with Reed Irvine of Accuracy and Media, this conservative watchdog group, and looks for documentaries to attack, looks for ways to file Fairness Doctrine complaints against PBS, which the Nixon administration wanted to begin to defund. He's really in there getting his hands dirty when it comes to using the Fairness Doctrine as part of a bigger project to discredit American media so that the Nixon administration can get on about its business with little journalistic oversight. So in 1971, CBS released a documentary called "Selling the Pentagon."
[CLIP]
NARRATOR It maintains a public relations division to inform people of its activities. In December, Congress cut the appropriations for this division, but according to the Pentagon, it will still spend thirty million dollars this year on public affairs. There have been recent charges in the press and in Congress that the department is using these public relations funds not merely to inform, but to convince and persuade the public on vital issues of war and peace. [END CLIP]
NICOLE HEMMER The Nixon administration lobbied CBS. They filed Fairness Doctrine complaints so that they could get administration officials pushing back against it, and CBS gave them that airtime. They brought on Spiro Agnew, they brought on Secretary of Defense Melvin Laird. They really did change in response to these Fairness Doctrine complaints. And then you would get these segments on 60 Minutes, the CBS News magazine show called Point / Counterpoint, where James J. Kilpatrick, who was an arch conservative, would face off against a liberal host and the two of them would debate.
[CLIP]
KILPATRICK This president is the only president we have. And apart from his lamentable blindness as to Watergate, I happen to think he's done a good job. I haven't lost confidence in him.
VON HOFFMAN I'm surprised that such a strong law and order capital punishment guy like you, Jack, would draw back at the prospect of a good old fashioned public hanging. [END CLIP]
NICOLE HEMMER That debate style show, which was at first very anodyne, would lay the groundwork for in the 1980s shows like The McLaughlin Group on PBS or Crossfire on CNN, which were much more combative.
BOB GARFIELD We began talking about the Fairness Doctrine evolving out of a reaction to fascist propaganda in Europe. And here, I mean, it might have been called the Father Coughlin regulation because we had demagogic radio programs that won a large audience here in advance of World War 2. But, you know, lo and behold, nearly a century later, here we are again. I don't know if Tucker Carlson is Father Coughlin, but he ain't Mister Rogers.
NICOLE HEMMER No, he's not. And he's much, much closer to Coughlin. You know, the difference between then and now, there's a few things flying back in the 1930s and 1940s, you only had a handful of radio stations. If one of your local radio stations was a propaganda station, you might not have anything else to listen to. The danger of propaganda was that it was inescapable and that people didn't have other options in the 1930s and 40s. The difference now is that we have a profusion of platforms and we have all sorts of places that people can tune into. And it's not that they're forced to watch propaganda, it's that they seek it out. That's a very different dynamic and one that requires different kinds of responses, including looking more closely at why it is there is such a hunger for, frankly, being lied to in American politics.
BOB GARFIELD Nicole, thank you very much.
NICOLE HEMMER Thank you.
BOB GARFIELD Nicole Hemer is a research scholar at Columbia University and author of The Messengers of the Right: Conservative Media and the Transformation of American Politics.
Why imagine the deplatforming of a major American media organization? To be clear, it's not about silencing ideological adversaries. As public broadcasters, we are only too keenly aware that even the perception of political bias can pose an existential threat to the kind of reporting that makes some citizens uncomfortable. And no, this is also not about censoring media hyper partisanship, which for about two centuries was the American standard. No, this meditation is simply about the right to choose. The right of customers, advertisers and distributors to choose whom they wish to do business with. And as earlier noted, where markets are concerned, money talks – and we're listening. It all reminds me of something someone said back in 2016, right after the election. That someone was Bill O'Reilly. The platform was Fox News.
[CLIP]
O'REILLY If you hurt someone, destroy something or promote anarchy, you then become a danger to the republic. That kind of stuff needs to be punished and quickly. [END CLIP]
BOB GARFIELD That's it for this week's show on the media is produced by Alana Casanova Burgess, Micah Loewinger, Leah Feder, Jon Hanrahan, Eloise Blondiau and Rebecca Clark-Callender with help from Alex Hanesworth. Xandra Ellin writes our newsletter, our technical director is Jennifer Munson.
Katya Rogers is our executive producer. Bassist composer Ben Allison wrote our theme. On the Media is a production of WNYC Studios. Brooke Gladstone will be back next week. I'm Bob Garfield.
Copyright © 2021 New York Public Radio. All rights reserved. Visit our website terms of use at www.wnyc.org for further information.
New York Public Radio transcripts are created on a rush deadline, often by contractors. This text may not be in its final form and may be updated or revised in the future. Accuracy and availability may vary. The authoritative record of programming is the audio record.