An Ex-Neo-Nazi on De-radicalization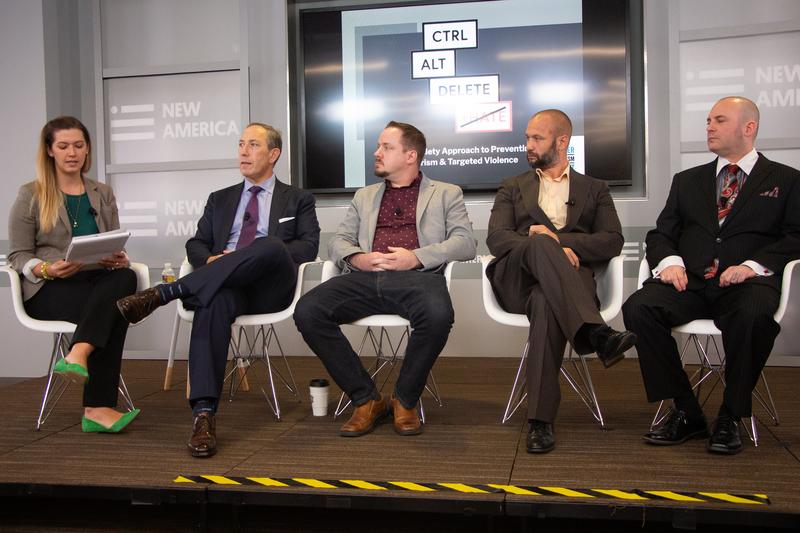 Transcript
BOB GARFIELD From WNYC in New York, this is On the Media. Brooke Gladstone is out this week, I'm Bob Garfield.
A new administration, a new take on the far right.
[CLIP]
BIDEN It's just been weeks since all of America witnessed a group of thugs, insurrectionists, a political extremist and white supremacist violently attack the capital of our democracy. So now, now's the time to act. [END CLIP]
[CLIP]
NEWS REPORT An NPR team has been analyzing the more than 200 cases the Justice Department has brought so far. The defendants include military men, extremists and hardcore Trump supporters. [END CLIP]
[CLIP]
NEWS REPORT The greatest terror threat to the United States right now is white supremacists. That is according to a report drafted by the Department of Homeland Security. [END CLIP]
[CLIP]
NEWS REPORT This is the first time that DHS has warned about a threat of domestic extremism since it began issuing these bulletins a decade ago. [END CLIP]
[CLIP]
NEWS REPORT Congress voted on its large defense spending bill and part of it tries to address white supremacist ideology within the military. [END CLIP]
BOB GARFIELD FBI and other police agencies claim they'll now redirect their attention from social activists and Antifa, to Proud Boys, Oath Keepers, the Three Percenters, QAnon and the like. But beyond law enforcement, there is the much thornier challenge of dismantling systems of belief; how to deal with the spread of violent, hateful ideologies and the conditions that breed and feed them.
[CLIP]
NEWS REPORT The siege of the Capitol was a line in the sand for a lot of people. I think there are a number of people who are going deeper into radicalization. [END CLIP]
[CLIP]
NEWS REPORT : A lot of people have become really radicalized by different conspiracies that all, at their heart, have this idea that everything is unfair, everything is rigged, and that someone is out to get you. [END CLIP]
[CLIP]
NEWS REPORT Bought into this big lie, and the question is, how are we going to really almost deprogram these people who have signed up for the cult of Trump. [END CLIP]
[CLIP]
HANNITY Reeducation camps, deprogramming, OK, according to the press wing of the Democratic Establishment Party and the Socialist Party, you, we, the people, we need to be deprogrammed or canceled or put in reeducation camps because of our political opinion, and it differs from theirs. [END CLIP]
BOB GARFIELD On the one hand, the now all too obvious toll of conspiratorial white nationalists thinking. On the other, legitimate fear exploitable by the likes of Sean Hannity, but legitimate, nevertheless, of state overreach. And so we devote this hour to the notion of deradicalization. We'll look at the various techniques being deployed right now to untwist the minds of those who embrace, embraced or may soon embrace extremism. We'll look at targeted messaging and individual intervention, and ultimately, we'll put a lens to the source of the hatefulness. Buried like the Varicella-Zoster virus deep within the nerve roots of the society. But we begin with one man's descent into the perverse depths of white nationalist hatred.
BRAD GALLOWAY I think the goal was to achieve some sort of white ethno-state within America and Canada.
BOB GARFIELD Brad Galloway became a neo-Nazi about 20 years ago at the age of 19, joining a white supremacist gang with the goal of forming an independent haven of whiteness, unpolluted by people of color or Jews.
BRAD GALLOWAY An old friend of mine recruited me into this movement. You know, it so happened that he was a neo-Nazi skinhead, but if he had been a member of the IRA or some other gang or group, I probably would have joined. I was just at a point in my life where I was looking for something to belong to.
BOB GARFIELD Well, I'm sorry, he just wasn't running a bowling league.
BRAD GALLOWAY I guess the way that the recruitment begins, it's never really revealed what this is really about. I mean, it started out being like, hey, yeah, you can come hang out with the guys and drink some beers and meet some people. After a while of hanging out, it turned into something much more serious. But by that time, I had been sold and bought into these different ideologies, which I had never thought I'd ever be at that place, but it shows how people can become accustomed to and radicalized towards these movements.
BOB GARFIELD You've just described being groomed.
BRAD GALLOWAY That is how it's described for sure.
BOB GARFIELD So you get into this group, you get deeper and deeper eventually to the point that you are running its Canadian chapter. In those days, how did you go about recruiting new members? Did you groom yourself real people in slowly?
BRAD GALLOWAY I did sort of become a recruiter, but my stuff was done more in the online environment than the offline face-to-face stuff. By the time I hit leadership, I became knowledgeable about what the Internet could do and how that could be utilized to sort of advertise for the group and to reel people in towards the group.
BOB GARFIELD What did you look for most?
BRAD GALLOWAY Vulnerability. Definitely was a thing. I mean, there were guys in certain chapters across the US that were, you know, going and specifically trying to recruit guys when they got out of prison. I mean, that's definitely a vulnerable population of people. Also, you know, folks that were, as I said, lost. When I joined, people who were at a point in their life where they may not have had too much and sort of the group was offered up as hope for these people.
BOB GARFIELD And after 13 years of being steeped in hatred and white supremacy and a subculture of violence, what prompted you to get out?
BRAD GALLOWAY There's not one specific thing that sort of sent me on the way out, but a lot of it was the breakdown of the ideology. It was exhausting trying to think like that, trying to hate things. When, realistically, in my life I was working out in the public and working around all sorts of different cultures and communities and things like that. And I actually had, in my work, I had friends who were from various minority groups. I had family members that were as such. There are so many people around that were treating me well from different communities, and also while I was in the movement an Orthodox Jewish doctor saved my life after I got into a fight. So I was reflecting on all these different things, and then I had my first child and then started to consider like, how could I ever teach my child about any of this stuff?
BOB GARFIELD At this point, I should say that Galloway isn't on with us because he's an ex neo-Nazi. He is here because for the past five years, he's been working to deradicalize other extremists as a case manager with Life After Hate and Exit USA and as coordinator at the Center on Hate Bias and Extremism at Ontario Tech University. I asked him how many of the people he deals with are ashamed of what they've been.
BRAD GALLOWAY Shame is a central theme in extremism. It often has to do with, you know, they have shame perhaps in their past lives. That's why they join. And then now it's the shame of all of that when they're leaving. That's a big challenge for a lot of the people to get by. But it's how we deal with that.
BOB GARFIELD In the sense of remorse...
BRAD GALLOWAY Yeah, and accountability, I think accountability is really worth looking at, too.
BOB GARFIELD Now, I know that there's no magical incantation to break the spell of extremism, but in your experience, what are some common reasons people can be persuaded of their own volition to leave a hate group, or to rethink far right ideology?
BRAD GALLOWAY I often ask folks to reflect on what it is that this group is actually doing for you, for members of the community that is positive, and how those things are making you a better person and making the community better and making the world a better place. I know this sounds like big stuff or whatever, but I mean, at the end of the day, it really is thinking a little deeper about what we're part of or what we're doing. Right. I mean, I can't imagine what's going through somebody's head when they're at the Capitol building taking part in those things, but I can relate to that mentality of like we're doing this, but why are we really doing this? So I ask people to consider, you know, let's get before all these things and start trying to think about who we could have been and why are we doing these things.
BOB GARFIELD All you have fought for, believed you've been fighting for and it's come to this. Is this the cause that you believe in? Besieging the Capitol building? Is that what you're talking about?
BRAD GALLOWAY Right. Freedom was a central theme on the January 6th thing. Well, freedom from what? We're fairly free, I would like to believe, but living in this state of collective mentality that everyone's out to get us and like, that's this idea that, you know, white genocide, white victimhood, all of this kind of stuff. I've worked with a lot of people trying to get them out of that silo and thinking well beyond that and trying to come back to the community and live with everybody else.
BOB GARFIELD For Galloway and his colleagues, it's not just rubbing their subjects' noses in their perversion of patriotism and Christianity, it's getting them to accept responsibility for their choices.
BRAD GALLOWAY Blame is often what we get at the onset. And I look at that and I say, no, let's take accountability. Let's say, yes, I was in prison for being a right-wing extremist or yes, those were my actions. And now I'm ready to face whatever I need to face so that I can move on and that the community can heal.
BOB GARFIELD You're a case worker, a case manager, and what you do is one on one. Is there any way to scale that kind of work to address what feels like a growing acceptance of extreme ideas and extreme conduct?
BRAD GALLOWAY That's a tough one, because I kind of am a firm believer in this idea where, you know, the human contact, the dialog that we create between human beings is so important to this process of deradicalization and disengagement from the groups.
BOB GARFIELD We don't have much of a social work infrastructure to begin with. You know, it's hard enough to deal with the existing cases of drug and alcohol abuse of spousal and child abuse or a host of other pathologies. The potential for political extremism, you know, seems like - yeah, take a number.
BRAD GALLOWAY You know, violent extremism. Is this really does this really take precedence over the opioid crisis? Maybe not. But I think we've got to think about where there's some connections to. You know, gangs and violent extremism and addiction and the crisis that is in the prevention space. If we can do more to try to end mass incarceration, I think that one is a good one to add to that list. Too often these places are sort of the breeding ground for these types of groups.
BOB GARFIELD I want to return to the question of what draws people, let's say to skinhead life. You said belonging, purpose, acceptance, shared culture. If an extremist gang offers you those, what's the incentive to give that all up?
BRAD GALLOWAY A lot of times you mean come with some pretty real stories here, but like throughout my time in the movement, a lot of my friends were killed or committed suicide because of their involvement in these movements. They often talk about like, oh, this is the race war, like being a martyr for this cause or whatever, but I mean, like for what cause exactly? I swear they're all fighting each other more than they're fighting any of the enemies that they ever talk about in the ideology.
BOB GARFIELD Well, Brad, thank you so much.
BRAD GALLOWAY Thanks for the conversation today. I very much enjoyed it.
BOB GARFIELD Brad Galloway is a case manager with Life After Hate and Exit USA and coordinator at the Center on Hate Bias and Extremism at Ontario Tech University.
Coming up, how to treat the disease of extremism, targeted therapy or vaccination? This is On the Media.
Copyright © 2021 New York Public Radio. All rights reserved. Visit our website terms of use at www.wnyc.org for further information.
New York Public Radio transcripts are created on a rush deadline, often by contractors. This text may not be in its final form and may be updated or revised in the future. Accuracy and availability may vary. The authoritative record of programming is the audio record.