Escape from Tarkov (Part 1)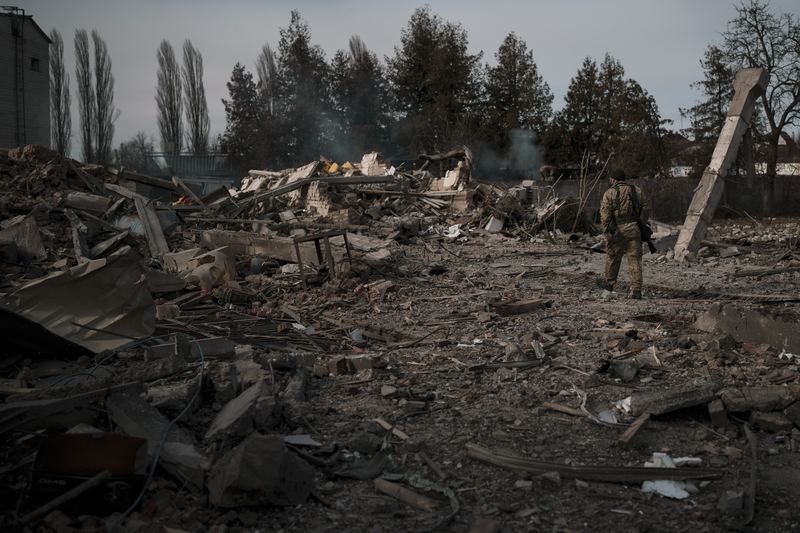 Transcript
BROOKE GLADSTONE This is On the Media, I'm Brooke Gladstone. So thus far on the show, we've heard about journalist who fled Russia because of a series of draconian anti-press laws that could have landed them behind bars for years. Now we turn to the exodus of refugees from Ukraine, which is being described as the fastest growing displacement of people in Europe since the Second World War. Our correspondent Micah Loewinger, has the story of the flight from war, in an age of micro celebrity.
[CLIP]
GAME SQUADMATE What's the news?
BOBI I don't know. No alternate.
MICAH LOEWINGER We're watching a live stream on Twitch.tv of a gamer who goes by "Bobi." It's February 24th and he's talking with his viewers.
[CLIP]
GAME SQUADMATE Which direction do I need to go?
BOBI Thank you guys for being with me for so long. [END CLIP]
MICAH LOEWINGER Most of the screen is taken up by a video game, a first-person shooter.
[SOUND OF A VIDEO GAME GUNSHOT]
MICAH LOEWINGER In the bottom right corner. We see Bobi's face. His weary eyes are peeking through a black balaclava. Behind him is a cot, a stack of wood logs, a furnace and a concrete wall.
[CLIP]
GAME SQUADMATE Yeah, that's bad news. [END CLIP]
MICAH LOEWINGER Bobby is live streaming from a bunker 30 feet below a military base in eastern Ukraine.
[CLIP]
GAME SQUADMATE Looks like a definite war boys.
MICAH LOEWINGER His viewers are sharing updates in real time as the invasion starts to unfold.
LOTTIE I've gone back and watched the whole video.
MICAH LOEWINGER This is Charlotte Wallens, she goes by Lottie. She lives in Trenton, Ontario, and she's one of Bobi's most devoted fans.
LOTTIE He felt the Earth move, and you see him sort of pick his head up and look around and he goes, "Guys, I think I need to go."
MICAH LOEWINGER It's at this moment, he realizes that Russia has begun bombing his location.
BOBI I hope I'll be able to see you again. I'll just drive to my family and I'll see if I can keep you updated– at least in text form. Discord guys
GAME SQUADMATE Yeah, you got Discord. Bob, you're good.
MICAH LOEWINGER Discord is a messaging app popular among gamers.
LOTTIE Watching him say goodbye to everybody absolutely broke me. He doesn't know if he's going to make it to see his kids, much less get to see the rest of the people he considers his family.
BOBI I love you guys. Thank you for whatever you've done. I love you guys.
GAME SQUADMATE Wish you. Good luck, brother.
BOBI Thanks, brother. To all of you thank you very much.
GAME SQUADMATE We'll see you soon Bob.
MICAH LOEWINGER That's when the stream ends. I saw this clip as it was circulating on the internet and went to Twitch to see if Bobi had signed back on. He'd been silent for eight days. I wanted to know what had happened to him, whether he'd made it to his family if they were all right. I managed to track him down with Lottie's help.
BOBI So Lottie, did you share with Micah, my location and stuff?
LOTTIE No, not your specific location...
BOBI OK....
MICAH LOEWINGER Before I tell you what happened, I need to get you up to speed. First off, his real name's Pavel, but everyone calls him Bobi, so that's what I call him. He's from Poland, and he asks that I smudge some of his personal details to protect his family's safety. He originally came to Ukraine to start a business 10 years ago, but in 2014, life in eastern Ukraine, where they were living started to get really rough. Putin's invasion of Crimea accompanied a parallel conflict in the Donbas region between Ukraine and pro-Russian separatists. About 75 miles from Bobi's home. The nearby violence and economic turmoil hurt his business, and it filled him with dread. To get his mind off of things, he started sinking his free time into a game called Escape from Tarkov.
[CLIP]
BOBI Pitiable. No PMC guys. Be careful. PMC
GAME SQUADMATE You dead?
BOBI I'm dead, PMC.[END CLIP]
MICAH LOEWINGER It's a first-person shooter game, kind of like Call of Duty. But way more hardcore.
LOTTIE In Call of Duty. All of your teammates are marked as your teammates, and all of your enemies are marked as your enemies, and you have a special map that shows you where all your enemies are. Tarkov has none of that and very little instruction to start with, so it's got a very steep learning curve to it.
MICAH LOEWINGER Bobi became obsessed with escape from Tarkov for a couple of reasons. First, he loved the brutal challenge. You can't just run and gun in Tarkov. You have to be tactical and deliberate. The point is to survive. The weapons are designed to sound and feel like the real thing, and if you let your guard down for a moment, you're dead.
BOBI Those who play Tarkov are those who are able to find peace with suffering and takes a lot of suffering to get good enough to enjoy the game.
MICAH LOEWINGER And the second reason?
BOBI What clicked with me because buildings are looking like, I'm used to seeing this Eastern Europe in real life. And the story was matching the place I was living.
MICAH LOEWINGER Tarkov is a fictional Russian war zone created by Battle State Games. A beloved Russian developer.
BOBI Tarkov was very similar to what was the beginning of the war in Ukraine.
MICAH LOEWINGER For instance, in the game, you can play as one of two private military group. Which he says matched the dynamic in the early days of the war in Donbas.
BOBI There was private armies formed by oligarchs in Ukraine.
MICAH LOEWINGER I get that he really liked the game, but was he good at it?
LOTTIE Yeah,18000 hours.
MICAH LOEWINGER Holy crap.18000 hours is two years.
BOBI I was playing almost 20 hour a day every day. I was like. A zombie using Tarkov as the only drug to keep me out from having any contact with reality.
MICAH LOEWINGER When I think of an escape, I think of going to some fantasy land that's so unlike real life that it gets your mind off of it. But this sounds like you were just escaping into a computerized, gamified version of the world directly around you.
BOBI In real life, majority of things are usually taken away from your hands. If you like it or not. In Tarkov, majority of your outcome depends on you.
MICAH LOEWINGER He felt that lack of real world agency when COVID hit Ukraine. His business, all his investments he'd spent eight years building vanished overnight. He remembers telling his Tarkov friends about it in early 2020.
BOBI I ask them guys, I'm bankrupt. I have family, wife, two daughters and I don't know what to do, how to live. And the best thing I have left under my name is my life insurance. How I can commit suicide. They told me, Don't panic. Why don't you just do what you do right now? But for a living? And then they asked me straight, Why don't you just stream Tarkov?
MICAH LOEWINGER So he set up an account on Twitch. His wife used a connection she had in the army to help him rent a cheap bunker on a military base 18 miles from his home, which would allow him to stream without bothering his family. He also launched Tarkov Academy, a website where 40 or so people would end up applying to be coached by Bobi. The service was promotional and therefore free, but you'd have to put up with this:
BOBI While you're looting the stash, while I'm disconnected next to you. I'll die instantly. Do you understand what I mean? Protect me. Want the f* story to be told?
TARKOV TRAINEE Listen.
BOBI I told you. Protect me.
TARKOV TRAINEE If you're going to talk down to me...
BOBI Many people were saying I was taking Tarkov too seriously, but for them was just a game. For me, it was a source of feeding my family. So every time I die, I'd seen as taking a piece of bread from mouth of my children and wife.
KEITH BODNER The very first time I saw it, I didn't understand it.
MICAH LOEWINGER This is Keith Bodner, a 41-year-old operations manager living in the UK. He goes by "Keife."
KEITH BODNER He's a very intense person when he's in the game, and he's very focused and because he knows every aspect of the game intricately. I honestly thought this guy's crazy.
MICAH LOEWINGER Eventually, Keife and Lottie became two of his biggest fans.
LOTTIE Keife is Bobi's right hand man. They have been gaming together and working on the Tarkov Academy program together for years.
MICAH LOEWINGER Before the invasion, Bobi stream averaged about 40 viewers. Super tiny by Twitch standards, he made 500 bucks a month through donations and Twitch ads, which was enough for his family to live a humble but stable life. And a big part of the reason this operation even worked was because of volunteers like Lottie and Keife.
KEITH BODNER My responsibilities were to make sure that the discord was running smoothly and then moderating the stream.
MICAH LOEWINGER How many hours a week would you say you were moderating?
KEITH BODNER In the region of 50 hours?
MICAH LOEWINGER Why were you giving this person? I'm assuming you've never met in real life – 50 hours a week of free labor.
KEITH BODNER It's hard to explain, but basically you fall in love with Bob. You spend a little bit of time with him and everybody says the same. He's infectious.
LOTTIE Bobi takes everybody in who's kind and genuine, and he makes them a part of his family. Calls them brother, and he calls me sister. And that makes a very loyal following.
MICAH LOEWINGER Which brings us back to February 24th, just before 6:00 a.m. Ukraine time.
BOBI I love you. Thank you for whatever you've done.
GAME SQUADMATE Wish you good luck, brother.
MICAH LOEWINGER He ends the stream, rushes out of the military base. The air raid sirens are blaring, and he begins his drive back to his family.
LOTTIE About thirty-five minutes after he left the bunker, he saw a missile go over its head that we're pretty sure destroyed his bunker. We know it hit it.
MICAH LOEWINGER He starts dictating his will into his phone, which he sends to Keife in a series of audio messages.
KEITH BODNER I told him to pull yourself together. He's got kids that need him, and he needs to think on his feet and he needs a plan to get there. He was like, I know Keife, I needed you to tell me. And then as soon as he snapped out of that, his training kicked in.
MICAH LOEWINGER His training?
KEITH BODNER He spent 18000 hours playing effectively the most realistic Russian military simulator.
MICAH LOEWINGER Over the next four days or so, Bobi traveled over 900 miles as he navigated his way towards Ukraine's western border. To survive, he says, he drew on three lessons that he learned from playing Escape from Tarkov. Lesson one: think, don't run.
BOBI You want to run anywhere. You don't think, where are you running, you're just trying to run away and and as you understand your direction of your movement is determining, will you be alive or not?
MICAH LOEWINGER Throughout his journey, he sends Keife and Lottie messages like this on WhatsApp.
BOBI Everything either of us looks like after followed. No people, no civilization, no petrol and gas station. No food, nothing. Nothing left. Everyone who is running ahead of us took everything yesterday. I was told that we can only travel til dusk. After the dusk, it's better for us to stay in in the forest and move on the roads.
The first night was terrifying because we were in the middle of nowhere and missiles start falling around us. We didn't know what to do, and we see, I think, three families running to some shelter. So, we decided to just pull over, run with them and hide in the basement.
MICAH LOEWINGER Bobi looks at Dischord on his phone, and he sees that Keife, Lottie and some of his viewers are checking in on him.
LOTTIE We spent some time explaining like, Look, it's OK, you're not alone. You're never going to be alone. We will be with you every step of the way and we will watch over you guys over the internet while you're sleeping.
BOBI I actually felt like I don't feel all day lonely because I'm surrounded with people who has been so many years and so many hours speaking together
LOTTIE and all of us are sending our love and our support back to them all. Even the families, we don't know. And he told us that night that it kept them going through the night without panicking.
MICAH LOEWINGER Lesson two: listen for clues. The next morning, February 25th, they wake up to Shelling at around 4:30 a.m.
BOBI From Tarkov, I learned how to calculate the speed velocity of a gun and bullets which are shooting at me by estimating the sound of the bullet. And in real life, it's on 350 meters a second,
MICAH LOEWINGER He applied this technique to figuring out where an explosion was coming from.
BOBI I was able to actually estimate a distance to explosion by seeing it and counting the time to hearing it. I was able to understand that this explosion is 1.82 seconds away from me, 700-ish meters.
MICAH LOEWINGER He realized that the time between explosions seemed to be getting shorter.
BOBI I told him my family we are leaving and everyone was shouting, What are you going the bombing? I said the shelling is around 1.5 km away from us and is coming towards us, so we will go opposite direction. I think the people in the basement, they were thinking, we are mental, but we were actually right.
MICAH LOEWINGER Lesson three: Put yourself in your enemy shoes.
BOBI I was always trying to explain...
MICAH LOEWINGER He would tell his students: imagine you are your enemy. Hunting you right now. How would you do it?
BOBI Where would you position yourself? How would you kill yourself? What would you expect to expose yourself?
MICAH LOEWINGER The Ukrainian interior minister had advised that civilians turn off cellular data so that Russians couldn't track their locations. This meant he couldn't see where he was driving for much of the trip. But Keife and Lottie could, because they were tracking his live location with end to end encryption on WhatsApp.
LOTTIE So we created a map for him on Google Maps and sent it to him as a screenshot and with the instructions page that you can print from Google Maps as a PDF so that he could pull it up on his phone, but turn off his data and everything else to try and make them as invisible as possible.
BOBI Because I had their information turn here left and right. They were able to guide me for the countryside, which I never been before.
MICAH LOEWINGER While they were focused on the immediate dangers of their journey. Bobi had no clue that he had become famous on the internet. That emotional clip of him saying goodbye during his last livestream had been spreading like crazy on Reddit and Twitch.
BOBI I was told that this was actually become so viral it was in Singapore television, in Spain, in England, in TV.
MICAH LOEWINGER More than a thousand bucks of donations had shown up in his bank account. Hundreds of new fans were pouring into his Discord server and showering him with support. This bit of new internet fame, he realized, meant he'd make more money from live streaming when they finally reached Poland, whenever that might be. When I interviewed Lottie last week, she described what she had gleaned about the state of the refugee crisis.
LOTTIE The vast majority of the Ukrainian refugees are fleeing through Poland. It is a five to seven day wait right now in a car.
MICAH LOEWINGER Lottie, and Keife searching Google Maps, looking for places where the family might be able to safely wait out the logjam.
LOTTIE Small, out of the way, close to the border, sub-5000 people with like a road that runs straight through it, one way in and one way out.
MICAH LOEWINGER When Bobi and his family arrived at their suggested village on February 28th, they went into a grocery store.
BOBI There was a queue for bread because of a shortage, of course, and we spent two hours with 30 babushka, which is 30 old grandmas in the queue being so welcome, so helpful, so thoughtful.
MICAH LOEWINGER This little town mostly just had kids and their grandparents because the combat aged adults seemed to be off fighting the Russians.
BOBI For me, it was heartbreaking of seeing the grandma when I see how much money she's having in her wallet. You can see her counting on her fingers. Will she have enough to buy bread?
MICAH LOEWINGER At that moment, the grandma gets a call from her daughter, who is out there at war, asking if she's OK. If the kids are OK.
BOBI And her grandma with absolute peace and smiles laughing, Yes, everything is fine. We have money and stuff and soon hangs off. She openly says to other grandmas that her pension didn't arrive yet because the postman is not working. So she's actually struggling. And this was the instance when I said I'm done running. I said honey, let's use this momentum what we have. Let's stay here and help those who are really forgotten in this whole conflict. Because if I run to Poland, I would use from Ukraine, I will hear your mom or grandma who is blind suffering, going through it on her own without us, I would feel like a coward. I will not be watch myself in the mirror.
MICAH LOEWINGER They have a plan to escape if things get bad, but for now they're doing humanitarian work with the money they're raising from Bobby's growing fame. With Keife and Lottie's help Bobby set up gamers4Ukraine(dot)com, that's "four" like the number four. He sent me a picture of packed grocery carts, he says, are for families passing through. He told me he's already driven countless people to bus stops and train stations, and that they've also begun renovating a building which will serve as a free hostel for refugees.
BOBI But for the last few days when we are actually actively helping families to run to safety, it changed my life forever because the mental and moral reward for help with no interest cannot be replaced by any other action or activity in life. And I love it because I feel that I've done something which will be left over from my existence in this Earth.
MICAH LOEWINGER When this is all over, if it's all over, do you think you would go back to playing Tarkov 20 hours a day?
BOBI Yes, of course. I'm sure no doubts. I didn't play Tarkov for 10 days right now, and I–I miss it. I wish to be there.
BROOKE GLADSTONE Coming up five months later, Micah follows up. This is On the Media.