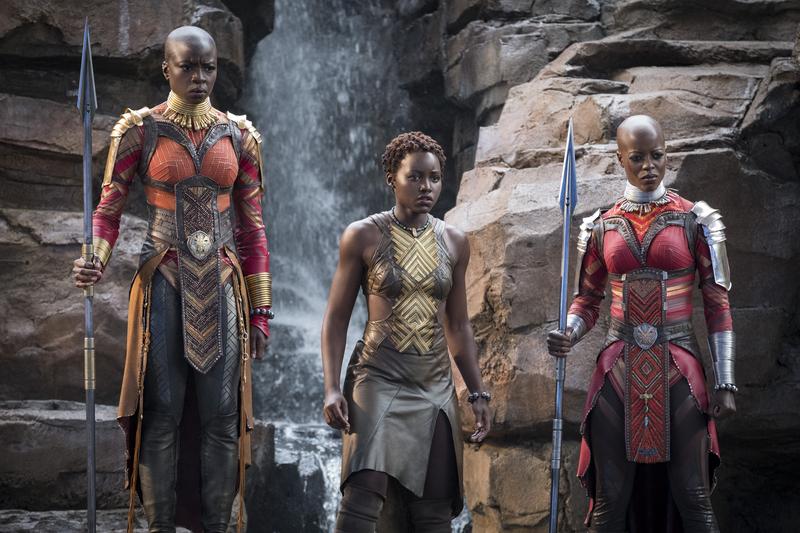 Transcript
BROOKE GLADSTONE: Over the past week, long-awaited images of a mythical kingdom on the big screen.
[CLIP]:
OKOYE: Wakanda forever!
BROOKE GLADSTONE: The setting of Black Panther, Wakanda, can be found deep in the heart of Africa, blessed with seemingly unlimited access to a Vibranium, the hardest, most powerful metal on earth.
ULYSSES KLAUE: Tell me something. What do you know about Wakanda?
EVERETT K. ROSS: …Textiles, shepherds, cool outfits.
ULYSSES KLAUE: All a front. Explorers have searched for it. Called it El Dorado. They've looked for it in South America, but it was in Africa the whole time.
[END CLIP]
BROOKE GLADSTONE: Since it was first conceived by Stan Lee and Jack Kirby of Marvel Comics in the 1960s, Wakanda has been imagined and reimagined. Just last year, we saw comic book updates from authors Ta-Nehisi Coates and Roxane Gay that explored the greater Wakandan world, imagining the Black Panther universe with an eye toward modern social and political struggle. In Ryan Coogler's cinematic Black Panther, Wakanda's possession of Vibranium leads to the central tension of the film: share your wealth with the world and risk becoming a target to predators and pillagers and empire, or keep the spoils of your natural bounty within your borders and turn your back on the suffering of refugees in the larger African Diaspora. Can a country spread its good fortune without being forced into a struggle for its own survival?
Johns Hopkins University professor Nathan Connolly says that in the world of Black Panther, Wakanda's survival is made possible in part thanks to its secrecy.
PROFESSOR NATHAN CONNOLLY: Wakanda is obscured by dense forests and later by a kind of elaborate hologram that allows it to remain hidden from satellites and foreign spies and the like. It's rich beyond imagining, is extraordinarily advanced. In fact, [LAUGHS] if you look at the original comic book from the mid-'60s, what you actually see is a Wakandan using the equivalent of cell phone with a Bluetooth headset. [LAUGHS]
[BROOKE LAUGHS]
And so, the Wakandans never have to extend beyond their borders to generate wealth. They never have to enslave any other populations, not like England or France that had an elaborate plantation system in the Americas or any number of countries that colonized the, the physical continent of Africa. It's the counterpoint to what the actual history of modern wealth creation has been for industrialized countries. The point about the film, of course, is to say, what would it mean if there was a bottomless resource that you could use to basically solve the problem of racism and poverty for all black people around the world?
BROOKE GLADSTONE: In an interview with the New York Times, film director Ava DuVernay who's --
PROF. NATHAN CONNOLLY: Yes.
BROOKE GLADSTONE: -- about to come out with A Wrinkle in Time, said that Wakanda itself is a dream state, a place that's been in the hearts and minds and spirits of black people since we were brought here in chains.
PROF. NATHAN CONNOLLY: So you would have to really begin in the 15-teens with the first Maroon communities. The first small number of African slaves ran off into the hills over Santa Domingo to escape the brutalities of slavery and colonization. And, you know, Maroon communities are very much like Wakanda in function. They're meant to exist outside of the watchful eye of European powers, places of autonomy, in Dutch Surinam, in the United States, multiple centuries of dreaming about places of independence, feeding into what ultimately becomes the vision of Wakanda.
BROOKE GLADSTONE: And you focused particularly on the connection between black utopian thought and the founding of Haiti and tied that into Wakanda.
PROF. NATHAN CONNOLLY: So Haiti is critical, in that 1804 what you have is the first modern nation-state established by black people, a, a black republic in a kind of European and Euro-American model. It is unthinkable that people would be able to remove themselves from the bondage of slavery, then establish a country, write a constitution, develop an economy. This is a dangerous, dangerous idea, that the country of Haiti could be on America's doorstep and possibly encourage slave revolts.
BROOKE GLADSTONE: Because of the uprising at the end of the 1700s, which gave rise ultimately to its independence.
PROF. NATHAN CONNOLLY: Correct. It's Haiti as an idea that I think is largely what the film and what the comic book series was built upon.
The other thing is if you think about where Wakanda comes from, even in the minds of comic book creators like Stan Lee and Jack Kirby, it, it absolutely is part of a flowering of ideas about black nationalism in the mid-1960s.
BROOKE GLADSTONE: Mm-hmm.
PROF. NATHAN CONNOLLY: So you have people who are returning to the history of the Haitian revolution because they're looking at models for black self-determination. So a very important book that was written in 1938 by a historian named C.L.R. James called The Black Jacobins, and it was considered to be the dominant kind of take on the Haitian revolution, it falls out of print within a decade of, of coming out but it comes back into print in 1963 because American leaders and particularly civil rights activists are looking for models of black self-determination. And the first comic book treatment of the Haitian revolution is the same exact year that Black Panther is established in Marvel comics. And, of course, then later the Black Panther Party after the comic book already comes out is established in Oakland, California, all this to say that you cannot disentangle the scholarship on the Haitian revolution, the historical events and the imagining of the Haitian revolution, from what becomes seemingly an innocuous fictional treatment. And, again, the concern and the question about what's the responsibility and the place of a black nation in a larger world of oppressed people, that's a question that was raised from the inception of Haiti as a country in 1804.
BROOKE GLADSTONE: What makes you so sure that these Jewish outsiders in the mid-last century, Stan Lee, Jack Kirby, that they had really encountered this material and were referencing it?
PROF. NATHAN CONNOLLY: So ideas about black nationhood are, are everywhere in the mid-1960s. You don't have to place Stan Lee or Jack Kirby in a meeting with a kind of back-to-Africa movement [LAUGHS]--
BROOKE GLADSTONE: Mm-hmm.
PROF. NATHAN CONNOLLY: -- to understand that there is already going to be a, a very wide and broad set of discussions and conversations in the newspaper, in public meeting places, where the idea of black autonomy is going to be front and center for them. And I also say, if you talk to Stan Lee about even the creation of other nonblack characters --
BROOKE GLADSTONE: Mm-hmm.
PROF. NATHAN CONNOLLY: -- like, like the X-Men, he's drawing explicitly from the civil rights movement. So Professor X is meant to harken the Martin Luther King, Malcolm X is represented to the character of Magneto, and it's yet another example of the politics of the 1960s being turned into the creative fodder for really iconic treatments in Marvel Comics' pages.
BROOKE GLADSTONE: And you wrote, "Dreams to art to life and back again." You were basically saying that you can't approach it until you dream it.
PROF. NATHAN CONNOLLY: Yeah, I mean, the story about, you know, say, the Haitian revolution, the marooned communities or even the, the civil rights movement, they begin with visions, they begin with imagination, they begin with the creative process, right? None of this is, is possible until you, you dream it. The power of a film like Black Panther and what people are really responding to is the fact that this is a vision that they have never seen before. It's, it's suggesting that there is a way for an African nation to be the most advanced nation in the world, that it might well be possible to have advancement without environmental degradation.
BROOKE GLADSTONE: When we talk about the utopianism of Wakanda, we have to concede that it's based on unlimited access to Vibranium. So what can we learn from a utopian vision that's based on a made-up and impossible natural resource?
PROF. NATHAN CONNOLLY: There are all kinds of utopian visions that are out there that are currently driving our politics. I mean, it's, it's remarkable to think about, again, the free market as a utopian concept. If you just subject everyone in the world to the same free market principles, the magic of the market will give out everyone's, you know, goods and services in, in the measure that they need. And all of these things drive policy. And so, it doesn't have to be a fantastical element like Vibranium to be part of a utopian vision. When the film really does approach it's most powerful moment, it's not about Vibranium at all but it's about the connection between people.
What's the feasibility of creating an equitable relationship between the people who have, have been disempowered through slavery and colonization and the rest of the world?
BROOKE GLADSTONE: I'm glad you said that because I was looking at this article by Jim Garrity at the National Review who loved the film but he said, we know Wakanda can't exist and it's not just because Vibranium is fictional. Wakanda can't exist, not owning to any inherent flaw in Africans but because of the inherent flaws of human beings. Every human society involves trade-offs. If you want more security, you're probably going to have less freedom from surveillance and fewer civil liberties. If you want to avoid the paralysis of division, you have to concentrate power, but absolute power corrupts, absolutely.
PROF. NATHAN CONNOLLY: Right.
BROOKE GLADSTONE: In theory, you can avoid wealth disparity through socialism but collectivism destroys the incentives to create, innovate and work hard, he wrote, and a corrupt few inevitably rise to the top, creating new wealth disparities. People have to choose what values they prioritize in their nation.
PROF. NATHAN CONNOLLY: It's a little bit of a conceit to say that, well, we really can't be realistic, as we're the ones sitting on [LAUGHS] more of the resources and the affluence, right?
BROOKE GLADSTONE: Mm-hmm. [AFFIRMATIVE]
PROF. NATHAN CONNOLLY: To think through the problem of relations between white and black and brown populations around the world, the global South versus the North, all of that stuff is really front and center. And what happens with Wakanda, of course, is a kind of suspicion that this wealth is even possible because it's seen as being, quote, unquote, a "nation of farmers and herders" right? That stereotype is part of what the problem is because, believe it or not, when you see the president making a comment about people from Haiti or from Africa basically living in the pits of hell, part of that is actually about not understanding the real resource of places like Africa or Haiti, which are its people. I mean, Vibranium, in so many respects, is actually a powerful metaphor for the untapped potential of Africa and its people. What kind of fantastic futures are possible if we really think about the resources of these populations that have been ignored and overlooked? They're already in our midst. [LAUGHS] We literally have Vibranium living in our communities around this country that we have yet to take full advantage of by investing in it and allowing people to grow and be contributing members of society. Would we invest in that the way we might invest in a space age metal, if given the opportunity?
[MUSIC UP & UNDER]
BROOKE GLADSTONE: Nathan, thank you very much.
PROF. NATHAN CONNOLLY: Thank you.
BROOKE GLADSTONE: Nathan Connolly is the Herbert Baxter Adams Associate Professor of History at Johns Hopkins University and cohost of the weekly podcast Back Story.
BOB GARFIELD: That's it for this week's show. On the Media is produced by Alana Casanova—Burgess, Jesse Brenneman, Micah Loewinger and Leah Feder. We had more help from Jon Hanrahan, Isaac Napell and Philip Yiannopoulos. Our technical director is Jennifer Munson. Our engineers this week were Sam Bair and Terence Bernardo. And our show was edited -- by Brooke.
BROOKE GLADSTONE: Katya Rogers is our executive producer. Jim Schachter is WNYC's vice-president for news. On the Media is a production of WNYC Studios. I'm Brooke Gladstone.
BOB GARFIELD: And I'm Bob Garfield.