Distance Learning Saved His Life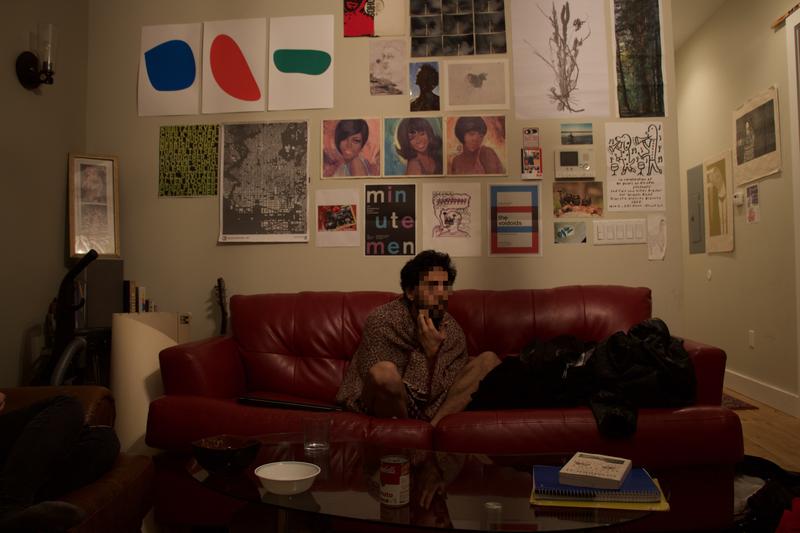 Transcript
BOB GARFIELD This is On the Media, I'm Bob Garfield. After the holidays, tens of thousands of students will be heading back to campus more than last fall, but still far less than normal. And many campuses remain completely shuttered, where once there were boisterous classroom discussions and group projects, now there were awkward Zoom calls and online quizzes. But the old way wasn't perfect either. Brick and mortar schools could be alienating and unforgiving, especially for marginalized students. Some of whom might be better served by virtual school. On the Media, reporter Micah Loewinger tells the story of how distance learning saved his friend's life.
MICAH LOEWINGER I'm going to change your name to Omar and keep the personal details fuzzy, you know?
OMAR OK.
MICAH LOEWINGER I thought maybe we could just start with. Do you remember when we first met?
OMAR [CLEARS THROAT] I believe we met through friends during our freshman year of college.
MICAH LOEWINGER Well, I remember the first, like, real interaction that we had. We were walking on Fifth Avenue and you were like: "Micah wassup man, hit me up if you want to smoke some time" I was like, "who is this guy?" You always had people around you. You know, one of the first things that drew me to you was just how unabashedly kind of intellectual and nerdy you were. I could just see that there was this kind of glowing energy about you.
OMAR Oh, that's very nice of you to say.
MICAH LOEWINGER But what really solidified our friendship was when we started playing Super Smash Brothers.
[SUPER SMASH BROS. INTRO]
MICAH LOEWINGER Smash became a kind of watering hole for a group of friends to catch up and talk shizz. I had a fascination with documenting my life during college, so I got into the habit of recording.
MICAH LOEWINGER The funny part of it is that I obliterate you basically every time we played.
OMAR I don't remember it quite that way.
[OMAR HOWLING; FROM LOSING].
OMAR I'm kidding, I do. Those were some of the happiest times of my life, I would say.
MICAH LOEWINGER I knew now that even when he was thriving, Omar was suffering from a severe mental illness. He didn't hide it.
OMAR I might tell someone what I was going through the first time I met them.
MICAH LOEWINGER You guys have like battles over religion with your parents. If your parents were religious.
OMAR Late one night I captured one of these moments on tape. I used this footage in a student documentary about Omar's life and his turbulent journey through college.
[CLIP]
OMAR My family's made me drink holy water on multiple occasions. They think I'm possessed.
FRIENDS Possession of what?
OMAR Demons.
FRIEND [LAUGHS] With intent to distribute?
OMAR [LAUGHS HALF-HEARTEDLY] [END CLIP]
OMAR The first time I remember being very depressed was when I was in first or second grade. And one day it struck me that things would change. You know, like my brother is going to leave, my parents are going to die and, you know, then I'll be on my own and I won't be with my happy family, blah, blah, blah. My first visit to the mental hospital, I was in my senior year of high school. And I mean, I was out for like about a month. I was having psychotic symptoms like hearing voices. There are sometimes a single voice, sometimes multiple voices. Sometimes they're male, female. You know, I don't want any voices. I don't care if they're saying good things or bad things. And they're annoying. You know, I can't sleep sometimes. I can't focus.
MICAH LOEWINGER Not long after we met, Omar was diagnosed with schizophrenia. It's common for mental illness to flare up right around the time a student ships off to college. 18 to 21, his condition got worse as school went on, but he clung to the one thing that gave him hope: his dream of becoming a math professor.
OMAR Everything was, you know, in my mind was just chaos. There was no order to my thoughts. Life seemed like a big paradox. Math was a safe haven for me to retreat to. It's like this crystalline world where things sort of make sense. In math, you have what are called axioms, which are things that you assume to be true. You know, from there you're the builder and you have your tools of logic and you can prove things to be true or false. It helped give my life structure and meaning and purpose, and my dream was to learn as much math as possible, get the best grades, go to the best graduate school and have the best chance at what I considered was a fulfilling life.
MICAH LOEWINGER The genius academic who suffers from schizophrenia is a controversial archetype. Most people think of the film A Beautiful Mind, a biopic about John Nash, the Nobel Prize winning mathematician who helped develop game theory.
[CLIP]
JOHN NASH If we all go for the blonde. Not a single one of us is going to get her. So then we go for her friends, but they will all give us the cold shoulder because nobody likes to be second choice. What if no one goes to the blonde? We don't get in each other's way. And we don't insult the other girls. It's the only way to win.[END CLIP]
MICAH LOEWINGER But the list of troubled mathematical geniuses goes on. Isaac Newton, Alexander Grothendiek, Ludwig Boltzmann, Omar looked up to those men and I saw his work ethic up close when we became roommates our sophomore year. But we also went to parties together, stayed up late, playing Super Smash Bros. One time I filmed him shaving his head in the bathroom.
[HAIR CLIPPER BUZZING]
MICAH LOEWINGER The footage shows his black hair sprinkling over the big red Anarchy tattoo on his right shoulder. Omar had been radicalized in high school by Michel Foucault's 1961 book Madness and Civilization. Foucault helped influence the anti psychiatry movement, arguing that modern medicine dehumanized the mentally ill, robbing them of their rights. This inspired Omar to refuse medication until college, when his psychosis and his paranoia got worse. The drugs definitely helped, but they made him sleep constantly, sometimes like 18 hours a day.
OMAR With a lot of these antipsychotic medications, people become very, very sedated and it might help the problem. But at what cost? I guess you could ask.
MICAH LOEWINGER It upset his doctor, but he went off the meds. But that made sitting in lectures unbearable.
OMAR Going to class was really a sensory overload and a stimulus overload. I was full of dread at being around others.
MICAH LOEWINGER What was it about other people?
OMAR They haunted me.
MICAH LOEWINGER Were you haunted by me and our friends?
OMAR If I have to be honest and yeah, it would drive me crazy every time I would talk to someone, you know. I was so paranoid about what they might go away and stay behind my back, what they were thinking about me. My mind took it to the worst possible place.
MICAH LOEWINGER Our junior year, Omar went to the Center for Students with Disabilities with a last ditch solution.
OMAR Which was to not have to go to class because I just couldn't handle it. I was fine reading the books myself and doing the assignments myself without the classroom instruction. I suppose there's a pretty rigid hierarchical administrative structure to what they can and cannot do. You know, they can give you more time on a test, for instance. But for me to ask not to go to class, they said they couldn't do it. So I just stopped. I stopped going. I just kind of want to learn and seclusion. One day I was like, you know what? I'm going to just find some words and stay there for a few days and just take my books with me and be left alone.
MICAH LOEWINGER He left his phone, wallet and a scribbled note at his desk. He took the ferry to Staten Island and he wandered by the water in the moonlight.
OMAR Made myself a nice place to sit at the foot of a tree. The roots are kind of hard on your back at times. And, you know, there are a lot of ants and stuff crawling around, so you don't want to get all beaten up. But all in all, it's pretty manageable and you get used to it. I just brought three of my textbooks. One was called Abstract Algebra, one is called Real Analysis. One was called advanced logic. I made, I think pretty good progress.
MICAH LOEWINGER What did you eat?
OMAR I'm a vegan, so I brought a loaf of bread and I went out to buy another one. As I was coming back. There's like a security checkpoint. The guy's like – "hey, where are you going?" Like, "can I see your I.D.?", and I was like - "I don't have one." And he's like, "Do you have any idea what you're doing?" I said, "no." He's like, "well, this is a military base, so turn around and walk the other way." I was like, "Oh, OK," and that's, that's when I came back.
MICAH LOEWINGER It turns out that Omar had spent two nights in Fort Wadsworth, a Coast Guard base at the foot of the Verrazano Bridge. Meanwhile, his parents and his shrink had been freaking out.
OMAR I was pretty much asked to go to the hospital immediately. And they don't force you physically, but they look pretty darn well, force you verbally.
MICAH LOEWINGER When he got out, the school administration placed him on temporary medical leave. Omar knew he wasn't coming back. The day before he left the city, I asked him to meet up with me and tell me what he planned to do after he dropped out.
OMAR I have like a log cabin, West Virginia, the mountains. I just want to be there on my own, studying and learning this stuff. And my psychiatrist points out like, you need a job, like you need to support yourself and deal with things at some point. You know, you can't live in a fantasy world forever. And, you know, I want to live for that fantasy world, I guess. Someone wants to be a musician. Someone wants to be a basketball star. I want to be a mathematician, because that's the way I'm going to be doing what I love and making a living out of it. And otherwise, I think I'll feel very unsatisfied. Let's say I want to publish something at some point in time. Well, first of all, you have to submit it to a peer reviewed journal or something. You don't have a college degree. Maybe no one's going to take you seriously. Even if you do get published, no one's going to pay attention to it. There are maybe some exceptions, but that's the general principle of things. I mean, there are always exceptions. And maybe in the back of my mind, I'm like, I really want to be one of those exceptions. But it's just so unlikely. But we all have this thing called optimism bias. So I think I can do things which really are highly unlikely. It's unlikely for me to make it my mark anywhere, teach anyone anything, do something new without graduating.
MICAH LOEWINGER After a semester off, he decided to give school another shot and he enrolled at a public university in Virginia. But within the first couple of weeks, he found himself overwhelmed by the stimuli of the classroom.
OMAR And basically what I asked them to do was turn in all the assignments of tests. I just want to have to come into the lecture. They weren't OK with that. And I understand that I might well fail or not do well, and I just want the opportunity to try.
MICAH LOEWINGER He explained all this to me over video chat after he dropped out again.
OMAR I was very upset because I had felt like an education had been made inaccessible to me because of my problems. If you have a physical problem like this, I'm blind or deaf. I'm in a wheelchair. This is something people can see and they'll come to you right away. But if it's a mental issue or something they can't see, then people are more skeptical. They're less willing to work with you.
MICAH LOEWINGER He ended up stuck at home with overprotective parents and no prospects. As a way to keep his mind off of things. Omar found a job that would let him work with people without the crushing anxiety of face to face interaction. He became an online math tutor.
OMAR You get connected with a student and then there's like a virtual whiteboard and like a little chat box on the side. And then they'll ask the question, will write it on the whiteboard, and then you do it in real time. You work out the problem.
MICAH LOEWINGER That job gave him a lot of confidence and it helped him see the Internet as a way to participate in society.
OMAR I did some research and actually found that there was, a at the time, I believe it was the only one there was a bachelor's degree in mathematics that could be completed entirely online through a small Midwestern university.
MICAH LOEWINGER This was not one of those predatory schools that you might have seen in a TV ad. Omar's program was 100 percent legit, just the online version of a traditional university.
OMAR Back when I was in school in New York. I never even spoke to anyone, especially this is the nature of a mathematics lecture. You go in, you sit down, someone talks at you for an hour and then you leave. And if you have a question, you might ask your question. But in my experience at this particular school, there's a lot of encouragement of collaboration. You have to post a minimum number of posts on the course webpage per week, even though there are many miles away. I feel like I know them better than I knew any of the students who were in my classes before I left brick and mortar school.
MICAH LOEWINGER His classmates were local students in their early 20s, soldiers stationed abroad, and people with full time jobs finishing their degrees at night. They made his program feel human. He didn't feel paranoid, interacting with them through a screen. Finally, Omar could study in peace.
[CLIP]
DEAN He has been one of the top students in upper level math classes. During his time here. [END CLIP]
MICAH LOEWINGER That year, his school flew him out for an awards ceremony where he was named Math Student of the Year. Out of all the students at the school, online and in person,.
[CLIP]
DEAN For example, in fall 2004, 14 excuse me, he took six mathematics courses. Six mathematics and 19 credits. And his GPA was 4.0. [END CLIP]
MICAH LOEWINGER Is it too strong to say that online school saved your life?
OMAR I mean, I was suicidal at the time because I had failed and failed and felt that I had no other options, so maybe it's not too strong to literally save my life yet, I would say for sure.
MICAH LOEWINGER I finished my student film about Omar in twenty fifteen, the year he and I graduated. One of the last scenes of the movie featured this comment from his older brother.
OMAR's BROTHER He could potentially do his PhD online, so I think the future is very bright in that regard. The fact that he's doing so well speaks for itself.
MICAH LOEWINGER Omar's future was bright. He went on to enroll in two online master's programs, one in computer science, one in applied math. He got a lucrative full time job, and on weekends he saved lives as a certified volunteer fireman. Neither jobs triggered his illness, but the prospect of returning to a campus terrifies him. So he's still waiting for really good math program to offer a completely online doctorate because the ones that are available now aren't respected by other mathematicians.
OMAR There's just this culture of you're a researcher, you're on the chalkboard with your advisor, Day and night, hashing things out.
MICAH LOEWINGER But why couldn't you just be at a virtual chalkboard? It makes no sense to me.
OMAR Yeah, doesn't make a lot of sense to me either. But sometimes institutions are slow to change.
MICAH LOEWINGER Of course, we could never have anticipated how much the higher education system would be radically transformed.
[CLIP]
NEWS REPORT Princeton University is reversing course and having undergraduate students be fully remote for the fall semester. [END CLIP]
OMAR I think society has been forced to accept the notion of distance education. Maybe now there might be some universities that are open to offering remote doctoral programs as well.
MICAH LOEWINGER Omar's hunch really interested me, so I emailed about 25 professors from several of the top ranked math departments in the country, public and private schools, and I called Omar back to tell him what I'd learned.
Keeping things vague, I explained why someone like you in your position wouldn't want to do the program in person and you'd want to do a completely online. And whether they were more likely to accommodate a student with your kind of disability because of the pandemic. I think it's worth saying that no one professor has all that much pull in a admissions process. But several people very enthusiastically at several different schools across the country told me that they would work with somebody like you. Oh, wow. This is from Katrín Wareheim from UC Berkeley. "Micah, my hesitation would be lack of community and support. That's a hard one for students with marginalized identities and backgrounds even before we go online. In theory, going online could help to remedy that, but it would require intentional effort. And in most top math departments, I haven't even seen the intention. Personally, I did start a PhD advising relationship with a student that I had only met once in person. He eventually transferred to my university, but honestly, our meetings were more productive online, so I wouldn't hesitate to advise someone remotely." One professor wrote to me, said, "hi, I was the math consultant to A Beautiful Mind the film. The math was incidental, although they took my contributions seriously. We were really making a movie about mental illness after all. Yes, of course. I'd take a fully virtual PhD student."
OMAR [LAUGHS] What are the odds of that?
MICAH LOEWINGER I don't know.
OMAR Well, those two seemed like out of the park. Great responses for someone like me. I mean, I consider those people heroes. People like that can really make a big change in certain people's lives. I'm actually very excited. It's actually, it's a bit of a lot to take in in some sense because, you know, I had sort of given up hope. I will definitely have to dust off the old transcripts and everything like that. Polish up the resume. I haven't applied to school in a little while. In some senses, out of this tragedy, there comes a silver lining for me and some hope that I'll be able to do the thing that I love most.
MICAH LOEWINGER Historic cataclysms can sometimes clear a path for people who never had one. As David Bayer pointed out, he's the guy who worked on A Beautiful Mind. He's also the chair of the math department at Barnard College and a Columbia University student adviser. World War II was actually the best thing that had happened for women's equality because it drew all the men overseas. Perhaps we're on the cusp of an accessibility revolution in academia, or at least as we reimagine and rebuild our education system for the web, a door that was always closed will suddenly pop open for those who hoped but never thought it would. For On the Media, I'm Micah Loewinger
BOB GARFIELD For anyone considering hurting themselves. You can speak to someone right now by visiting SuicidePreventionLifeline.org.
That's it for this week's show. On the Media is produced by Alana Cassanova-Burgess, Micah Loewinger, Leah Feder, Jon Hanrahan and Eloise Blondiau. Xandra Ellin writes our newsletter, and our show was edited...By Brooke. Our technical director is Jennifer Hudson. Katya Rogers is our executive producer. Bassist composer Ben Allison wrote our theme.
On the Media is a production of WNYC Studios. Brooke Gladstone will be back next week. Happy New Year! I'm Bob Garfield.
Copyright © 2021 New York Public Radio. All rights reserved. Visit our website terms of use at www.wnyc.org for further information.
New York Public Radio transcripts are created on a rush deadline, often by contractors. This text may not be in its final form and may be updated or revised in the future. Accuracy and availability may vary. The authoritative record of programming is the audio record.