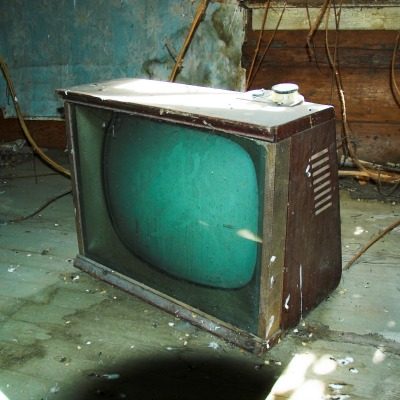 Transcript
BOB GARFIELD: We're devoting the next few minutes to some insights and discoveries we've made in the past year, in the wide wondrous world of television.
[CLIP]:
ANNOUNCER: From Hollywood, it's Jimmy Kimmel Live, After the Oscars.
[AUDIENCE APPLAUSE/SOUNTRACK UP & UNDER]
BOB GARFIELD: If you caught Jimmy Kimmel's post-Oscar special back in March, you got to witness the torch being passed, from the good old days to the Brave New World. It began unremarkably with a big star and the obligatory clip.
[CLIP]:
KEVIN SPACEY AS FRANCIS UNDERWOOD: Just a minute, please! He does not deserve a medal.
ROBIN WRIGHT AS CLAIRE UNDERWOOD: Francis, I beg of you.
FRANCIS UNDERWOOD: I'm telling you. That man deserves to be taken out and shot!
CLAIRE UNDERWOOD: I am begging you.
FRANCIS UNDERWOOD: No!
CLAIRE UNDERWOOD: Please.
FRANCIS UNDERWOOD: No.
[SOMEONE KNOCKING]
CLAIRE UNDERWOOD: Do –
FRANCIS UNDERWOOD: I said, just a minute!
CLAIRE UNDERWOOD: Do not make a scene, please!
[END CLIP]
BOB GARFIELD: The great Kevin Spacey promoting, not a Hollywood movie or even a network TV show, but the pioneering Netflix streaming video series, House of Cards.
[CLIP]:
[AUDIENCE CHEERS, APPLAUSE]
JIMMY KIMMEL: That's – what a great show. I mean, you play a great villain.
[END CLIP]
BOB GARFIELD: Well yeah, for those who have a stake in the status quo. Broadcast television, for half a century America's dominant cultural force, has lost its primacy. On April 9th, 1979, a single episode of All in the Family entertained more than 40 million Americans. Thirty-five years later, in a country with a 39 percent larger population, the first hour of prime time attracted the identical audience, for the top five networks, combined. The other 277 million Americans were doin' something else. Some were on YouTube watching cats play with parakeets or perhaps watching internet personality Kingsley inveighing against bad baby names.
[CLIP]:
KINGSLEY: If I had been married for five years and we were about to finally have our child and they woke up one morning and looked at me and said, "I want to name my baby Bocretia Cherise" I would be like, what the, what the [BLEEP]!
[END CLIP]
BOB GARFIELD: And still others might have checked out funnyordie.com, to see Will Farrell shouting at his two-year-old landlord, Pearl, for the – 81 millionth and 1st time.
[CLIP]:
WILL FARRELL: Hi, Pearl.
PEARL: Where's the rent?
WILL: You don't have to raise your voice.
PEARL: You pay now!
WILL: I can give you half.
PEARL: You pay! Now, b_[BLEEP]!
[END CLIP]
BOB GARFIELD: Goodbye broadcast, hello broadband. For the past decade, it has been abundantly clear that the digital revolution was nudging the old model toward collapse. But what hasn't been clear is what will emerge from the rubble - until maybe now.
PROF. JEFFREY COLE: It is moving at the speed of light.
BOB GARFIELD: Professor Jeffrey Cole is director of the Center for the Digital Future at USC's Annenberg's School for Communications and Journalism.
PROF. JEFFREY COLE: Binge viewing on Netflix, original programming on Prime, Chromecast, a $35 dongle that can let you stream content from your phone or your tablet to your television set, I mean, the number of developments in the last year is just astonishing.
BOB GARFIELD: And it is, by no means, just the technology that's changing. The online successors to traditional TV stories are developed differently, promoted differently, monetized differently and, most of all, told differently.
[CLIP/MUSIC UP & UNDER]:
NARRATOR: This is Michael Bluth. For ten years he's worked for his father's company, waiting to be made a partner. And right now, he's happy. This is Michael's mother.
LUCILLE BLUTH: Look what they've done, Michael!
NARRATOR: She isn't happy.
[END CLIP]
MITCH HURWITZ: Things only become good when they have to.
BOB GARFIELD: Mitch Hurwitz is the executive producer of Arrested Development, a ground-breaking comedy that nonetheless struggled on the Fox Network. Though it attracted a cult audience, delighted with its subversive humor, it never grabbed the lumpenproletariat, who seemed to favor the raunchy one-liners on say, Two and a Half Men.
Now, Arrested Development is a Netflix original. To Hurwitz, the structure of serialized streaming TV, often consumed binge style, offers the chance to develop story and character that episodic broadcast TV simply does not.
MITCH HURWITZ: With a show that streams, you're really trying to set up, as a creative person, where you're going to be in 15 episodes. You're doing the things that a novelist does. And there's a reason that a short story can grab you more than a novel in the same amount of pages. The novel's building something bigger, perhaps.
I think if you look at great shows in the last couple of years, they've had to endure a lot of criticism: "Mad Men has really gone downhill; Breaking Bad, what happened to Breaking Bad? This season is awful." They've seen three, right? By the end of that season they say, "Oh my God, this was the best thing ever" because they have now taken in the whole experience. That's what streaming allows.
BOB GARFIELD: Joe Lewis is head of comedy for Amazon Studios.
JOE LEWIS: When we start a story, we're gonna finish it, whether that's four, five, six, seven, eight, nine seasons, and to me that's what the new paradigm of TV is about. People will watch in order, and when they watch it in order, that brings a whole other level of drama. It's compelling. It's like real life.
BOB GARFIELD: Therein, "Brave New World, Part 2," the unprecedented ability to understand exactly what audiences want, and not mass audiences but discrete clusters defined by personal tastes. Sure, the old methodology gave us All in the Family and Gunsmoke, The Mary Tyler Moore Show and Lost. Mainly though, overwhelmingly, it produced the likes of this.
[MMTC CLIP]:
SINGING: Mother, that's my mother dear. She helps me through everything I do, and I'm so glad she's here.
[CAR HORN HONKING]
My mother, the car…
[END CLIP]
BOB GARFIELD: My Mother the Car, circa 1966, sort of Norman Bates meets Mr. Ed, because if a man talking to his horse is hilarious, wouldn't it be twice as funny? Eh, it lasted one season. Amazon's Joe Lewis.
JOE LEWIS: In the old days, there'd be most likely one person at a network and a small group of people around him that would watch the shows and, you know, off their best instincts, would make a decision on what most of America would watch. We want to transcend that entirely and take people like myself out of the process.
BOB GARFIELD: Instead, Amazon Studios puts the audience in the process, by sharing scripts and pilot footage on its website, drawn from both Hollywood usual suspects and the world at large, in other words, an ongoing massively multiplayer focus group.
JOHANNA BLAKLEY: Media has been held hostage to this notion that the only way or the best way you can possibly understand an audience is through its demographics.
BOB GARFIELD: Johanna Blakley is managing director of the Norman Lear Center at the Annenberg School.
JOHANNA BLAKLEY: There was this sense that you couldn't possibly understand what individual members of mass audiences were interested in. But if you knew a little bit about their age, if you knew their gender, if you knew how much money they made, where they lived, their race, you could make some assumptions about what their interests might be. And those interests might very well be associated with some purchasing behavior.
BOB GARFIELD: Hundreds of billions of dollars changed hands, based on consumer behavior guesses, pinned to little more than a ZIP code.
JOHANNA BLAKLEY: Nowadays, we're swimming in data, very detailed granular data about what people care about, what they're looking for, what they're saying online, what they're buying, what videos they're watching. This very rich data will tell you something much more nuanced about what individual members of very large audiences are interested in. And let me tell you, they don't live in the same ZIP Code. It's gonna be a kid in Bangladesh who has the same interests as a kid in Queens, who has the same interests as an old guy in North Dakota, who went up there to start fracking.
BOB GARFIELD: Case in point, Netflix, which for a decade has been refining an algorithm to make detailed recommendations based on users' viewing patterns, post-viewing ratings and self- reporting about tastes and interests. It is no exaggeration to say that Netflix knows what you will like better than you do.
JOHANNA BLAKLEY: House of Cards was a safe bet for them. They were willing to spend $100 million to get that production off the ground because they already knew. There was a certain Venn diagram there that overlapped fans of David Fincher movies, fans of Kevin Spacey and people who had seen the original BBC House of Cards. So they knew that there was an audience there.
BOB GARFIELD: When Orange is the New Black producer Jenji Kohan approached Netflix with her true-to-life dramedy, she'd already been repeatedly turned away by premium cable. But Netflix ran the numbers and realized, huh, likable female lead, check, prison story, check, black comedy, check, hot, hot thespian action, ch-eck!
[CLIP]:
PIPER: I have a prison wife.
POLLY: What?
PIPER: Her name is Crazy Eyes.
POLLY: Did she rape you?
PIPER: No, she didn't rape me, but she held my hand.
[END CLIP]
JOHANNA BLAKLEY: I know that she pitched it to HBO and to Showtime, and they said, absolutely not! She went to Netflix, and they decided to do some research to see if there was actually an audience for it. And it turned out, oh my God, there is! Make it!
BOB GARFIELD: And the show is a hit, as long as you don't define "hit" by audience size or ad revenue. Netflix shows bring in zero ad revenue. What they do bring in is subscriptions to Netflix, at $96 per year. In the fourth quarter of 2013 alone, the company signed on 2.3 million new subscribers. So yeah, "Brave New World, Part 3," alternate revenue models. In Netflix and Amazon's case, a very familiar one, what entertainment agent David Tochterman of Innovative Artists calls the cable-ization of the internet: old movies and TV shows, complemented with original programming.
DAVID TOCHTERMAN: HBO wasn't HBO until they started making original content, same with Showtime, same with, you know, all these cable networks. House of Cards, I don't believe, would be able to be made if it was ad supported.
BOB GARFIELD: In other quarters of the new streaming universe, ads have no place, whatsoever. Technology enables performers to generate revenue directly from the consumer, no studio, no network, no aggregator, total disintermediation, an entirely new ecosystem.
[CLIP]:
LOUIS CK: I don't know if we fully appreciate the fact that we got out of the food chain!
[AUDIENCE LAUGHTER]
That is a massive upgrade –
[LAUGHTER]
- because for every other living thing, life ends by being eaten.
[LAUGHTER]
That's how all life ends, is every single life, except human life, every life ends like this. [SHOUTING]
[LAUGHTER][END CLIP]
BOB GARFIELD: Comedian Louis CK works in cable and does a robust business in live concerts, but he also streams comedy performances directly to viewers, at five bucks a pop. Nor is he alone in that sort of enterprise. Can we briefly go back to the Jimmy Kimmel Special? A couple of minutes into Kevin Spacey's appearance, the two discussed the old Tonight Show with Johnny Carson. Lo and behold, Kimmel said he'd appeared there three decades ago as a teenage magician.
[CLIP]:
[AUDIENCE APPLAUSE]
KEVIN SPACEY AS JOHNNY CARSON: Welcome, Amazing James. Can I call you Amazing?
JIMMY KIMMEL: No.
[LAUGHTER]
I mean, yes, Johnny Carson.
"JOHNNY CARSON": I see. Are you, are you a little nervous, Amazing?
JIMMY KIMMEL: No.
[ED McMAHON-LIKE LAUGHTER/AUDIENCE LAUGHTER]
[END CLIP]
BOB GARFIELD: Yeah, yeah, it was gag, featuring Spacey's uncanny Carson impression. But here's the thing: That clip wasn't on Sunday's broadcast. Kimmel's viewers had to go find it online, at a URL provided by the TV host himself.
[CLIP]:
[AUDIENCE APPLAUSE]
JIMMY KIMMEL: And, of course, on your, your website, kevinspacey.com –
KEVIN SPACEY: Yes.
JIMMY KIMMEL: You can see video of me –
KEVIN SPACEY: That's right.
JIMMY KIMMEL: - of me on the Johnny Carson Show when I was a teenage magician.
KEVIN SPACEY: That's right, yeah.
JIMMY KIMMEL: Yes. [LAUGHS]
KEVIN SPACEY: That's a -
JIMMY KIMMEL: What else is on that website?
[END CLIP]
BOB GARFIELD: What else is on the website? A-ha, that would be the film Now, Spacey's documentary, which you can soon stream for $12.99, directly from kevinspacey.com.
Now, advertising has by no means disappeared, even in the streaming economy. At Funny or Die, the business model resembles The Huffington Post, big and not-so-big name talent create videos gratis, getting their compensation psychically, while Funny or Die sell the ad space against their content. CEO Dick Glover.
DICK GLOVER: We will provide whatever support you want, from a technical, from a writing, from a production point of view, whether you have something you want to promote, whether you have an idea that you just really always cared about. What a great platform to do all that, so talent was very anxious to work with us.
BOB GARFIELD: Even though you actually never wrote them a check.
DICK GLOVER: Never wrote them a check, correct.
BOB GARFIELD: Advertising also underwrites the rising stars of YouTube, among them the profane and perspicacious Kingsley, who covers rent and subsidizes college tuition on the strength of his more than two-and-a-half million channel subscribers and the ad revenue their eyeballs generate.
[CLIP]:
KINGSLEY: Kids be disrespectin' their teachers, yellin' at 'em, cursin' at 'em, seeing news stories about like hittin' them and spittin' in their face, like roomie, are you that against learnin' about the damn nucleus and some mitochondria?
[END CLIP]
BOB GARFIELD: Yep, with a potty mouth, irresistible smile and about $2,000 worth of consumer technology, this 23-year-old has doubled the audience of On the Media, because YouTube is not just a video player, it's a community. And thus, the final "Brave New World" element of modern video. Even when advertising underwrites the medium, it almost never advertises the medium. That is now the province of digital word of mouth. Digital Entertainment agent, David Tochterman.
DAVID TOCHTERMAN: What has changed is a development of a social media ecosystem that actually is capable of driving an audience to another platform.
BOB GARFIELD: You know, like from TV to social media to the streaming platform. One last time, back to Jimmy Kimmel. It turns out, not even network TV is some isolated biosphere. It's part of the new ecosystem, too. Kimmel himself has nearly four million followers on his YouTube channel, and on Sunday night he didn't just chat with Kevin Spacey and plug his website. Though they were live on camera, they nonetheless posed for a selfie, which, with reference to Ellen's record-breaking Oscar selfie, they tweeted out.
[CLIP]:
JIMMY KIMMEL: By the way, our selfie has already broken the record set earlier, yes.
KEVIN SPACEY: Oh, fantastic.
JIMMY KIMMEL: You know, they got a million in the first hour.
KEVIN SPACEY: Yeah?
JIMMY KIMMEL: We got two million.
KEVIN SPACEY: Wow, that's excellent.
[AUDIENCE RESPONDS]
JIMMY KIMMEL: That's right, so congratulations to us.
[APPLAUSE/CHEERS][END CLIP]
BOB GARFIELD: Yes, congratulations. While some in show business will be caked in dust from the rubble of broadcast TV's inevitable collapse, others will bathe, pristine and prosperous, in the stream.