Why Fox News is Talking About Crime (Again)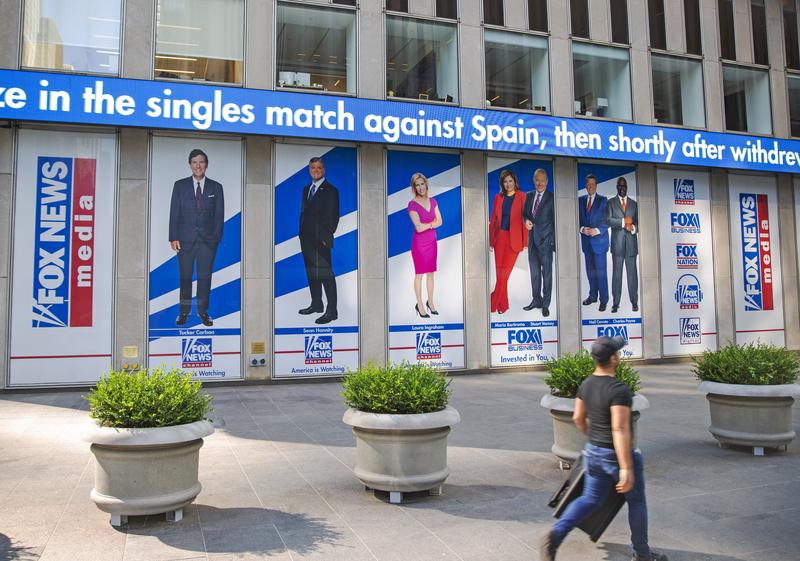 Transcript
BROOKE GLADSTONE From WNYC in New York this is On the Media. I'm Brooke Gladstone. It's that time of year again. Or that time of every other year again.
[CLIP]
NEWS REPORT We're now just 16 days away from what could be the most consequential set of midterm elections in modern history. [END CLIP]
BROOKE GLADSTONE And as Stephen Colbert says, you know what that means:.
[CLIP]
STEPHEN COLBERT For the next 13 days, the news media is going to yank our chains like they're trying to start a leaf blower. [END CLIP]
BROOKE GLADSTONE But which chain?
[CLIP]
NEWS REPORT Abortion rights will literally be on everybody's ballot in Michigan.
NEWS REPORT The economy is in the crapper. They got a president who can't complete a sentence.
NEWS REPORT The more immediate issue, however, for Democrats in the midterms: sky-high gas prices,.
NEWS REPORT High inflation, high numbers of people pouring across the southern border. [END CLIP]
BROOKE GLADSTONE But as the elections inch closer, there's one story that's been dominating the coverage on one channel in particular.
[CLIP]
NEWS REPORT All right. These numbers you are looking at that show a big jump in crime from robbery to burglary to felony assault, transit crime.
NEWS REPORT Democrats have lost control of our cities across the country. They supported the "defund the police" movement.
NEWS REPORT An innocent woman savagely beaten by a group of teens on a bus. [END CLIP]
BROOKE GLADSTONE Philip Bump is a national columnist for The Washington Post. His latest piece asks: what's the non-obvious reason FOX News is talking about crime? So, Phillip, first, what's the obvious reason?
PHILIP BUMP Well, the obvious reason is that Fox News has, since late September, really amped up the extent to which it's talking about crime on air. That is a time period that overlaps with Democrats faring better in midterm election polling. It is a period that also overlaps with the decline of the saliency of gas prices as an election issue. As gas prices started to fall in June, so did Fox's mentions of gas prices.
BROOKE GLADSTONE When it came to two of three subjects, abortion and gas and fuel, they were covered as much or as little as they were on the competition. It was crime where you saw a stark difference between Fox News as opposed to the other networks.
PHILIP BUMP What we saw over the course of July and August was that mentions of crime were basically in line on all three cable networks with where they had been for the first six months of the year. There's nothing exceptional about it. Then in late September, Fox really started to amp up, and it's continued to increase over the time periods that I was looking at. It's continued to go up and up and up as the midterm elections have approached. It's also increased on a sort of 20-day lag on CNN and MSNBC as well. And there has been this increase in crime as a conversation point in the election coverage itself.
BROOKE GLADSTONE This is kind of a chicken-and-egg question. You have Fox bumping it up, talking about it a whole lot more than the actual candidates were. Even more than in the ads. That was some weeks ago. It seems as if the candidates and the GOP advertising has come more in line with the Fox emphasis on crime.
PHILIP BUMP You're right, it's hard to sort of know if there is a causal relationship, which I suspect there is. I think we can say this pretty clearly: Fox News has really put a huge emphasis on crime, particularly in the last couple of weeks. That is something that we're also seeing reflected in Republican advertising very heavily, and that is something that I think has proven to be disadvantageous to Democrats. So all three things are those things I think we can say categorically.
BROOKE GLADSTONE When you asked in your column what triggered Fox News to start talking about crime so much in late September, you said the folks at Fox News didn't like the question. They suggested that you were downplaying or excusing crime, and then they pointed to data — data you called anecdotal and cherry-picked. Do you want to summarize that stuff?
PHILIP BUMP Sure. So a couple of months ago, I actually looked at crime data because I'm very well aware the crime data nationally operates on a pretty significant lag. The FBI has collected data, which they do at the end of a year and then takes a substantial number of months to actually release — a process that has been upended this time because they actually changed their methodology. So we have really old data from 2020. And so I did a piece that sort of like, 'Hey, look, we don't really have good data on what's happened nationally with crime.' So then I ended up looking at what Fox News was doing when Joe Biden took office. So I wrote a piece that said, you know, crime is surging in Fox News's coverage because we don't know what crime is doing nationally. We do see anecdotal examples from municipalities in some states, but we don't know. We don't know what the national trend is, and yet here is Fox News, really, amplifying this. Fox News got very incensed about that, insisted that I was trying to downplay crime, which, of course I'm not, that I was being dishonest about the extent to which crime is escalated, which I wasn't. We just don't know, right? And they got very mad about that. And so that was sort of the context going back and look. Okay, so let's see, how has their own coverage compared to what it was at the beginning of the year? And since it really started to spike at the end of September. There's certainly no new data that suggests that is warranted. So what else is the trigger?
BROOKE GLADSTONE The claim was that crime is up more in blue states or in the cities in blue states, but it's also up in red states. So tell me about the actual cherry-picking.
PHILIP BUMP We do have data from 2020 showing that violent crime had increased in the United States relative to 2019. We also have data from the Bureau of Justice Statistics which looks at a different measure, which is the extent to which people are reporting crime. And that didn't find a significant increase in 2020, which is interesting, nor did they find one in 2021. Now, the FBI did release its 2021 data, which, as I mentioned, was marred by this change in methodology, which makes it hard to compare 2021 and 2020 in part because a lot of big cities in particular didn't actually report data. But when you do an analysis, you can look, for example, at, say, Oklahoma City versus\, say, New York City. And I'm doing some cherry-picking of my own right now, admittedly, but a city like Oklahoma City, which is, you know, Republican mayor, Republican governor, had a much higher violent crime rate, 2021, than the New York City. So it's easy to pick out places where you can craft a narrative that suits what it is that you're looking for. But what we don't have is this broad top line 'here's what's going on with crime in America.' So we simply don't have a standardized set of data that actually is comparable apples-to-apples nationally.
BROOKE GLADSTONE As you observed, both parties use fear to mobilize voters. They're just different triggers. And crime has been a go-to for the right. But you've written in an earlier column that Americans may not be as convinced that crime is the most important issue facing the country, even among Republican voters. But that was then before Fox stepped up its coverage. How about now? Do we know?
PHILIP BUMP We just did have new polling that came out this week from PRRI, which asks, 'to what extent are these issues critical for your vote in the midterms?' And we see that crime is high on the list for Republicans, but it is behind things like housing and everyday expenses. It was behind immigration as well. And so even among Republicans, crime is not necessarily the issue that's pushing them to the polls. But I think that the factor that's coming to play here is there is such a broad differential between how people view the party's ability to respond to crime. And I think that's one of the reasons that Republicans are highlighting it. And I do think it's worth noting: polling consistently shows that people think crime is rising, even as over the past several decades it has not been rising.
BROOKE GLADSTONE And that's not Fox's fault. That's the media in general.
PHILIP BUMP No, right – that's long standing.
BROOKE GLADSTONE Our minds are drawn more to things we perceive as threats.
PHILIP BUMP Well, also, you never see news stories about how there's no crime. Yeah, right. But one of the other things that's interesting is we see this pattern, similar to how people feel about their members of Congress. Everyone thinks their own member of Congress is fine, but Congress sucks generally, right? Same thing with crime. And even recent polling by YouGov shows this; people think of their own neighborhood's crime as not that big a deal but nationally that it's very bad.
BROOKE GLADSTONE We've talked a lot about Fox News, but you also covered MSNBC and CNN. Is there a Democratic narrative or strategy similar to Fox News crime coverage that you see taking hold on the other networks?
PHILIP BUMP You know, there certainly are instances in which cable news networks elevate stories that other networks don't. But this is certainly exceptional — that FOX News is embracing crime. Well, not unique for Fox to sort of elevate something that may not be as big a story as it pretends. What it's doing this year with crime, I think, is different.
BROOKE GLADSTONE So what should news consumers be watching for as the midterm coverage continues? The last time we had you on talking about the film 2000 Mules, which purported to prove that the election was stolen and it certainly did not. I'm just wondering what you would advise viewers to do.
PHILIP BUMP If what is being told to you is a narrative that is dependent on snippets of people doing very bad things? I think it's important to remember that these are definitionally isolated incidents and to think about whether or not there's actually a trend or a pattern here, right? Fox News shows, constantly, these videos of people committing assault or people robbing stores — all of which, of course, are bad. But I think it's important, as it was with 2000 Mules, where they elevated these video clips of people putting ballots in drop boxes, which they framed as being people committing crimes. People seized on it and believed, 'Okay, look at how often this is happening. Look at that video.' And it's like, well, yeah, look at the video, man. And there's one person doing one thing. This is a nation of 330 million people. Even if you had ten clips over the course of a week of ten people doing something bad, does that mean that the United States is riddled with crime? Or is it that Fox News is picking up these ten clips of people committing crimes? It's important to stop and say, 'is this representative of something broader or is this simply something that's trying to scare me?'
BROOKE GLADSTONE So if you see the same clip over and over again, a single anecdote used to illustrate a much bigger point, often there isn't any point to illustrate.
PHILIP BUMP This is really important, especially in the context of Fox News, where in the wake of the protests in the summer of 2020, for weeks afterward, they recycled the same clips of violent actions in New York City and Minneapolis that had spun off of the protests that summer. They used the same footage over and over and over, actually documented it at the time. And this helped build the narrative that, for weeks, New York City was under assault and at risk of being burned down and that Portland was shredded. And, you know, this narrative developed of American cities just being completely in tumult for weeks on end because Fox kept recycling the same clips and showing them for weeks on end. So they did that very intentionally, particularly that year with the presidential election of Donald Trump looming. That was a concerted choice that they made, and it really built this perception that persists and feeds into the current rhetoric around crime that things were really far worse than they are.
BROOKE GLADSTONE What about timing? Should you ask yourself why a particular story that may have been ongoing is suddenly taking over the airwaves?
PHILIP BUMP I think that it is worth stepping back and saying, 'Why am I seeing this now? What is it that is changed, if anything?' And entire point of my piece, of course, was that nothing has objectively changed besides the fact that there's this new focus on it. And it's hard to disentangle that from the fact that it's because we're two weeks away from the election.
BROOKE GLADSTONE So how are we doing on crime?
PHILIP BUMP We don't know. Do you mean nationally? Do you mean in New York City? Do you mean in New Falls, Ohio, where it's a small town? What are you worried about? What are you concerned about? What's the question you're trying to answer? Fox doesn't try and do any of that sort of analysis or consideration. They're just saying 'crime is up!' A couple of months ago, they're looking at New York City. They're like, 'Oh, look at New York City. Everything's terrible! Violent crime is up!' But they didn't mention that violent crime was down in New York City. And they're trying to make this narrative right. This is what happens. And so, you know what's happening with crime, it's hard to say. And it really depends on context. And, you know, even if the FBI data were perfect, it tends to overemphasize what's happening in big cities where there is more crime, because there's more people, among other reasons. You know, like there are all these considerations that go into it. What we can say is that America used to be much, much more violent in the early 1990s. It has gotten less so. It appears to have increased again during the pandemic. And it's not clear the extent to which that's carried over to now. But the one thing that is clear is that saying the crime is bad gets people to react emotionally, and that can be put to use.
BROOKE GLADSTONE Phillip, thank you very much.
PHILIP BUMP My pleasure, as always.
BROOKE GLADSTONE Phillip Bump is a national columnist for The Washington Post. Coming up, the science behind fear and when and why it's fun. This is On the Media.
Copyright © 2022 New York Public Radio. All rights reserved. Visit our website terms of use at www.wnyc.org for further information.
New York Public Radio transcripts are created on a rush deadline, often by contractors. This text may not be in its final form and may be updated or revised in the future. Accuracy and availability may vary. The authoritative record of New York Public Radio's programming is the audio record.